Christmas is the happiest time of the year for couples, but it can also be the saddest time for the couple who are in a long-distance relationship. Good thing, sending Christmas messages is now easier with the help of the internet. Christmas messages can be a good way to express how you feel about your significant other this holiday season. In fact, you should definitely send wishes to your husband whether he is spending the holiday with you or not.
Christmas Messages for Husband
Creating the perfect Christmas messages can be a bit daunting, especially this holiday season when you need to tend to a lot of things. The sample below can certainly inspire you to write a romantic message that let him know that you truly appreciate everything he did for you and the family.
Some say that you are a blessing to me, I say they're right! Merry Christmas!
Christmas Eve is just more meaningful when you are with me. Merry Christmas!
Christmas brings magical moments and lots of wonderful memories. Spending those special times with you make the holiday even more glorious! Merry Christmas!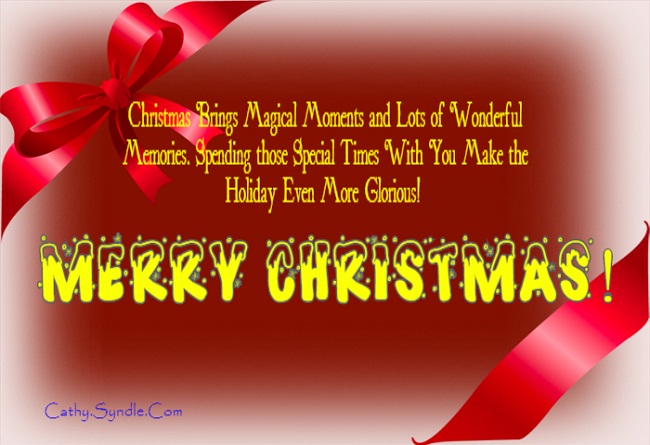 Ever since that first meeting, you have been changing my world. You are a gift that I never want to take for granted. I love you always and forever. Merry Christmas, Hubby!
Dear, being married to you has made my life and holidays even more phenomenal! Merry Christmas!
I have been so blessed to celebrate the true meaning of Christmas with someone that believes. Merry Christmas!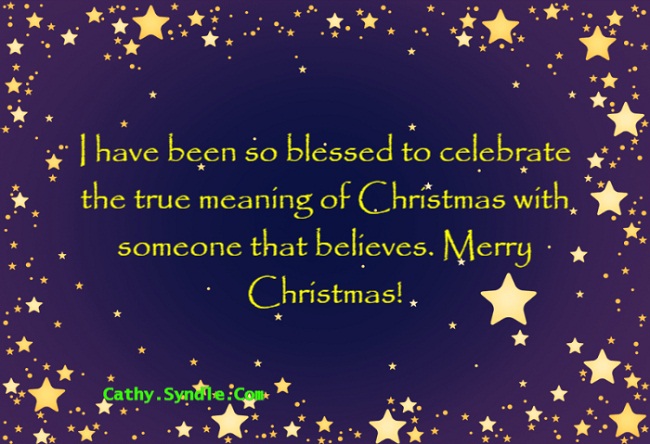 Santa said you have been a good boy this year, I say, he is right!. So, keep on making my life jingle all the way! Happy Christmas, My Love!
May the love, joy, and content that you have given me, be reflected on this Christmas day. For surely this can light up the world, just as your smile and eyes have lit up mine. Have a very Merry Christmas, My Special Man.
Dear husband, may you be blessed beyond belief, I know there's nothing you can't achieve. All my Love on this Christmas Day!
This Christmas I feel so blessed, to have you by my side. You have made me very happy and contented with my life. So, take this simple message as a token of my undying devotion to you as your wife. Merry Christmas, My Wonderful Husband!
Christmas sparkles and holiday cheer, Christmas time is here. May my love be your warmth on this special day, I'm so happy that you are here. Happy Christmas, My One and Only!
I hope Santa delivers you a bag full of joy, peace, harmony, love and a special sweet kiss from me! Merry Christmas!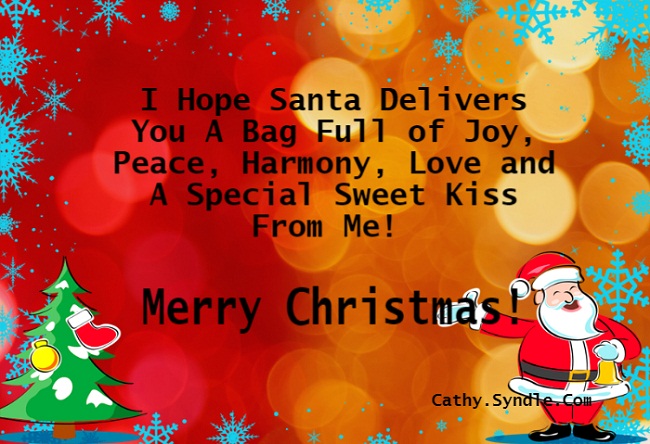 As our blessed Christmas day is upon us, and our family and friends gather near, I take this time to express my love, you are my Christmas cheer! Have a Happy Christmas, My Dear husband!
Whilst the true meaning of Christmas should not escape us, and we thank God for his only son, I wish to tell you how much you mean to me since I met you my life has begun. Merry Christmas, My Love!
Special wishes on this most blessed day, May the spirit of Christmas be yours today. My love for you is strong and true, there are not enough words to tell you I love you. Merry Christmas!
Dearest husband, even though you are not here to celebrate Christmas with me but your heart is connected with mine for life… Warm wishes and lots of love. Merry Christmas… love you!
We may not be there to celebrate this holiday season with each other but our love and wishes are always there for each other… With lots of love, wishing you a Merry Christmas.
Celebrating Christmas with your arms around me and your eyes looking deep into mine is the most beautiful time of the year…. With love, wishing you a warm Christmas!
Christmas is the time to share your love with your loved ones. And I am celebrating with the one whom I love the most.
This Christmas I don't need any gifts because I already have the greatest gift of all and that is you. I love you, my Husband. Merry Christmas!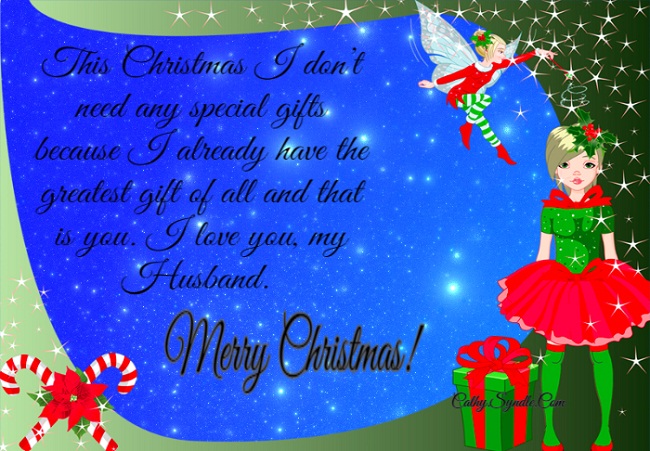 To me, you are the definition of love. I pray to Santa to shower our lives with lots of love and romantic times together. Wishing you a warm Christmas my dearest husband.
May our relationship grow stronger and longer. Wishing you a very happy Christmas, my love.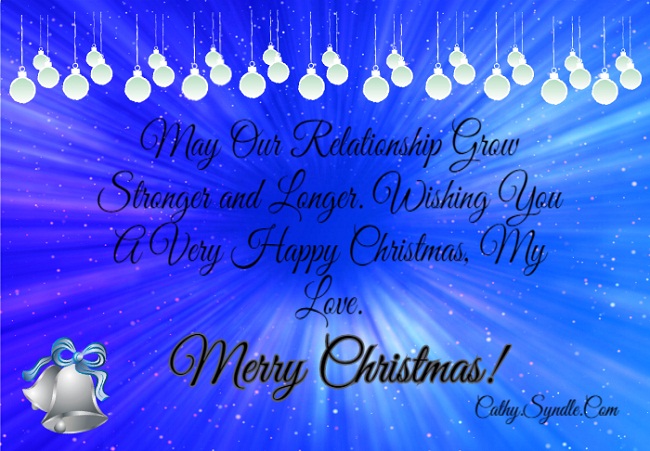 May Jesus shower his blessings on us and strengthen our love this Christmas and throughout the coming years. Merry Christmas my husband!
May blessings shower upon you, wherever you go. May you know peace and content throughout your life, I love you dearly my handsome husband. Merry Christmas!
May your Christmas be as beautiful, serene and full of joy, as you have brought into my life. Thank you for all the happy years, and the pleasure of being your wife. Merry Christmas, My Husband!
I don't need diamonds or any expensive gifts, just having you by my side is more than enough for me this Christmas. Merry Christmas!
Love is a wonderful thing, made even more special because of you! Merry Christmas, my dear husband.
They say true love is the most powerful thing in the world, I hate to admit it but they are right, you have given me all the power I need to be a better mom and wife to you. Merry Christmas!
Nothing in this world can compare to you because you are the only thing that matters to me. Merry Christmas!