A New Year always bring on life-changing decisions. It is a major event in many people's lives for it gives them a chance to change things for the better. After all! New Year characterized hope, opportunity, and a fresh start. With this coming new year, let it serve as a reminder that you have something to look forward too. Whatever fate might bring, you can always meet it head on with a positive outlook and an expectation that things will be fine. And you can start changing things by sharing inspirational New Year quotes to family and friends that needed a little bit of motivation to accept the new challenges that may come their way.
Inspirational New Year Quotes
Below are some of the popular inspirational New Year quotes that you can send to friends and loved ones to inspire them.
A year of ending and beginning, a year of loss and finding…and all of you were with me through the storm. I drink your health, your wealth, your fortune for long years to come, and I hope for many more days in which we can gather like this. – C.J. Cherryh
We spend January 1st walking through our lives, room by room, drawing up a list of work to be done, cracks to be patched. Maybe this year, to balance the list, we ought to walk through the rooms of our lives…not looking for flaws, but for potential. – Ellen Goodman
For last year's words belong to last year's language
And next year's words await another voice. – T.S. Eliot
New Year's Day now is the accepted time to make your regular annual good resolutions. Next week you can begin paving hell with them as usual. — Mark Twain
Take a leap of faith and begin this wondrous new year by believing. – Sarah Ban Breathnach
We will open the book. Its pages are blank. We are going to put words on them ourselves. The book is called Opportunity and its first chapter is New Year's Day. – Edith Lovejoy Pierce
Resolve to keep happy, and your joy and you shall form an invincible host against difficulties. – Helen Keller
Whether we want them or not, the New Year will bring new challenges; whether we seize them or not, the New Year will bring new opportunities. – Michael Josephson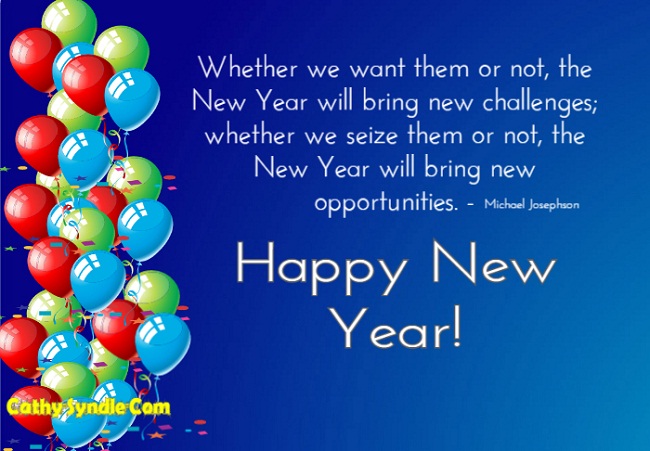 Youth is when you're allowed to stay up late on New Year's Eve. Middle age is when you're forced to. — Bill Vaughan
Year's end is neither an end nor a beginning but a going on. – Hal Borland
Every time you tear a leaf off a calendar, you present a new place for new ideas. – Charles Kettering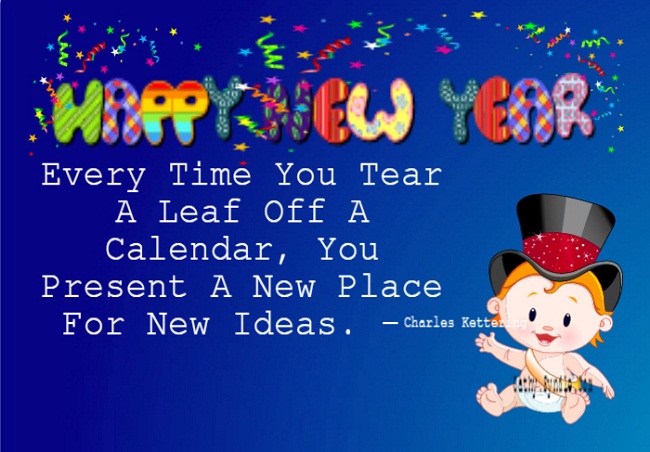 Tomorrow is the first blank page of a 365-page book. Write a good one. – Brad Paisley
The object of a new year is not that we should have a new year. It is that we should have a new soul. — G.K. Chesterton
With the new day comes new strength and new thoughts. – Eleanor Roosevelt
I Made no resolutions for the new year. The habit of making plans, of criticizing, sanctioning and molding my life, is too much of a daily event for me. — Anaïs Nin
Cheers to a new year and another chance for us to get it right. – Oprah Winfrey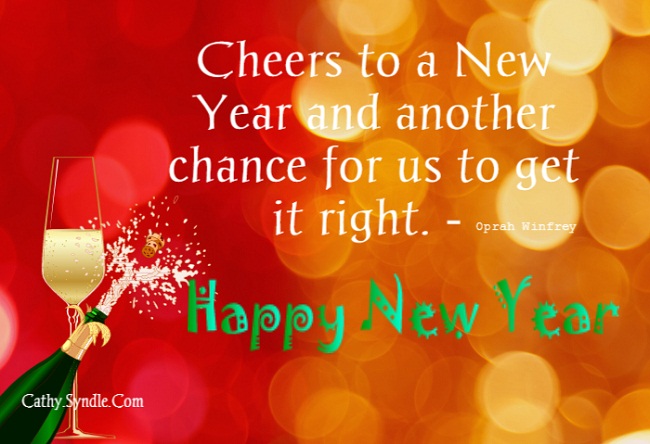 Be at war with your vices, at peace with your neighbors, and let every new year find you a better man. – Benjamin Franklin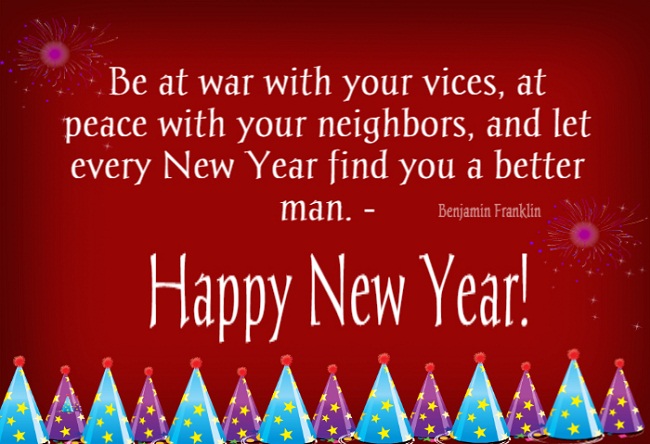 A new year brings not only happiness, it makes us happy with a hope to fulfill our dreams or a new beginning of our life. So, a new year is very special to everyone. – Santonu Kumar Dhar
And now we welcome the new year. Full of things that have never been. – Rainer Maria Rilke
I hope that in this year to come, you make mistakes. Because if you are making mistakes, then you are making new things, trying new things, learning, living, pushing yourself, changing yourself, changing your world. You're doing things you've never done before, and more importantly, you're doing something. – Neil Gaiman
Write it on your heart that every day is the best day in the year. – Ralph Waldo Emerson
Celebrate what you want to see more of. – Tom Peters
You are never too old to set another goal or to dream a new dream. – C.S. Lewis
A year from now, you're gonna weigh more or less than what you do right now. – Phil McGraw
New Year's Day is every man's birthday. – Charles Lamb
Hope smiles from the threshold of the year to come, whispering, "It will be happier." – Alfred Lord Tennyson
Stay committed to your decisions, but stay flexible in your approach. – Tony Robbins
Whatever it is you're scared of doing, do it. Make your mistakes, next year and forever. – Neil Gaiman
Every new beginning comes from some other beginning's end. – Seneca
Always bear in mind that your own resolution to succeed is more important than any other. – Abraham Lincoln
I like the dreams of the future better than the history of the past. – Thomas Jefferson
Character is the ability to carry out a good resolution long after the excitement of the moment has passed. – Cavett Robert
The beginning is the most important part of the work. – Plato
It is not in the stars to hold our destiny but in ourselves. – William Shakespeare
If you don't like something, change it. If you can't change it, change your attitude. – Maya Angelou
To improve is to change; to be perfect is to change often. – Winston Churchill
The only person you are destined to become is the person you decide to be. – Ralph Waldo Emerson
The best way to predict the future is to create it. – Abraham Lincoln
You do not find the happy life. You make it. – Camilla Eyring Kimball
"Whatever you do, throw yourself into it. Throw your head, heart, and hands into it." – Indra Nooyi