One more week to go and its Christmas. The countdown for Christmas as soon as the "ber" months hit. Some people started buying decorations and even gifts for their loved ones and friends. Other started saving recipes to cook for Christmas dinner. This occasion is a much-celebrated event across the world by Christians. It's a time of gathering, a reunion of friends and spending time with special someone. As Christmas quickly approaches, getting distracted by decorating and shopping is easy that most people tend to forget the real meaning of this holiday. So, I have collected some of the inspirational Christmas quotes that you can share with anyone you want to remind the true meaning and purpose of the holiday.
Inspirational Christmas Quotes
Take a break from shopping, baking and preparing for the coming celebration and share these quotes in advance with your loved ones and friends to remind them of the true meaning of Christmas.
"Christmas is doing a little something extra for someone." – Charles M.Schulz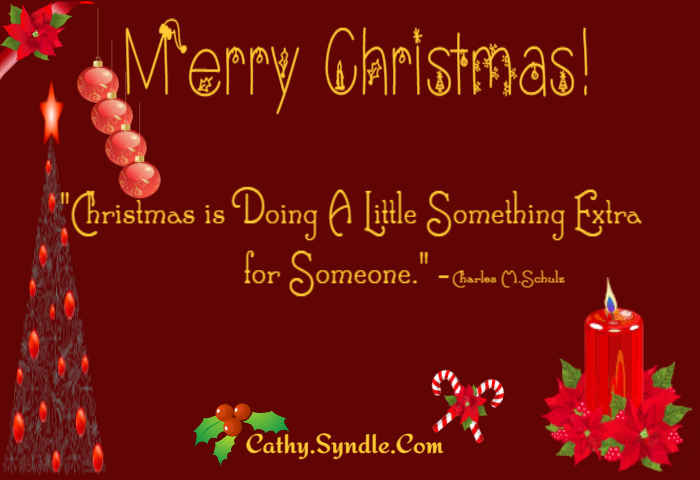 "Christmas is not a time nor a season, but a state of mind. To cherish peace and goodwill, to be plenteous in mercy, is to have the real spirit of Christmas." – Calvin Coolidge
"Once in our world, a stable had something in it that was bigger than our whole world." – C.S. Lewis
"Love the giver more than the gift."- Brigham Young
"At this Christmas when Christ comes, will He find a warm heart? Mark the season of Advent by loving and serving the others with God's own love and concern." – Mother Teresa
I am not alone at all, I thought. I was never alone at all. And that, of course, is the message of Christmas. We are never alone. Not when the night is darkest, the wind coldest, the world seemingly most indifferent. For this is still the time God chooses. – Taylor Caldwell
"We consider Christmas as the encounter, the great encounter, the historical encounter, the decisive encounter, between God and mankind. He who has faith knows this truly; let him rejoice." -Pope Paul VI
"Christmas, my child, is love in action. Every time we love, every time we give, it's Christmas." – Dale Evans Rogers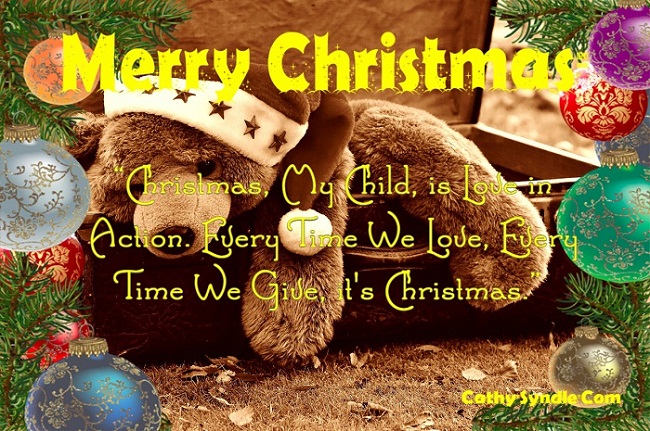 "Christmas Eve was a night of song that wrapped itself about you like a shawl. But it warmed more than your body. It warmed your heart… filled it, too, with melody that would last forever." – Bess Steeter Aldrich
"Christmas is the day that holds all time together." – Alexander Smith
"Bloody Christmas, here again, let us raise a loving cup, peace on earth, goodwill to men, and make them do the washing up." – Wendy Cope
"Now I'm an old Christmas tree, the roots of which have died. They just come along and while the little needles fall off me replace them with medallions." – Orson Welles
"Christmas is most truly Christmas when we celebrate it by giving the light of love to those who need it most." – Ruth Carter Stapleton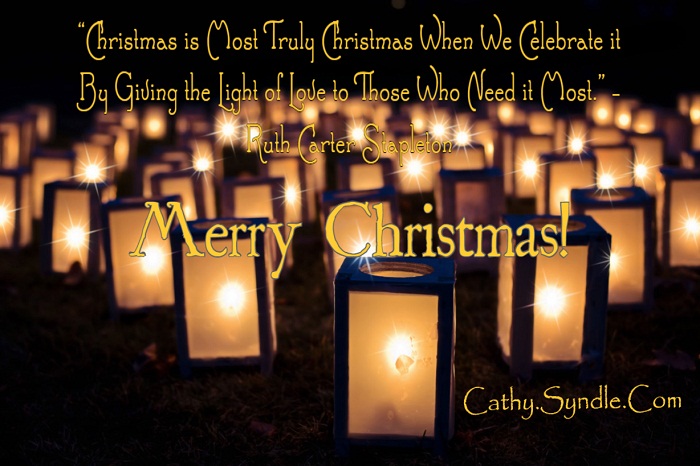 "The joy of brightening other lives, bearing each others' burdens, easing other's loads and supplanting empty hearts and lives with generous gifts becomes for us the magic of Christmas." – W.C Jones
"My idea of Christmas, whether old-fashioned or modern, is very simple: loving others. Come to think of it, why do we have to wait for Christmas to do that?" – Bob Hope
"The rooms were very still while the pages were softly turned and the winter sunshine crept in to touch the bright heads and serious faces with a Christmas greeting." – Louisa May Alcott
"Gifts of time and love are surely the basic ingredients of a truly merry Christmas." – Peg Bracken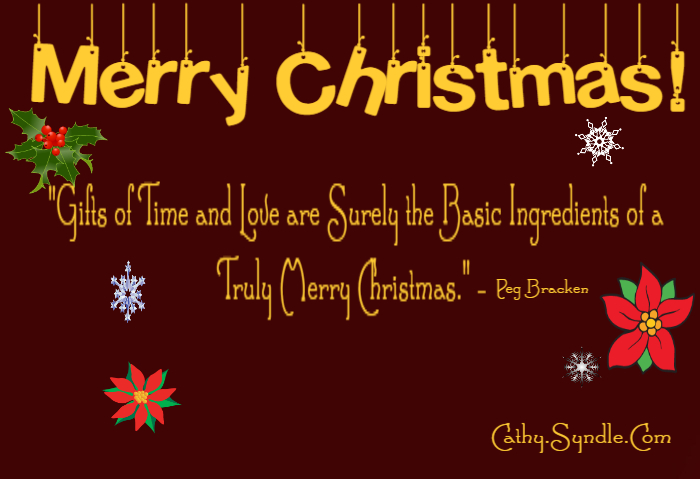 "Christmas is a day of meaning and traditions, a special day spent in the warm circle of family and friends." – Margaret Thatcher
"Christmas is a necessity. There has to be at least one day of the year to remind us that we're here for something else besides ourselves." – Eric Sevareid
"And when the Lord Jesus has become your peace, remember, there is another thing: good will towards men. Do not try to keep Christmas without good will towards men." -Charles Spurgeon
"Peace with God, peace with others, and peace in your own heart." -Rick Warren
"Any one thinking of the Holy Child as born in December would mean by it exactly what we mean by it; that Christ is not merely a summer sun of the prosperous but a winter fire for the unfortunate." -G.K. Chesterton
"Christmas isn't a season. It's a feeling." – Edna Ferber
All the Christmas presents in the world are worth nothing without the presence of Christ." -David Jeremiah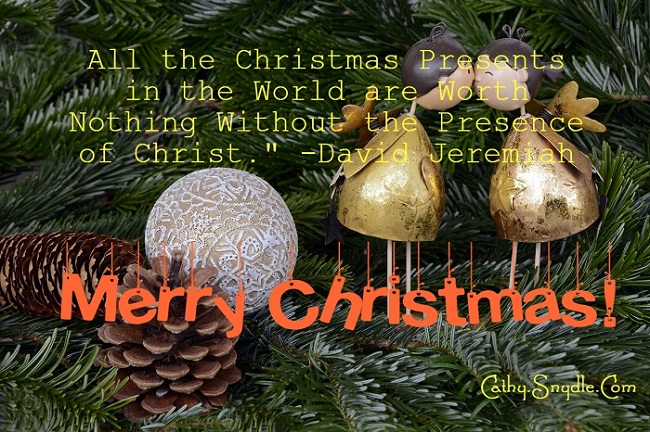 "Faith is salted and peppered through everything at Christmas. And I love at least one night by the Christmas tree to sing and feel the quiet holiness of that time that's set apart to celebrate love, friendship, and God's gift of the Christ child." -Amy Grant
"Who can add to Christmas? The perfect motive is that God so loved the world. The perfect gift is that He gave His only Son. The only requirement is to believe in Him. The reward of faith is that you shall have everlasting life." -Corrie Ten Boom
"I don't think Christmas is necessarily about things. It's about being good to one another, it's about the Christian ethic, it's about kindness." – Carrie Fisher
"I truly believe that if we keep telling the Christmas story, singing the Christmas songs, and living the Christmas spirit, we can bring joy and happiness and peace to this world." – Norman Vincent Peale
"Best of all, Christmas means a spirit of love, a time when the love of God and the love of our fellow men should prevail over all hatred and bitterness, a time when our thoughts and deeds and the spirit of our lives manifest the presence of God." -George F. McDougall
"The great challenge left to us is to cut through all the glitz and glam of the season that has grown increasingly secular and commercial, and be reminded of the beauty of the One who is Christmas." -Bill Crowder
"The very purpose of Christ's coming into the world was that he might offer up his life as a sacrifice for the sins of men. He came to die. This is the heart of Christmas." -Rev. Billy Graham
"The joy of brightening other lives, bearing each others' burdens, easing others' loads and supplanting empty hearts and lives with generous gifts becomes for us the magic of the holidays." – W.C Jones
"Christmas is a season for kindling the fire for hospitality in the hall, the genial flame of charity in the heart." – Washington Irving
"Christmas waves a magic wand over this world, and behold, everything is softer and more beautiful." -Norman Vincent Peale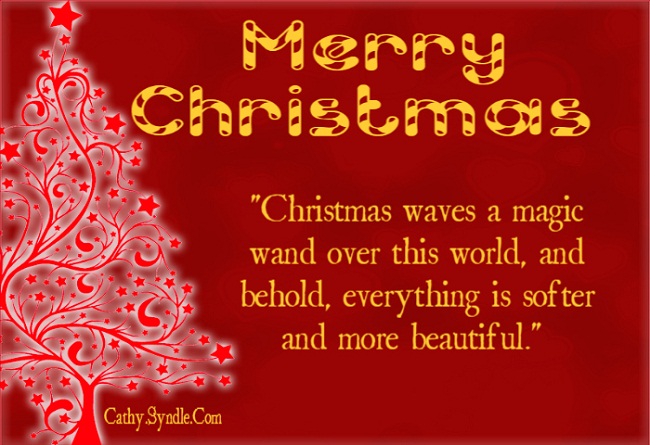 "You can never truly enjoy Christmas until you can look up into the Father's face and tell him you have received his Christmas gift." -John R. Rice
Christmas is joy, religious joy, an inner joy of light and peace." – Pope Francis
"The only people who soul can truly magnify the Lord are…people who acknowledge their lowly estate and are overwhelmed by the condescension of the magnificent God." -John Piper