Are you looking for easy to prepare Christmas recipes? Well, look no more as I have collected some of the easy Christmas recipes that I believe your family, friends, and special someone will love. The recipes in this page vary from appetizers to desserts to treats for kids.
Christmas Recipes
The following christmas recipes from appetizers to main entrees to desserts can complete your family get together even more special.
Kids Christmas Recipes
During Christmas seasons, you can turn an ordinary tortilla into cool Christmas food for kids. Below are recipes for Christmas tortilla that both adult and kids will enjoy eating this coming holiday.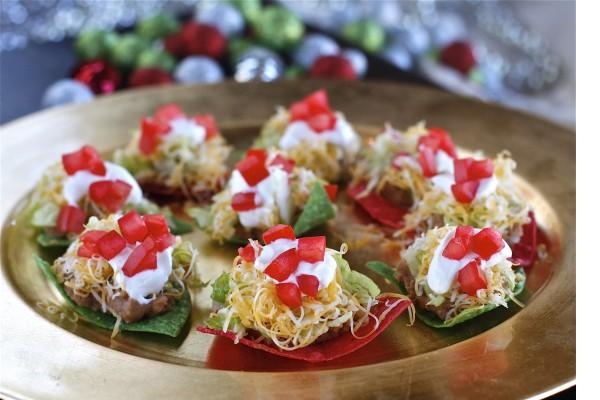 Christmas No Bake Nachos
Ingredients:
1 small bag of red and green tortilla chips
1 16 oz refried beans
½ head shredded iceberg lettuce or romaine
2 cups Colby jack cheese, shredded
1 cup of sour cream
2 vine diced tomatoes, ripened
Procedure:
In a platter, arrange the red and green tortilla chips in any order you like. Fill the tortilla with refried beans, lettuce, cheese, sour cream and topped with the diced tomatoes.
Christmas Recipes for Kids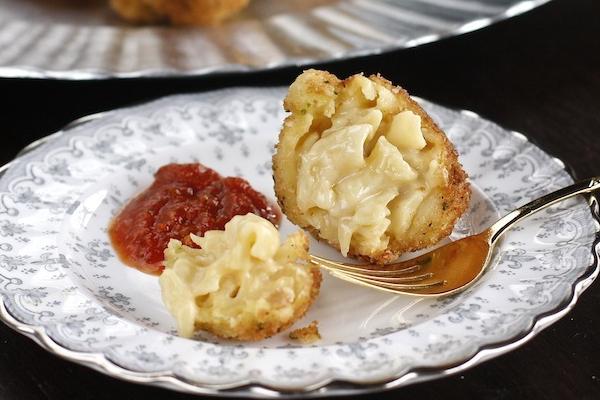 Crispy Macaroni and Cheese Ball
Ingredients:
2 cups of elbow macaroni
2 tbsp of butter
2 tbsp of all-purpose flour
1 cup of milk
1/2 cup half & half
1/4 cup grated gruyere cheese or mild cheddar cheese
1/2 cup grated sharp or white cheddar
1/4 cup of grated parmesan cheese
1 tsp of kosher salt
1 dash of freshly cracked pepper
1 dash of nutmeg
For Dredging:
3/4 cup of all purpose flour
2 beaten eggs
1 cup of crushed panko bread crumbs
2 tsp of chopped fresh parsley
1/2 tsp of kosher salt
Instructions:
In a large pot, bring to boil salted water then add the macaroni. Let it cook for about 6-8 minutes or the package instructed.
While cooking macaroni, heat in a heavy saucepan over low heat the butter, and flour to make roux. Add milk and the half and half, let it cook for 2 minutes, don't forget to stir. Remove the saucepan from heat, before adding the chesses, pepper, salt, and nutmeg.
Combine the cooked macaroni in the prepared cheese sauce.
Place in the bowl then refrigerate for at least 1 hour.
Remove from the fridge, scoop a spoonful of the macaroni to form into a 1 ½ balls.
Place on a baking sheet or parchment paper.
In a large deep pan, heat oil to 350º.
Before frying the macaroni balls run them to the dredging station consists of flour, eggs and bread crumbs with salt and parsley.
Fry the macaroni and cheese balls into the hot oil, takes about 2-3 minutes or until golden brown.
Serve with pesto and marinara dipping sauces.
Vegetarian Christmas Recipes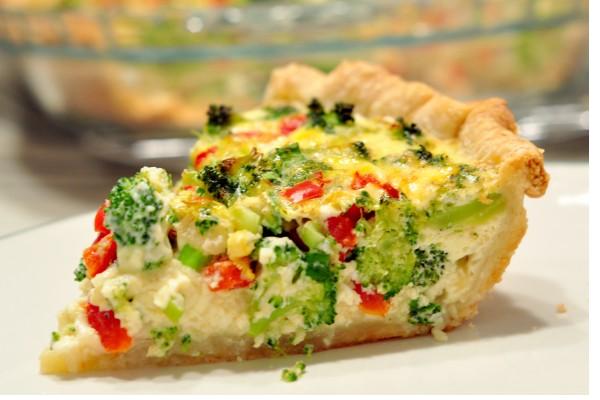 Christmas Quiche
10 inch unbaked pie crust
1 cup grated or diced swiss cheese
1 small red pepper, diced
2 cups chopped broccoli
½ teaspoon of nutmeg
½ cup green onions, sliced
1 cup milk
6 eggs beaten slightly
Salt and pepper to taste
 Instructions:
Preheat oven to about 450 degrees
In a medium pan, sauté the broccoli and red pepper in olive oil, let it cook until liquid has evaporated from the veggies and slightly soft.
In a small bowl, whisk eggs, nutmeg, milk, salt and pepper.
Arrange the pie crust on a 10 inch deep dish, layer the bottom with the cheese first then sprinkle with cooked veggies and green onions. Pour the egg mixture last, over the top.
Bake for at least 15 minutes, turn the heat to 350, and continue baking for 35 minutes or just until the egg has firmed up around the middle.
Remove from oven; let it rest for 5- 10 minutes before serving the quiche.
Serve with side salad, bread, or fruit.
Vegan Christmas Recipes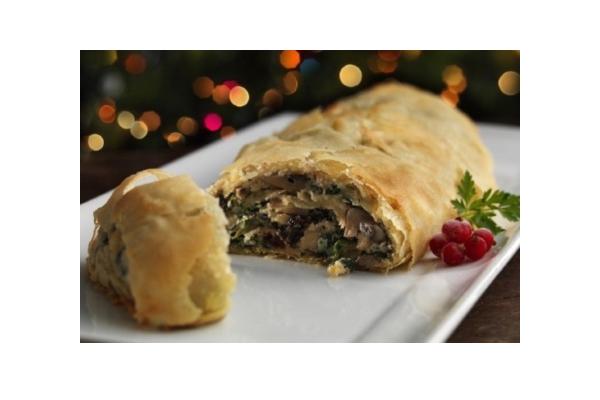 Mushroom and Ricotta Filo Bake
This mouth-watering recipe is perfect for any vegetarians you have dining with you this Christmas, it's light yet delicious and can be used again and again after Christmas is over.
Ingredients:
For the Strudel Pastry:
250g white flour, strong
125ml water (lukewarm)
2-3 tablespoon oil
100g butter (melted)
Note: You may also buy readymade filo pastry
For the Filling:
2oz butter
150g Spinach
1 clove garlic (chopped)
300g mixed Mushrooms (chopped)
50g breadcrumbs
100grms Parmesan
250g ricotta cheese
50g mixed dried fruit and nuts (chopped)
Instructions:
For the Strudel Pastry:
In a bowl, sift the flour and then add water, oil and butter.
Make the dough by kneading the pastry.
Brush the dough with olive oil, and then leave for about 30 minutes.
For the Filling:
In a pan, cook chopped garlic in 2 oz utter and 1 teaspoon of olive oil.
Add mushroom into the pan, let it cook until a bit brown.
Remove mushroom and pour onto a plate, leave the mushroom juices in the pan.
Cook spinach in the pan with mushroom juices, very quickly. Sieve to remove remaining liquid.
Add the chopped spinach into the mushrooms.
Next, mix the dried fruit, nuts, parmesan, and ricotta.
Season to taste sea salt, and black pepper then add a pinch of nutmeg.
For Pastry Coating:
On a flat baking pan, brush each filo with butter then sprinkle over the breadcrumbs.
Layer each filo sheets on top of each other
Fill the filo pastry with the mushroom mix, spread over, then fold the pastry, roll up.
Brush with butter then bake for at least 15 minutes at 200 degree Celsius
Brush with butter while cooking, twice.
Best Christmas Recipes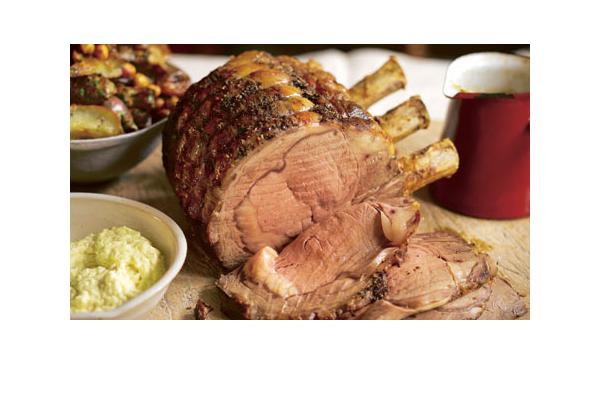 Forerib Beef
Ingredients:
1 joint aged forerib beef, about 3-4 ribs' worth
Olive oil
Salt
Ground black pepper
8 garlic cloves (bashed)
3-4 thyme sprigs
2-3 rosemary sprigs
200ml red wine
700ml beef stock
For the step by step procedure, click Forerib of Beef Procedure
German Christmas Recipes
Christmas Stollen is a classic German Christmas food.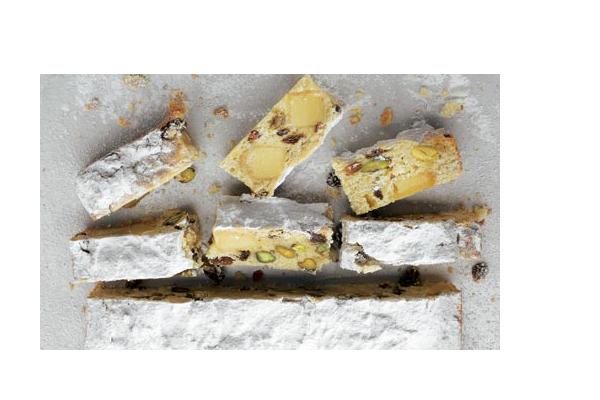 Healthy Christmas Recipes
If you want to stay slim and sexy, it is best to serve healthy Christmas food like this cheesy zucchini bites.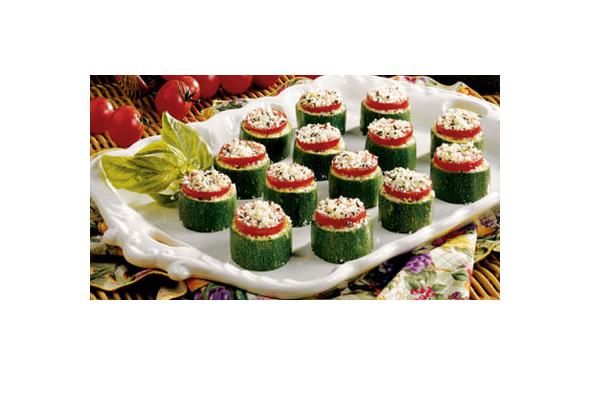 Gluten Free Christmas Recipes
Gluten free christmas cake are great for health conscious individuals.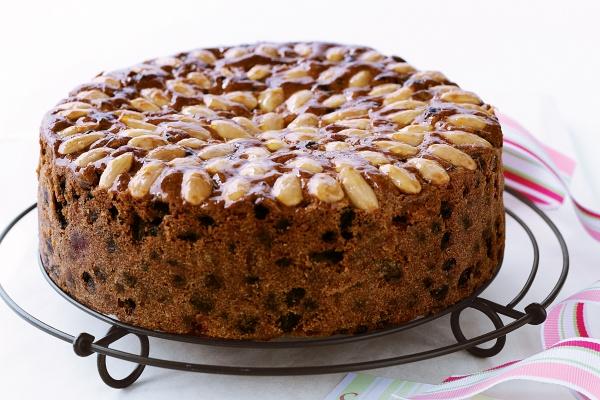 Mexican Christmas Recipes
In Mexico, Christmas is a time of the family gets together, reunion of old friends and cooking delicious christmas dishes. It is traditional to have a family dinner on Christmas eve, this is called Noche Buena. There are a lot of traditional Mexican dishes that you can prepare, but I only picked out one special recipe as the ingredients can easily be obtained anywhere you are in the world.
The Stuffed Roasted Turkey Roulade is a simple, yet delicious traditional meat dish. You can prepare this dish this coming Christmas, especially if you want your Christmas dinner to have a Mexican feel or just need something new to spice up the Noche Buena feast.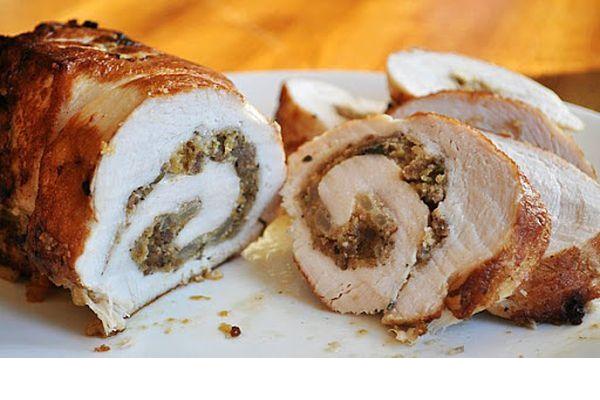 For Ingredients and instruction, Stuffed Roasted Turkey Roulade
Christmas Dinner Recipes
You can make your favorite meatloaf even more delicious and special by adding bacon.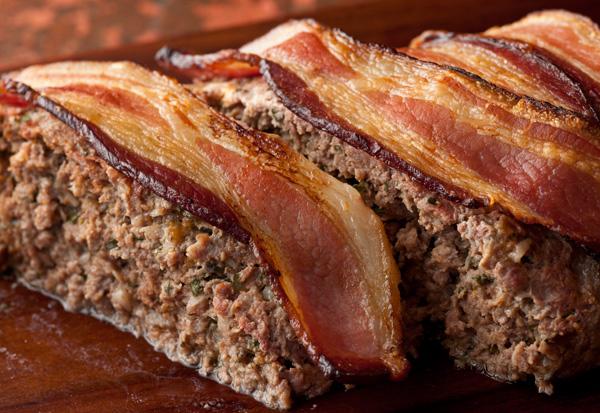 Christmas Candy Recipes
Prepare something nice and sweet for the kids and the kids at heart to keep them entertained while you prepare the turkey.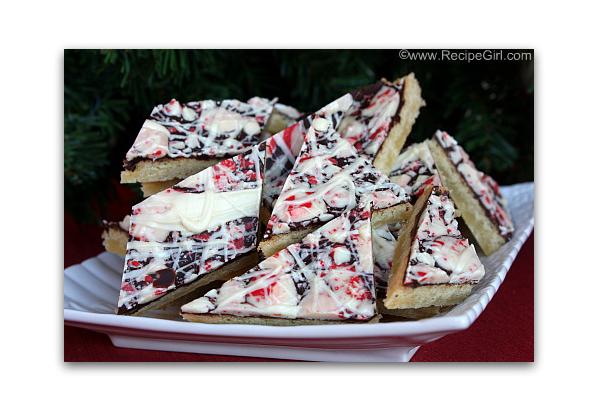 Chocolate Peppermint Bark Cookies Recipe
Simple Christmas Recipes
This simple Christmas recipe is a combination of classic Christmas pudding and ice cream. If you are looking for an easy to prepare dessert that you can also make up ahead, this frozen Christmas pudding is the answer to your prayers.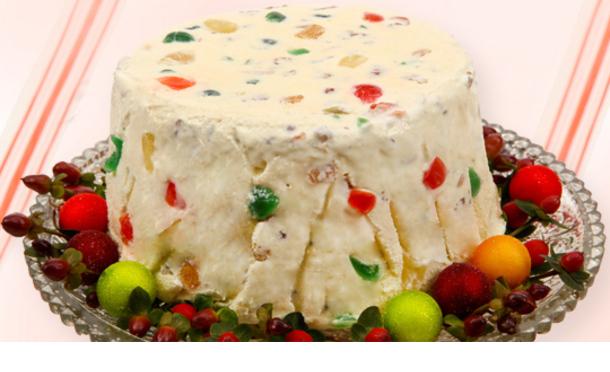 Christmas Baking Recipes
This Christmas Yule Log cake is  classic cake, made even more special and suitable for health conscious individuals and diabetic.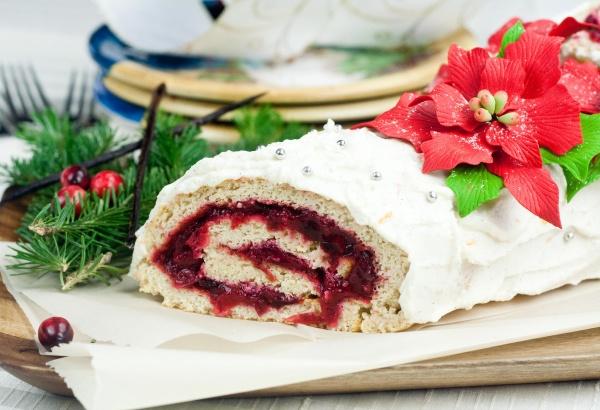 Cranberry Orange Yule Log Recipe
Fun Christmas Recipes
I love Jello, if you also do then this Finger Hello recipe should be included in your christmas desserts list.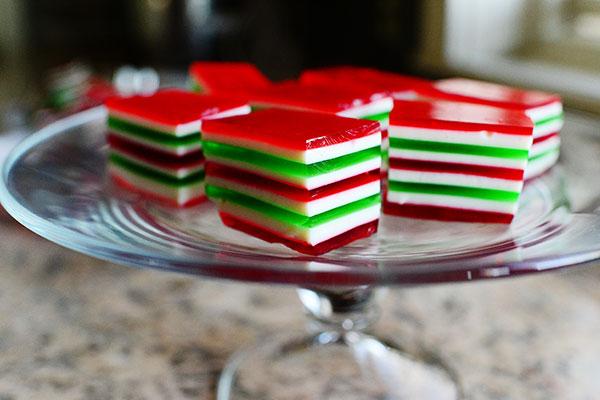 Christmas Cake Recipes
The Jaimacan Christmas Cake is very easy to prepare, as there is no need for icing decoration. You may enjoy your cake after baking it. The rich, moist, and delicious taste of this cake can make your Christmas celebration even more special.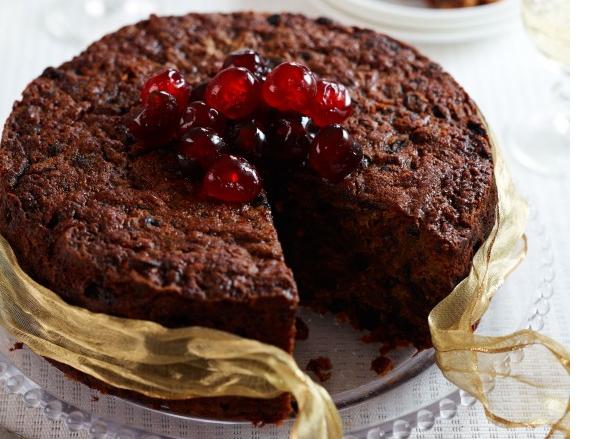 Jaimacan Christmas Cake Recipe
Christmas Cookies Recipes
Cookies anyone? why not, especially when it is shaped into christmas tree or ornamanets.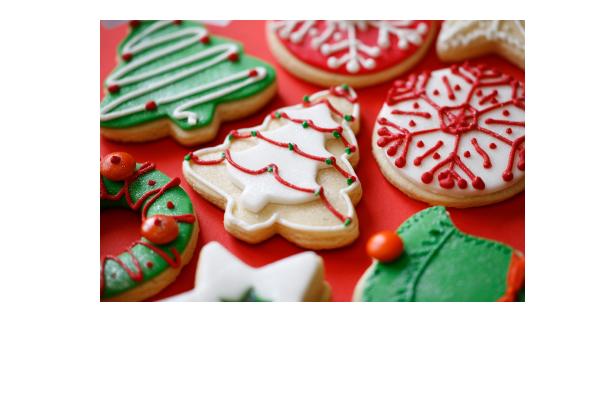 Thank you for dropping by and checking out my collection of christmas recipes. I hope my post have help you in anyway.