Since time immemorial, man across the globe consumed what they could to survive and that included snails. The Romans considered escargot as a delicacy, an elite food. In France, snail aka escargot is usually served as an appetizer. Escargots were eaten regularly and thought of as a delicacy in some countries like Spain and Philippines. If you are looking for escargot recipe, maybe I can help you with my ginataang kuhol recipe. Ginataang kuhol is snail in coconut milk with malunggay.
What is a snail? A snail like most mollusks is low in fat (2%) but high in protein (15%). In France, snail is known as escargot and consumed regularly as many people find them to be yummy as main course or as an appetizer. Escargot dish is a bit expensive in Europe for it's considered as a delicacy. In the Philippines, it is also considered as a delicacy but a plate of ginataang kuhol is very affordable. I often order ginataang kuhol for main course at my favorite Filipino restaurant. By the way, if you have not tried snails, the idea of eating escargot may not be appealing to you. But, once you do there is no doubt that you will love them.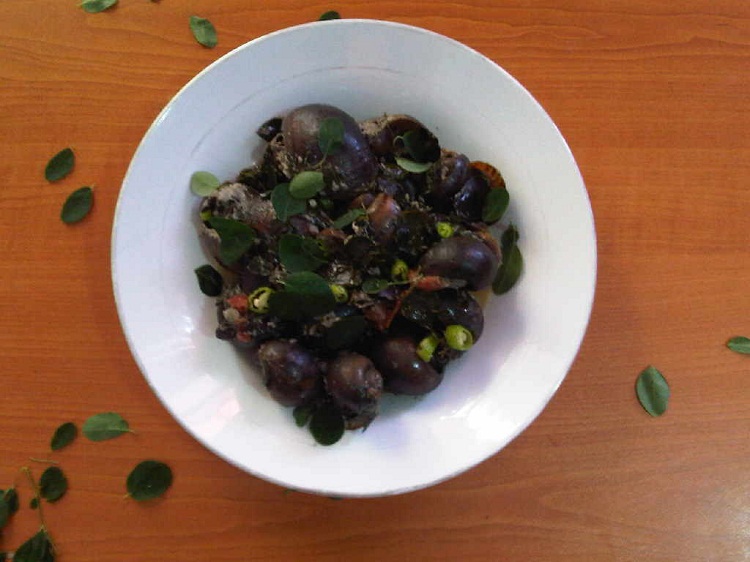 In some part of the world, escargots are first purged and removed from their shells before cooked with butter, garlic and wine. Their meat is removed then just placed back inside for serving. Some even used snails in sauces for various types of pasta dishes. You can basically do whatever dish you can think of with snails.
Personally, I have not tried any escargot dishes other than snails in coconut milk. So, if you have tried other snail dishes or have prepared it before, I hope you will share the recipe too!
This recipe for escargot is very easy to do and inexpensive. It is less complicated than the typical recipe escargot of the European cuisine. Anyway, here is escargot recipe – ginataang kuhol or snail in coconut milk with malunggay.
Escargot Recipe
The ingredients for escargot recipe are so easy to find. The followings are what you need to prepare ginataang kuhol.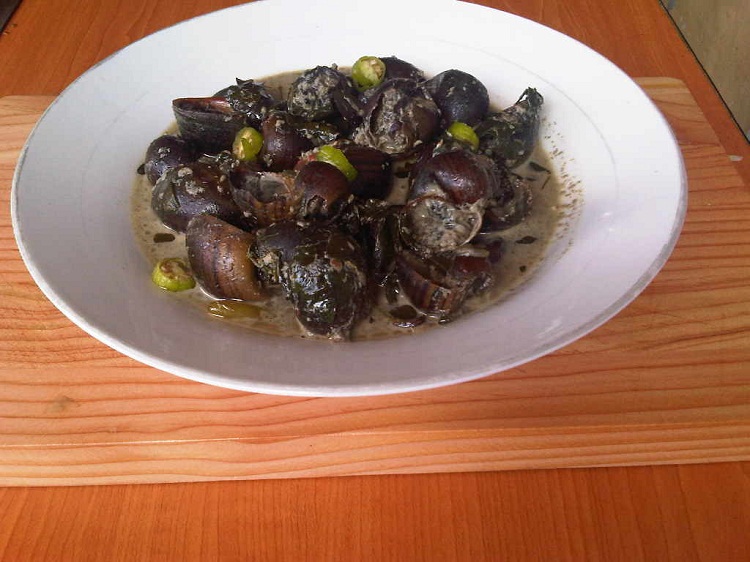 Ingredients for Recipe Escargot:
1 kilo kuhol (snail or escargot)
1 fresh ginger (chopped)
1 cup onions (chopped)
2 cups coconut milk
3 cups of water
2 cloves garlic (chopped)
2 pcs siling haba (green chilis)(optional)
Direction:
Wash and scrub the snails properly then put them in a bowl with water. Leave for 5-10 minutes.
Gently tap and break the narrow end of a snail using a knife or whatever you prefer to loosen the meat. Wash again the snails and set aside.
In a medium size pot, sauté the garlic, ginger, onion then put the snails into the pan. Pour water and simmer for at least 15 minutes over low heat. Cover the pan.
Add the coconut milk and just continue cooking until the kuhol is tender and the sauce thicken.
Drop into the pot the chilis and malunggay then simmer for 3 more minutes.
Serve hot with rice.
P.s: Kuhol or snail is eaten using a toothpick unless you have silverware that the French used for eating escargot. When preparing escargot most people take the meat out of their shell then they cut the soft gel texture. They tossed the soft part before putting the meat back into the shell and cooked them with butter. I cook my escargot with coconut milk just like the way my mom taught me.