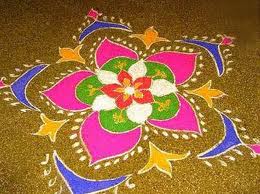 Rangoli is a form of art, and usually drawn by Indian women in front of gates or doors during special occasions and festivals like Diwali or other Hindu festivity. Rangoli is an attractive and colorful art because a typical Rangoli design uses different colors.
Rangoli also known as Kolam originated in India, and considered as folk art. During Hindu festivals, many women from all walks of life decorate their courtyard floors, gates, living room with colorful rangoli designs to celebrate the occasions and to welcome the Hindu deities. That's right, the beautiful Rangoli designs are created to be welcoming areas for Hindus gods or goddesses.
Diwali Rangoli Designs
Diwali Rangoli Designs are very popular as well since Diwali is a popular festival in India. Diwali, also known as festival of lights is a five-day affair that falls between the middle of October to Mid-November under the Gregorian calendar. Indian exchange Diwali sweets and Diwali greetings on this auspicious festival It is an official holiday, not just in India but also in Sri Lanka, Nepal, Mauritius, and other countries where there is a large population of Hindus.
Rangoli is the welcome sign for gods. Diwali is celebrated to mark the victory of god. So Rangoli is a must for Diwali, to convey our happiness and satisfaction to the gods.  You can see one House decorated with Beautiful Diwali Rangoli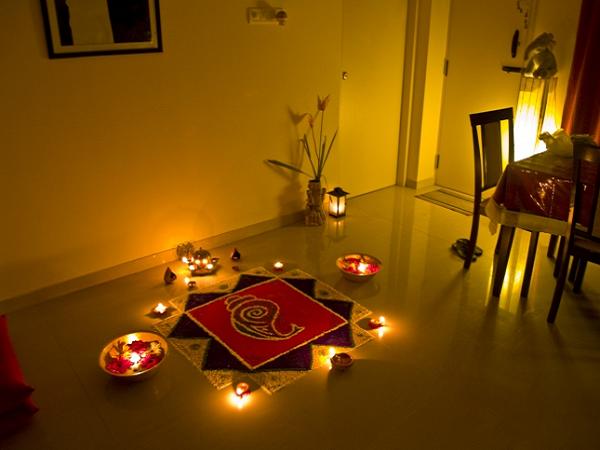 Simple Rangoli Design For Diwali
By the way, this Indian tradition have been passed from one generation to the next, even today, with all the technology the tradition and ancients symbols are pretty much alive. So, if you are interested in making Diwali Rangoli Designs, know that the intricate patterns created with colored dry flour, rice, flower petals, and even sands.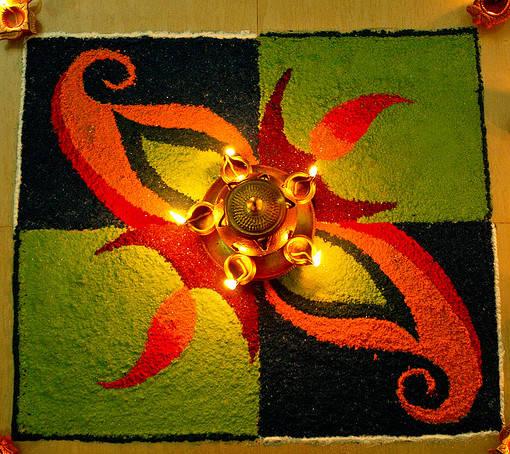 The practice of decorating the homes with Rangoli is done all over India. Many states in India practice the tradition, in fact, in Tamil Nadu, they have the kolam, in West Bengal the Alpana, and in Northern Indian, there is the so-called Chowpurna. After all, it is believed that Rangoli can bring good luck, which is why many people practices, the tradition.
Rangoli Design for Diwali
This is a beautiful rangoli design for diwali festival, very easy to do.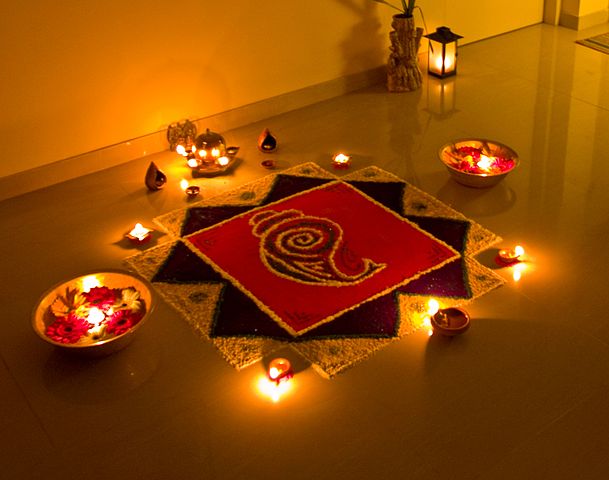 Simple Rangoli Designs for Diwali
You can make this rangoli with your kids this coming diwali festival.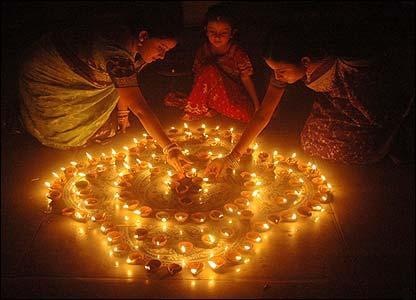 Best Ragoli Designs
What Are The Popular Rangoli Designs?
The designs vary from deity impressions, simple to complicated geometric shapes, petal shapes, flower, and other elaborate designs that require several people to finish. Additionally, the design often according to the occasion especially since the symbols or patterns represents Hindu cultural or religious beliefs.
Oh! In case you are wondering, Hindu is not a religion but refers to a religion such as Buddhism, Jainism, Hinduism, or Sikhism. But it is used more often to refer to Hinduism, the 3rd largest religion in the world. Majority of the Hindu people are in India, and other countries such as Bangladesh, Sri Lanka, Nepal, and others.
Anyway, as I explained early on, Rangoli is often used a symbol for cultural and religious beliefs by devotees. Women make Rangoli at their house entrance or every room to bring good luck, welcome "tomorrow" and to symbolize happiness and joy. Patterns such as the lotus flower, swastika, and other Rangoli icons are indicators of richness or prosperity. So, when in India, always bear in mind that many homes craft Rangoli since it is their tradition and even part of today's modern family.
Rangoli design with flowers like the lotus flower is also another popular symbol. You may also consider symbols such as peacock, parrot, swan, fish, human figures, mango, leaves, and others. Whatever Rangoli designs you choose, know that Rangoli is created in two ways, the wet and dry.
These days, a lot of people uses cement colors with powdered marble when creating a rangoli design but you can only use these materials if you have previous training since this method require precision. But rest assured that when you want to create a beautiful portrait, you can get a good result from using these types of materials.
Rangoli Designs Images
Flower Rangoli Design
I love this rangoli design, made of leaves and petals.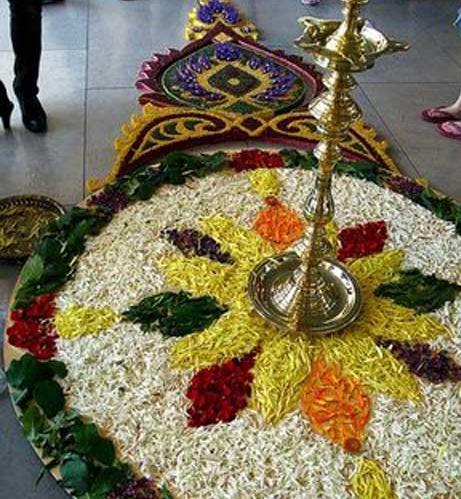 Flower Rangoli Designs
This flower rangoli design definitely beautiful, i love the play of color.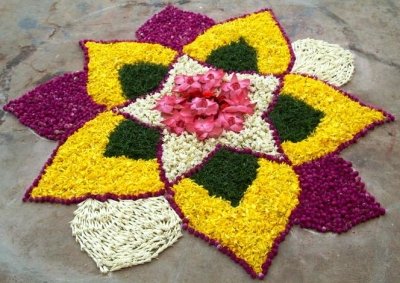 Wow, awesome rangoli designs… I love it!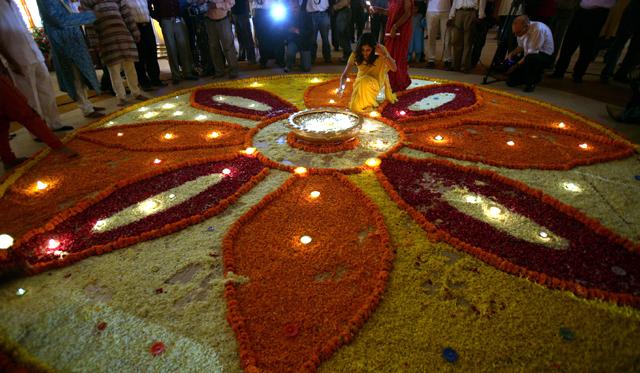 Rangoli Designs Using Flowers
This is another wonderful rangoli designs using flowers that you can try at home.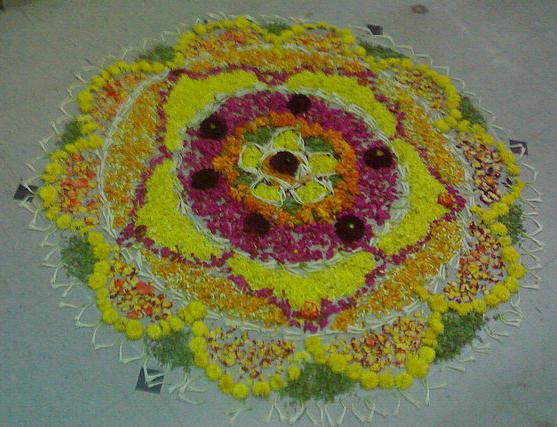 Traditional Rangoli Designs
This traditional rangoli designs is perfect for beginners.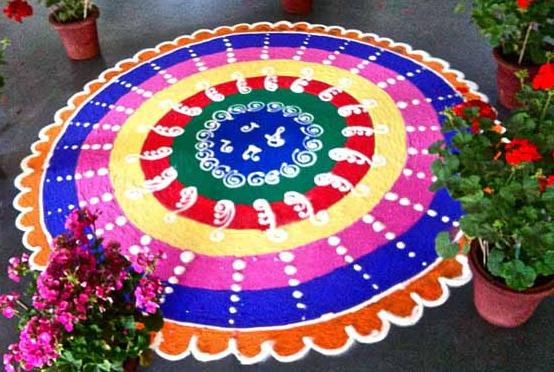 Rangoli Design
Rangoli in Sanskrit words means creative expression using color. In layman words, Rangoli is simply an art of drawing motifs and images on the walls and floors of one's home with flowers, color powders, sands and rice. By different colors, an enchanting piece of image created.
For many Indians, the tradition of making Rangoli in Diwali and other festivals are more than just an old age custom in India but a great way to express creativity and to bring good luck as well as ward of the evil. Take note, Laxmi, the goddess of wealth can be welcomed  with Rangoli designs.
Rangoli Flower Designs Latest
Make your home colorful, decorate it with this cool rangoli design.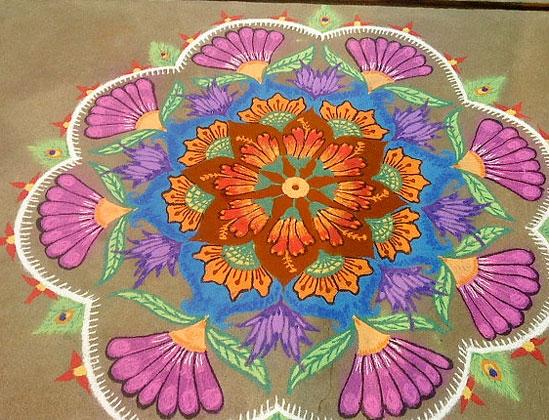 Designs for Rangoli
I love the rangoli design, I think i can easily do this at home.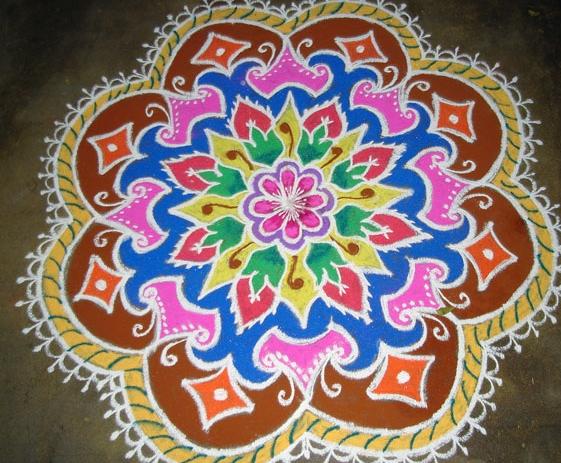 New Rangoli Designs
Are you looking for new rangoli designs? Check out the design below.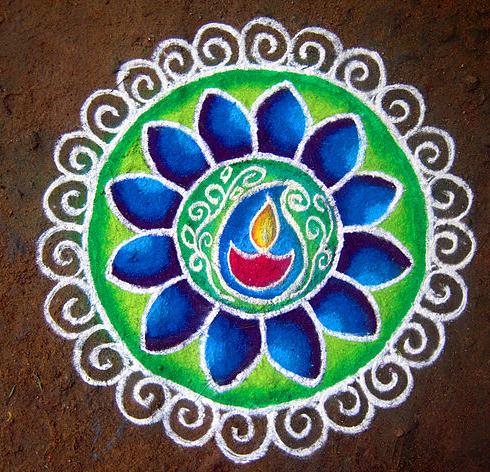 Pongal Rangoli Designs
Pongal designs are very popular during the Pongal festival, a yearly event. Every January, people in India especially Tamilians celebrate the good harvest. They celebrate the harvest festival by cooking pongal, a popular and traditional rice dish in South Indian States, particularly in Tamil Nadu since it is a unique Tamil cuisine. Pongal is derived from the word pong, which means spill over or boil over.
The Tamilians cook pongal to offer the dish to the deities every Pongal Festival. The rice cuisine comes in two varieties, the white pongal (ven) and the sweet pongal (sakarai). Whatever pongal dish you choose, you can find this unique cuisine delicious, probably why it is a common food during breakfast in different parts of India.
The followings are excellent Pongal Rangoli designs for the Pongal festival or Sankaranthi since the patterns showcasing leaves, pots including the dots symbolizes happiness, friendliness, peace, and prosperity.
Pictures of Rangoli Designs
Pongal Rangoli Designs
This is a great artwork, love it!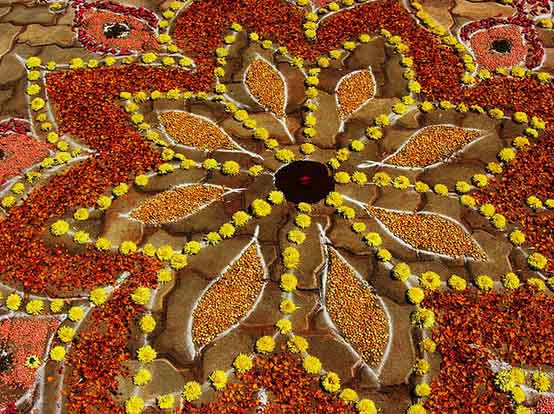 Rangoli Design for Kids
The following are rangoli designs for kids that they can try at home.
Rangoli For Kids
Rangoli design that your kids will love…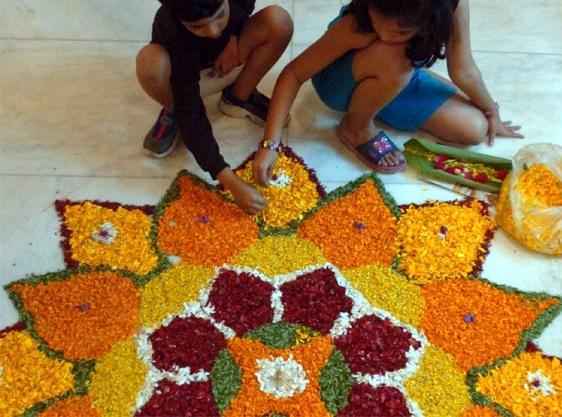 Diwali Rangoli Designs for Kids
This diwali, let your kids try doing the rangoli designs for kids below.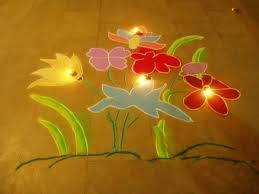 This is a cool rangoli designs, i love the intricacy of this art work. Thumbs up!
Easy Rangoli Designs
Rangoli size differs according to the person drawing them, from the size of a regular doormat to an entire room the choice is yours. But of course, it is also on the skills of the maker since it is not easy to create a large and beautiful rangoli designs with intricate patterns. By the way, rangolis are drawn using your fingers and most of the time the mapping of the rangoli design is done with dots that are joined to create a pattern that will be filled with colors.
Furthermore, the pattern must not be broken and there should be no gaps anywhere in the design of your Rangoli to prevent the evil spirit from entering, according to the Indian beliefs and custom. Plus, the Rangoli Designs are only good for a day or two as part of the tradition is the redesign of the Rangoli, since these art are mere temporary and just for special occasions.
Rangoli Designs Patterns
A lot of Indian women prefer decorating their houses with simple rangoli designs with dots since this kind are more beautiful and entertaining as most dots designed like a puzzle.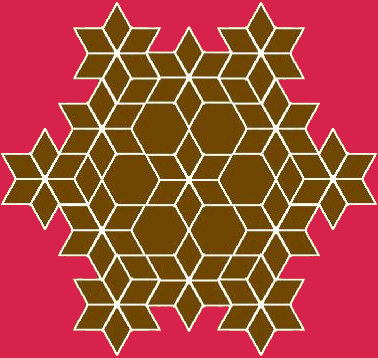 Rangoli Designs and Patterns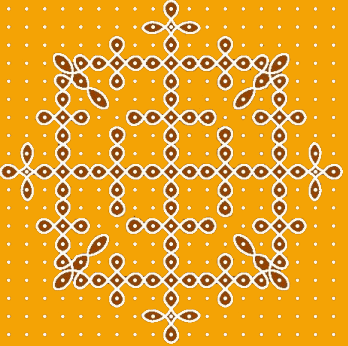 Rangoli Designs for Competition
In India, part of the Diwali festival and other festivity is the Rangoli design competition, wherein individual with superb imagination and creativity will create a stunning visual art with no limit. The winner of the competition will be awarded with prizes and the rangoli declared as "Best in Design."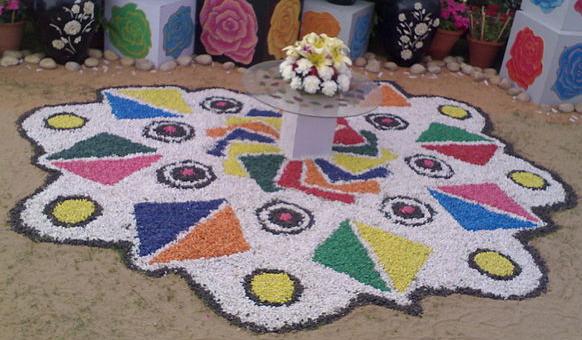 Small Rangoli Designs
Rangoli designs vary in sizes from a doormat type to an entire room, the design is according to the home owner.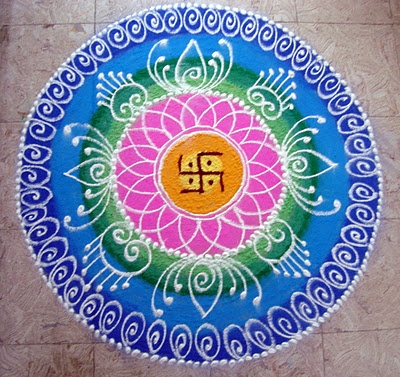 Rangoli Designs Small
The small rangoli designs certainly add color to your doorstep.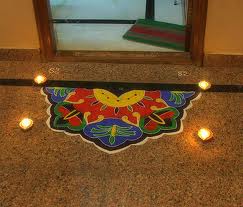 Peacock Rangoli Designs
Peacock rangoli designs are extremely popular because of the animals shape, feathers, and color.
Design of Peacock for Rangoli
This is one of the rangoli designs that you can try, the peacock are just awesome.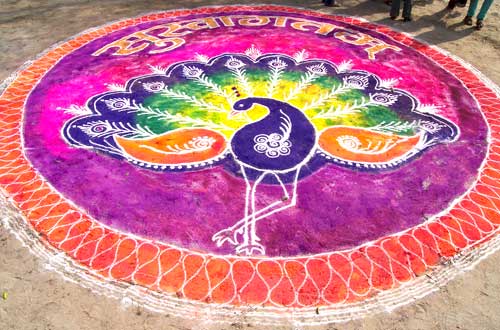 Rangoli Designs in Peacock
This is another fantastic rangoli designs in peacock that I like very much.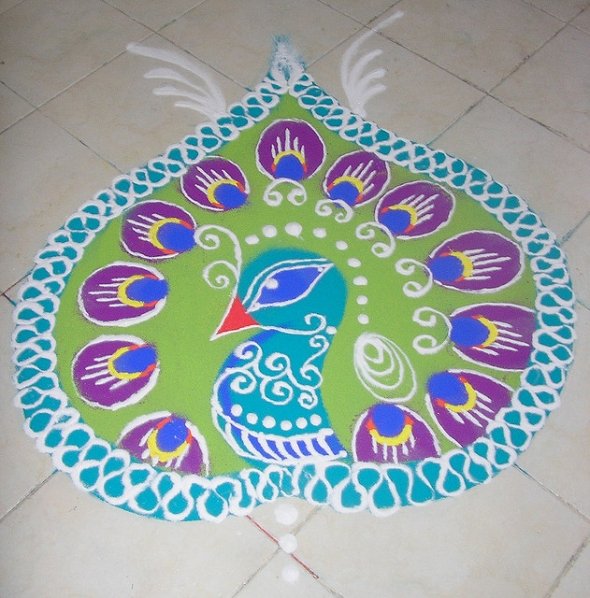 Rangoli Designs of Peacock
Easy rangoli designs of peacock.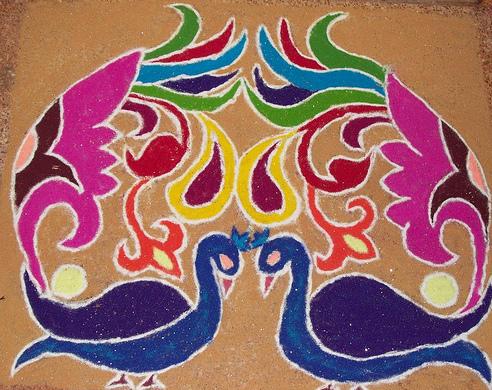 Great peacock rangoli designs for Diwali…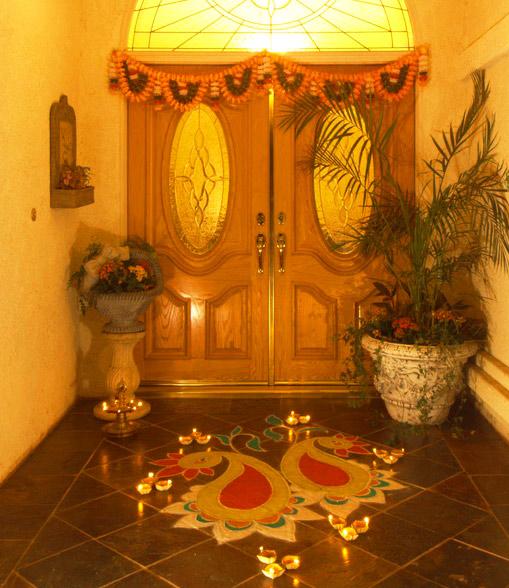 Rangoli Designs with Colours
Great play of colors with this rangoli design.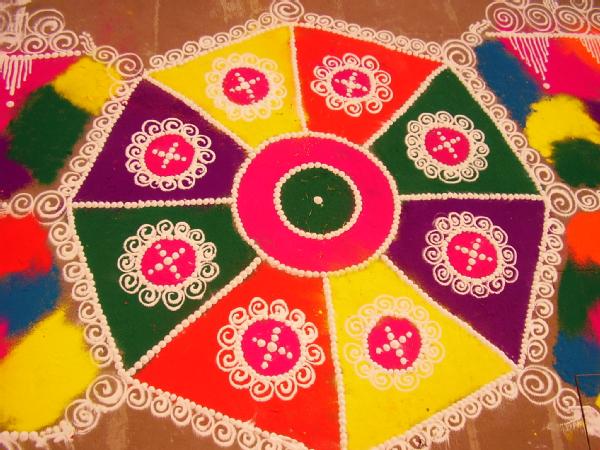 Freehand Rangoli Designs
Freehand rangoli designs are popular as you can do whatever you like, with your designs. In other words, you can let your imagination free since there are no limits to follow.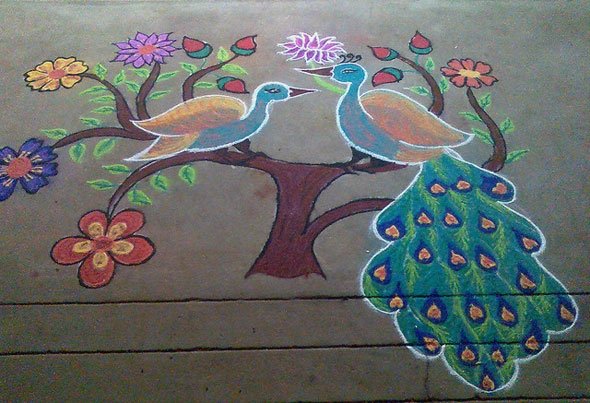 Rangoli on Water
Rangoli on water or floting rangolis are also popular since water gives the design 3D look, which makes the Rangoli design even more interesting.