Thanksgiving feast is the main attraction of the festival, but without the traditional desserts, the thanksgiving celebration is incomplete. Traditional desserts such as pumpkin pie, pecan tart, blueberry pie and other lip smacking desserts brings the celebration to a whole new level.
Thanksgiving Dessert Ideas, Thanksgiving Desserts Ideas
The thanksgiving desserts ideas on this site all come with recipes, so you can make your favorite dessert anytime you feel like baking. The following are staple thanksgiving desserts, liked by almost everyone.
Thanksgiving Pies
1. Pumpkin Pie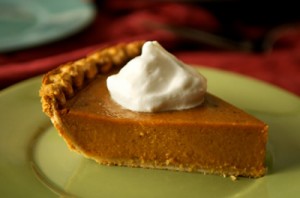 Pumpkin pie is one of the thanksgiving pies that make thanksgiving dinner an affair to remember. Pumpkin pie is the star of the dinner table despite the fact that this dessert is not as sweet as other pies. It is popular as the taste and texture appeals to almost everyone. This thanksgiving, you should make a pumpkin pie in the morning of the festival or in the night, there is no doubt the distinct aroma of the pie will make everyone in the room hungry.
Pumpkin Dessert Recipes
Ingredients:
1 15 oz can of pumpkin
2 eggs (large)
1 14 oz can of sweetened condensed milk
1/2 tsp salt
1 tsp ground ginger
1/2 tsp ground nutmeg
1/2 tsp ground cinnamon
1 9-inch pie crust (unbaked)
Directions:
Preheat oven to 425 degrees F.
In a medium size bowl, whisk pumpkin, milk, eggs, spices and salt until smooth.
Pour the prepared pumpkin mixture into the crust
Bake for at least 15 minutes
Reduce temperature to 350 350 degrees F, and baked for 35 to 40 minutes more.
Remove the pie from oven when the knife inserted into the crust comes out clean.
Garnish with whip cream (optional)
Serve immediately
2. Apple Pie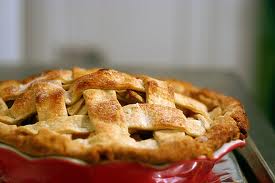 Apple pie is one of the popular thanksgiving desserts in America and Canada. Thanksgiving dinner becomes even more festive with mouthwatering apple pie, so including this pie on your menu is an excellent idea. Apple pie is very easy to prepare at home and great for dessert or snacks.
Thanksgiving Pie Recipes
Ingredients:
1 9-inch double crust pie
1/2 cup butter (unsalted)
3 tbsp all-purpose flour
1/4 cup water
1/2 cup white sugar
1/2 cup brown sugar
8 Apples (peeled and sliced)
Directions:
Preheat oven to 425 degrees F
In a saucepan, melt butter then stir in flour to create a paste.
Next, add the water, brown and white sugar then bring to a boil. Reduce the temperature, and let it simmer.
In a pie pan, place the crust on the bottom.
Fill the crust with apples, cover with lattice crust.
Sprinkle the sugar then gently pour the butter over the crust.
Place the pie in the preheated oven then bake for 15 minutes.
Reduce the temp to 350 degrees F after, then leave it to bake for 35 -45 minutes more or until the apples soften.
Serve with whip cream on top or ice cream.
3. Cranberry Apple Mix Pie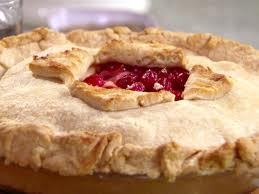 Cranberry pie is a wonderful thanksgiving dessert and even perfect for all holiday. The fruits tartness and perfectly baked crust go together very well, perfect for the holiday.
Thanksgiving Dessert Recipes
Ingredients:
2 Cups frozen or fresh cranberries
1 1/2 cups sugar
2 tbsp water
4 tbsp cornstarch
1 15-oz Refrigerated Pie Crusts (Pillsbury)
5 to 6 cups peeled and sliced apples
1/2 tsp ground nutmeg
1/4 tsp ground allspice
1/2 tsp cinnamon
Directions:
In a saucepan, mix cranberries, sugar, cornstarch, and water then boil for 5 minutes. When done, let it cool for 15 minutes.
Preheat oven to 425°F then prepare the crust.
In a bowl, Mix apples and the remaining ½ sugars, cornstarch, allspice, nutmeg and cinnamon until apples completely covered. Next, stir in the cranberry mixture.
Spoon the prepared cranberry and apples mixture into the crust-lined pan, and top with another crust. Seal the edge.
Place the pie into the oven, bake for 40 to 50 minutes or until crust is golden brown.