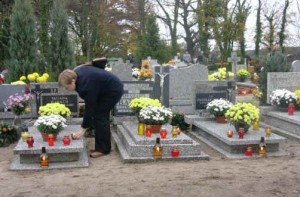 In United States, a lot of churches celebrate All Saints' Day, a day honoring all the saints. The feast of Saint also honors those who do not have their own feast day, making this day special for all saints.
About All Saints
All Saints Day is celebrated to honor all saints, whether known and unknown. This holiday is also known as The Feast of All Saints, Solemnity of All Saints, or All Hallows. Christians celebrate All Saints Day on the 1st day of November, or on the second day of Halloween and the day before All Souls Day.
In the west, All Saint Day commemorate all people who have dead and attained sainthood or beatific. The day is a special holiday, not just in America but also in other catholic countries. It is a special holiday, not just for the saints but also to all Catholics who observe the traditions wherever they are in the world.
By the way, observing the All Saints Day tradition is a holy obligation in many countries, especially in Catholic countries, which is why going to mass is required. Only those who are sick exempted from the "Holy Day of Obligation." But of course, not all countries that follow Catholicism attend mass especially when November 1 falls on a weekday, what most churches just do is transfer the mass to Sunday then still celebrate the All Saints Day on the original day.
All Saints Day History
The feast of Saint or All Saints Day is celebrated in Antioch around the late 4th century. Saint Ephrem the Syrian in a sermon also mentions it in 373. The catholic orthodox and catholic churches celebrate the feast on the Eastern Season until Pope Gregory instituted November 1 as the day of honoring all saints. The pope ordered the annual celebration when he consecrated a chapel in St. Peter's Basilica for all the martyrs. But take note, the celebration of All Saints Day was confined to the diocese of Rome alone until Pope Gregory IV extended the celebration to all the church worldwide.
All Saints Day is celebrated after the Halloween, a religious festival with pagan origins since it is adopted to entice pagans to transfer to Catholicism. Halloween is a festival to prepare the people for the next day celebration, and the day after which is All Souls Day.
Feast of All Saints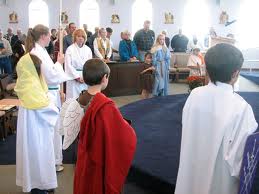 The Catholics in the United States and other countries celebrate All Saints Day on November 1. In the different states in America like New Orleans, the people visit the local cemeteries and decorate the graves with candles and flowers or bouquets. Come to think of it! Many people celebrate around the 1st or the 2nd of November as they link the two holiday.
In fact, in the Philippines the people visit the grave as early as October 31 and stay until the eve of November 1 while some people arrive on the 1st day of November and stay until the next day. The Filipinos call All Saints Day "Undas" and All Souls Day "Araw ng mga Patay," which means the day of the dead. It is an official holiday and the time of get together, wherein family members stay in the cemetery all day or until All Souls Day to be near their loved ones, the dead and the living.
In Mexico, All saints Day coincides with the "Dia de los Muertos" or the Day of The Dead also known as Days of the Innocents, a celebration honoring all the deceased children and infants.
In Austria, Argentina, Belgium, and other countries that celebrate All Saints Day and All Souls Day, people usually take candles and flowers to the grave of their dead loved ones and friends.
By the way, the All Saints Day is not a federal holiday in America, not like Thanksgiving holiday and other U.S holidays.
List of Patron Saints
The Catholic Church has thousands of canonized saints, or individuals recognized as holy men and women and worth imitating. These saints have their lives examined extensively specially when a miracle is associated with them. The Saints, protectors or guardians also have specialization like St. Vitus is the saint against oversleeping and many other patron that protect every area of the human lives. Now, these saints including those who were not officially recognized but worthy to be called holy all honored on All Saints Day.
Saint Adrian – Patron of soldiers
Saint Agnes – Chastity and Girl Scouts
Saint Agatha – Patron of Bell founders and Breast diseases
Saint Albert – Patron of Medical technologists and Scientists
Saint Alphonsus – Patron of Vocations
Saint Alexis – Patron of pilgrims and beggars
Saint Ambrose – Patron of Learning
Saint Alphonsus – Patron of Vocations
Saint Andrew – Patron of Scotland
Saint Ambrose – Patron of Learning
Saint Anne – Patron of Mothers, Grandmothers, Horse Riders and Women in labor
Saint Anthony – Patron of the Poor, cemetery workers and Amputees
Saint Appolonia – Patron of Dentists
Saint Augustine- Patron of Theologians
Saint Barbara – Architects, Builders, Miners, and Storms
Saint Barnabas – Patron of Cyprus
Saint Bartholomew – Patron of Plasterers
Saint Benedict – Patron of Poisoning and monks
Saint Bernadine – Patron of Advertising
Saint Bernadino – Patron of Impulsive gambling
Saint Blaise – Patron of Wild animals
Saint Bonaventura – Bowel disorders
Saint Boniface – Brewers, Tailors and Germany
Saint Brendan – Patron of Sailors and Navigators
Saint Bridget – Patron of Ireland
Saint Camillus – Patron of the Sick and Nurses
Saint Catherine of Sienna – Patron of Italy
Saint Charles Borromeo the Patron of Clergy, Colic, Stomach trouble and Ulcers
Saint Christopher – Patron of Travellers and Bachelors
Saint Clare of Assisi – Patron of Television
Saint David – Patron Saint of Doves and Wales
Saint Dennis – Patron of France
Saint Dorothy – Patron of Florists
Saint Dunstan – Patron of Locksmith and Goldsmiths
Saint Dymphna – Patron of Family Harmony
Saint Elizabeth – Patron of Separated spouses
Saint Felicitas or Felicity of Rome – Patron of Widows
Saint Francis Xavier Cabrini – Patron of Immigrants
Saint Gabriel – Patron of Youth
Saint George – Patron of England
Saint William – Patron of Adopted children
Saint Winifred – Patron of Virgins
Saint Yves – Patron of Lawyers
The above are just partial listing because there too many patron saints to mention them all in one page. Nevertheless, the list should give you an idea what these patron saints offer and represent.
All Saints Day symbols are sheaf of wheat, hand of G_D or Rayed Manus Dei, crown and the individual symbols of the patron saint. The customs are visiting the graves and giving soul cake on Hallows eve, in some countries. Keep in mind that Catholics pray to the saint to get close to G_D and to ask for guidance and prayers.