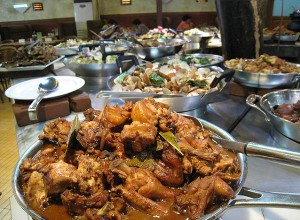 Filipino love for good food is obvious as many Filipino  cook delicious dishes at home. Although Philippine dishes are not as popular as the Vietnamese and Thai foods, there is no doubt that Pinoy cuisine can compete with its Asian neighbors. After all, Philippines are not just rich in history but also blessed with taste for excellent foods, and of course creativity in the kitchen.
By the way, Filipino cooking is less complicated so you will have an easy time cooking the best Filipino dishes whether you are a foreigner residing in the Philippines or just someone interested in cooking Filipino dishes for your family or friends.
In order to give you an idea about the best Filipino dishes, I have come up with a list of top 10 Filipino dishes to try at home. The lists are foods I cooked at home, and I'm sure, also cook in many pinoy homes.
If interested in easy Filipino recipes with also easy to find ingredients, checkout the following Filipino foods, and recipes
Top 10 Filipino Recipes
Best Filipino Chicken Adobo Recipe
#1 Adobo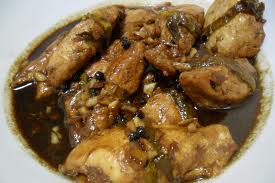 Adobo is always present in every pinoy household. In fact, it is a favorite food by Filipinos since it is easy to prepare, have a longer storage life and very delicious. Many pinoy considered adobo the national dish as no Filipino could resist the dish. This pinoy cuisine is not just limited to chicken and pork, as squids, veal, goat meat, beef, kang-kong (river spinach) and hipon (shrimp) can be cooked adobo style.
Take note, adobo has so many variations, so do not be surprised to find an adobo cooked with gata (coconut milk) as every region seems to have their own version of famous Filipino dishes.
Pork and Chicken Adobo Recipe
Ingredients
1 lbs pork belly
1 lbs chicken
1 cup soy sauce
2 tbsp garlic, crushed or minced
5 pieces bay leaves (dried)
4 tbsp vinegar
1 tbsp (whole) pepper corn
1 cup water
salt to taste
Cooking Procedure:
Combine the pork and chicken, soy sauce, and garlic then leave at least 1 hour to marinate.
Put the marinated pork and belly into the pot cook for a few minutes over medium high heat.
Add water, vinegar, peppercorn, and then the dried bay leaves. Bring to a boil then Simmer for 40 minutes or until the water is gone. (I like my adobo oily)
Add salt to taste
Serve immediately
Best Filipino Dishes
#2 Kare Kare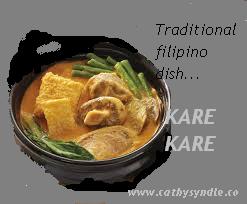 Kare kare is not just a famous Filipino dish but also a favorite party food. Many pinoys serve kare kare on weddings, birthday parties, Christmas parties and other special occasions. This pinoy stew cooked with peanut butter, ox tail, tuwalya (tripe), pork, and seafoods.
In some regions, kare kare is also cooked using goat meat and chicken, so you have a choice when it comes to the meat. When I cook kare kare, I combine the ox tail and tripe. When low on a budget, I used seafoods such as squid, tahong, and shrimp rather than usual meat. And of course, I serve kare kare with shrimp paste (Barrio fiesta spicy bagoong) when I don't have the time to prepare the shrimp paste.
Ingredients
2 lbs oxtail
1 lbs tripe
1 small banana flower bud (sliced)
1 bundle of string beans (sliced)
1 bundle of pechay or bok choy (cut in half)
4 pcs eggplants (sliced lengthwise)
1 cup ground peanuts
1/2 cup peanut butter
1/2 cup annatto seeds (soaked in water)
1/2 cup ground rice (giniling na bigas)
1 tbsp garlic (minced)
1 large onion (chopped)
Cooking Procedure:
In a large pot, tenderize the meat for 3 hours or until tender (used a pressure cooker if you have one as the meat takes only 35 minutes to cook)
In another pot, (only when the meat is tender) sauté the onion and garlic then add the meat and some of the boiled water.
 Next, add into the pot the ground peanuts and peanut butter.
Then, the coloring (coloring is from the annatto seed soaked in water) and simmer for 5 to 7 minutes.
Add the toasted ground rice or giniling na bigas (giniling na bigas is added to thicken the sauce) and simmer for 5 minutes.
On a separate pan, sauté the garlic then add the banana flower, eggplant, and string beans and cook for 5 minutes.
Transfer the cooked vegetables into the large pot where the meat is cooking.
Serve hot with shrimp paste.
Take note, it is not necessary to cook the vegetables separately unless you want your veggies crisp.
#3 Sinigang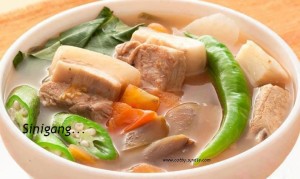 Sinigang is a typical native dish. It is an all time favorite pinoy dish since it is great during the rainy season and summer. The pork cooked in tamarid or kamias make the dish sour but extremely delish.
By the way, when cooking this soured dish makes sure you use the pig bony part or buto buto.  In case you have no idea which part of the pig is bony, know that baby back ribs, neck, spare ribs are great for sinigang. You may also use pigue or kasim if you want more pork meat in your sinigang.
Ingredients:
2 lbs pork (or buto-buto)
1 bunch kang kong
3 tbsp fish sauce (patis)
1 bunch sitaw (string beans), cut into 2 inch length
2 pieces tomato (Quartered)
3 pcs chili or siling labuyo (green chili)
1 tbsp cooking oil
2 liters water
1 large onion (sliced_
2 pcs gabi (taro), quartered
1 pack sinigang mix (good for 2 liters water)
Cooking Procedure:
Heat the oil in the pot over medium high
Sauté the onion,
Add the pork into the pot and cook until tender or until the pork turns light brown,
Next, add the fish sauce, then mix into the pot the rest of the ingredients except the kangkong,
Then pour the water  and bring to a boil,
Add the tomatoes and taro then let it simmer for 40 minutes
Pour the sinigang mix and chili, simmer
Put into the pot the kangkong, cover, and then turn off the heat. The kangkong will cook with the remaining heat.
Serve hot!
Ps: Sinigang is also cooked with bangus (milkfish) and large shrimp (hipon).
#4 Dinuguan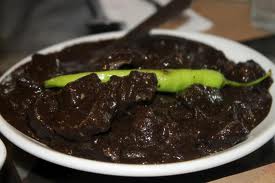 Dinuguan is a dish not for fussy eaters since it is comprised of pork innards and pork blood. This pinoy cuisine is also known as "blood stew" and very different from European and other countries version of pork blood stew since Philippine food recipes include long green pepper (siling labuyo) and vinegar.
Dinuguan is great to eat with rice or puto (rice cake) for merienda.  It is one of my favorite comfort food, and I'm sure a lot of Pinoys also love cooking this dish.
Ingredients:
1/2 lb Pork loin (cubed)
½ Pork innards (large and small intestine)
1 cup vinegar
2 pcs siling labuyo (long green pepper)
1 1/2 tbsp brown sugar (optional)
1 medium sized onion (finely chopped)
1 tbsp garlic (minced)
1 tbsp cooking oil
1 cup water
10 oz pork blood
Cooking Procedure:
Sauté the garlic and onion in a pan over medium high heat
Add the pork into the pan and sauté for about 5 minutes
Let it simmer until the water is almost gone and the meat is tender
Then add the blood and simmering for at least 10 minutes while mixing continuously
Next, add the vinegar and siimmer for 15 minutes more.
Put the brown sugar, followed by the long green pepper and simmer for 2 minutes.
Serve hot
#5 Laing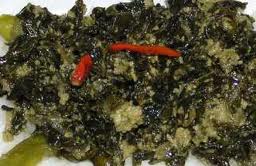 Laing is one of the delicacies in Bicol that is very popular across the country. This dish is not often cook because of the taro leaves availability. Although there is packaged taro leaves (dried) sold in a supermarket and wet market, it is best to use taro with the stalk still on. Laing is easy to prepare, and great with salted dried fish only or also with pork meat. If you are going to try cooking Laing, make sure you add lots of sili since the authentic dish is very hot.
Ingredients:
1 pack dried taro leaves or bunch of taro (gabi plant)
1/2 lb pork belly (sliced into small parts)
3/4 cup dilis or salted dried fish (daing)
2 cups coconut milk
4 cups coconut cream
20 pieces sili or chili
1 medium onion (sliced)
5 cloves garlic (crushed)
2 tablespoons ginger (sliced into strips)
2 pieces siling labuyo (long green chili)
salt
pepper to taste
Cooking Procedure:
Combine the pork, dried fish, onion, garlic, ginger, coconut cream, and coconut milk in a large cooking pot.
Turn heat to medium high to boil.
Add the dried taro leaves and chili (but do not stir) then simmer until liquid almost gone. This usually takes about 40 to 50 minutes to cook, so when you notice a strong scent of coconut the dish is almost ready.
Once ready, add the long green chili, salt, and pepper. Stir the ingredients and let it cook for 3 minutes more.
Serve immediately.
#6 Pinakbet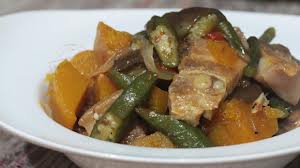 Pinakbet is a popular Ilocano dish. This dish is consisting of vegetables, pork, and bagoong. A lot of people considered pakbet a healthy dish despite the fact that the key ingredients include fish or shrimp paste. Many household in the Philippines cook this native Ilocano dish because it is cheaper and less time consuming to prepare.
Ingredients:
1/4 lb pork (sliced thinly)
 1 large egg plant (Chopped)
¼ lb squash (chopped into cubes)
3 pcs large tomato (sliced)
1 pcs onio (sliced)
1 tbsp ginger (minced)
3 cloves garlic (crushed)
6 pcs okra
1 bunch sitaw (string beans), cut 3 inches length
4 tbsp shrimp paste
1 cup water
3 tbsp cooking oil
salt and pepper to taste
Cooking Procedure:
Heat cooking oil in a large pan over medium high heat
Sauté the garlic, onion, tomato and ginger
Throw into the pan the pork and let it cook until the meat color turned light brown or about 5 minutes
Add into the pan the shrimp paste and let it cook for 2 minutes
Next pour the water into the pan and bring to a boil. Simmer for 10 minutes or until pork is tender.
Add the squash and cook for 5 minutes or until soft
Add remaining veggies and simmer for 5 minutes more or until cooked
Serve with steamed rice.
Best Chicken Recipes Ever
#7 Chicken Inasal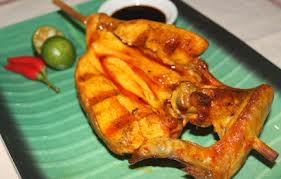 Chicken Inasal is a local delicacy in Bacolod. This is one of the popular Filipino chicken dishes and favorite of many Pinoys because of its taste distinctive taste atypical of grilled chicken or barbeques.
The chicken meat marinated in calamansi, lemongrass, pepper, salt, and garlic and then brushed with achuete oil (annatto seeds cooked in hot oil) is great with rice.
Ingredients:
2 lbs chicken cut into desired serving pieces
Marinade:
2 tbsp ginger (minced)
2 tbsp garlic (minced)
3/4 cup lemongrass (chopped)
1 cup coconut vinegar
1/2 cup calamansi or lemon juice
1 tbsp salt
1/4 cup brown sugar
1 cup lemon soda (softdrink)
1/2 tbsp ground black pepper
Basting Sauce:
3 tbsp annatto oil (atsuete oil)
1/2 cup margarine (softened)
1/4 tsp salt
1 tsp lemon or calamansi juice
Cooking Procedure
In a large bowl or freezer bag, combine the chicken, lemongrass, ground black pepper, salt ginger, garlic, vinegar, brown sugar, lemon juice, and soda.
Mix or shake all ingredients until well incorporated and then marinate for 1 to 3 hours
In a small bowl, combine the annatto oil, margarine, salt, and lemon juice. Set aside
Place the marinated chicken in the grill, skin first then baste occasionally with a generous amount of the basting sauce
Check the chicken regularly then serve with rice.
Best Filipino Dishes
8# Bulalo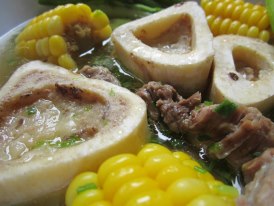 Bulalo is a special dish comprised of bone marrow and vegetables. This dish is very popular amongst Filipinos especially those who enjoy sipping hot and flavorful broth. A lot of restaurants especially in Tagaytay City and Sto. Tomas, Batangas serve the local dish, since it's their specialty.
Bulalo is very easy to prepare but time consuming since the meat takes time to tenderize. By the way, the key to the soup tastefulness is in the meat, which is why it is crucial to choose the right shank.
Ingredients:
2 lbs beef shank
½ pc cabbage (small)
1 bundle of Pechay
3 pcs Corn (cut into 3 parts)
2 tbsp pepper corn (whole)
1 medium sized onion
1/2 cup Green onions
34 ounces water
2 tbsp patis or fish sauce (optional)
Cooking Procedure
In a big cooking pot, bring to a boil the water over medium high heat

Tenderize the beef shank then place the onion and whole pepper corn into the pot then simmer for 1.5 hours or until meat is tender.
Next, add the corn and let it simmer for another 10 mins.
Then, add the pechay, cabbage, and green onion (onion leeks)
Lastly, add the fish sauce into the pot.
Serve hot!
Best Filipino Foods
#9 Tinolang Manok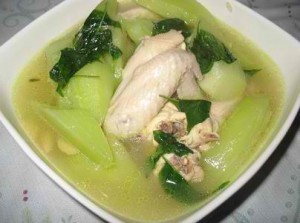 Tinolang manok is an onion and ginger based soup, with chicken as key ingredient. This dish is an authentic Filipino recipe and great during the rainy or cold season. The dish is complimented by green papaya cut into wedges or chayote as alternative then malunggay or chili pepper leaves.
Personally, I like my tinola with just papaya and malunggay rather than the dahon ng sili. By the way, your tinola is more flavorful when you used native chicken and cooked the meat for a long time.
Ingredients:
1 whole chicken (cut into desired sized)
36 ounces rice washing
1/2 pc green papaya (cut into wedges)
1 tbsp garlic (minced)
1 medium sized onion (chopped)
1 thumb ginger (cut into strips)
2 tbsp patis or fish sauce
Hot pepper or malunggay leaves
Cooking Procedure:
Sauté the garlic, ginger and onion
Place the chicken into a medium sized pot and cook until the meat become slightly brown
Pour into the pot the rice washing and then bring to a boil, let it simmer for at least 45 minutes.
Next, add the green papaya and let it simmer for 5 minutes
Add the hot pepper leaves or malunggay
Then add salt and pepper to taste
Serve hot!
#10 Paksiw Bangus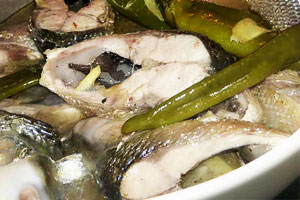 Paksiw is a local dish, a staple in Filipino household since you can paksiw different type of fish. However, my favorite is paksiw na bangus (milkfish) since it is more meaty and flavorful. Aside from bangus, you can also paksiw GG or galungong, dilis and tilapia. These fishes are great for budget conscious individuals but craving for the taste of paksiw.
Ingredients:
1 kl fish (cleaned, scales and sliced into desired sized)
1 knob ginger (sliced and pounded)
6 cloves garlic (crushed)
 1/2 cup vinegar
1 cup water
1 medium onion (sliced)
1 tbsp corn oil
3 pcs siling labuyo or long green pepper
2 tsp salt
1 tsp whole peppercorn
Patis
Cooking Procedure:
Heat a pan over medium high heat then pour the vinegar and water.
In the pan, arrange the fish then tossed the ginger, onion, garlic, and siling labuyo. Cover and let it simmer over low to medium heat for atleast 12 to 15 minutes.
Serve hot accompanied with fish sauce or patis.