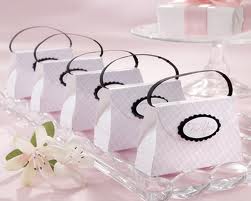 Bridal showers are just as important as the wedding itself, so giving your guests a bridal shower favor as a token of appreciation for attending the party and bringing a gift is a good idea. In fact, it is not just a good idea but also something you must do especially when the favors do not have to be extravagant, that's why even if you're on a tight budget there is no reason not to give favors. Anyway, if you are a bridesmaid, mom, maid of honor or a friend of the bride-to-be and hosting the bridal shower, bookmarking this post for reference is a good idea as I have scoured the internet to find twenty of the most ingenious favors to give to guests.
My list of bridal shower favors will definitely be appreciated and enjoy by the guests. You see, I believe that if you are spending money on gifts, might as well buy something that people will enjoy. Oh! The list of favors can also be used for weddings, so in case you are looking for wedding favor ideas then there is no need to waste time browsing the web as you can certainly find the right favors from this post.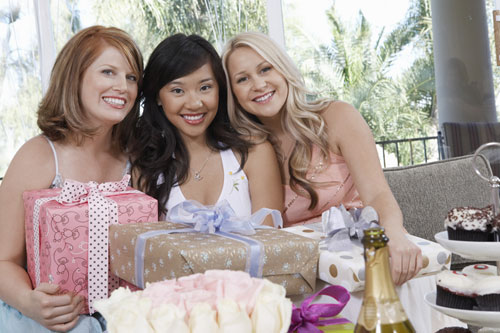 Bridal Shower Favors Ideas
The following bridal shower favor can help you find the right if not the best favor for your guests.
Cheap Bridal Shower Favors
Bridal shower favors as said earlier do not have to be extravagant, and since there are cheap bridal shower favors that can be personalized with names, you can give a thank you gift without spending a lot.
Bridal Shower Favors to Make
1. Soy Candles
– Candles made of soy wax are very popular wedding and bridal favor. The candles are easy on the pocket and with the right packaging can look expensive.
Personalized Bridal Shower Favors
2. Soap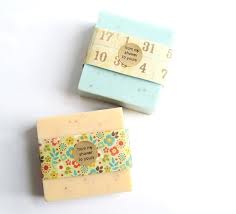 – These days, giving soap is fashionable with over 100 varieties of soap scents to choose from for special parties, anniversaries, baby showers, wedding and bridal shower favors. Soap is also a guest favors that suit all types of bridal shower theme and budget.
Unique Bridal Shower Favors Ideas
3. Wine Bottle Stopper
– Wine stoppers can match any theme as they come in different designs from dolphin to hearts, so your choice is endless.
Bridal Shower Favors Cheap
4. Seed Packets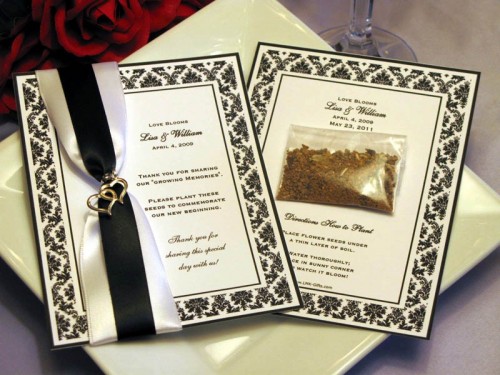 – You can buy seeds online or offline then personalize it with a DIY packet to save money and make the favor extra special.
Bridal Shower Party Favors
5. Nail Polish
– Giving nail polish as bridal shower favor is fast becoming popular because it is practical and useful.
Best Bridal Shower Favors
6. Cookie Cutter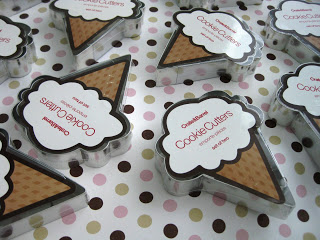 – One of the inexpensive favors that you can consider for guests is a cookie cutter because it is useful to have around in the kitchen.
Favors for Bridal Shower
7. Flash Drive
– All party must come to an end, but you can leave a long lasting impression without doing anything foolish when you send guests home with a loaded flash drive. They can play the photos or videos you have load into the flash drive for many years.
Edible Bridal Shower Favors
Edible bridal shower favors are fast becoming popular, they are easy to prepare and good to give as thank you gift.
1. Cotton Candy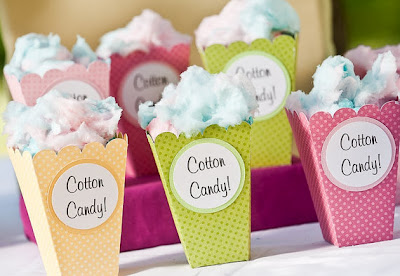 – If you are financially tight, cotton candy is the perfect solution to your bridal shower favor. Cheap, yummy and can be packed into an expensive favor that everyone will like to receive.
Inexpensive Bridal Shower Favors
2. Flavored Lollipop
– This is a cheap bridal shower favor but can look classy with fabulous packaging.
3. Chocolate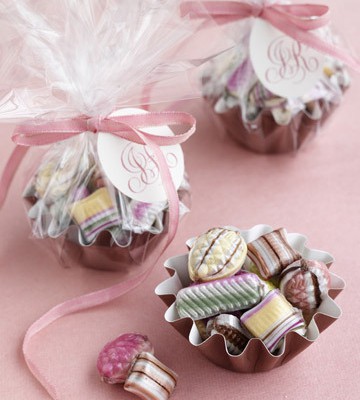 – Buy kisses or other chocolates then place them in a plastic, tie with a ribbon and attach a tag. Viola, you have a bridal shower favor without breaking the piggy bank.
DIY Bridal Shower Favors
Purchasing ready made bridal shower favors can be a bit pricey, while it is also possible to personalize them these favors have generic quality. Fortunately, there are tons of Do-It-Yourself projects for bridal shower to consider that guests will love and appreciate.
1. Air Plants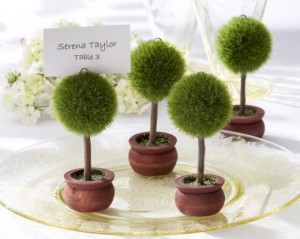 – Everyone loves a little plant, whether one is a nature lover or not especially if the greenery is a certified low maintenance. Plus! you can turn the air plants into a bridal shower centerpieces with the right plant holder. So, just create a unique and beautiful place holder for your air plant.
2. Honey in Jars
– This is a definite money saving bridal shower favor as you just buy honey then find empty jars that you can decorate. You can even ask from your family and friends if you don't want to buy jars.
3. Decorated Mugs
– Porcelain mugs are wonderful DIY bridal shower favor, more so when you are very creative and great in designing. Additionally, decorated mugs are easy to make, just bake the mugs in the oven to set the design then wrap in a colorful plastic or paper and send them home to your guests who enjoy drinking tea or coffee from a cute receptacle.
4. Lemonade Treat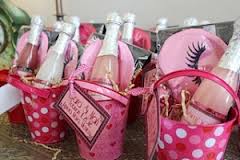 – If you are good in making lemonade, you can take advantage of your skill. You see, you can send home a bottle of lemonade or any tasty concoction to your guests. The bottle do not have to be fancy, just a simple bottle will do and just decorate with a fabulous label that you can make in your computer. There is no doubt that guests will flock to the bridal shower favor table to get a bottle of your delicious treats.
5. Crocheted Wallets or Caps
– If you are very good with strings and your guests list is not too large then why not craft some crocheted wallets or caps. In fact, I highly recommend crochet favor if you have a lot of spare time.
Homemade Bridal Shower Favors
Bridal showers are an excellent way to showcase your baking or cooking ability. Come to think of it! You can wow guests without spending a lot with affordable and easy to prepare treats that you can do on your own, such as treats below:
1. Gourmet Popcorn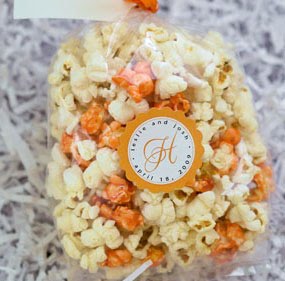 – Send home to your guests mouthwatering popcorn that you have prepared yourself. The best thing about gourmet popcorn is that you do not have to spend a lot of time in the kitchen with popcorn, so also great DIY project for busy people.
2. Miniature Pies
– I truly believe that no can resist a delicious dessert as a parting gift, so baking miniature pies to give as bridal shower gift is worth considering as you can save money.
3. Oatmeal Cookies
– Baking goodies like oatmeal cookies can save you a lot of money rather than purchasing bridal shower favors online that are pricey. Cookies are also a nice gift, specially when really delicious.
4. Homemade Granola
– You do not have to be a master baker to create yummy concoction such as a homemade granola. So, start surfing the internet for the best granola recipe to prepare your bridal shower favors.
5. Miniature Cupcakes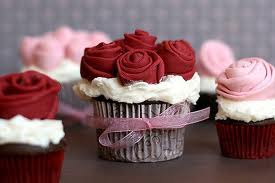 – If you can bake a cake then you can also do miniature cupcakes. Cupcakes are great bridal shower favor for large or small guests, so mull over this idea as no one can resist yummy treats. Bridal shower favors are a wonderful way to say thank you for the time, so when choosing a favor make sure it is something that guests will appreciate and enjoy eating. I hope this post help, also check out my other post as I have written articles that tackle different issues about life, relationship, and travelling.