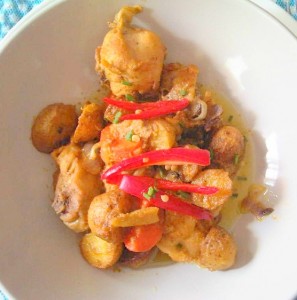 Chicken curry with coconut milk is a flavorful dish that is super easy to make. My kids love all chicken dish especially chicken curry. My chicken curry dish is not the typical Indian curry dish which is really good and bit spicy hot. This is a Filipino version of curry which is great for chicken lovers. Before you try my recipe, just a little warning though, this chicken curry recipe is bound to make you hungry as the amazing smell of coconut milk and ginger is simply overpowering.
Before you try my version of chicken curry, let me tell you a bit about the history of this amazing chicken dish. Chicken curry is a delicacy in Southeast Asia, South Asia and in the Caribbean. So, it is not unusual to find different chicken curry recipes on the internet. You can find chicken curry cook in tomato, onion and flavored with chili peppers, ginger, garlic and wide range of spices.
The common spices use for cooking chicken curry is cumin, turmeric, cinnamon, coriander and cardamom. In the Philippines, most people just used the pre-made spice which we call curry powder for it is available in all supermarkets. By the way, the country with the most variations of chicken curry is India. In some region, their chicken curry dish is creamier while in other region the dishes are a little sweeter in taste.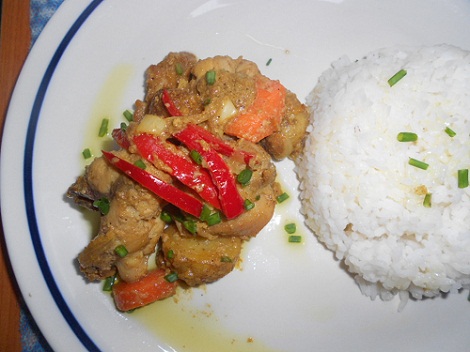 Chicken Curry Recipe
This recipe is my version of chicken curry with coconut milk, below are the ingredients and the procedure to cook chicken curry.
Ingredients:
Chicken (legs, thigh or breast cut into medium sized cubes)
Curry Powder
Red and Green Bell Peppers
Coconut Milk
Potatoes
Carrots
Garlic
Onions
Ginger
Pepper
Salt
Cooking Oil
Procedure:
In a medium skillet, fry the potatoes then set aside.
Next, pan fry the chicken and set aside.
In a large pan or where you fry the chicken, sauté the onion, ginger and garlic then add the chicken pieces. Let it cook for 2-3 minutes, stir continuously.
Add the curry powder into the pan and let it cook for a minute before stirring in the coconut milk.
Bring to a boil then reduce the heat before adding the potatoes, carrots and the green and red bell peppers.
Seasoned with salt and pepper to taste then simmer for 5 minutes.
Serve hot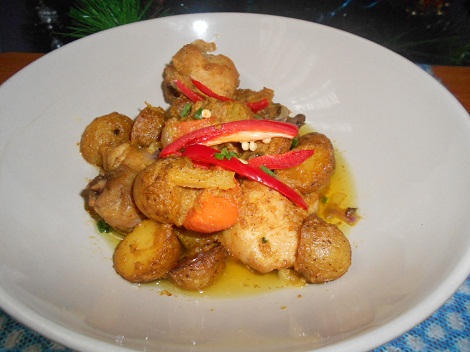 P.s: In case you are wondering about the lack of sauce, i purposely didn't put much sauce on the bowl.  
I prefer using fresh coconut milk instead of canned coconut milk. I also prefer using marbled potatoes than the regular large potatoes. Frying them ensure the potatoes are well cooked and a bit crispy on the outside which brings the dish to a new level. Anyway, you don't need to fry the potatoes you can just add them together with the chicken. But you need to simmer longer to cook the potatoes thoroughly.
All images in this post is owned by Cathy.Snydle.Com…