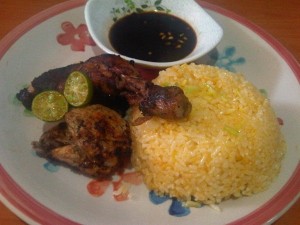 Chicken inasal is a barbequed or grilled chicken dish that originated in Negros Occidental. A chicken dish that is extremely popular in Bacolod City. It is so popular that there is a place called Manokan country, wherein all restaurants serve the famous chicken inasal. I have tried different restaurants that sell Inasal as their main dish but the two restaurants that stand out for me are Bacolod Chicken Inasal and Mang Inasal.
Between Many Inasal and Bacolod Chicken, my favorite is Mang Inasal. Why? Well, aside from their delicious chicken, I love their halo halo and unlimited rice. For me, they serve the best Inasal in Metro Manila. I don't often eat out because of my special child, which is why I decided to make my own Chicken Inasal.
This ilonggo dish is very easy to prepare as the chicken just need marinating in a special blend of spices before grilling. Chicken Inasal is a simple dish that almost anyone who wants a great tasting grilled chicken can cook it. I wouldn't be surprised if you were able to prepare Inasal without a problem because my chicken Inasal recipe is definitely easy to cook. Do you have a favorite chicken  Inasal restaurant? Have you tried this amazing chicken dish? If not, then you need to try it…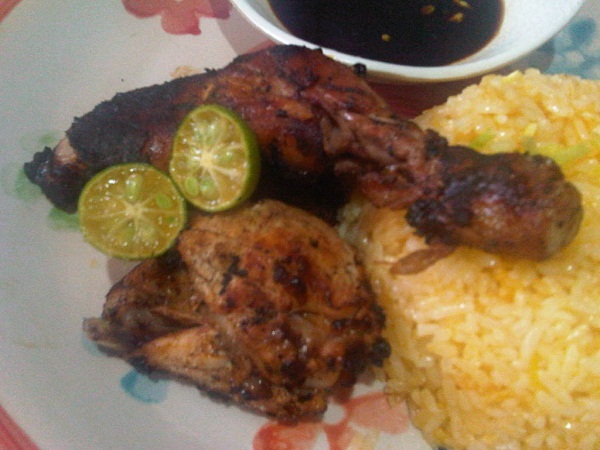 Chicken Inasal Recipe
Ingredients:
Chicken cut into serving sizes
Ginger (minced)
Garlic (Minced)
Calamansi juice or lemon
Salt
Lemon Soda (sprite)
Brown Sugar
Lemongrass (chopped)
Vinegar
Black Pepper
For Basting:
Margarine (softened)
Salt
Annatto Oil
Calamansi
Direction:
In a large bowl or freezer bag, combine all the ingredients for marinating such as lemongrass, garlic, ginger, sugar, calamansi, soda, and vinegar, salt and ground black pepper then put the chicken.
Shake bag to coat the chicken evenly. Leave for 1 hour or overnight.
Grill the chicken while basting with the margarine mixture.
Transfer the chicken to a serving dish and enjoy.
For the Basting:
Combine the annatto oil, margarine, lemon and salt in a bowl. Set aside for grilling.
Chicken Inasal is best eaten with rice and dipped in soy sauce with calamansi and a small amount of annatto oil. This ilonggo dish is best eaten hot and with rice. By the way, soak the wooden skewers in water for at least 1 hour prior to cooking if you want to avoid burning the stick. If you want your chicken Inasal less burnt, remove the skin before grilling. Skin burnt faster also when you remove the skin before grilling you can lower the dish cholesterol content.