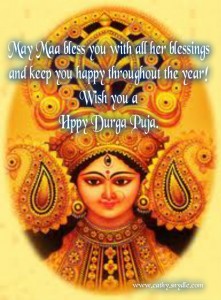 Durga Puja is a major Hindu festival. It is a festival celebrated with excitement and pomp in states like Bihar, West Bengal, Tripura, and Orissa. Durga Puja festival is a big event in the Hindu calendar as the festivity honors the Goddess Durga. The devotees from the Northern states of India celebrate the day with gift giving, feastings and prayers. Durgapuja is also the time for friends and relatives to reunite as well as share blessings, prayers, and wishes.
About Durga Puja
Goddess Durga is a great goddess of the hindus, she is worshipped in different forms. She is the light, brilliant, the mountaineer and the mother of the world. The devi is also called by other names such as Kali, Ambika and Parvati. She is also divine spouse of Lord Shiva and mother to Karttikeya, Ganesha, and Jyoti. The ten armed goddess and destroyer of demons worshipped yearly during the Durga Puja festival.
Durga Puja Celebration
If you are looking to find some good greetings or wishes to send to your friends and dear ones who are away and unable to join the festivity, read on for some of the best Durga Puja greetings and wishes. Celebrate the day by giving gifts, greetings and wishes.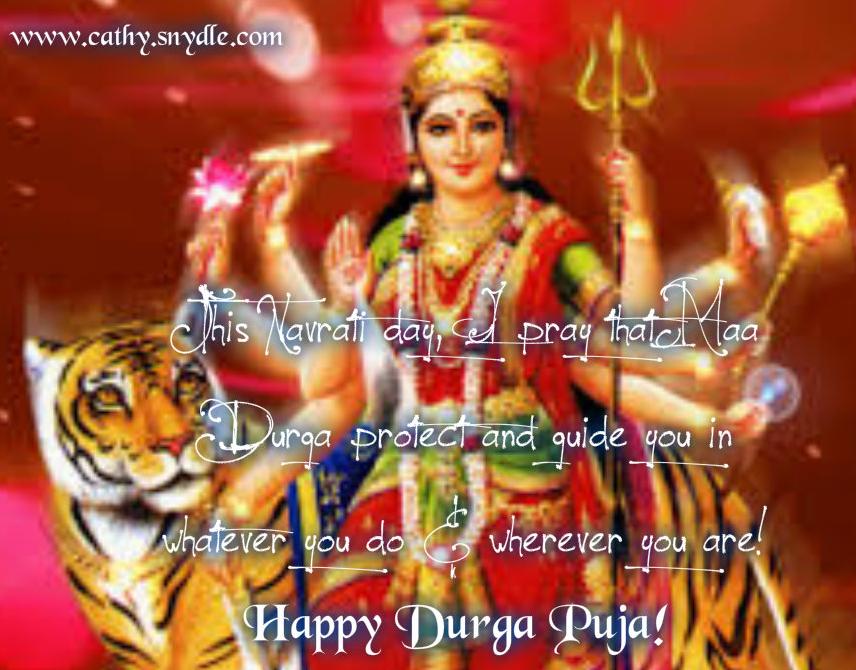 Durga Puja Wishes
May the Goddess Durga empower you and your family with her nine swaroopa of fame, name, wealth, humanity, happiness, education and health. Happy Navratras
On this day of Durga Puja I wish you, 'Sarba Mangala Mangalle Shiv e Sarbastho Swaidhikey'. Happiness & good things at all time, success to your dreams.
May goddess Durga bless you, like she blessed Lord Rama, to fight the evil, like he fought Ravana, Happy Durga Puja.
May Goddess Durga eliminate all your bad vices. Have a blessed Durga Puja
May this Durga Puja brings good health to you and fill your life with prosperity and happiness. Warm wishes on Durga Puja
My Heartiest good wishes to All members of your family on the auspicious day of Saraswati Puja. May Lord Saraswati showers blessings. Happy Saraswati Puja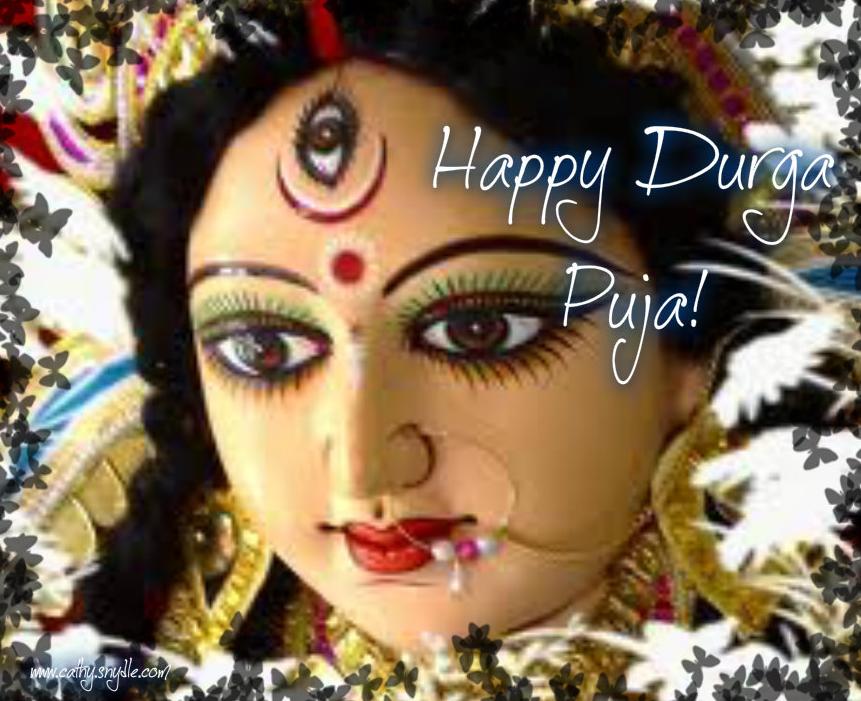 Memories of moments celebrated together, Moments that have been attached in my heart forever. Make me Miss You even more this Durga Puja. Hope this day brings in wealth and happiness for you and your family! Happy Durga Puja
May the blessings of Goddess Durga shine on you and all your prayers be granted on this Durga Puja.
May your days fill with prosperity, cheer and happiness. Warm wishes on this day of Durga Puja
Wish you a joyous Durga Puja, and long lasting happiness throughout the year.
May your days be blessed with wealth, good fortune, happiness and cheers. Happy Durga Puja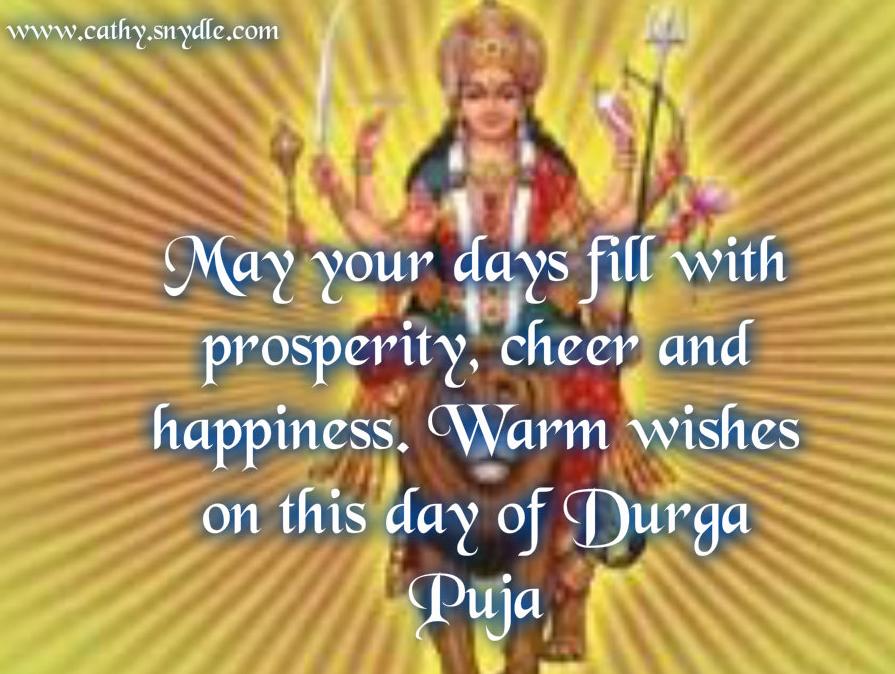 Durga Puja Greetings
A greeting is more than just a few silly words because they are the symbols of love, thoughtfulness and everything nice in this world. I hope the following Durga Puja greetings may help you express your thoughts and feelings this auspicious day.
Celebrating with you makes my Durga Puja more fun and exciting. Happy Durga Puja
This Navrati day, I pray that Maa Durga protect and guide you in whatever you do & wherever you are!
May her blessings remove all obstacles from your life just as she removes the darkness from the universe…. Happy Durga Puja
May Maa bless you with all her blessings and keep you happy throughout the year! Wish you a Happy Durga Puja.
This Navaratri, may you be blessed with good fortune as long as Ganeshji's trunk, Wealth and prosperity as big as his stomach, Happiness as sweet as his laddoos. And may your troubles be as small as his mouse.
May this day clear all problems in your life and start new era of well-being. Happy Dussehra!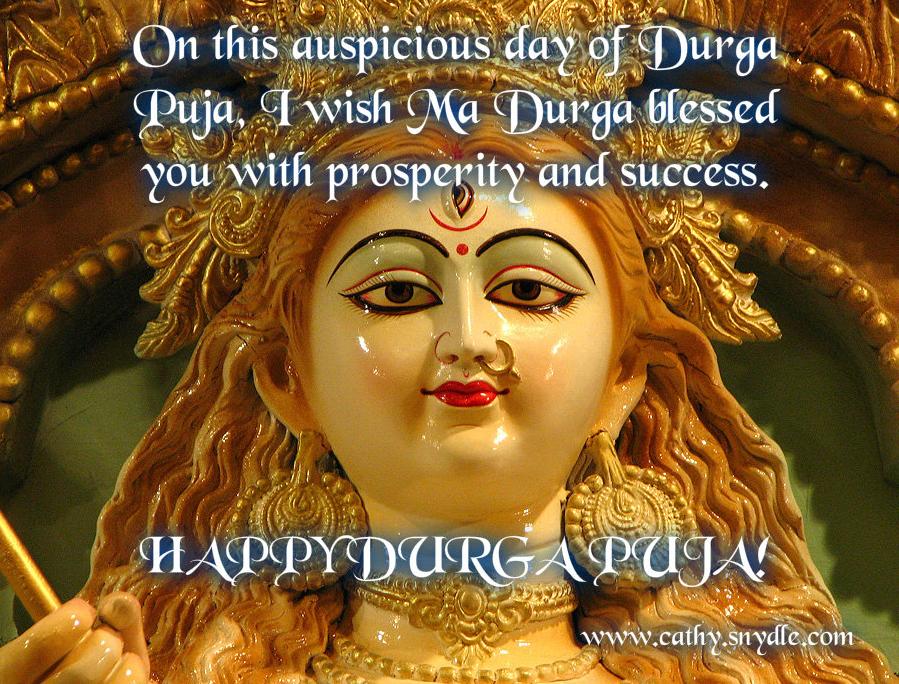 On this auspicious day of Durga Puja, I wish Ma Durga blessed you with prosperity and success. HAPPY DURGA PUJA!
Every day the sun rises to remind us that darkness always overcome by light. Let us do the same, enjoy the festival of "good over evil." Happy Dussehra!
Durga Puja is a blessed time of the year. Rejoice in the glories of Maa Durga and celebrate all the blessings of the goddess with your friends, family, acquaintances, and loved ones. Best Wishes from me on this Durga Puja.
Fortunate is the one who has learned to admire, but not to envy. Good wishes for a joyous Durga Puja with an overflowing of prosperity and peace.
On this Durga Puja, I wish the color, bliss and beauty of this festival be with you throughout the year! Happy Dussehra!
On this auspicious day, let us take an oath to give a new meaning to our life. HAPPY DUSSEHRA!
May Maa bless you with all her blessings and keep you happy through-out the year! Wishing you a Happy Durga Puja
Durga Puja Greetings in Bengali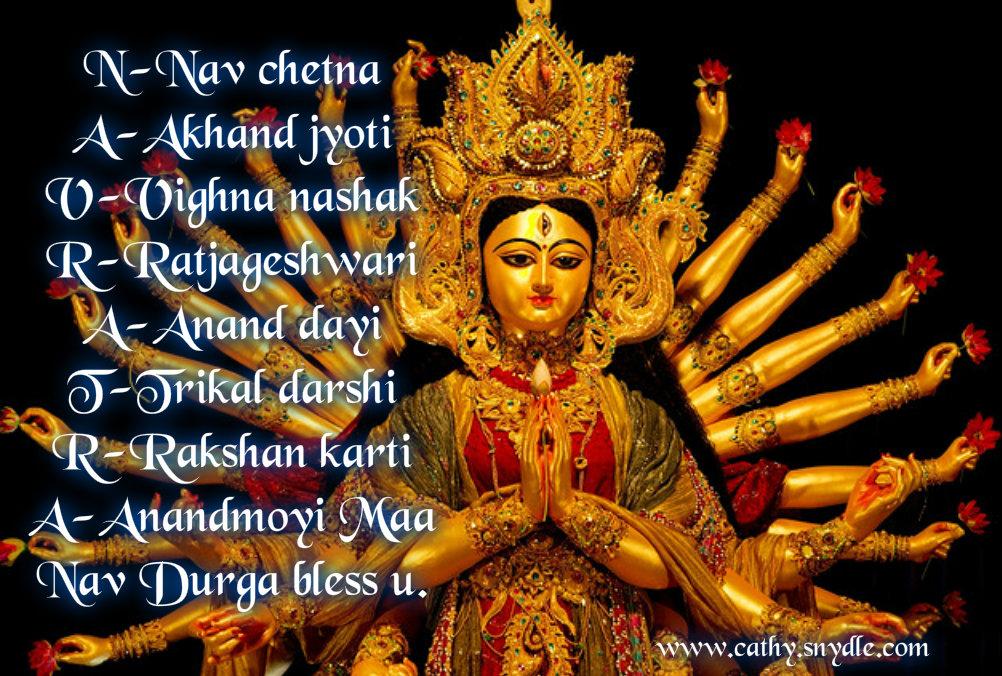 N-Nav chetna
A-Akhand jyoti
V-Vighna nashak
R-Ratjageshwari
A-Anand dayi
T-Trikal darshi
R-Rakshan karti
A-Anandmoyi Maa
Nav Durga bless u.
Debir agomone tomar jibon hoye uthuk shundor. Durga Pujor antorik shuvechha janai.
Roder jhilik sorot akas
siuli fuler gondho.
Ma aseche ghore abar darja keno bondho.
Puja elo tai to abar bajna bajay dhaki,
pujo aste r nei ekta din o baki
Subhro shitol kasher sobhay juralo dui nayan, shiulir modhur gondhe bhuvan holo bhorpur. Ei kamona roilo je pujor dingulo tomader hok modhur.
Panchti din katlo sukhe
Mon rangalo anondete
Ebar maer jabar pala
Bijaya dasamir subheccha janai ei bela
Subho Bijaya Dasami
Sisir bheja bhorer batas..
Jholmole rod, khusir abhas..
Rat shesher chander alo..
Puja asche janiye dilo.
Hullor adda prem abakash
Du haat diye dakche akash..
pujo mane elo sharat, elo himel hawa…
pujo mane chuti r, chutiye prem kora…
pujo mane natun jama pore, maa er paye anjali deoya…
pujo mane dhaker tale, maa ke kache paoya…
pujo mane ektu aral hoye, hat ti dhore sararat thakur dekha…
pujo mane onek khsushi onek alo, pujor din guli sabar katuk bhalo…
JAI MAA DURGA sabai bolo…
Shiuli phuler gandho makha sharat akash khani,
Kash phul r ghaser dolay kar oi padadhwani ?
Sharad shubhechcha !
Jindagi ki har tamana ho puri,
Koi aarju rahe na adhuri,
karte hai haanth jodkar maa durga ki winti aapki har manokamna ho puri.
happy Durga puja
Durga Pujor kota din shobai hoi badhonchara. Pujor shuvecha or shuvokamona roilo.