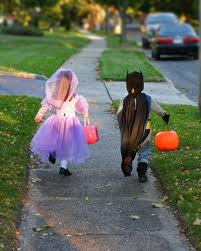 Halloween for many kids is an exciting time and there excitement to observe the Halloween traditions can make them careless. And being lackadaisical can make them do things they usually would not do. This Halloween, you can stop tragedies or horrible accident from happening and continue making this holiday a memorable time of the year.
Everyone wants to have a fun Halloween, which is fine, but you should never be lax with your child safety. A child or even an adult getting hurt on holiday like Halloween can ruin their fond memories of this special time of the year. That's why, it is best to keep in mind safety tips for Halloween and common sense to get through the holiday without any accidents and injuries. This article discusses Halloween safety tips for kids that you can use, share to friends and relatives to ensure a safe and happy holiday.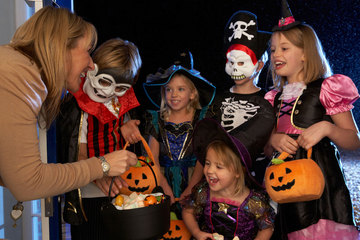 By keeping your child safe this holiday, you will always look forward to many happy Halloween and carry on the traditions of the season.
Safety tips for Halloween
The following Halloween safety tips for kids will make them look forward to many years of Halloween and even carry the holiday traditions to the next generation.
Halloween Costume
Halloween costumes are a big part of the Halloween tradition, so it is no longer surprising that a lot of kids want to wear one. Costumes maybe important to your child but their safety should come first. The following Halloween costume tips can help make your child safe, read on.
When buying Halloween costumes make sure they fit well. It is also best to choose costumes that are reflective and bright, so your kid easily spotted at night.
The shoes should also fit well to prevent tripping regardless of the costume as your kids will be walking around the neighborhood with friends and siblings.
Add a reflective tape to their trick-or-treat bag to keep the kids visible to motorists. It is a good idea to keep them safe while out on the street.
Buying flame resistant costumes, accessories, and wigs can lessen the danger of going around the neighborhood during Halloween. Flame resistant costumes can protect them from fire.
Buying masks for your kids is a bad idea especially for smaller children as the masks can block eyesight. As an alternative, why not consider decorative hats or non-toxic Halloween makeup to complete the look. By the way, if you decided to go for hats, make sure the hat fit properly to prevent sliding over the eyes.
If your child costume requires a stick, cane or sword, consider accessories that are not too long or sharp so even if she or he trips your child will not get hurt or have a horrible accident.
Do not allow your child to wear contact lenses without prescription or eye examination even if they insist. Decorative lenses can be dangerous if not properly use, and even if you know how to use one, it is still not advisable without consultation with an eye can professional. Decorative lenses can cause inflammation, eye disorders, infection, and pain that may lead to vision loss.
Trick-or-Treat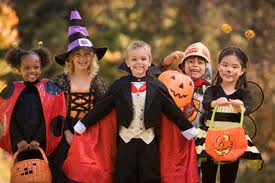 Trick-or-treating is alluring to many children because of the promise of candy and chocolate. Nevertheless, Halloween safety rules should always apply.
If accompanying your children is impossible, pin a piece of paper with the child's phone number, address and name inside their pocket just in case they get separated from their companion. But of course, it is always safe to have a much older kid go with a group of small children.
Tell your children to stay close to home and most importantly, forbid them from going to unfamiliar neighborhood. Establishing a route and setting a curfew may also help reduce Halloween risk.
Give your child a cell phone so she or he can contact you anytime, and you can do the same.
Tell your children to visit clearly lit homes only, and never go inside even if the homeowner insisted.
Tell your child and the escort to bring flashlights and extra batteries. The fresh batteries are necessary, so even if the flashlight runs out of power, they can easily replace the old batteries.
Before allowing, your children to go trick-or-treating teach them first how to call the police or 9-1-1 if they are lost or have an emergency.
Tell your child not to eat any candy or chocolate until they get home. It is important to inspect your kids loot bag first so you can discard anything that looks questionable or not sealed.
Feed your children first before letting them go out so they won't be tempted to eat their treats while still out on the street.
Don't allow your child to eat all the candy in one sitting, it is bad for their health. Ration the loot, especially when they are about to go to bed.
Tell your child to stay with the group and remain on the sidewalk. In case, there is no sidewalk, tell them to stay on well-lit streets and walk facing the traffic so they can see the cars coming.
Tell your child never to use alleys or go over someone's yard. And cross the street in established crosswalk and as a group never alone.
Halloween Pumpkins
Never allow small children to carve pumpkins, adults should be the one to do the cutting. Your children can still participate in this Halloween tradition by letting them draw a face on the pumpkins with markers.
Using a glow stick instead of a candle to light the pumpkin is safer. If you prefer candle, then consider a votive candle rather than regular ones.
Pumpkins should be placed away from flammable objects, curtains and only on a sturdy table. And never leave the pumpkin unattended for so long especially when you have a toddler or smaller children in the house.
Home Safety
Home safety is important as a lot of trick-or-treaters will be visiting your home. The tips below can reduce the danger to your family and visitors.
In order to keep your home safe for trick-or-treaters, remove from your front yard or porch anything that can trip a child such as toys, lawn decorations, bikes, garden hoses, etc.
Replaced burned out outdoor lights, so you can easily see your visitors at night.
Keep your pet on the leash so as not to scare or bite trick-or-treaters.
Halloween Tips for Parents
If you don't want your child to go out trick-or-treating then plan a party with a couple of your close neighbors to keep your kids safe at home.
When buying treats for kids, consider sugar substitutes such as stickers, pencils, colored chalk or rubber insects. You can also bake some goodies instead of buying unhealthy foods and giving them to kids.
The above Halloween safety tips for kids and parents can help your child stay safe and happy this holiday.