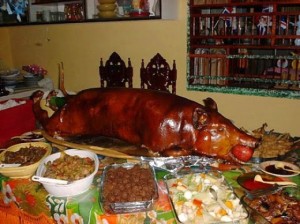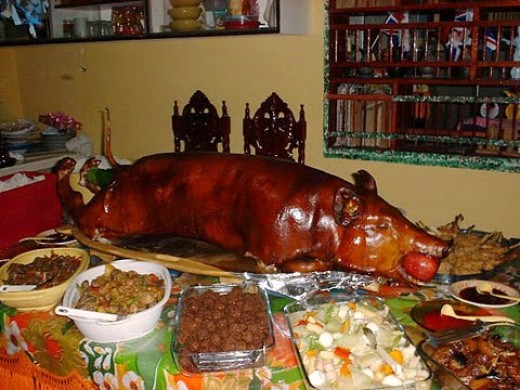 Are you wondering about what Filipino food to serve at your party? Filipinos are fond of partying as they celebrate even the most mundane happenings on their life. In fact, the number of festivals, legal holidays and special occasions in the Philippines is evident that Pinoy love getting together with families, old friends, and associates. If you are planning a party for a Pinoy friend or just interested in Philippine dishes, you are in the right page as  you can find foods commonly served in the Philippines.
Celebration is a part of Filipino culture this is because a typical pinoy literary take the word "pakikisama," seriously. Take note, Filipinos love to please everybody, even if they could not afford to do so, probably why it is normal for a Pinoy to pawn or sell their jewelry or other expensive items during holidays, festival and special occasions like a Birthday or graduation.
In most celebration, the Filipinos feast on traditional Filipino food including the most requested and prepared Filipino staple foods. In the Philippines, there are Filipino dishes seen on every occasion, whether the celebration is a small gatherings or a lavish affair, there is no doubt that you will find one or all of the famous Filipino food.
List of Filipino Foods
Below are list of filipino foods served on parties such as birthdays, weddings, festivals, etc.
Best Filipino Foods
#1 Lechon
Lechon is arguably the most well loved Filipino foods for all occasions. A suckling pig cost about P2500 ($60) or more while a large pig is around P8000 ($200), despite the expensiveness of lechon, a celebration is incomplete without it.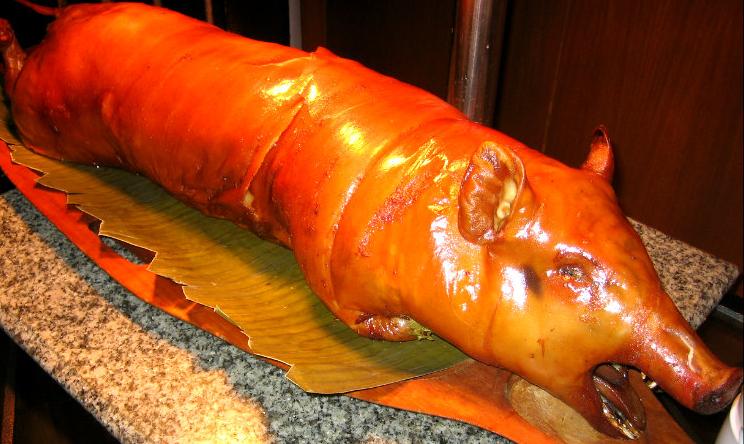 The pig, skewered on a a large bamboo stick and roasted over charcoal for several hours is consumed first in parties especially the crispy pork skin.  The  crispy lechon can be eaten without the lechon gravy, made of the pig's liver. By the way, Cow (lechon baka) and especially chicken (manok) are also pinoy favorite and the best alternative to the pricey, lechon.
Filipino foods for Birthday
#2 Filipino Spaghetti
Sweet style filipino spaghetti are the second most popular foods for all occasion. Most of the filipinos, love the sweet tasting pinoy spaghetti not the typical Italian's spaghetti sauce.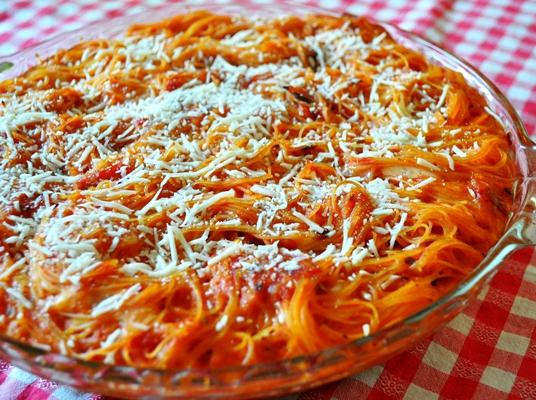 Pinoy spaghetti are full of flavors and sweet. The Filipino spaghetti sauce consists of brown sugar, tomato sauce, tomato paste, banana catsup, ground meat, and small sliced of hotdogs. The pinoy spaghetti served with grated cheese on top and bread on the side.
Filipino Finger Foods
3. Lumpiang Shanghai
Lumpiang shanghai are another staple Filipino food that have a Chinese origin. The deeply fried spring roll is a favorite finger food in the Philippines. Lumping shanghai usually filled with ground pork meat, carrots, raisins, onions, and parsley. You can eat it with or without the sweet and sour sauce as the crunchy and great tasting fried lumpia are good to eat even without any dipping.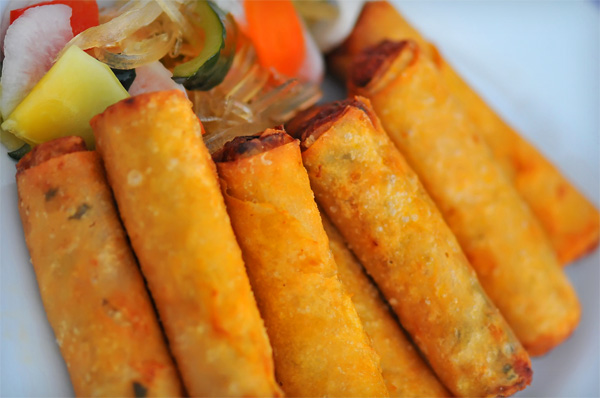 FYI, there are several kinds of lumpia in the Philippines, the lumpiang ubod, lumpiang hubad and sariwa. So, be specific as to what kind of lumpia you wish to try to avoid confusing your waiter or tindera.
Suggested Post to Read:
Check out my post on Filipino birthday party food ideas to get a thorough understanding on Filipino food.
Popular Filipino Foods
4. Pancit
Filipinos love for their pancit is evident in the wide varieties of pancit in the Philippines. That's right, in the Philippines, you can find different kinds of pancit, so be sure to ask first before ordering as each one offer a unique taste and experienced.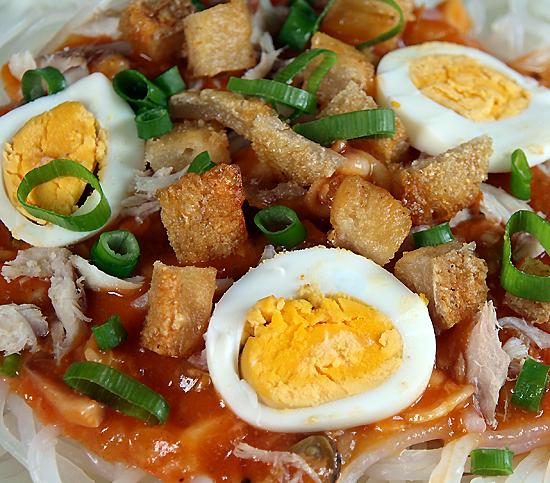 For one, the Pancit Malabon is a rice noodles flavored with fish sauce or patis then fats of crabs. This yellow orange, rice noodle is flavorful because of the endless toppings of squids, shrimps, and eggs.
For a complete list of Pinoy pancit, check out my article on Filipino Pancit Recipe .
5. Menudo
Menudo is a Filipino dish often served during special occasions and regular days by Pinoys. It is an inexpensive and easy to prepare dish, probably why Filipinos love their menudo.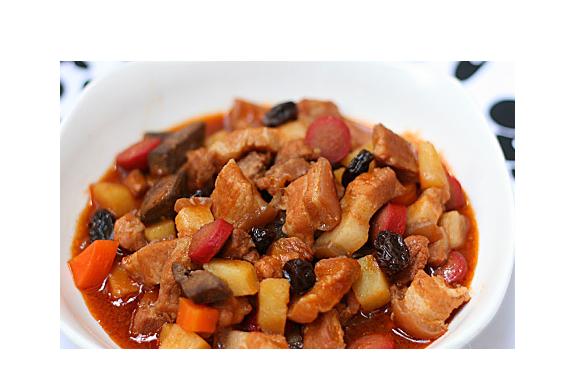 6. Relyenong Bangus
Bangus or milkfish is the national fish, so it's not surprising why relyenong bangus is a staple food. By the way, preparation of relleno is tedious, and time consuming as you have to remove the bones and minced the meat. Nevertheless, once you tasted relleno your trouble and sweat is worth it.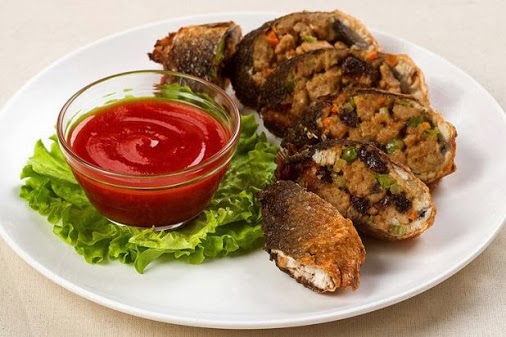 7. Dinuguan and Puto
Dinuguan and puto are a Filipino foods you often seen in special occasions. The stew is made of pork blood, large and small intestines (kidney, liver and intestine), vinegar, ginger, garlic, onion and green long chili.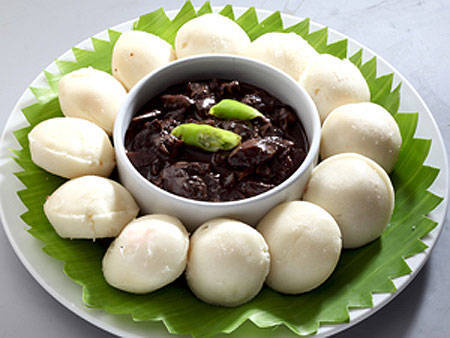 8. Kare kare
Kare kare is a local favorite Filipino food, a stew dish made of ox tripe, tail, and beef. The dish made of peanut butter or paste, squash, puso ng saging, eggplant, string beans and ground rice are a staple food for all occasions. The dish is best eaten with shrimp paste or bagoong.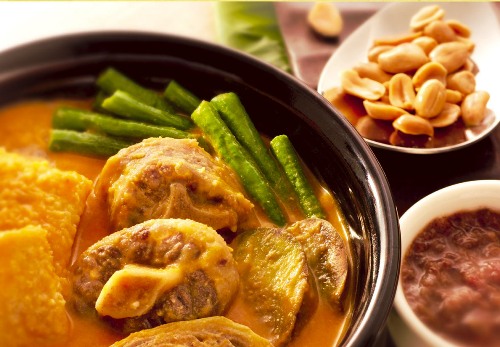 9. Leche Flan
Leche plan is a Filipino dessert that is similar to caramel custard. This dessert is well loved by Filipinos and part of Filipino celebration simply because of its great taste, low cost and easy preparation. Leche flan is made of eggs, sweetened milk or condensed milk, evaporated milk and vanilla.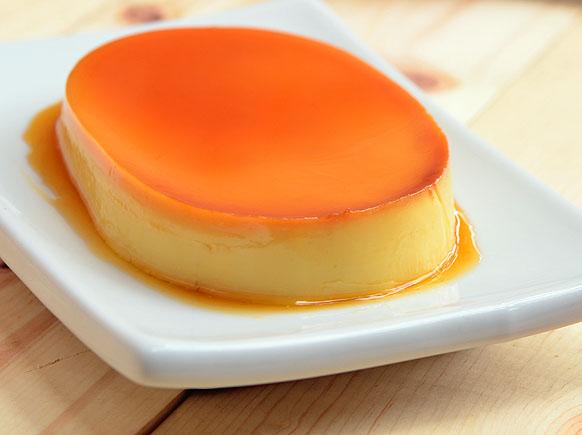 Check out my post for leche flan Filipino Dessert Recipe .
10. Rice
Rice is the #1 Filipino staple food. Rice is always served, on all special occasions since a true blooded Pinoy will never feel completely satisfied without a boiled or friend rice every meal.
Keep in mind that Filipinos eat rice for breakfast, lunch, and dinner and sometimes even during merienda.
I hope this article has satisfied your curiosity about Filipino party food . Thank you for visiting my page, please feel free to comment.