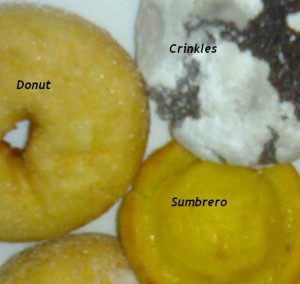 Philippine breads and pastries are modest, unfussy, and simply delicious there is no doubt about it, especially the most popular bread in the country the Filipino hot pandesal. But of course, aside from the pandesal the Philippines has other well loved breads and pastries available at the pananderia or bakery, a familiar sight in the country.
Pananderia is a local bakeshop or bakery found in every neighborhood across the Philippines. These establishments sold biscuits, crackers, pies, pastries, cakes, and different kinds of breads including the hot pandesal.
By the way, there may be a lot of other breads available nowadays such as French breads, croissants, buns and rolls and other breads that Pinoy have also enjoyed eating since introduced in the country, but Filipinos always come back to the time honored Pinoy breads like pan de coco, monay, pagong and sombrero. Why, well, you have to eat the bread to discover why no words best describe the taste and feel of Filipino breads more so the most humble bread in panaderias, the hot pandesal.
The following are the top 10 Filipino breads and pastries to try when in the Philippines to get a taste of Pinoy pride.
Filipino Breads
1. Hot Pandesal
Filipino bread pandesal has been part of the Philippine culture and tradition. Yes, the simple, unfussy bread without doubt the pinoy favorite. The small, crisp crust, soft inside, dark brown round bread rolled in breadcrumbs are the king of the panaderias.
Pan de sal is sold every morning in bakeries all over the country. In fact, there is no neighborhood bakery in the Philippines that don't sell the bread. Pandesal is great eaten with eggs, cheese, hotdogs, sardines, peanut butter, margarine, jelly, or pancit. You can buy pandesal in the morning and afternoon as Pinoy enjoy eating them for merienda with matching hot chocolate, coffee or soft drinks.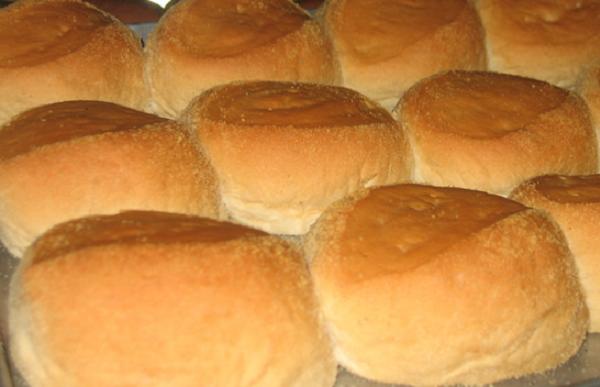 2. Ensaymada
Enysaymada is similar to brioche bread. This Filipino bread is a local favorite because of its sweetness and fluffiness. Enysaymada is well loved in the Philippines and certainly a must try Filipino bread. The coiled bread is delicious because of the butter spread on top then sprinkled with sugar and grated cheese.
By the way, ensaymada is originally from Majorca, Spain and called ensaimada. The bread was introduced during the Spanish era, and later adopted by the Bulacanos, the home of ensaymada with duck salted eggs on top.
3. Putok
Putok is a local favorite. The bread texture is soft, chewy, and just like Monay taste great. Putok is made of monay dough, just like pagong and other Filipino bread that has captured the heart of Pinoy. Traditional putok brushed with milk glaze on top and then sprinkled with sugar.
4. Filipino Cheese Bread
Filipino cheese bread is great tasting bread. The bread is similar to pandesal except for the fact that the top encrusted with granulated or local cheese. The bread is denser, soft inside while dry outside.
You can buy cheese bread from the local panaderias and supermarket. They come in two sizes, mini, and regular sizes.
5. Pan De Regla
Pan de regal a.k.a kalihim and menstrual bread is soft bread filled with red or violet filling that peeked out its folds. The bread texture inside is soft because of its filling that is made of stale bread, eggs, milk, vanilla, sugar and food coloring. The bread filling has other variations including pineapple and ube, so you have a choice when it comes to this bread.
6. Pan de Coco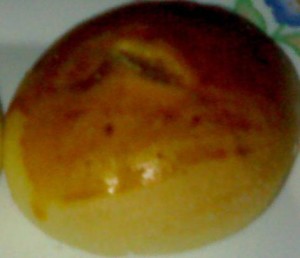 Pan de coco is soft bread filled with sweet coconut filling. Pan de coco is similar to dinner rolls except for the fact the bread filled with shave coconut and sugar melt mixture. Pinoy's finds the sweet and gooey filling irresistible, and definitely worth buying from the local bakery.
The round, golden brown and plum bread is a favorite merienda or afternoon snacks of Filipinos.
7. Hopia
Hopia is a Filipino bread considered as a delicacy and often given to families and friends as pasalubong and gift for special occasions. Hopia is an excellent snack since it is filled, with different fillings like baboy, mungo and ube.
As said awhile ago, Hopia comes in different varieties, such as:
Hopiang Mungo is filled with mung beans paste
Hopiang Baboy is filled with minced, winter melon, onions, and pork
Hopiang Ube is filled with purple yam paste
Hopiang Hapon is filled with azuki beans
8. Filipino Spanish Bread
Spanish bread is bread shaped into a crescent roll filled with sweet filling then sprinkled with breadcrumbs all over the bread. The filling made of sugar, butter and breadcrumbs spread into the dough before baking the bread. This bread is a family favorite, just like the rest of the Philippine breads mentioned in this article.
9. Sputnik
Sputnik is another Pinoy bread that you should try when in the Philippines as the bread shaped into a golf ball is light brown and very smooth. The dough is slightly dense and pale. When it comes to taste, it is also less sweet, softer, and chewy than putok.
10. Filipino Monay Bread
Monay also known as pan de monja is a yellowish hard bread. The soft and delicious bread can be eaten without any spread and the large sized bread can satisfy your hunger.