Are you flying to your dream vacation with a baby? As a mother of 4 kids, (15, 10, 7, & 1 yr old) I know that travelling with kids is both fun and horrible, a roller coaster ride. In fact, there are times when getting in and out of the supermarket or grocery store seems impossible especially when my baby is feeling cranky. Now, imagine what life would be like when you travel on a plane for the long haul, the idea alone can be intimidating more so when you are flying with the baby for the first time.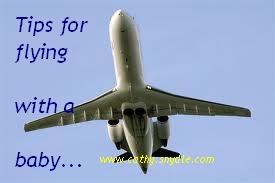 First time mothers should not be afraid to travel with a baby since there are ways to make your baby a first class jet setter before they can crawl. That's right, mothers should not be afraid to travel with a baby or postponed their planned trip just because there is no suitable sitter or available relatives to take care of your baby as proper planning and preparation can make even a cross country trip a walk in the park.
In fact, you can even have the grandest time of your life even when you are travelling with a very demanding companion who will probably cry harder when the pressure in the ears increases as the plane ascends, pretty sounds dreadful huh? Nah, as long as you fly prepared you are safe.
Anyway, I have here, my best tips for traveling with a baby that have helped keep my sanity, read on for your sanity sake.
Tips For Travelling with A Baby
#1 Baby Flight Tips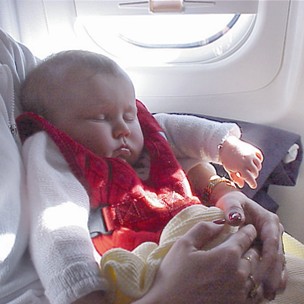 – When booking your flight, make sure you get the right flight. What do I mean by a right flight? It simply means book a flight according to your baby's sleep or nap time. I'm sure, you know your baby's sleeping schedule very well, so you have no trouble choosing the best time to fly, even if the best time is on the wee hours of the morning. Believe me when I say, it is best to fly according to your baby schedule whether it's very early or late at night as you can sleep when you get into the plane than travel while your baby is still wide-awake.
#2 Non Stop Fly
– If you can avoid layovers then do it, unless you do not mind unhooking, unpacking and ushering your other kids to get up and move their asses fast. Plus! Infants and short layovers simply do not mix well, as the ascending and descending can make the trip unpleasant to the little ones. So, always consider non-stop flight.
#3 Seat Selection
– Most airlines offer seat reservation, take advantage of it, and choose a seat beside the window (for privacy during nursing) and the aisle so the baby can sit in the middle between you and your partner. The seating arrangements is also great when travelling just with your baby and you reserve two seats since most people do not want to be seated beside a crying baby, which means the middle seats is open (if the plane not fully booked). Take note, airlines offer a special rate for babies, so ask your travel agent about it before booking.
Additionally, car seats are a bit difficult to install on planes so ask the flight attendant for assistance to secure your baby firmly and safely. In case you could afford to book two seats, (for you and the baby) just use a carrier (soft) or sling so you do not have to carry your baby all the time and you can get comfortable as well as long flight is downright tiring.
#4 Baby Essentials Checklist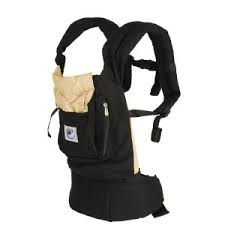 – Do not be afraid to pack everything you need to keep your baby comfortable such as diapers, baby wipes, bottles, extra nipple, tether, toys, and extra clothes to change when baby is wet or dirty. But of course, do not over pack the carry on the bag as heavy loads can slow you down especially when you need to change plane.
#5 Extra Shirts
– Babies are messy period, and they vomit. If you have extra shirt, you can easily change in the comfort room when necessary. So, pack a shirt into the carry bag to ensure you have something to wear during emergency.
#6 Relax
– It is crucial to relax and sleep properly before you fly with a baby so even if you cannot sleep enough during the flight, you won't feel too stressed out (even if the situation is crazy) and tired. Furthermore, try to relax and take a nap when the baby sleeps and not watch movies.
#7 Smile and Ignore
– Babies when hungry and distressed cry and scream. Unfortunately, when a baby cry, they do more than just cry but also scream as loud as they can and there is nothing you can do to keep them quiet immediately, so just hang there it will pass. Of course, when a baby cries, naturally the nearby passengers will be disturbed and would even throw you dirty looks, when they do just ignore them. There is no use explaining, just smile and ignore.
#8 Bribe
– If you want to appease your neighbors for ruining what supposed to be a pleasant and quiet trip, bring earplugs, gum, and candy to pass around when your baby starts acting up. The gift is like a peace offering or bribe, a way of saying, "I'm sorry" for the noise.
#9 Breastfeed Discreetly
– I know how hard it is to breastfeed in public, which is why you can keep your privacy by reserving a seat beside a window. It is also wise to wear shirts with a button so you can easily unbutton when nursing. Blanket is also excellent for cover so bring a blanket or just ask the attendant for one and use it for cover-up so you will not be embarrassed. And most importantly you will not make neighbors uncomfortable with your breastfeeding.
#10 Ask For Help
– If you need help do not be shy to ask the flight attendant since they can help you and the baby get comfortable.
Tips for Air Travel with Infant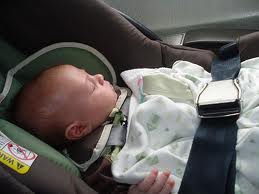 These are all based on my personal experience as a mother and traveler. In other words, the tips worked for me, but it does not mean you will also get lucky so you can either take my advice or go with your instinct. You know your own baby. Just keep in mind the vacation can be more memorable especially when you survived, so do not be afraid to bring your baby to cross country trips.