Halloween is a wonderful time for decorating, throwing creepy parties and dressing down. A lot of people spend days to make their homes look creepy and fun. Some even spend a fortune to turn their homes into the scariest place on earth. But, most people would just decorate the front porch, living room and kitchen, which is wrong. If you really want to bring the Halloween spirit into your home then you should not overlook your bedroom.
Preparing for Halloween is fun and something you can do with your family and friends. You also don't need to spend a lot especially if you are decorating your bedroom. So, there is no need to overlook decorating your private space as you can turn it into a creepy room without spending much. You don't need to spend money on expensive decorations to transform your room. In fact, you don't need to buy a lot of Halloween decoration as you can create a cool Halloween décor with things around your house. Yup! There are plenty of Halloween DIY projects that you can undertake. There are many awesome ideas online, which you can easily do as they provide detailed instruction to follow. But, it's for another article, right now, let's talk about more on how to ready your bedroom for Halloween.
If you really want to make your home Halloween ready then you should decorate the bedrooms as well, and you can do it without spending much. You can use vintage or old things to make your bedroom creepy. Darkening your room by changing curtains to darker color can make it a bit eerie. Black and orange bedsheets, candles and other unusual items can help you achieved the look and atmosphere you are aspiring for.
Halloween Bedroom Ideas
Below are some of the halloween bedroom ideas on the internet that can inspire you to transform your bedrooms into a nice creepy rooms. But of course, you don't need to put cobwebs or anything outrageous to make a room halloweenish as shown on some images below, you just need to create an illusion to make it work.
1. Girls Bedroom Idea
This halloween themed bedroom decoration is nice. There are no extravagant or outrageous decorations, a small banner, candles and cute pillows are all it takes to get your bedroom ready.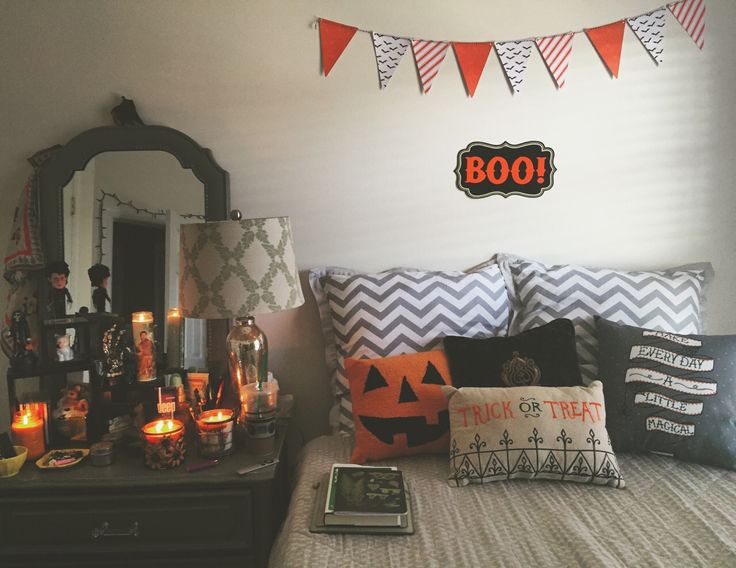 2.  Boys Bedroom Idea
For boys, movie posters are more than enough. If you are a fan of horror movies, especially halloween inspired-horror movies and have tons of poster already then you are in luck.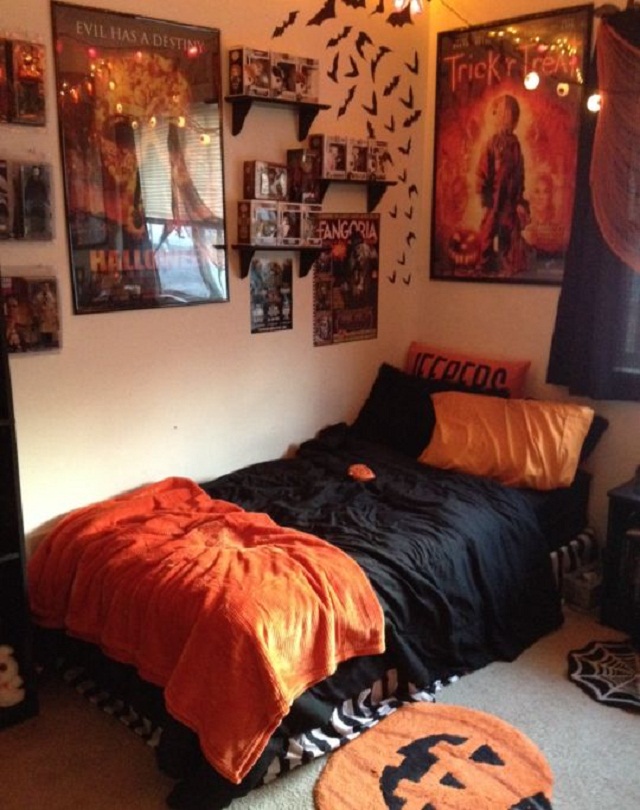 3. Pumpkin Theme
This is another inspiring halloween bedroom idea. Classy and subtle, perfect combination.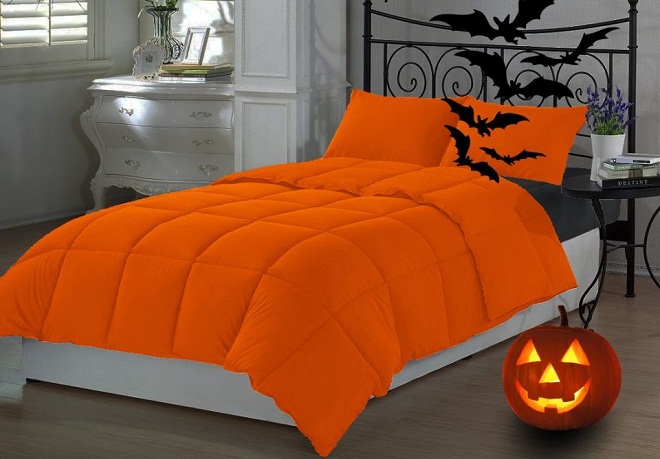 4. Adams Family Bedroom Idea
How about an Adam's family bedroom?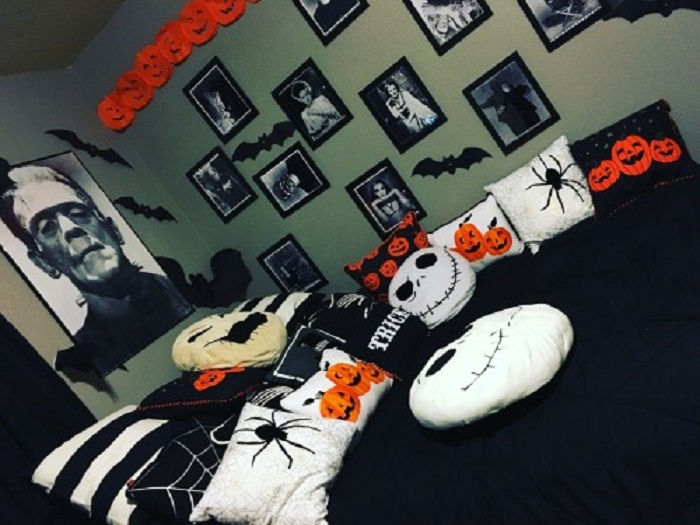 5. Adams Family Bedroom Idea
Another Adam's family bedroom idea to consider…
6. Dreary Theme
Old mirror, skull frames and black bedsheets can do the trick.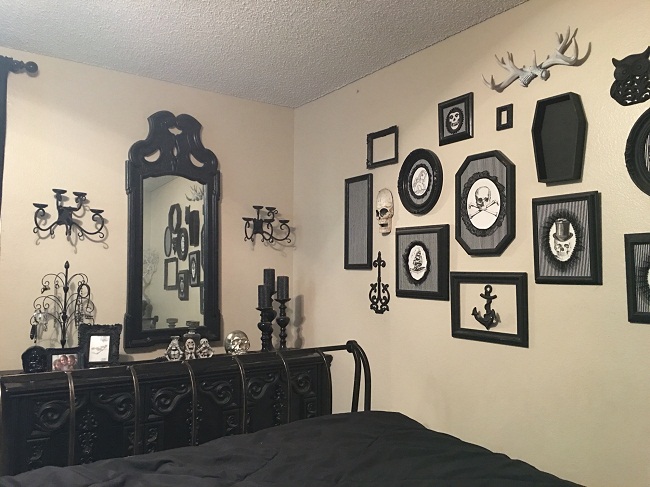 7. Cute Bedroom Idea
Lovely bedroom idea, don't you think?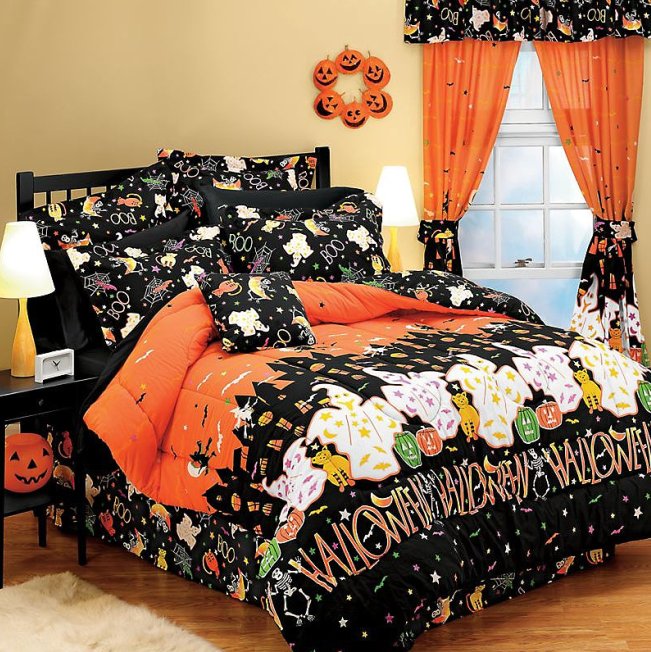 8. Vintage Halloween Decoration Idea for Bedroom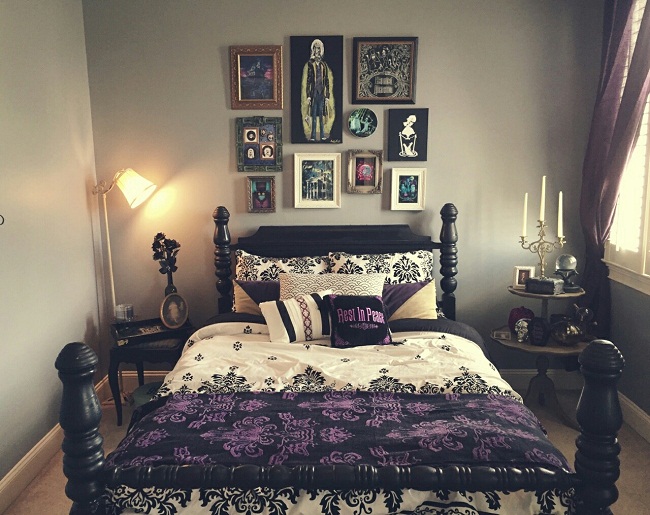 9. Golden Gypsy Bedroom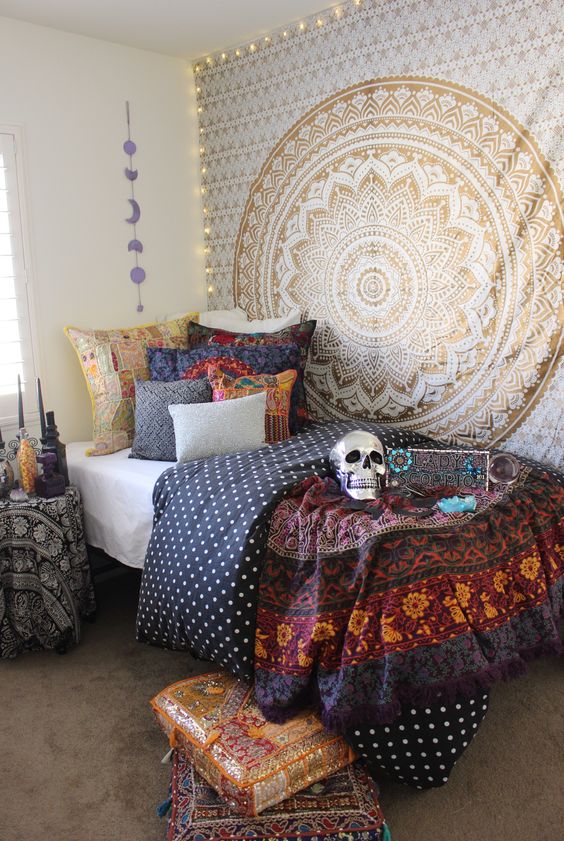 12. Witch Theme Bedroom For Girls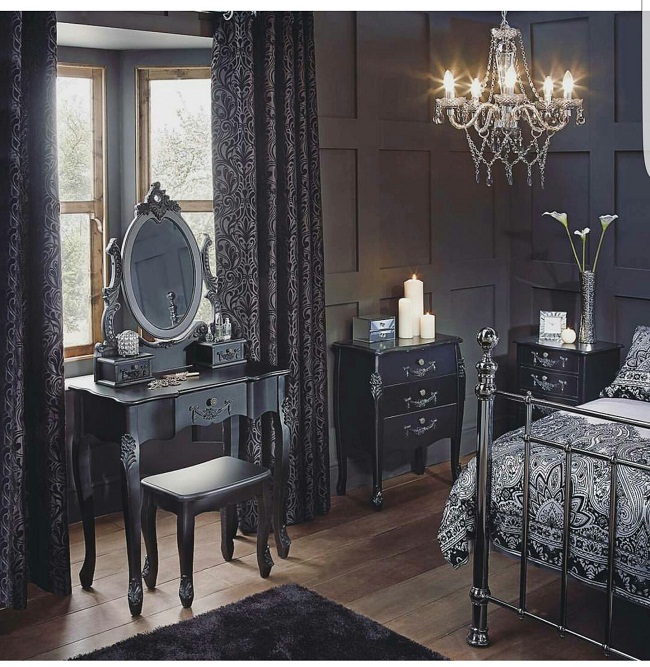 10. Skull Halloween Decoration Idea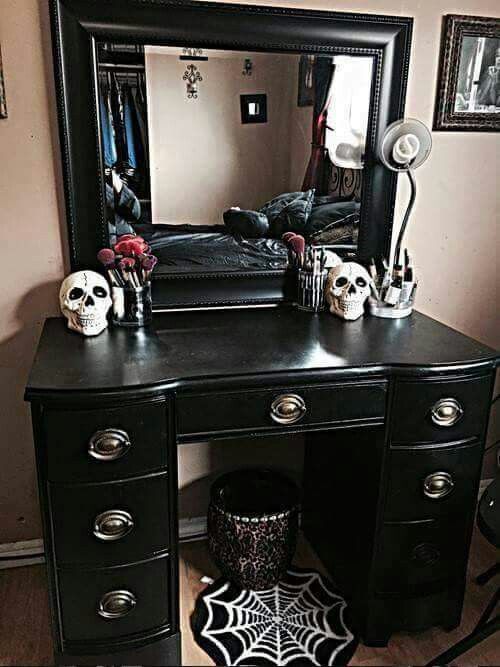 11. Haunted House Bedroom Theme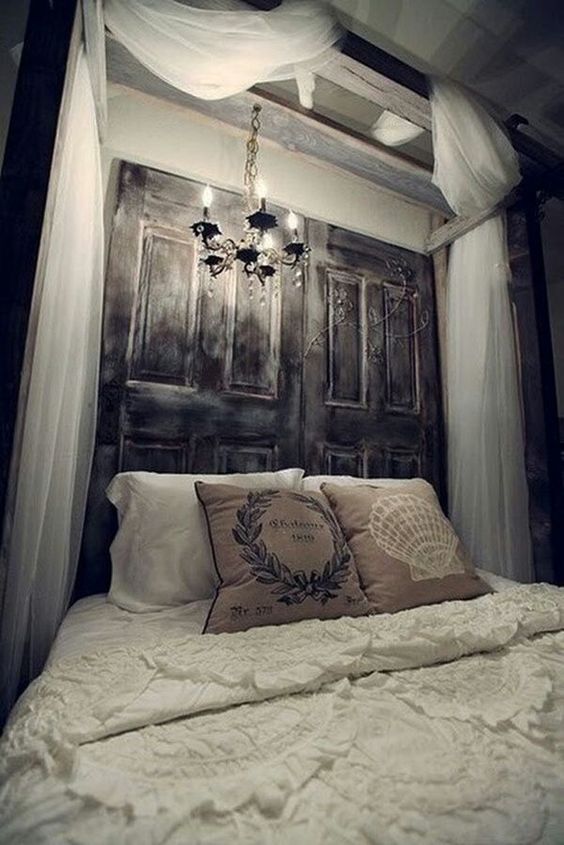 12. Cemetery Bedroom Idea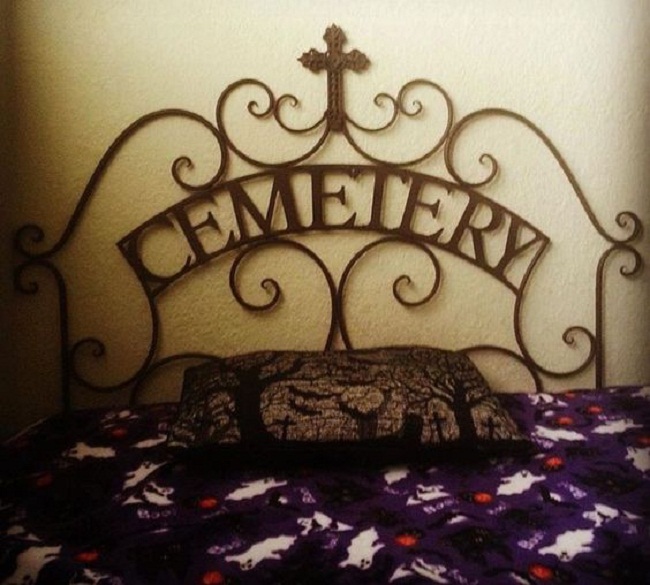 13. Spooky Bedroom Canopy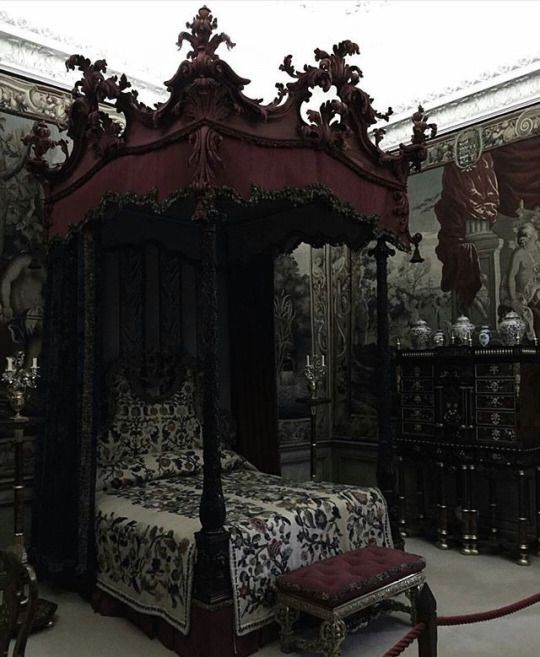 14. Doll House Inspired Theme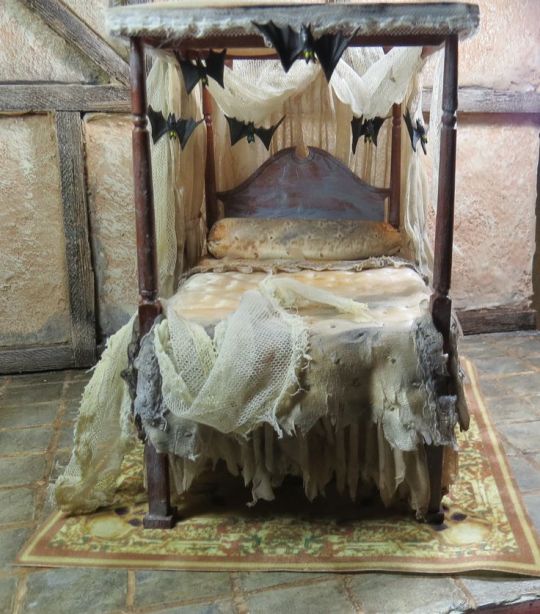 15. Creepy Crawlies Theme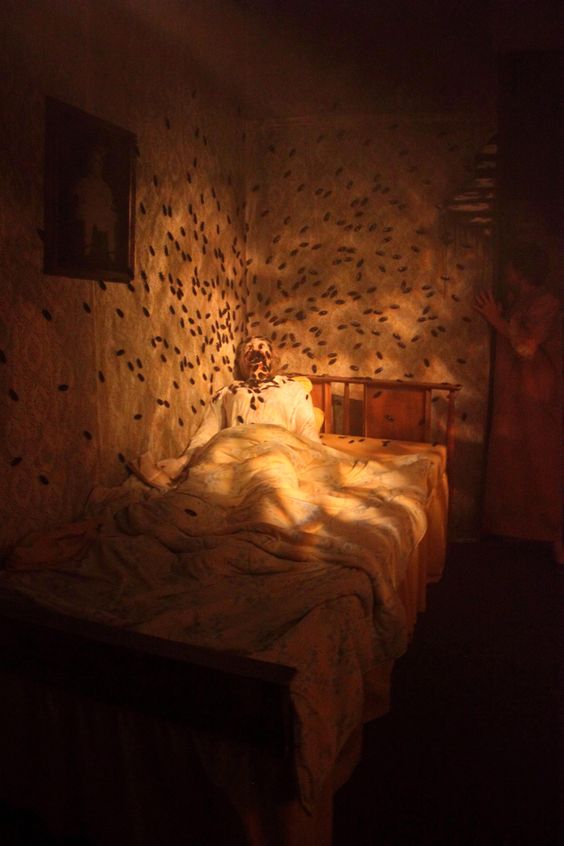 16. The Exorcist Halloween Bedroom Theme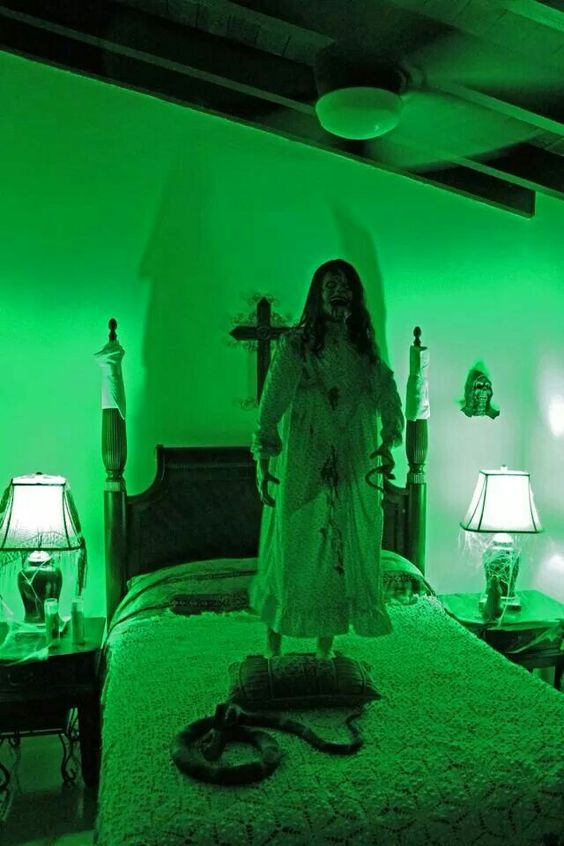 17. Ouija Inspired Bedroom Idea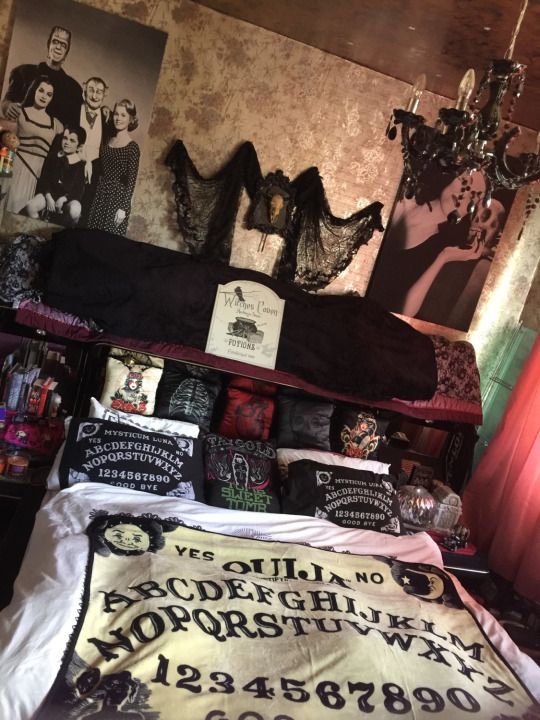 18. Skull Theme Bedroom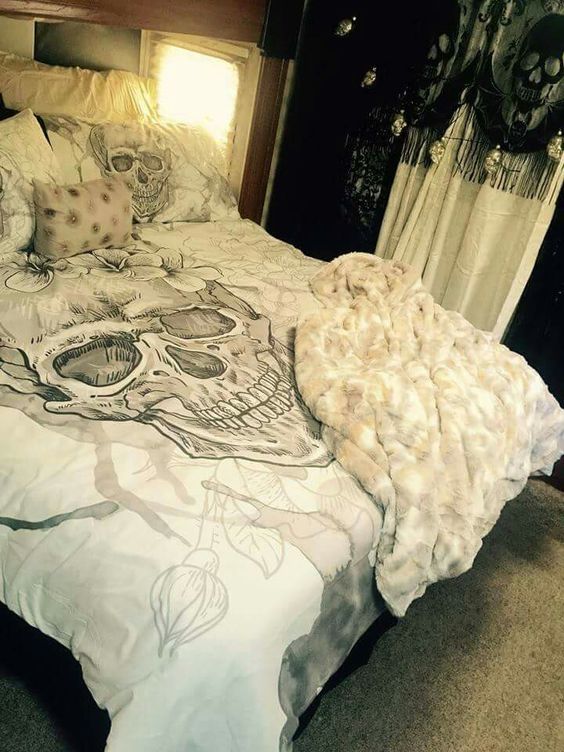 19. Nightmare Before Christmas Bedroom Ideas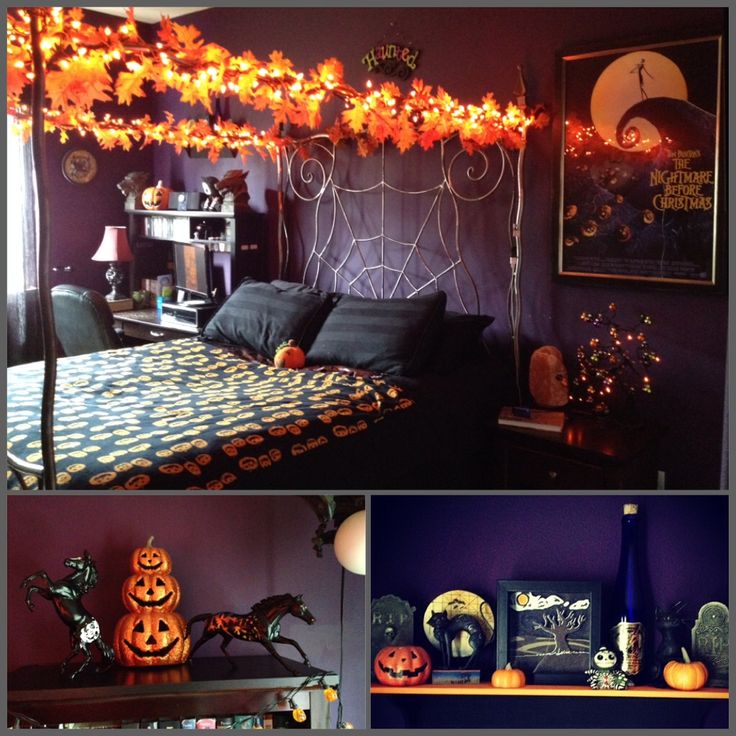 20. Nightmare Before Christmas Halloween Bedroom Theme For Girls and Boys
21. Nightmare Before Christmas Halloween Bedroom Idea for Nursery Room
Are you eagerly waiting for October 31st to celebrate Halloween? Although Halloween is about creepy costumes, scary makeup and unbelievable foods, it doesn't mean you don't need to decorate your bedrooms or nursery room.  This nursery room idea may inspire you to turn your baby's room into an awesome room.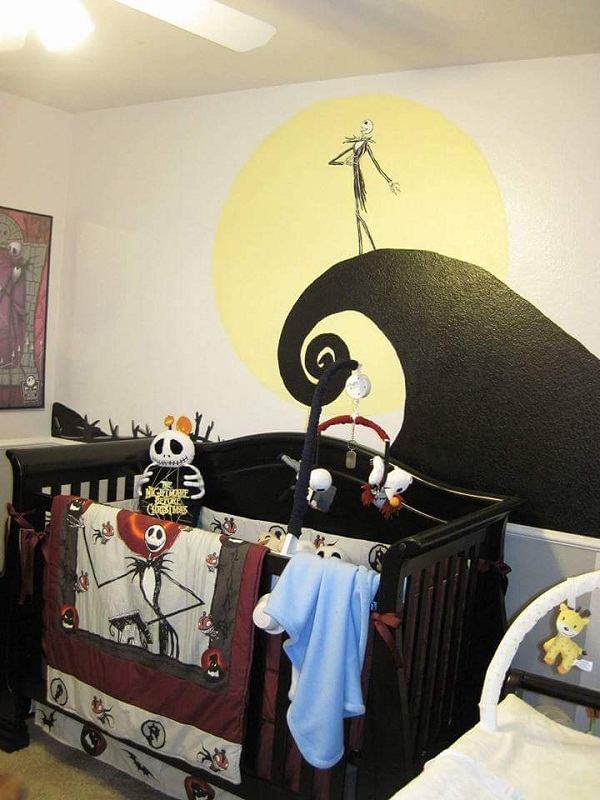 22.  Nightmare Before Christmas Nursery Room
Here's another nursery room idea for halloween.