Halloween is a big deal for many household in America and other countries that celebrate the Halloween festival. Many people loved the Halloween holiday because of the wardrobe, menu and other fall season traditions that have changed significantly over the years. This holiday is also well received because of the crazy parties that usually come with creepy foods and drinks. If you are wondering about what to serve on your Halloween party, maybe the recipes below can help you create a menu.
Halloween is an occasion to be creative, bold and adventurous to pique kids imagination. Fortunately, you don't have to be a chef to create a mind-boggling snacks as you can find a lot of easy Halloween recipes on the internet that you can whip up for your party or your kids Halloween themed party. In order to save the time of researching online, I have compiled a number of recipes from cookie to cake to Halloween cocktail recipes that you can try at home.
By the way, some of the recipes in my list have been kitchen tested, so I safely say that they are all worth trying. Anyway, have a nice time looking over the Halloween recipes and perhaps you can finally create an awesome menu for your party.
Halloween Recipes
The following are Halloween recipes that you can try at home to serve on your Halloween party.
Halloween Treat Recipes
Halloween treats are great to give to kids trick-or-treating more so when your treats are homemade and delicious. So, even mischievous boys who come knocking at the door will leave excited to try your Halloween treats.
Coconut Ghost Treats
Ingredients:
3 Tbsp margarine or butter
1 Pack of regular marshmallows or 4 cups marshmallows (miniature)
6 Cup of Rice Krispies (Kellogg's®)
Flaked coconut
Decorating gel or canned frosting
Candies (Assorted)
Directions:
Heat over low heat a large saucepan, add butter to melt then the marshmallows. Stir until melted before removing the saucepan from heat.
Add the rice krispies. Stir until cereals well coated.
Get a ½ measuring cup, coated with cooking spray to divide the cereal mixture into the desired portions.
Next, shape each portions using your buttered hands into a ghost shape. Let them cool before decorating with coconut, candies or frosting.
Serve immediately or within the day.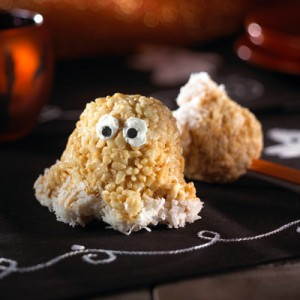 Meringue Ghost
Ingredients:
9 Egg whites
3/4 tsp almond extract
3/4 tsp cream of tartar
1 Cup Plus 2 tbsp sugar
96 Chocolate chips (Miniature, semisweet)
Directions:
Ready the oven by heating it to 200 Degree Fahrenheit.
Prepare a cookie sheet by lining it with cooking parchment paper.
In a large mixing bowl, beat the egg whites, almond extract, and cream of tartar using an electric mixer on medium speed to create a soft peak form. While mixing, gradually add the sugar, about 2 tbsp at a time but turn the speed to high to create a stiff glossy peak form and to dissolve the sugar.
Get a food storage plastic bag (resealabe) and spoon half of the mixture, seal the bag.
Cut the bag corners then squeeze to pipe a ghost shapes onto the cookie sheet.
Repeat the procedure to create ghost meringue until all mixture used up.
Insert the chocolate chips to create the ghosts eyes.
Bake meringue for about 1 hour then turn off the oven. Leave the meringue inside the oven with the door closed for at least 8 hours.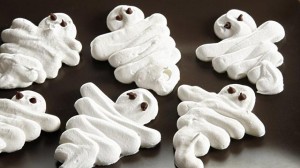 Halloween Cupcake Recipes
Wicked Cupcakes
Ingredients:
For The Cupcakes:
1 1/2 Oz fine quality chocolate, semisweet, and chopped
3/4 Cup all-purpose flour
1/4 Cups prune juice
3/4 Cup sugar
1/4 Tsp baking soda
1/4 Tsp salt
1/2 Cup cocoa powder (unsweetened)
1/4 Tsp baking powder
1 Large egg yolk
1 Large egg
1/4 Cup vegetable oil
1/2 tsp vanilla extract
1/3 Cup buttermilk
For the Frosting:
1/2 Cup or 1 stick unsalted butter, preferably at room temperature
1 Cup peanut butter
4 Cups confectioner sugar
2 Tbsp milk
4 Oz cream cheese (Room temperature)
Chocolate wafer cookies
Toasted coconut
1 drop food coloring any color (optional)
Small candies
Licorice strips
12 muffin cups at least ½ cup with paper liners
Directions:
For the Cupcakes:
Preheat oven to 300 degrees Fahrenheit. Position the rack in the middle of the preheated oven, and set the liners in the cup.
In a large microwave bowl, mixed together the prune juice and chocolate then placed inside the microwave oven, turn on the power to low. Stir occasionally until the chocolate completely melted.
In a large bowl, whisk the sugar, baking soda, cocoa powder, salt, and flour.
In another bowl, beat the yolk and egg using an electric hand mix, make sure it is turn at high speed until the mixture has slightly thicken and the lemon colored, it usually around 3 minutes.
Slowly add the buttermilk, vanilla, oil and the prepared chocolate mixture to the eggs. Beat until fully combined before adding the flour mixture and beating again to combine.
Divide the prepared batter to the muffin tins, and make sure you fill each tin about halfway.
Bake the muffins but check the muffins using a toothpick that you inserted into the cupcake center. If the toothpick comes out clean and the tops already springy remove from the oven. Baking takes about 25 minutes.
Let the cupcakes cool in the tin for about 10 minutes before removing from the tin.
For the Frosting:
In a large bowl, beat the butter, cream cheese, and peanut butter using an electric mixer until fluffy and light. Add the milk and confectioners' sugar until frosting is already smooth. Add the food coloring then refrigerate to keep the frosting firm.
Last but not the least, scoop a frosting, and pipe into the desired design.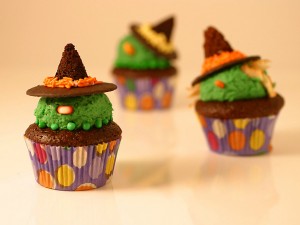 Halloween Cocktail Recipes
Ghostbuster
Ghostbuster is a ghastly concoction made with peach schnapps, melon liquier and irish cream.
Ingredients:
1 Oz peach schnapps
1 Oz melon liqueur
3 -5 Drops of Irish cream
Directions:
In a cocktail shaker, combine melon liqueur, peach schnapps, and ice. And Shake well.
Pour into a chilled cocktail glass.
Next, add drop by drop the Irish cream into the center of the cocktail drink.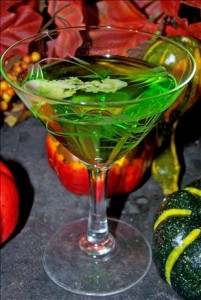 Healthy Halloween Recipes
Caramel Apples
Ingredients:
1 Pack chocolate chips
2 Tbsp shortening
1 Pack Wilton candy Melts (white)
1 Pack Wilton candy Melts (green)
¼ Cup water
8 Lollipop sticks
8 Large apples at room temperature
Assorted candies (M&M, Jimmies, and Reese)
Directions:
Melt the shortening and chocolate chips in a large microwavable bowl; stir to smooth then set aside.
Get another microwave bowl to melt the green candy then the next set of candy Wilton melts.
In another bowl, microwave water and caramels, uncovered for 1 minute on high; stir. Heat for further 30-45 seconds or until completely melted; stir to smooth.
In baking sheet with waxed paper, grease the paper and set aside.
Wash apples thoroughly until dry.
Next, get the stick and insert each one to the apple then dip into the caramel mixture, until completely coated.
Place on the pan and drizzle with candy melts and melted chocolate to decorate as desired.
Refrigerate to set.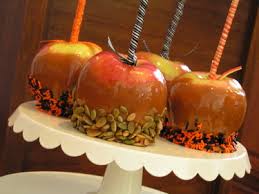 Easy Halloween Recipes
Phantoms
Ingredients:
8 Large Marshmallows
6 Skewers, wooden and with points cut off
1 Cup chocolate chips (white)
1 Tablespoon vegetable shortening
Black decorating gel
12 Cinnamon Red Hots
Directions:
Stick three marshmallows; set aside.
In a large microwave bowl melt the white chocolate chips and shortening for 1 minute on medium high. Stir, and microwave again for 10 seconds until smooth.
Hold the skewer then spoon the melted marshmallows over the skewer until completely covered.
Place the skewer on the wax paper lined on the cookie sheet.
Using the decorating gel create a mouth and the Red Hots for the eyes.
Refrigerate to harden the chocolate.
Serve to guests