Kare kare is a Filipino version of beef stew. It is usually made of oxtail, pork hocks, ox tripe, pig feet and calves feet. The seafood kare kare is a healthier version of the dish for instead of the usual meat, the main ingredients are seafoods. Kare kare is flavored with peanut butter or ground roasted peanut, garlic and onions. This is one of my specialties and I often prepare kare kare on special occasions and whenever my family craves for its taste.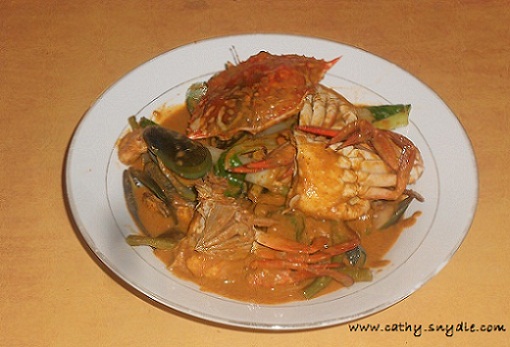 Kare kare is a staple Filipino food. It is a popular dish because of its great taste which further heightened by the shrimp paste (bagoong). There is no exact origin, some say it is a pampanga dish but other people say it is a spanish dish. Well, whatever the history of this dish one thing for sure, everyone who tried kare kare will never forget it tastes.
Ingredients:
Mussels (tahong)
4 pcs medium sized crab (cut into 2)
Clams
Squid (cut in half or into rings)
Shrimps (trimmed)
Fish fillet (cream dory) cut into bite size
2 Bundle of string beans (cut into 2-inch long)
2-3 pcs eggplant (sliced diagonally)
2 bundle of Chinese Cabbage (pechay)
1 banana heart (puso ng saging) (sliced diagonally)
2 cloves garlic
1 onion (chopped)
1/2 cup peanut butter
5 cups seafood broth
2 tsp annatto seeds (atsuete)
2 tbsp cooking oil
2 tbsp ground roasted rice (bigas)
Shrimp Paste
Procedure:
First thing to do is steam the crab, clam, mussels and fish fillet until cooked.
Slice the fish into serving size then cut the crab in two, set aside.
Get a small bowl, put in the annatto seeds or atsuete then add water, wait until it becomes red then remove the seeds by straining them.
In a large pot, heat oil and sauté the garlic and onions until translucent.
Add the seafood broth and stir in the peanut butter and atsuete.
Add the banana heart then simmer for 3 minutes or until cook.
Add the remaining vegetables and for more 6 more minutes.
Add the crabs, clam, mussels, fish and squid and let it cook for 1 minute.
Serve with shrimp paste.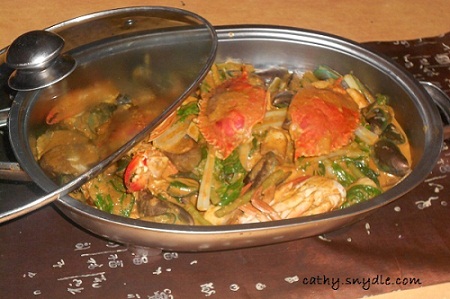 Seafood Kare kare is a dish best eaten hot and with rice and bagoong or shrimp paste.