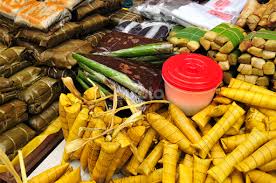 Merienda refers to afternoon snack. In the Philippines, Pinoy have snacks or in-between meals around 10am and 4pm in the afternoon. Filipinos have snacks even if they are not hungry, simply because it is the best time to catch up with friends, family, or anybody presently in the house and to take a break from work, or whatever.
Foods served during snack times vary as the Philippine have numerous foods to choose from for snacks. So, the snacks can be anything from Filipino bread, kakanin, pancit to native delicacies.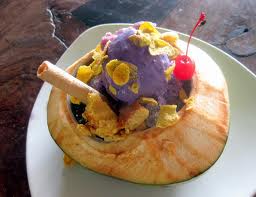 By the way, the filipino foods below are typical merienda fare in the Philippines, often called native delicacies because of the used of Philippine ingredients like coconut, saba and glutinous rice. The merienda fare are good with coffee, softdrinks, tea or all time favorite, Filipino sago't gulaman.
Pinoy Food Recipe
#1 Ginataang Bilo Bilo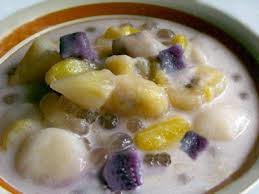 Ginataang Bilo Bilo is a favorite merienda of many Pinoys, including me. In fact, I often ask my mom to make bilo bilo weekly not just for merienda but also for breakfast. Ginataang bilo bilo is a fulfilling pinoy food because of the different ingredients such as bananas, sweet potato and of course the key ingredient, bilo bilo.
Bilo bilo is made of glutinous rice shaped into small balls for easy chewing. My daughter enjoys making the glutinous rice balls for my mom, every time she cooked our favorite merienda. Anyway, I hope you will also like Ginataang Bilo Bilo as this dish is great to eat for dessert as well, especially when cold.
Ingredients:
1 1/2 cups kamote diced (sweet potatoes)
1 cup gabi diced (taro roots)
1 1/2 cups purple yam
1 1/4 cup saging na saba diced (plantains)
1 cup ripe langka sliced (Jackfruit)
2 cups small tapioca pearls cooked (sago)
20 pieces or more bilo bilo (glutinous rice balls)
1 cup granulated white sugar
3 1/2 cups coconut milk
2 cups water
Cooking Procedure:
In large cooking pot, pour the water and boil.
Pour into the pot the 1 3/4 cups coconut milk, and let it boil.
Add the sweet potatoes, taro, and purple yam, and then simmer for about 8 minutes.
Next, pour-into the pot the remaining coconut milk, sugar, and bilo bilo then stir and simmer for 7 min.
Add the banana, let it cook for 2 minutes before adding the jackfruit. Simmer for additional 2 minutes then add the tapioca pearl and just let it simmer for a minute.
Serve hot or cold.
Pinoy Food Recipes with Pictures
#2 Palitaw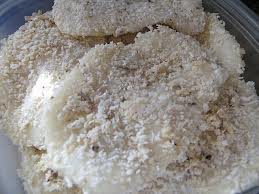 Palitaw is another of my favorite pinoy food as the sweet flat rice cake is delicious. Palitaw, a local kakanin, often sold in the wet market and peddled by vendors in the afternoon around the neighborhood throughout the country.
Palitaw is a tagalong word for "litaw," which means to surface or float as the flat rice cake floats when cooked in hot water.
Ingredients:
2 cups glutinous rice flour
½ cup granulated sugar
1 cup grated coconut
1 cup water
½ cup sesame seeds (roasted)
Cooking procedure:
Form dough by combining the glutinous rice flour and water.
Scoop 2 tbsp of dough then shaped into a ball.
Flatten the ball using your hands by joining your two palms together.
In a large cooking pot, boil water then put the flattened dough one by one into the pot.
Remove the flattened dough as soon as it floats then set aside.
In a plate, combine and mix the roasted sesame seeds and sugar.
Next dunk all the rice cake in the sugar-sesame seed mixture and grated coconut.
Arrange the palitaw in a serving plate, and then serve.
Food Pinoy
#3. Ginataang Munggo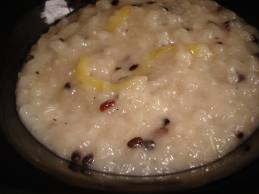 Ginataang monggo or munggo is a merienda made of toasted mung beans and malagkit, also known as sticky rice. This is a simple merienda cooked in coconut milk. By the way, this is similar to Ginataang mais.
Personally, I love eating ginataang munggo especially during the rainy season as this dish can comfort you, no doubt about it.
Ingredients:
1/2 cup Mung beans
2 1/2 cups coconut milk
1/2 cup malagkit (washed)
7 tablespoons sugar
Cooking Procedure:
In a medium sized pan, toast the Mung beans until brown then set aside to cool.
Using a mortar and pestle, crack the toasted mung beans then set aside.
In a large cooking pot, boil over medium high heat the coconut milk.
Next, add the malagkit and Mung beans stir, and cook over low heat for at least 15 to 18 minutes. Stir occasionally, until the coconut milk gets almost absorbed.
Add the sugar then stir, and turn off heat.
Transfer to a serving plate.
Serve hot or cold.
Pinoy Food Trip
#4 Minatamis Na Saging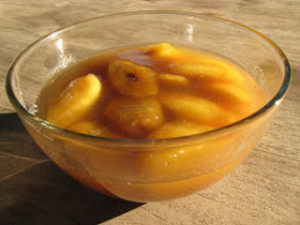 Minatamis na saging is an excellent for snack and dessert. The simplicity of this merienda dish makes it one of my husband favorite snacks. You can prepare this dish in less than 15 minutes. This pinoy food is great to eat hot or cold. Take note, you can also use this dish for saging con heilo.
Ingredients:
4 pcs saging na saba (plantains)
3/4 cup brown sugar
1 1/2 cups water
1 tsp vanilla extract
1/4 tsp salt
Cooking procedure:
In a medium sized cooking pot, boil water.
Add the brown sugar then just stir until completely diluted.
Next, add the vanilla extract, and salt then mix well.
Add the plantains then adjust the heat to medium high before covering pot. Let it simmer for 8 to 12 minutes or just until it thickens.
Once thickened, remove from heat and let it cool.
Serve hot or cold.
Pinoy Street Food
#5 Banana Que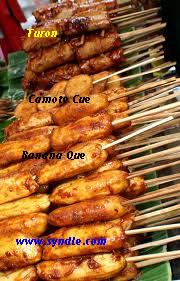 Banana Que is a certified filipino merienda and street food. That's right, the popularity of Banana Que and inexpensiveness, certainly made skewered banana a staple food in the Philippines.
By the way, since Banana Que is also a favorite Filipino street foods, you can see them at many street corners around the Philippines. It is very affordable as a stick of banana only cost P10, very cheap for a 2 or 3 pcs of banana.
Ingredients:
6 pieces saging na saba
4 cups cooking oil
2 cups brown sugar
Cooking Procedure:
In a medium sized cooking pot, pour oil and heat over medium high heat.
Once the oil is very hot, deep-fry the plantains for at least 2 minutes.
Gradually add the brown sugar, and then adjust to medium-low until the melted brown sugar covers all the bananas. Don't forget to stir the bananas.
Get the bananas one by one and skewer into a bamboo skewer, about 2 to 3 pcs per stick.
Serve immediately.