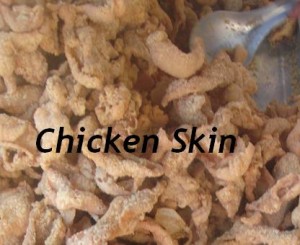 Tourists visiting the Philippines for the first time should not leave the country without trying some of the Filipino street foods. The Philippine Street foods are staple chow in the country as Filipinos love to eat on all hours.
Filipinos keep their tummy full, and they can do so especially when the most loved Street food Philippines can easily be found at every street corner in the country. You can find a stall selling all kinds of foods in the jeepney and bus terminals, tricycle terminals, food courts, street corners and even inside the shopping malls, there are small stalls selling dirt cheap foods that used to be just found in the neighborhood are now in the malls to cater to the upper market.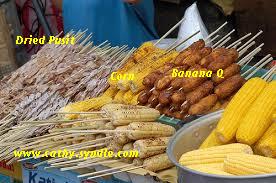 Come to think of it! Street food business in the Philippines is booming, and the number of food carts, a small business franchise, is evidence that Filipinos are just fond of eating, delicious, and inexpensive food.
Take note, you can find some of the famous Filipino street foods in malls like the tokneneng, but if you are looking to experience the authentic way of eating Philippine street foods then forget the malls and other resto serving the local street foods. In fact, hit the street as you can find a vendor even at the malls corner selling Pinoy's favorite and inexpensive food.
I have listed some of the well-loved Philippine street foods that foreign tourists must try when in the country to experience the real Philippines.
Street Food Philippines
#1 Taho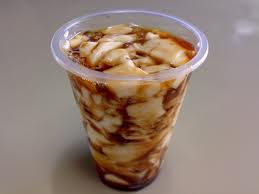 Taho is made of tofu. This is a popular street food that vendors peddled around the neighborhood by foot while shouting the food's name, which is "Taho." It is one of my favorite street foods since I was a kid, because of the caramelized brown sugar or arnibal that topped the taho and the pearls or sago. I remember my lolo every morning would wait in front of the house for the vendor since it becomes a ritual in my lolo's house to eat taho every day.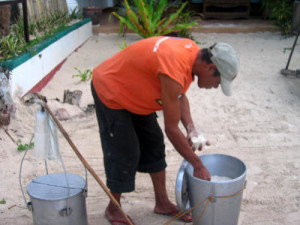 By the way, you can easily recognize a taho vendor since he can be seen carrying small and large buckets made of aluminum on his shoulder. The bucket holds the soften tofu and toppings.
#2 Iskrambol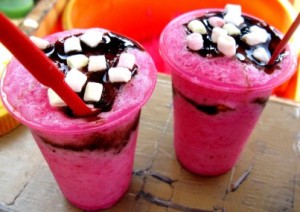 Iskramol is a Philippine street food that a lot of Filipinos enjoy eating during the hottest time of the day, particularly kids.
iskrambol is actually a shaved ice that is mixed with brown sugar (caramelized) then serve with chocolate syrup and milk powder on top. It is pinkish in color because of the artificial food coloring and can be eaten directly from the small cups or with the use of a straw or spoon. The choice is yours on how you want to eat your iskrambol, served on a small cup.
This street food is very popular to kids, which is why you can see vendors outside the schools peddling cold and delicious iskrambol.
#3 Camote and Banana Cue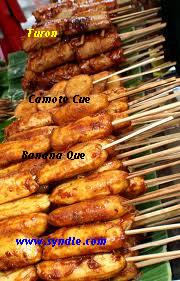 A lot of hawkers and food stalls in the Philippines sell deep fried banana (saba) that has been coated in caramelized sugar then skewered in a BBQ stick for easy eating. Banana cue and camote cue are sold in the street from 10 am until late in the afternoons when it is time to eat merienda or afternoon snacks.
Binatog is another Philippine street food that I enjoy eating every now and then. It is made of corn kernels (steamed) mixed with coconut (shredded) and then sprinkled with sugar or salt.
Food hawkers peddle Binatog on a bike, with bells. So, if you see a man riding a bicycle with bells and shouting "Binatog," call the guy immediately to get a taste of the local favorite street food.
5. Kwek kwek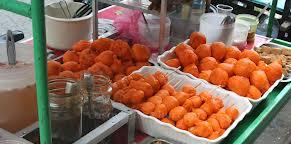 Kwek kwek is made of quil egg, covered in colored orange flour, and deep-fried. The orange color of the egg coating is due to food coloring, and nothing more. You can eat kwek kwek with sauce, usually made of vinegar with onion, garlic, etc. but I prefer eating the quil egg without any sauce at all, and it's still good.
Street Foods in Philippines
#6 Sorbetes
Sorbetes nicknamed, as "dirty ice cream" is a local heat quencher in the Philippines, wherein the temperature especially during the summer season can drive you nuts. In case you are wondering about the ice cream cleanliness since we call it dirty ice cream, know that you are perfectly safe when you eat sorbetes.
The ice cream is just P5.00 per cone, and since these homemade ice creams comes in different flavors, you have a choice from ube, mango to fruit salad. Street vendors with colorful pushcarts sell their ice cream daily in schools, churches, and tricycle terminals.
#7 Mani
Mani aka peanuts are also a popular street food. Street vendors in street corners throughout the Philippines sell the boiled and fried peanuts, and because they are cheap, you can indulge in them without ruining your budget.
#8 Barbeque
Barbeque are very popular to drinkers as they buy them in large quantities for "pulutan." The marinated pork and chicken are grilled over hot charcoal, and since Filipinos grilled all parts of the chicken and pig, including the blood, you have a lot of options.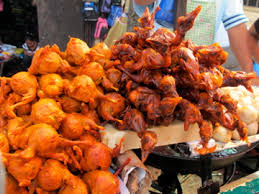 The following are types of barbeques in the Philippines: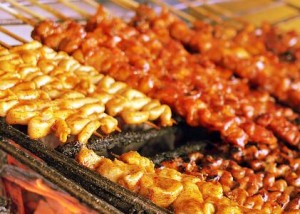 isaw (chicken intestines)
adidas (chicken feet)
Betamax (dried pork or chicken blood)
ulo ng manok or helmet (chicken head)
Pwet ng manok (chicken ass)
Balat ng baboy (barbecue pig skin)
tenga ng baboy or walkman (Pig ears)
leeg ng manok (Chicken neck)
balun-balunan (Chicken gizzards)
atay ng manok (chicken liver)
butse (crop of chicken)
#9 Balut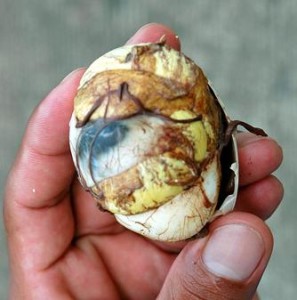 Balut is not just a filipino street food but also a Philippine delicacy. The hard boiled egg duck considered as an aphrodisiac food is also high in protein. When in the country, it is commendable for a traveler to eat the three-week-old duck egg as not all tourists have the courage to eat one, because of the embryo.
Balut is easy to eat just peel of the shell a little bit on top then suck the fluid (aminiotic) then sprinkle some salt and vinegar.
Philippines Street Food
#10 Fish Ball
My list is incomplete without fish balls, the ultimate Filipino street food. Fish balls have been a staple food in the street as the deep fried fist meat, skewered and dipped in sauce. There are three kinds of sauces; the sweet, spicy and vinegar make the fishball even more delicious.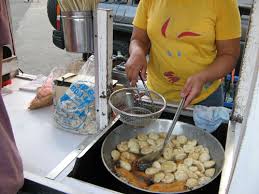 Imagine, for P5.00 you can eat 10 pcs of fish ball already, so if you are hungry and want something to eat right away just go outside and stick as many as fish ball as you can as you can appease your rumbling stomach without spending much.
These fish ball vendors are everywhere, in Makati business district, schools, and other establishments. Other variations include chicken balls, squid balls, and kikiam.