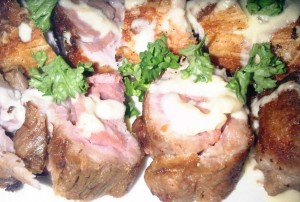 Pork roulade is a simple dish. This dish is easy to prepare as you just need to roll the thin sheet of meat around a filling to form a roll. Roulade is a French word, means "to roll" in English. My version of pork roulade takes only a few minutes to make, and the filing is just readily available in the kitchen.
Roulade is a popular dish in Europe and some countries. It is a popular dish for when sliced into medallions the pork dish looks very elegant. By the way, in order to achieve the perfect circles the meat must be thin. So, ask your butcher to trim the meat, but if you have knife skills then, you can trim the meat yourself. In some countries, roulade is filled with other types of meat. But the most common filling is cheese, fresh herbs, and nuts. You can also use apples, raisin grapes as filling.
When it comes to the cooking methods, you can roast the roulade, grill or pan fry it. Some people braised the roulade, which you can also do as long as the filling packed tightly. Anyway, I hope you find my pork roulade recipe easy to prepare for I sure have an easy time making this wonderful dish.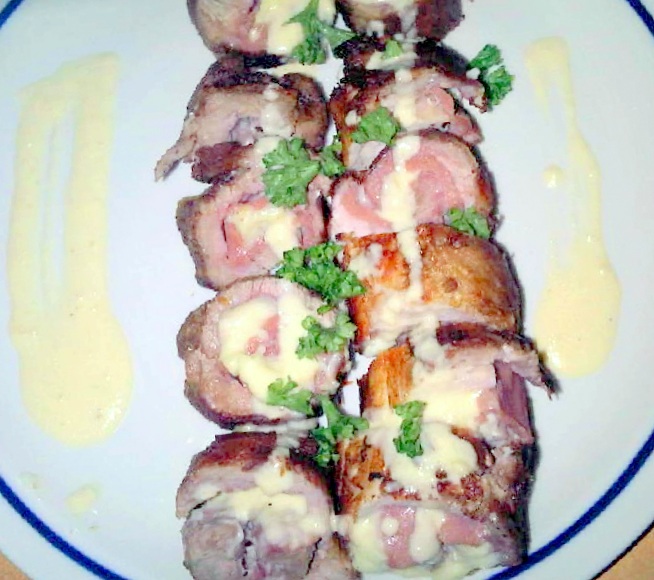 Pork Roulade Recipe
Ingredients:
Pork Loin (thinly sliced)
Cheese
Ham
Salt and Pepper
Parsley (optional)
Aluminum foil
Plastic wrap
Oil
Direction:
Place pork loin on plastic wrap. Using a mallet, pound the pork lightly to even the meat. Unwrap then season both sides with pepper and salt.
Lay the pork loin on aluminum foil. On top of the pork, lay the ham and spread the cheese all over the ham.
Gently roll up the meat with the ham and cheese. Make sure the roulade covered completely with the aluminum foil.
Place the roulades on a large sized pan then pour some water. Cover the pan and cook the meat for about 40 minutes.
Remove from the pan and allow the roulade to rest for at least 5 minutes then refrigerate for 10-15 minutes.
Next, remove the aluminum foil and in a medium sized pan, fry the meat until golden brown. Remove from the pan and let the roulade rest for 5 minutes before slicing.
Using a sharp knife, cut the meat into small circles then serve with the sauce on top. Garnish with parsley.
For the Sauce:
Starch
Butter
Milk
Salt and Pepper
Direction:
In a small saucepan, combine the starch and butter then gradually add the milk, do not boil. Next, season with salt and pepper to taste and remove from heat.
Spoon the sauce on top of the roulade.