Are you looking for halloween costume ideas for you and your better half? Well, then no need to search the net, you are in the right place. I have already found 23 couples costume ideas that are going to get attention. Take a look at my list of halloween costumes for couples as any of these will make you the best-dressed couple in halloween parties.
Halloween is a great time to be creative and fun. Dressing up in a cool halloween costume can be a great bonding experiences for couples. There are plenty of halloween costumes for couples on the internet, so finding one that is perfect for you and partner is easy. In fact, I have made it easier by searching the net for some cool couples costumes. As said earlier, you can't go wrong with any of these costumes, they are clever and fun. And fun and creativity are the two things that make halloween a much-awaited holiday.
Couples Halloween Costumes
1. Safari Couples
The safari costume is great for those who want an easy halloween costume.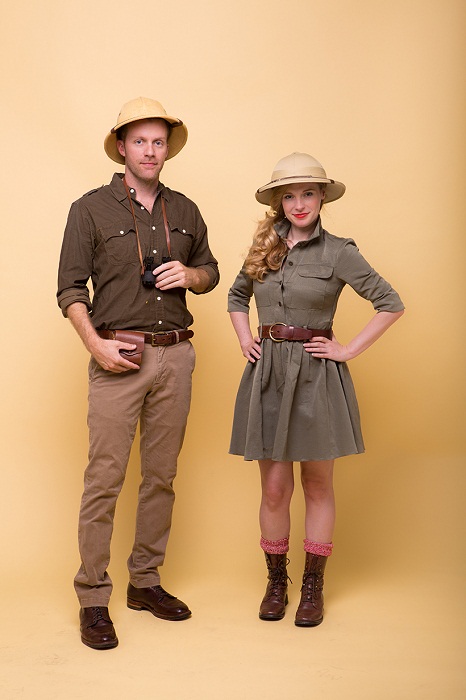 2. Popeye and Olive Oyl
Popeye is a cartoon character created by Elzie Crisler Segar. The fictional character first appeared in the daily King Features comic strip, Thimble Theatre, on January 17, 1929. Popeye the sailor is a man who gets incredibly strong by eating spinach. Olive Oyl is his girlfriend in the comic strip.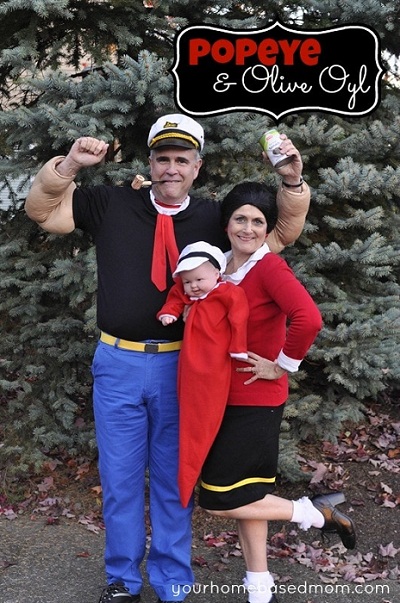 3. DIY Cookies and Milk Couples
If you are into DIY then this Cookies and Milk costume is perfect for you and your half.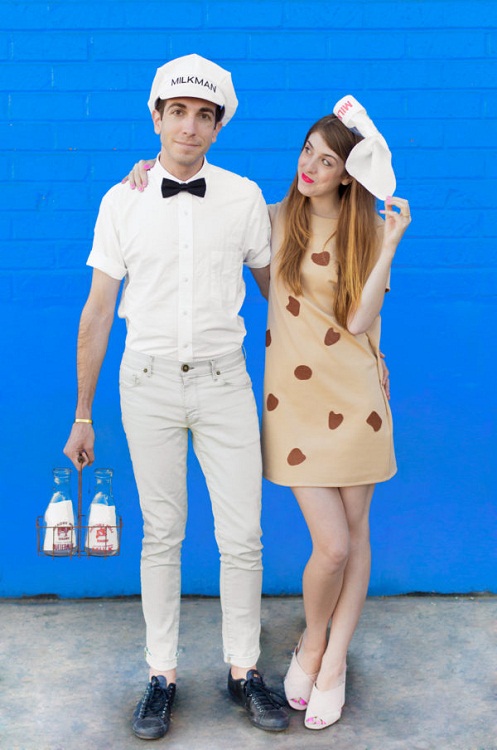 4. Cruella Deville and Horace
Cruella de Vil is the main antagonist in the hit novel The Hundred and One Dalmatians. The novel is written by Dodie Smith in 1956. The popularity of the novel caught the attention of the big boss in Walt Disney Pictures, thus in 1961, they release an animated adaptation 101 Dalmatians.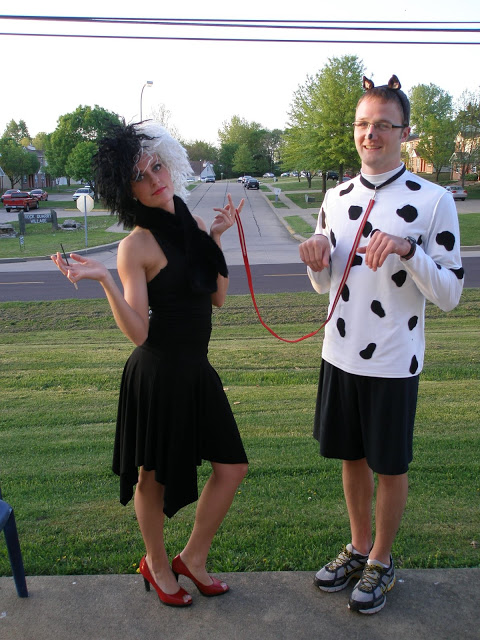 5. Grand Budapest Hotel Couples
The costumes are from the movie the Grand Budapest Hotel.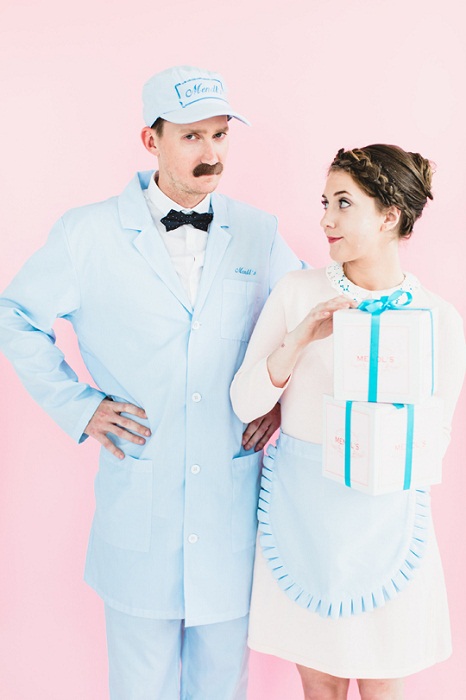 6. DIY Pacman
Pac-Man is a popular arcade game developed by Namco. Pac-Man was first released in Japan in May 1980. Toru Iwatani, a Japanese video gamer designer created the hit arcade game.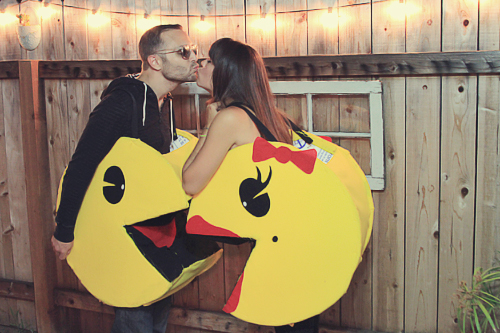 7. Little Red Riding Hood
LIttle Red Riding Hood also known as Little Red Cap or Little Red Ridinghood, is a classic European fairy tale about a clever young girl and a Big bad Wolf.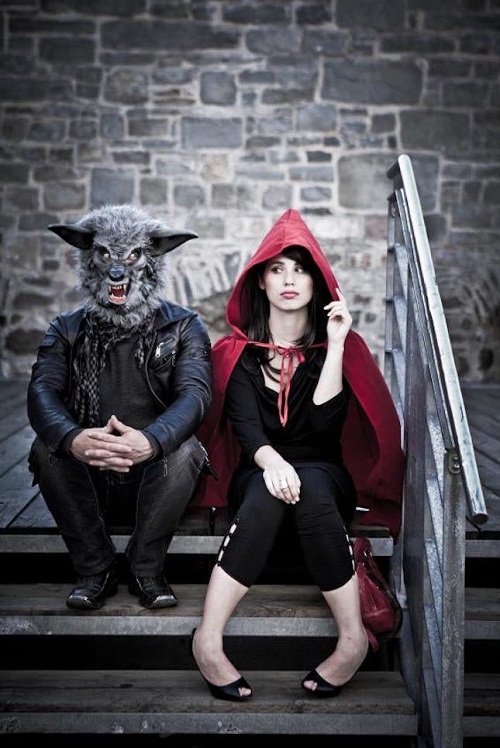 8. Little Red Riding Hood and the Big Bad Wolf
There are many ways to make the Little Red Riding Hood's signature look this Halloween, here is another red look that you can execute easily.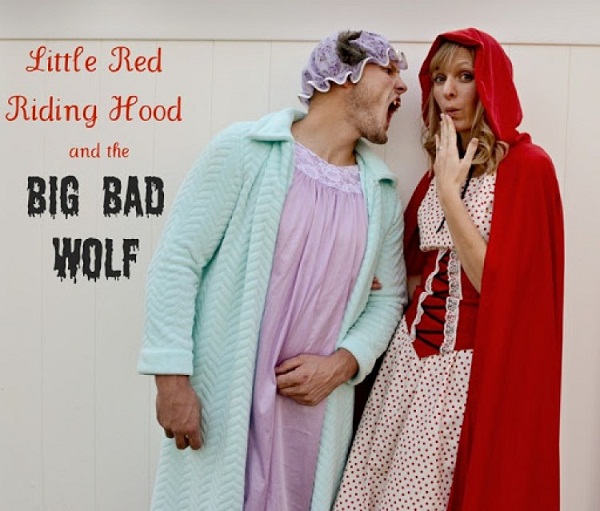 9. Robber Costume
If you are looking for a cool costume for you and your partner in crime, this costumes for couple is perfect.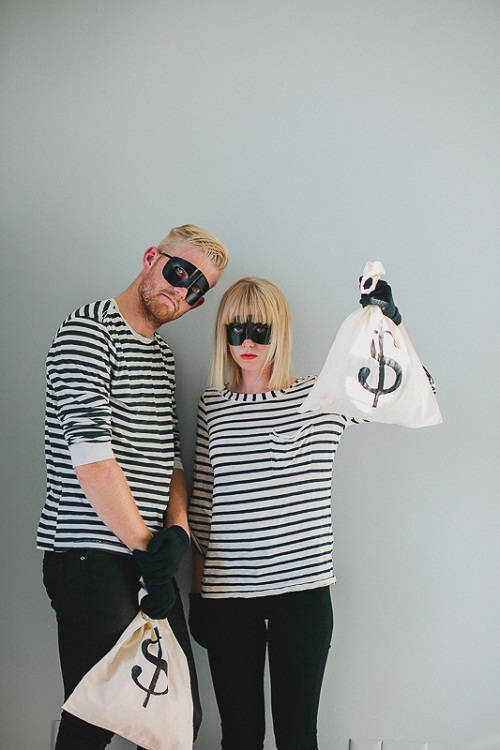 10. Peter Pan and Tinkerbell
Tinker Bell also known as Miss Bell and Tink is a feisty fairy and major character in Disney's 1953 film, Peter Pan. Tinkerbell is Peter Pan's sidekick, and friend.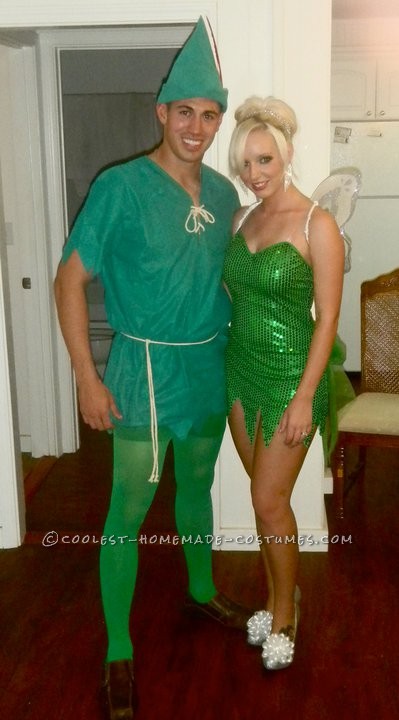 11. Tinkerbell and Peter Pan
Here's another Tinkerbell and Peter Pan costume idea for couples.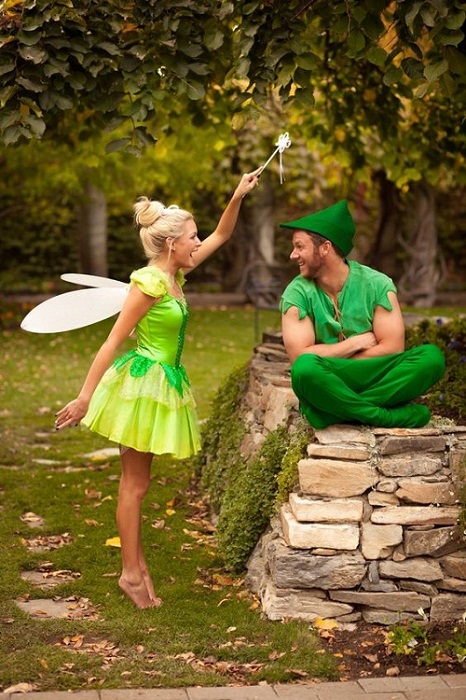 12. Marge and Homer Simpson
Marge Simpson is the wife of Homer in the hit animated series The Simpsons. Marjorie Jacqueline "Marge" Simpson is a fictional character in the American animated sitcom, the Simpsons. Marge is the mother of Bart, Lisa and Maggie Simpson.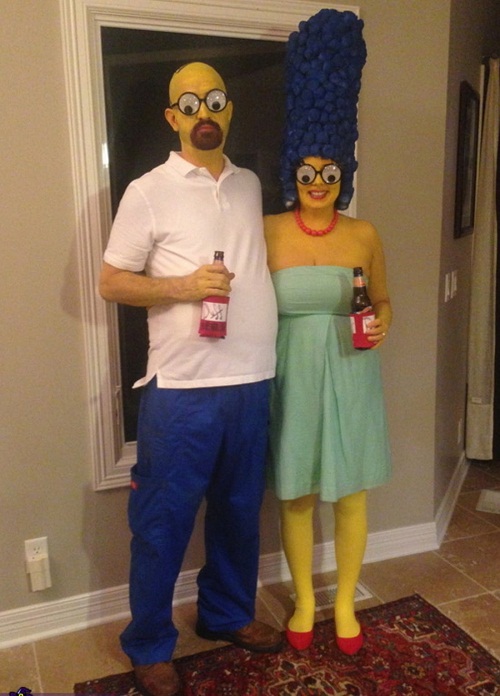 13. Confetti Costume
Great party costume.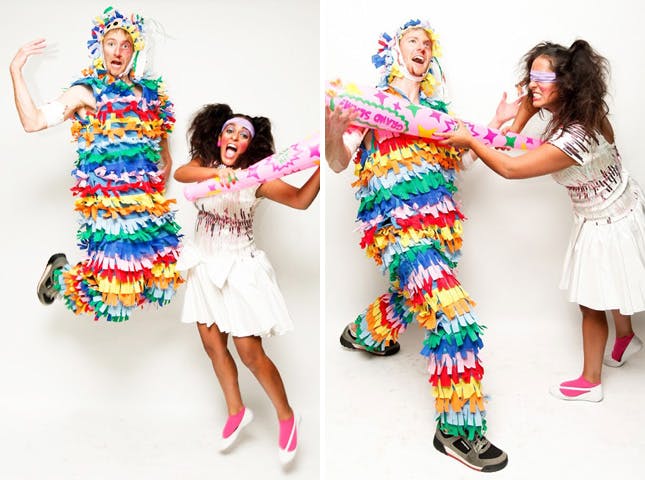 14. Pizza Delivery Boy Couples
Order a pizza now this halloween!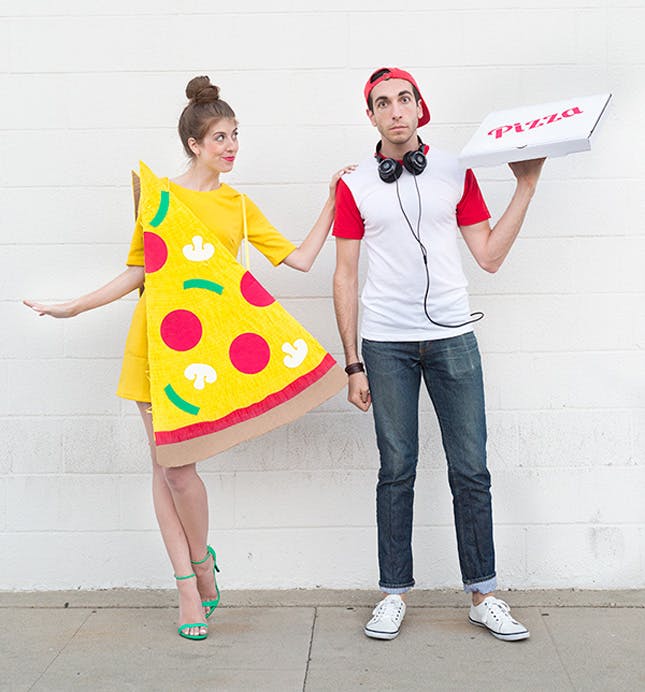 15. Patti Mayonnaise and Doug Costume
Patti Mayonnaise is one of the main characters in the kid's show Nickelodeon. Patti is a nice girl and the receiver of Doug's affections in the TV series.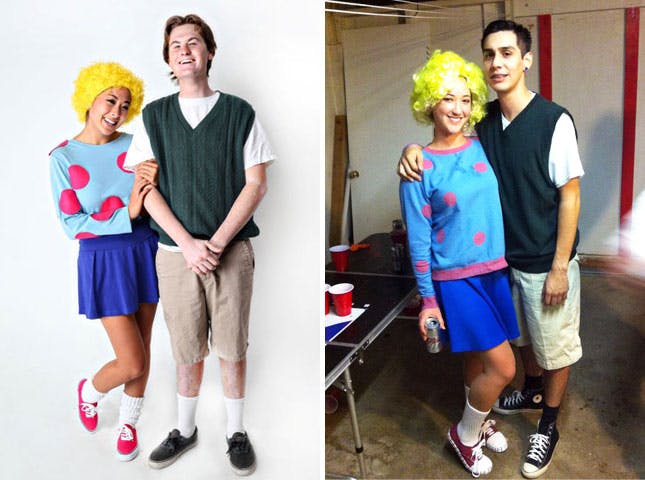 16.Jack and Sally
Jack and Sally are the two main characters in The Nightmare before Christmas.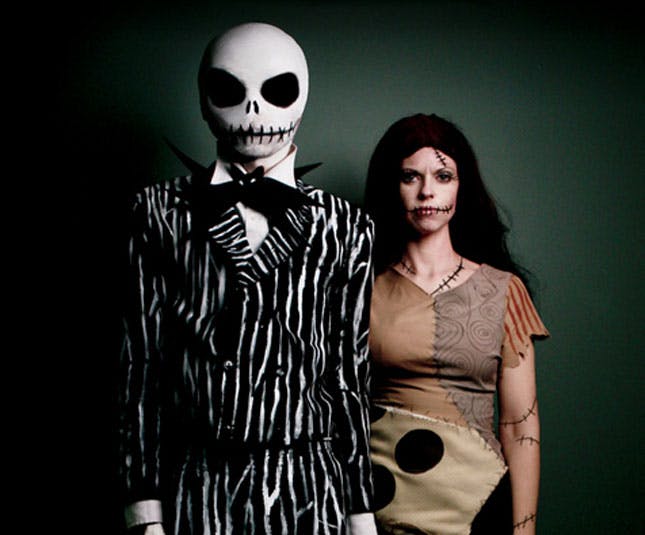 17. Doritos Couples Costume
Anyone wants a bite?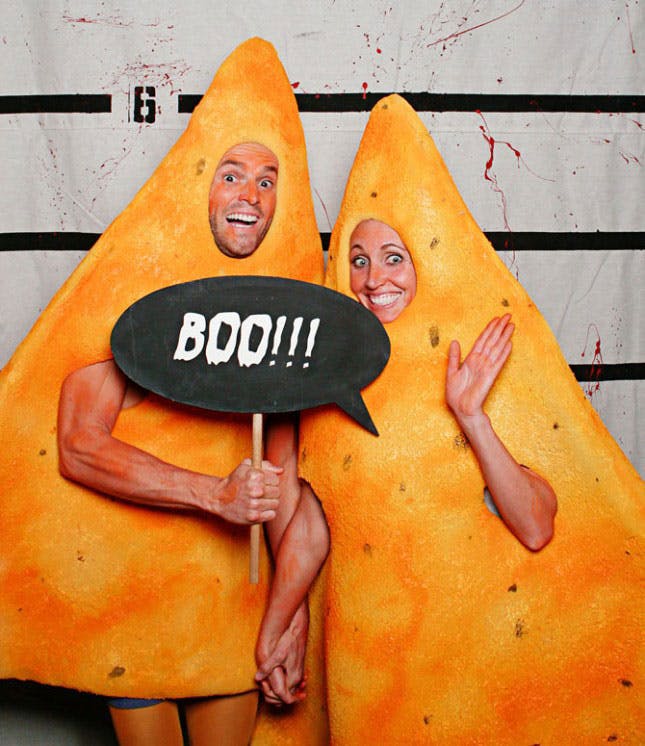 18. The Mask Couples Costume
The Mask is a hit movie starred by Jim Carrey. The mask movie revolves around a clerk named Stanley Ipkiss who discover a magical mask with power to turn into any object, shape and size. When Ipkiss wore the mask, he is turned into a supernatural playboy. This character is easy to pull, you don't need to spend much to create the mask look.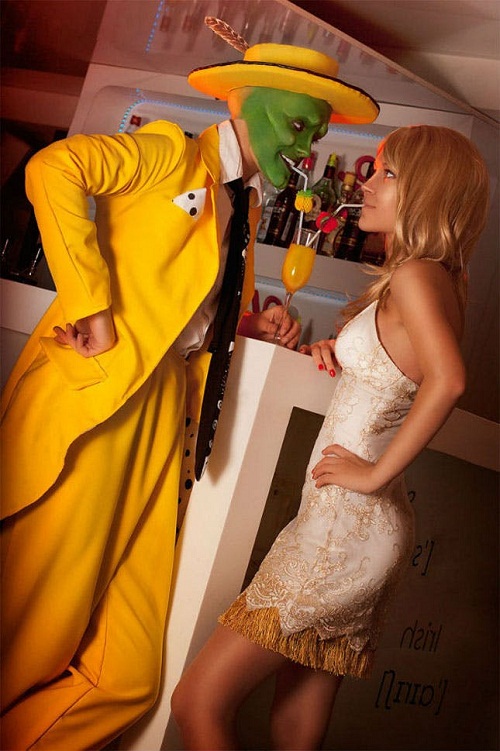 19. DIY Fred and Wilma Flintstones
The Flinstones is a popular animated series turned into a movie. The Flinstones were the modern stone age family, headed by Fred Flinstones. Fred is the husband of Wilma and father of Pebbles. The family resides in Bedrock, and they are the neighbor of Barney Rubble, Fred's best friend.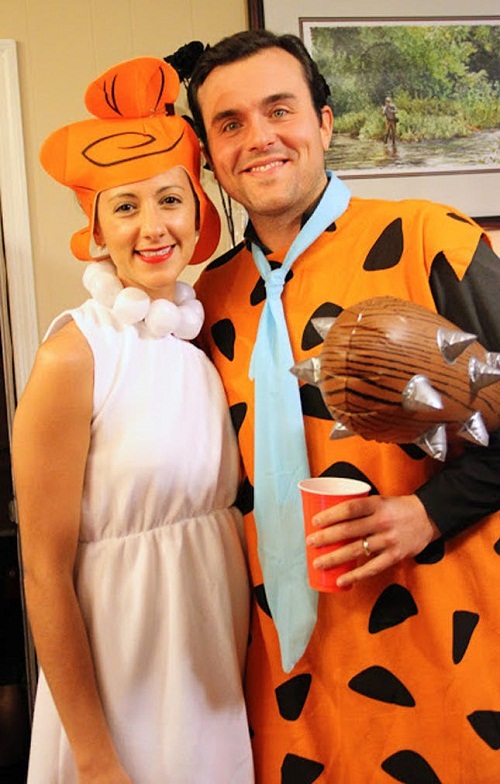 20. Trophies Couples
Trophies couples costume totally insane!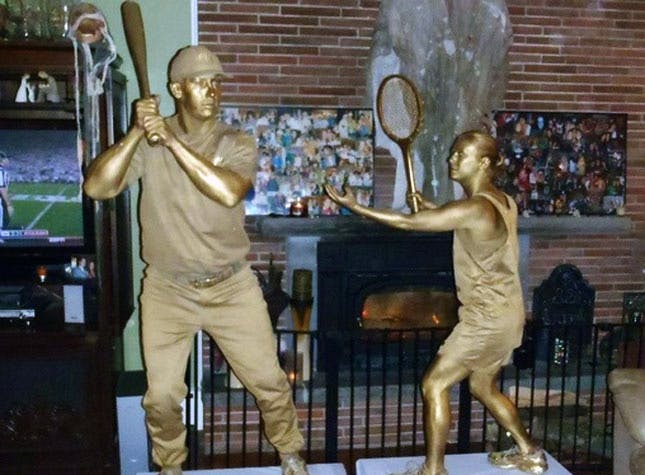 21. Alice and White Rabbit
Alice is the main character in the novel written by English mathematician Charles Lutwidge Dodson under the pseudonym Lewis Carroll. Alice's Adventure in Wonderland was published in 1865. White Rabbit is the animal that guides Alice in her adventures.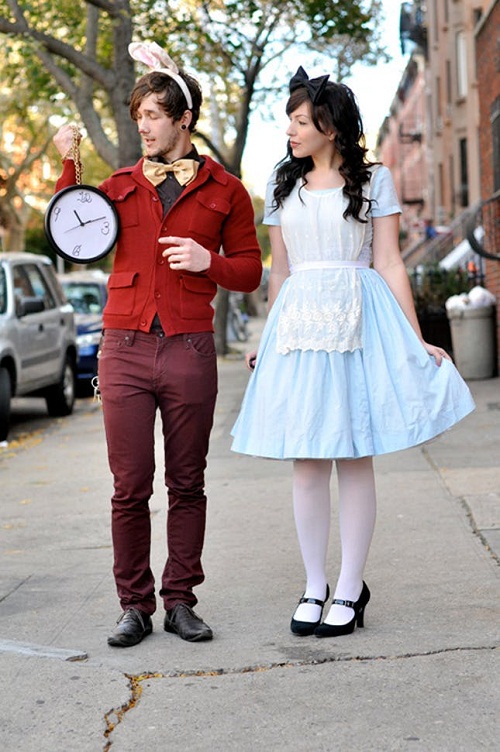 22. Joker and Harley Quinn
Harley Quinn is a supervillain in the movie Suicide Squad. Quinn is a flamboyant super-villain and an adversary of Batman. She is also the girlfriend of Batman's arch enemy, the Joker. The fictional character first appeared in the Batman animated series in 1992. The character was created by Paul Dini and Bruce Timm.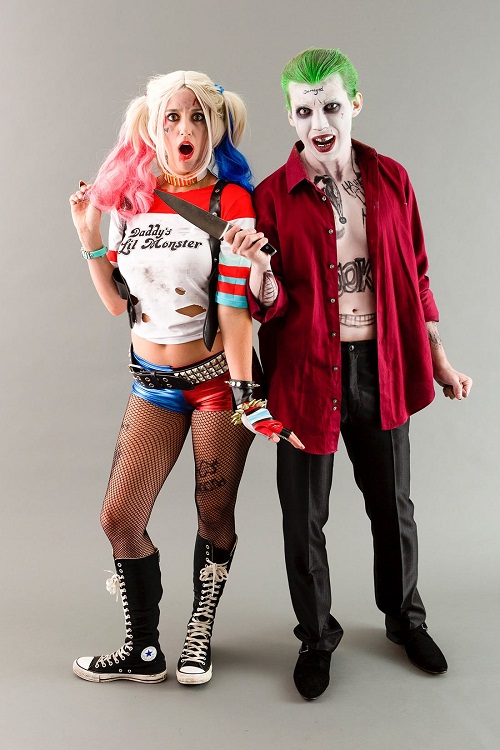 23. Pancake and Maple Syrup Couples Costume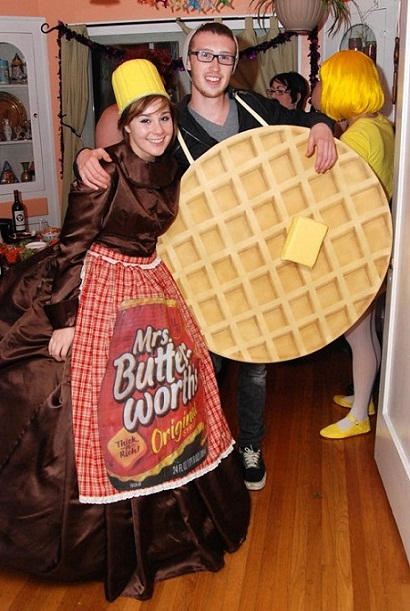 Pancake and Maple syrup halloween costume? Yes!
Thanks for dropping by and checking out my list of couples halloween costumes. I hope you find my costumes great. if you have another cool halloween costume for couples idea then don't forget to hit me in the comment section. Once again, thank you for stopping by and have a nice day.