Halloween is one of my favorite holidays as I get to make spooky, creepy yet delicious dishes. There are plenty of Halloween food ideas on the internet that I want to try, but would be too costly and time consuming to do them all. So, I have just gathered my favorite Halloween recipes, which I think deserve a spot on my list of recipes to try.
All of these Halloween recipes are great for kids and adults. This recipe list has everything for everyone. They are also easy to do, creative and doesn't cost much. I definitely like them, and I hope that you would also find them worthy of your time.
Halloween Recipes
Halloween is just a week away, it coming fast whether you are ready for it or not. So, if you are looking for easy to prepare Halloween recipes, you are on the right page. I'm sharing some clever and spooky recipes that will be great for a weeknight dinner or potluck contribution to a party. These Halloween dishes are great to make for friends and family. The recipes cover food buffet dishes like pasta, stuffed peppers, deviled eggs, meatloaf, etc. There are even recipes great for vegan and kids who don't eat vegetables.
 1. Halloween Eyeball Caprese
This Halloween eyeball Caprese recipe is worth a try. If you are looking for a fancy appetizer that is a bit gory, shocking and delicious then this is your recipe. All you need are tomatoes, olive oil, and basil. Stacked them together, and you got eyeballs.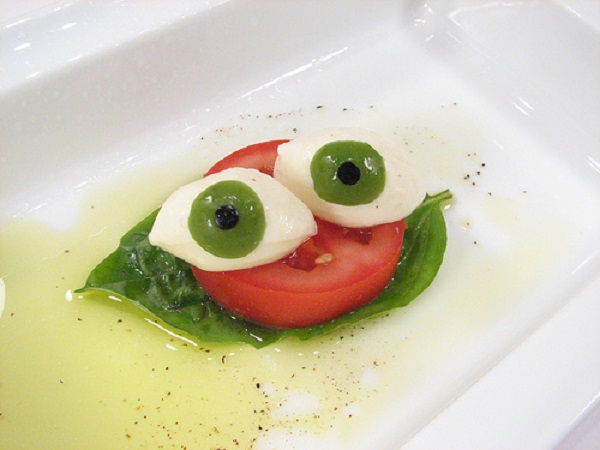 2. Cheddar Pumpkin Appetizer
These clever edible pumpkins is another great appetizer or used as a garnish. The cheddar pumpkin recipe is easy to do, and very tasty.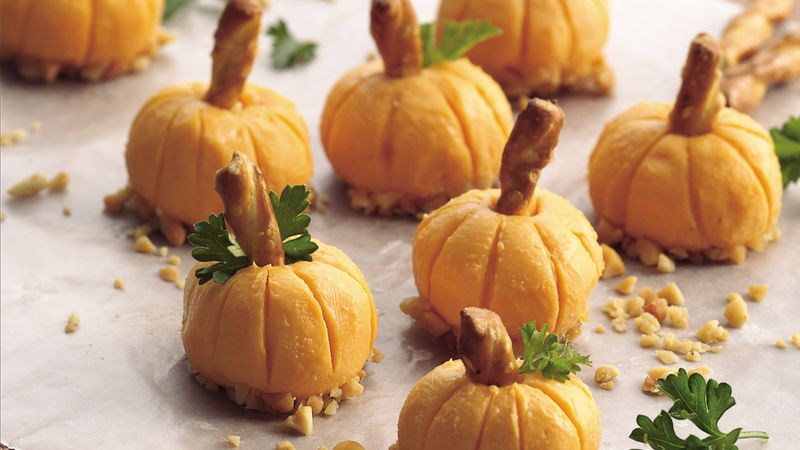 3. Spider Eggs Avocado Wasabi Deviled Eggs
I love the idea, hot and creamy, perfect combination.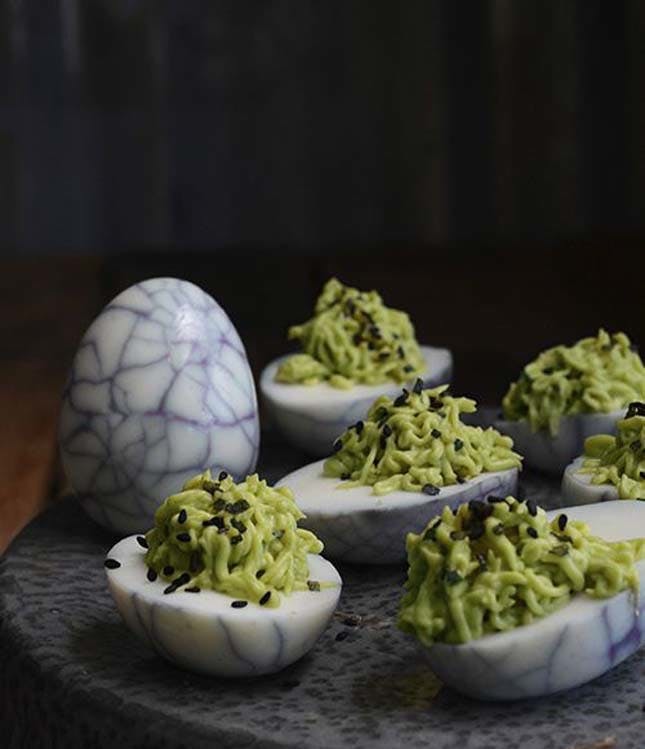 4. Spider Deviled Egg
If you think creepy foods are too gross to eat, why not make something that is tasty but not too scary. This spider deviled egg is a great appetizer. The combination of bacon and egg is too good that your guests won't be able to resist them. Best of all! You can make the deviled eggs in just 30 minutes.
Bacon and eggs, you got a spider deviled egg for appetizer to your Halloween party.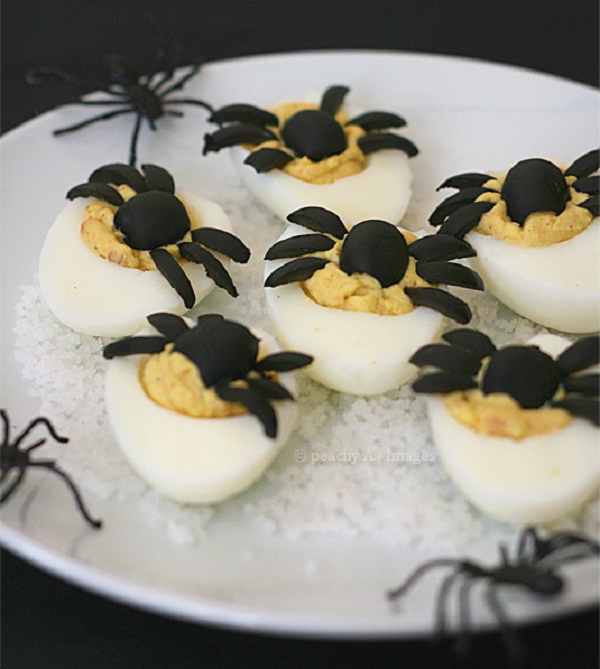 5. Rest in Peas
This dish is great for children who have aversion to vegetable. The creamy dish with croutons for tombstones can definitely rouse an appetite. Very clever, your kind will enjoy the dish.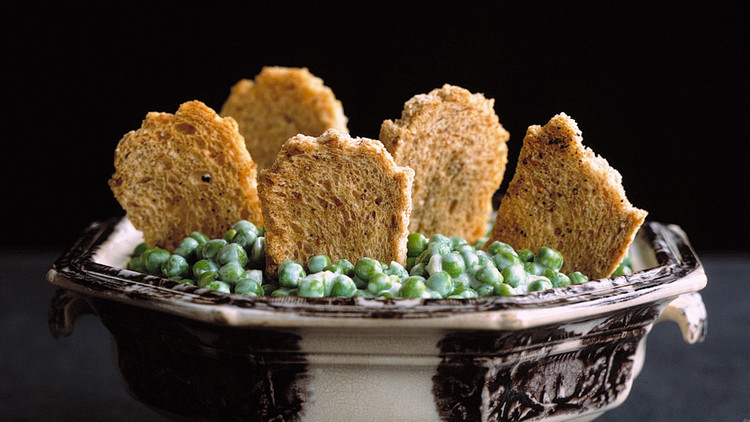 6. Mummy Meatballs
I love this recipe!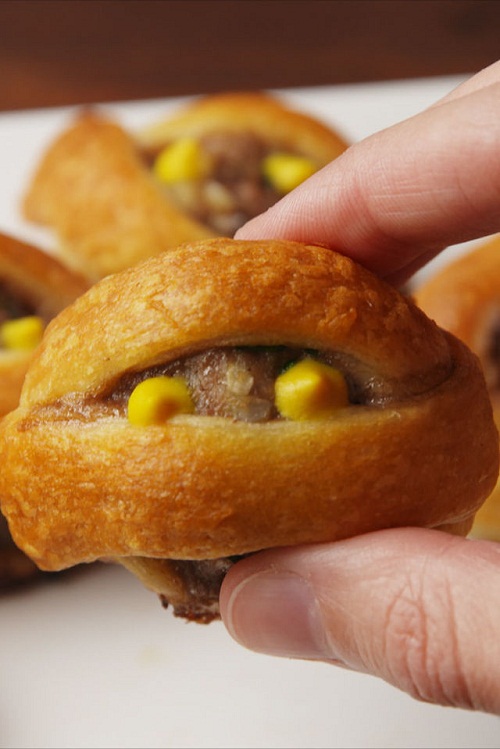 7. Spooky Eyeball Tacos
Who want some tacos?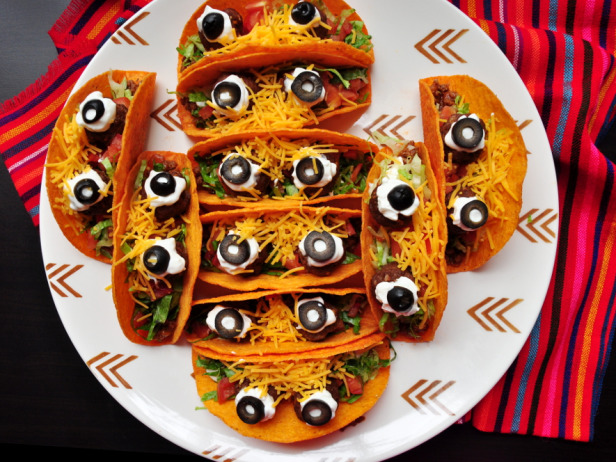 8. Cheese Mummy
If you are looking for a Halloween appetizer, this cheese mummy is perfect. The cute cheese mummy is a great contribution to any potluck. Best of all! Both kids and adults will love it! Once they tasted it, they will keep coming back for more. The cheese mummy is tasty and cute.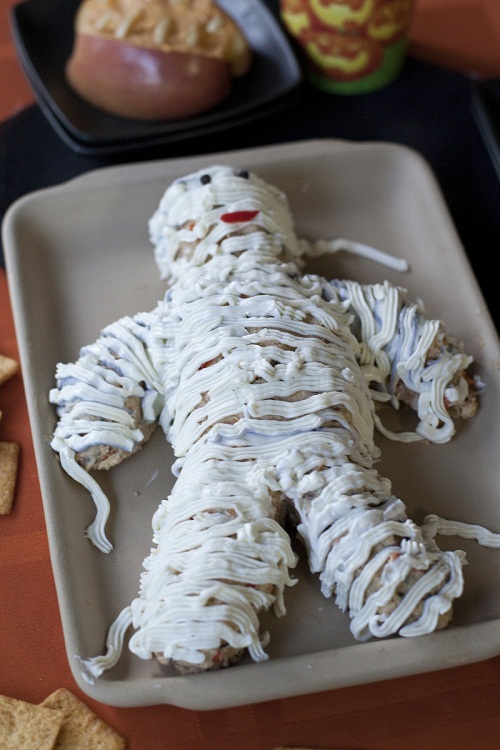 9. Zombie Head Cheese
The cheese head is made of soft cheese spread on a plastic skull. Creepy, easy, and delicious.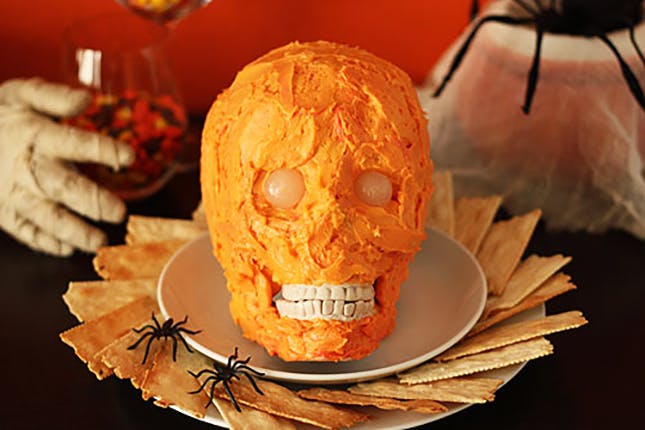 10.  The Human Flesh Salad
Some Halloween recipes are made for a party. Some to take into picnics and school bake sales. Other Halloween recipes are made to satisfy the eyes and appetite. The human head is made to please your special someone and the people you love.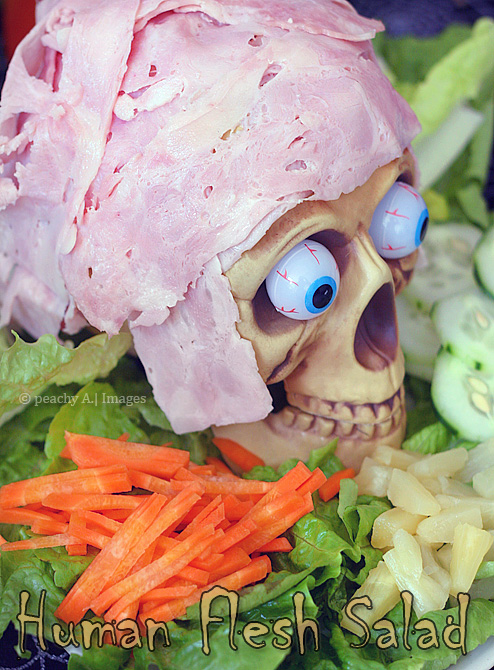 11. Meat Head
Here's another meat head salad that you can do for your halloween party or whatever you have in mind.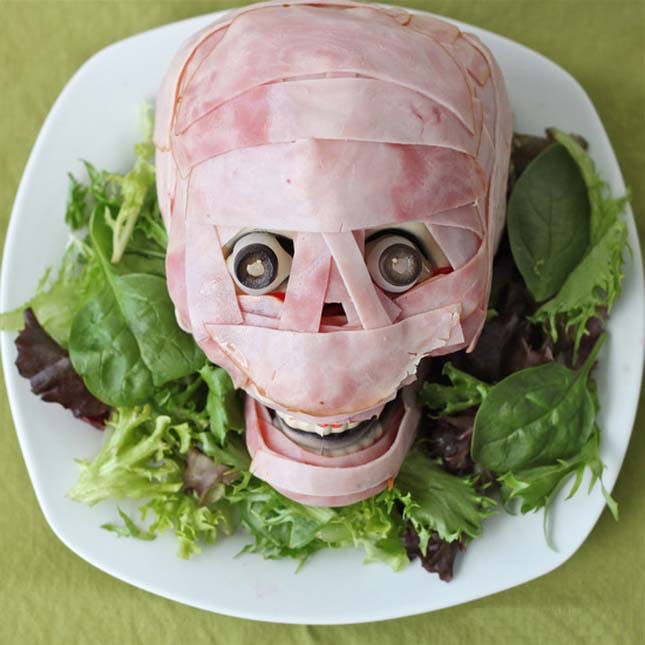 12. RIP
Looks delish!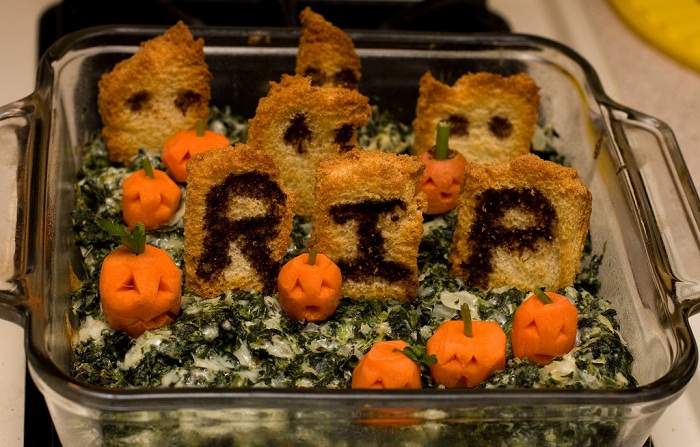 13. Mashed Potato Ghosts of Halloweegans
Making mashed potato is easy, anyone can do it. So, don't be afraid to recreate this awesome recipe. It is easy to do, all you need is some mashed potatoes, ziploc or pastry bag with a tip cut off, and whatever you want for the eyes. Ketchup or anything red is perfect to achieve the creepy look.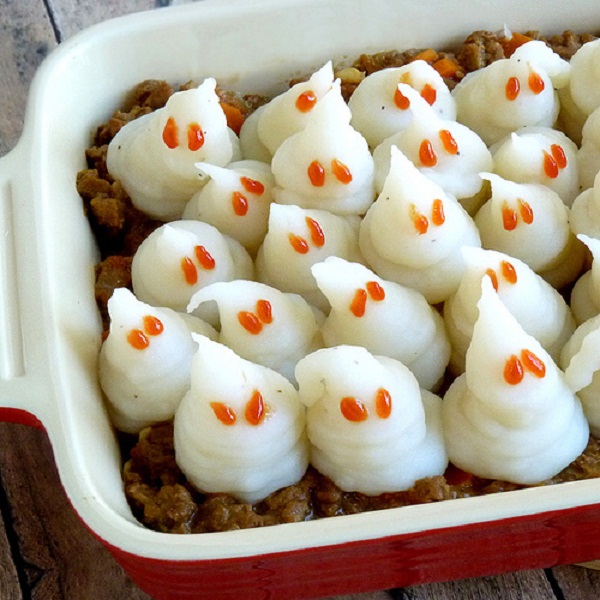 14. Halloween Super Scary Spicy Vegan Chili
This is a perfect Halloween recipe for vegan.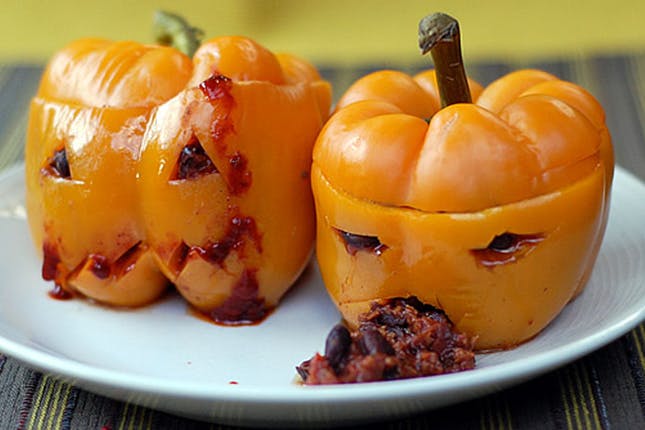 15. Stuffed Jack-O-Lantern
Here's another recipe that uses peppers. This recipe is also great for vegan and anyone who wants pasta serve in a Jack-O-Lanter made of pepper. All you need is a large pepper, carve to make a jack-0-lantern face then fill them with pasta and red sauce. By the way, you can stuff the peppers with whatever you like, it is your pepper.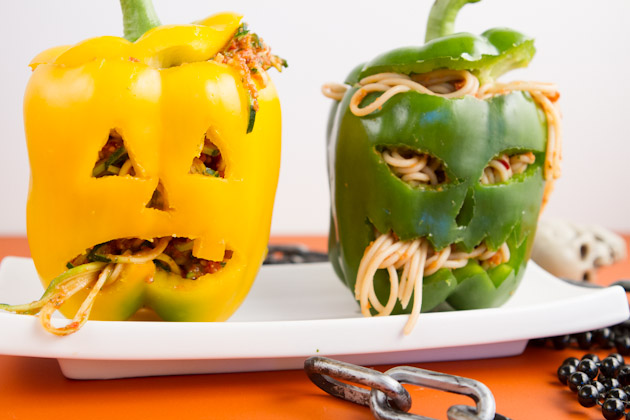 16. Creepy Meatloaf Hand
If you are into creepy, morbid food this dish is the answer to your problem. The creepy meatloaf hand dish is yummy and easy to do.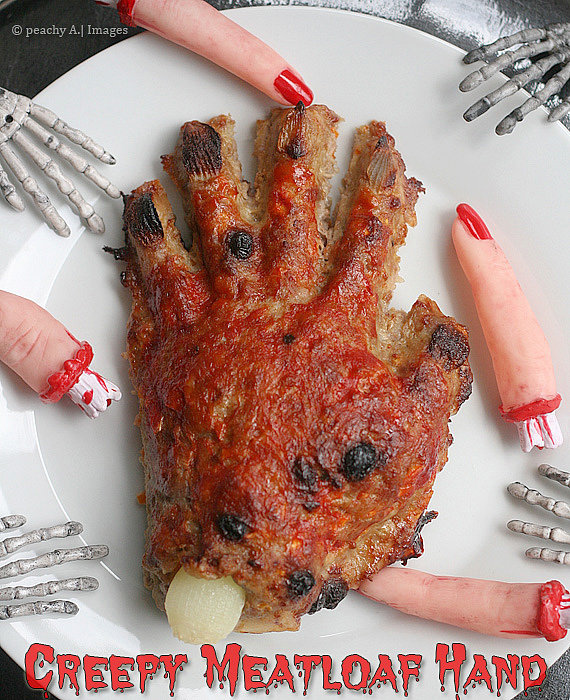 17. Tentacle Pot Pie
Cute pot pie dish!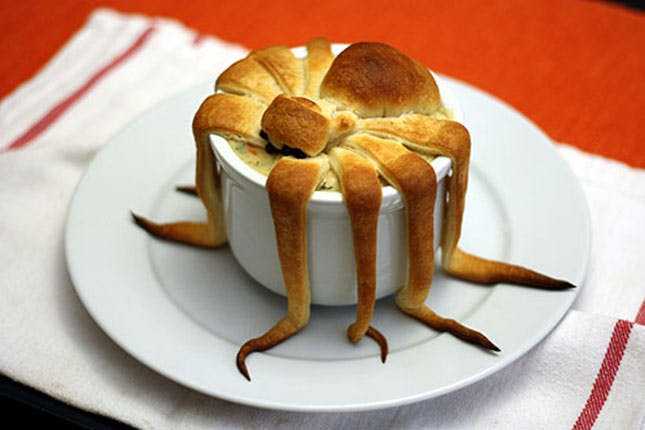 18. Pasta Pie
This is another take on the infamous pasta pie dish. A little mozzarela and olive, you got eyeballs for your pasta pie dish.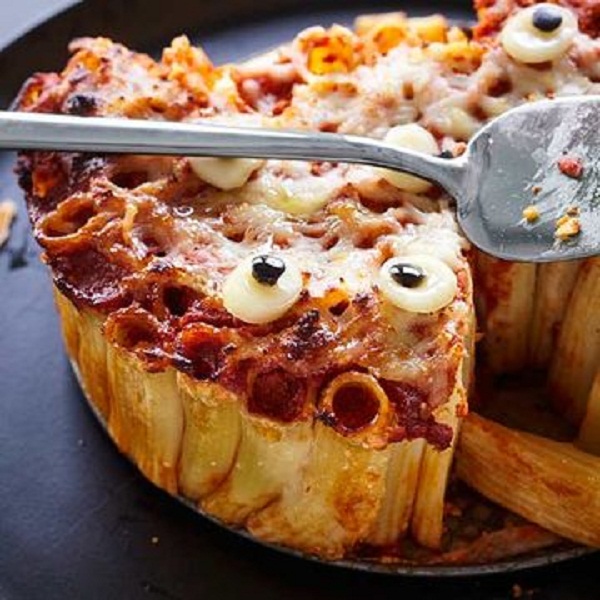 19. Spaghetti Eyeballs
I love meatballs, this dish made me love it more.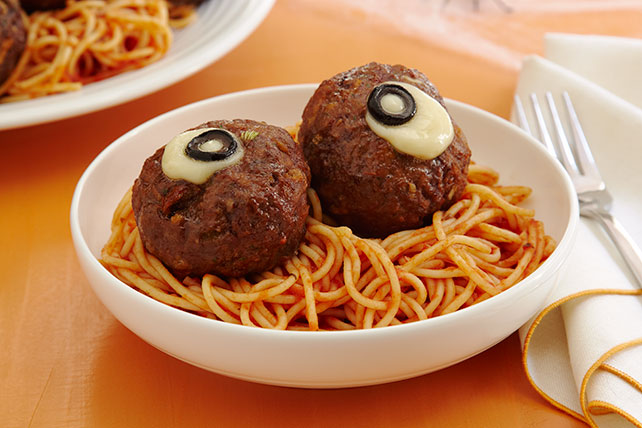 20. Squid Ink Linguine
Black pasta, hell yeah!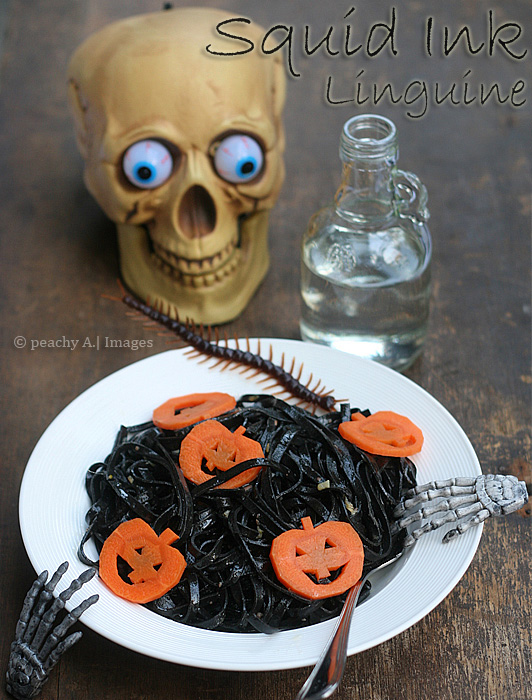 21. Black Spaghetti with Garlic Parmesan
Another black pasta dish to consider for your halloween potluck contribution or dinner.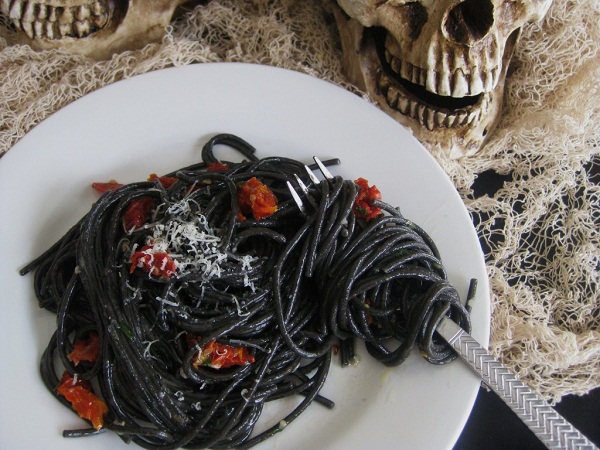 22. Creepy
Eyeball pasta made of tofu, if you want a much healthier dish.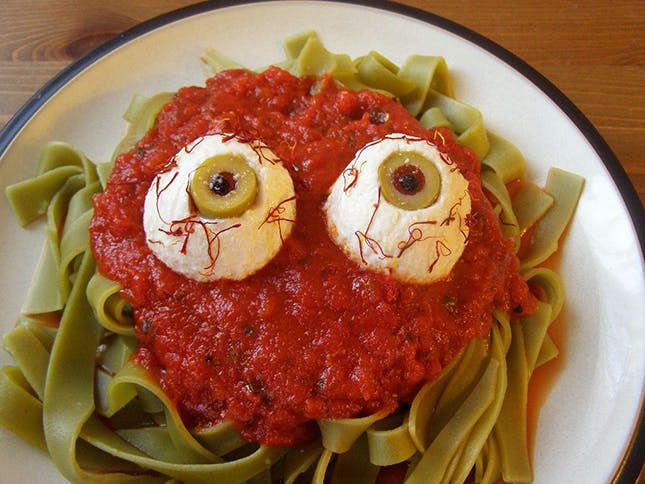 23. Halloween Pasta Pesto Recipe
If you want something spooky and green, this pasta pesto with severed fingers might be just what you need.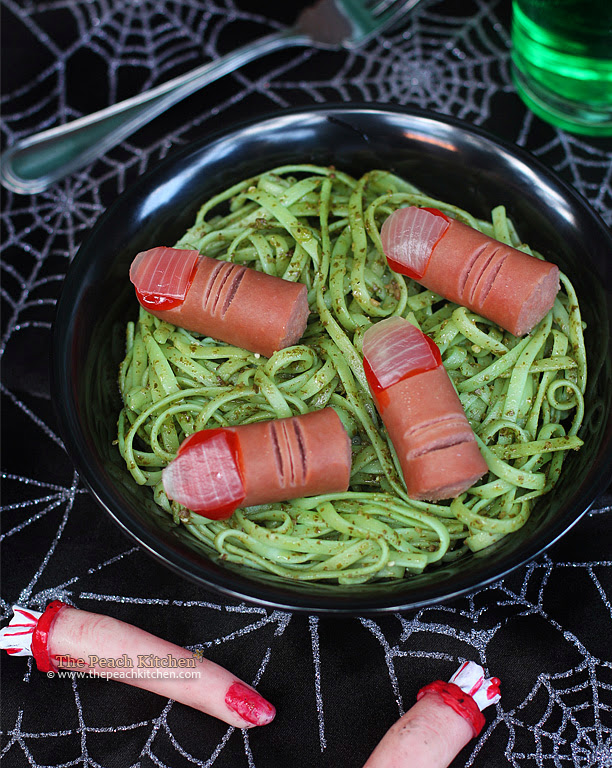 Thanks for dropping by and checking out the Halloween recipes that I have collected online. I hope this article help you make your Halloween menu. Feel free to check out my other Halloween food ideas, I'm sure y