Are you a vegetarian? Thanksgiving dinner is a tough time for vegetarians unless the whole family is also vegetarians then there is no problem. But, what if you or someone in your family doesn't eat meat, it would be nice to have something for vegetarians that even non-vegetarians can enjoy. With this in mind, I have searched the net to find yummy and easy to prepare vegan Thanksgiving dinner ideas to save you time.
By the way, before you browse the recipes below, let me share a few tips that you may find helpful. Finding recipe is not the only problem you need to think about, it's also finding a substitute to ingredients. For example, if you want to bake a cake but want a healthy option then eliminate flour on your list of ingredients and substitute it with almond or coconut flour. Both flours are great for plant lovers and carb-conscious eater. Plus! They have more nutritional value than regular flour. You can still achieve the same result with your bread, cake and other desserts with these healthier flour.  Come to think of it! Using almond flour as a thickener for gravy is going to make the sauce even tastier.
There are plenty of recipes for vegan, you don't need to sacrifice your favorite meal because you can always substitute the meat with veggies. If you are into meatloaf, there is a recipe for a meatless loaf in this article. Enough of the talk, here are 24 of vegetarian dishes that looks yummy and far from tasteless, or boring.
Vegan Thanksgiving Dinner
Check out the vegan recipes below, they look yummy and tasty.
1. Butternut Squash with Whole Wheat Wild Rice Onion Stuffing
Halved butternut squash make great serving bowls. They can make any entree looks even tastier. But of course, this baked butternut squash with whole wheat wild rice onion stuffing doesn't just look delish, but it's truly a great recipe. Even non-vegetarian would find this entree perfect accompaniment to ham, turkey or roast goose.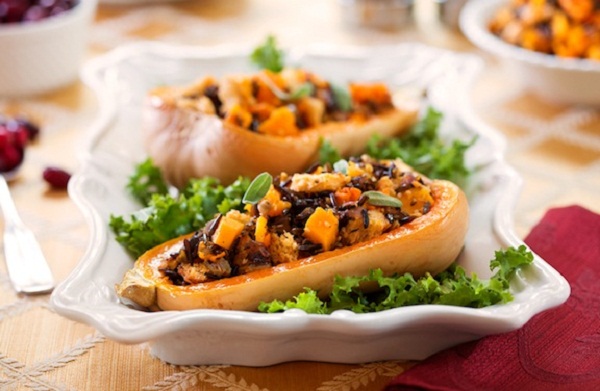 2. Stuffed Mushroom
This stuffed mushroom make perfect entree to thanksgiving dinner, which is just 4 weeks away. I bet, even meat lovers would want to eat this mushroom stuffed with delicious filling.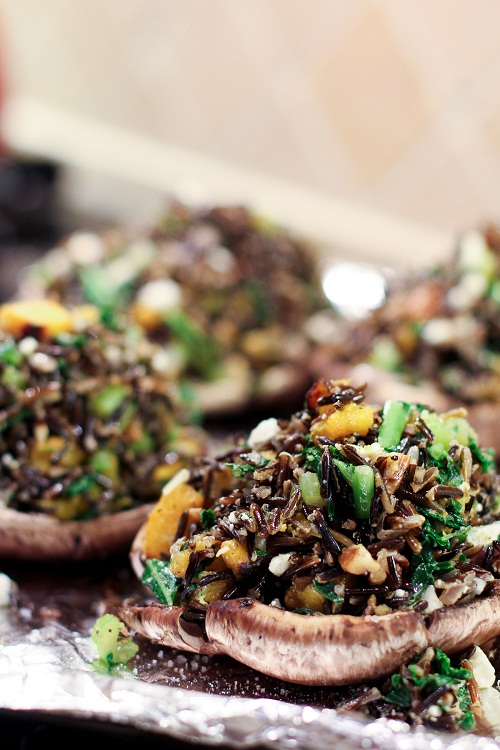 3. Autumn Stuffed Bell Peppers
I love stuffed food, and this stuffed bell peppers can make my thanksgiving dinner complete.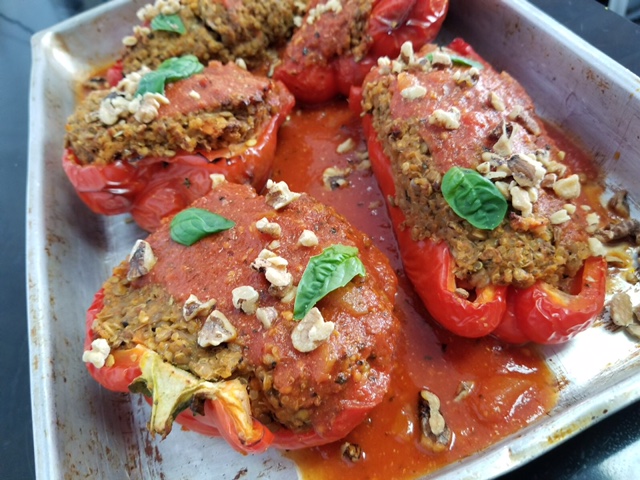 4. Tofu Recipe
Tofu anyone? Please raise your hand to this great recipe.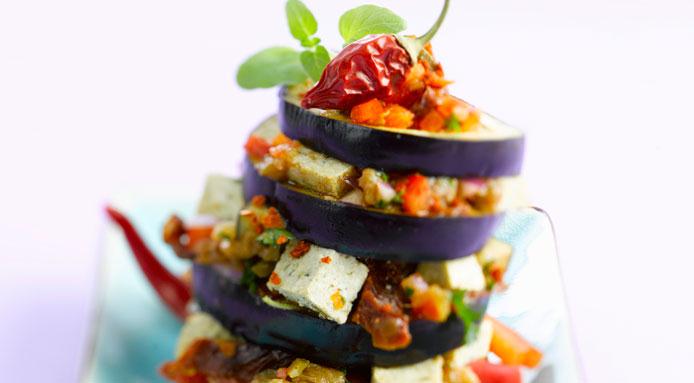 5. Vegetable Wrap
These wraps can be a great vegan entrée for Thanksgiving, and also for any occasion! The wraps bring you the flavors of autumn and its warmness, you will want to make these all the time. In fact, I suggest you do as you don't need much to make these wraps. All you need is a garlic herb flatbreads, filled with crispy baked chickpeas, pepper arugula, cinnamon-roasted sweet potatoes, dried cranberries, toasted pumpkin seeds and zesty garlic-dill sauce. It takes only 30 minutes to put together with minimal ingredients.
.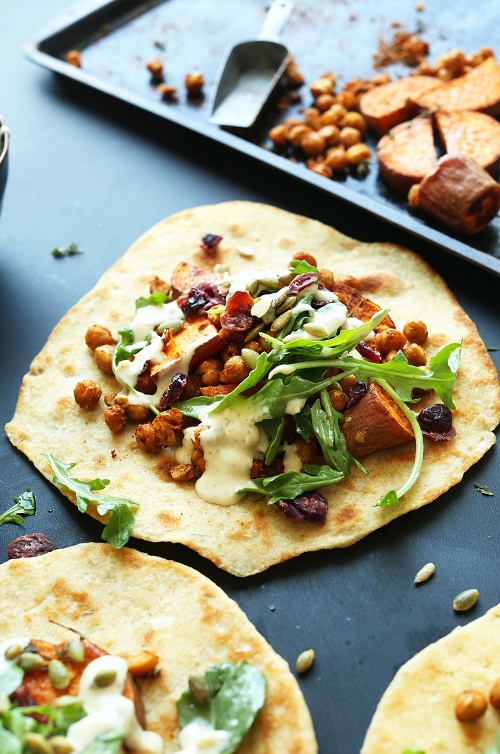 6. Peas and Potatoes Wrap
Here's another wrap idea , and you can even change or add more ingredients, if you want.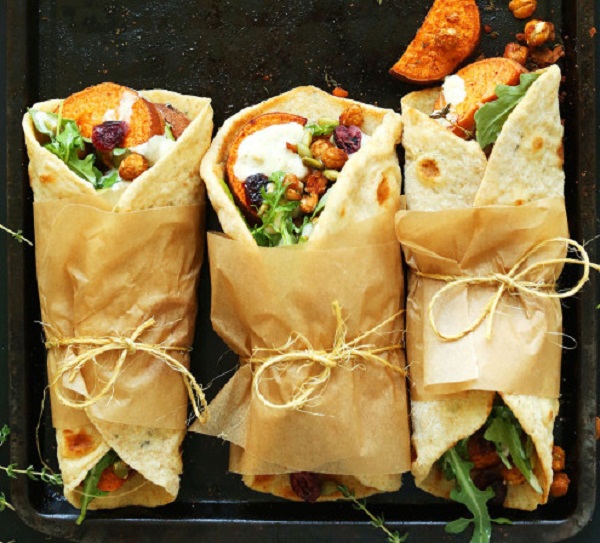 7. Vegetable Pot Pie
These vegetable pot pie make great main course for thanksgiving and any holiday. They are easy to prepare and looks yummy.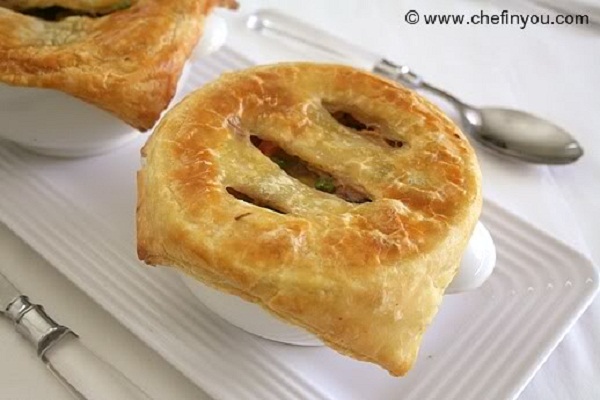 8. 1-Hour Shepherds Pie
Are you always busy even on thanksgiving? Here's a vegan thanksgiving dinner idea that you can put together in 1 hour. The one-hour shepherds pie can even be prepared a day before and just reheat before serving.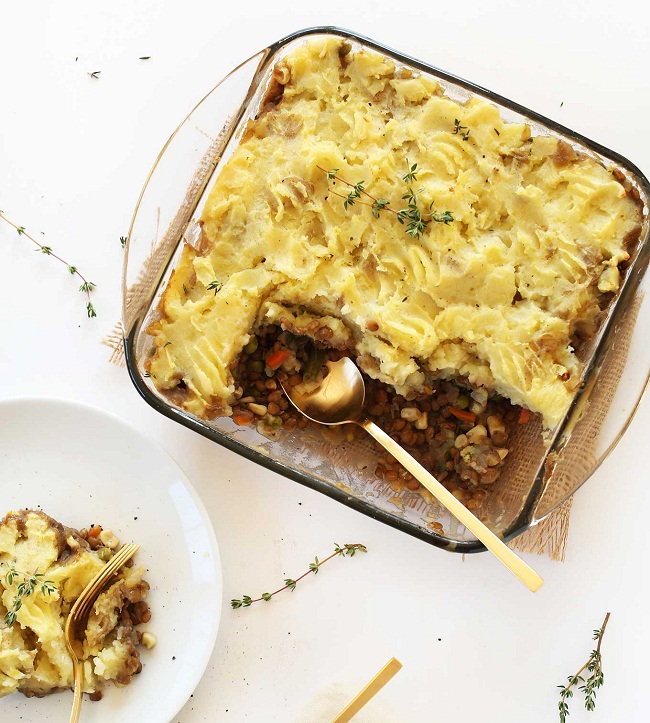 9. Pumpkin Pot Pie
Great pumpkin pot pie to try this coming thanksgiving.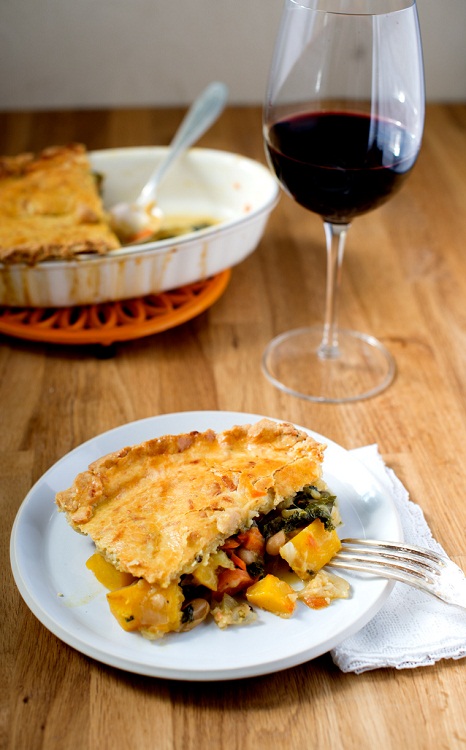 13. Mushroom Onion Chickpea and Kale Oatmeal
I love mushroom, and I know a lot of people would want to try this recipe. Look at it, makes me hungry just looking at it.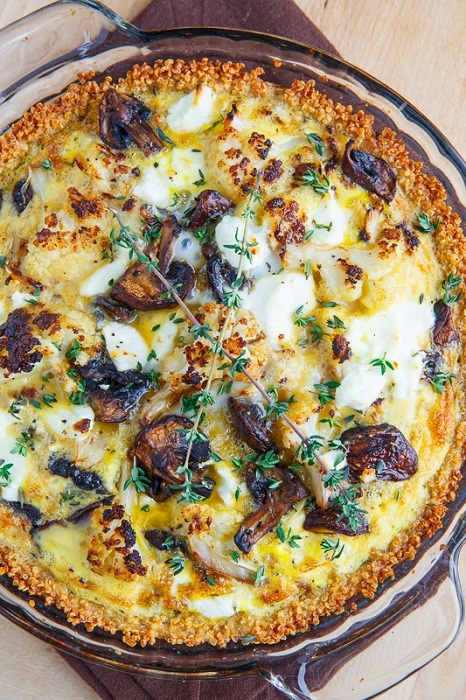 14. Black Bean and Zucchini Chilaquile
This black bean and zucchini chilaquile can satisfy your cravings for baked mac-n-cheese.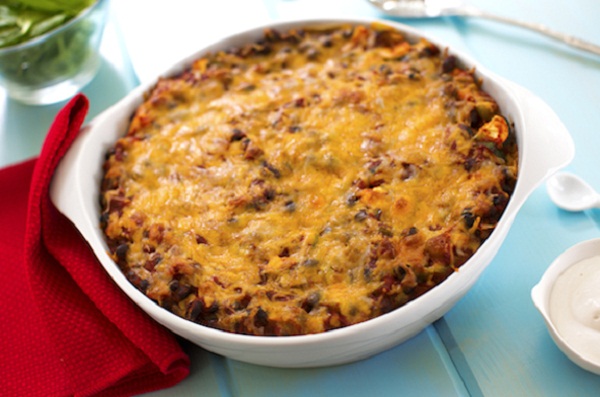 15. Roasted Cauliflower Mushroom and Goat
Being vegetarian doesn't mean giving up on your favorite food, burger lover can still satisfy their cravings with this roasted cauliflower mushroom and goat. This burger is much healthier food even for those on a diet to lose weight.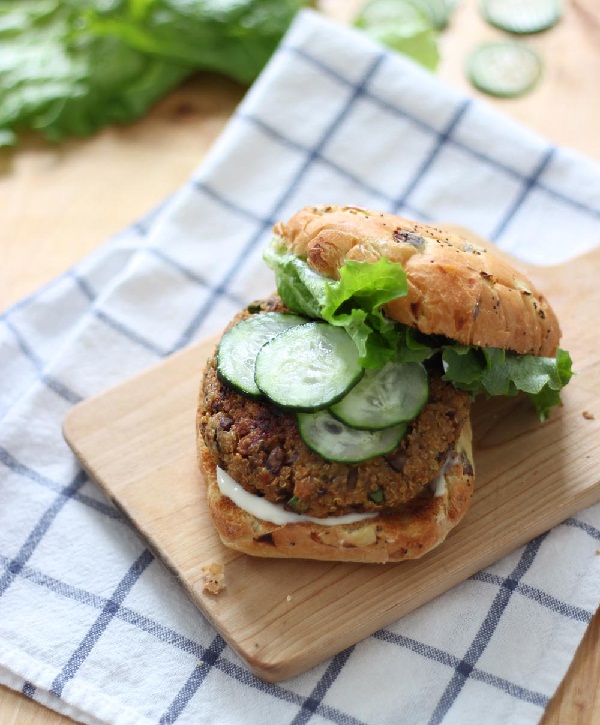 16. Leftover Burger
If you have plenty of leftovers on the fridge, know that you can make a burger out of them.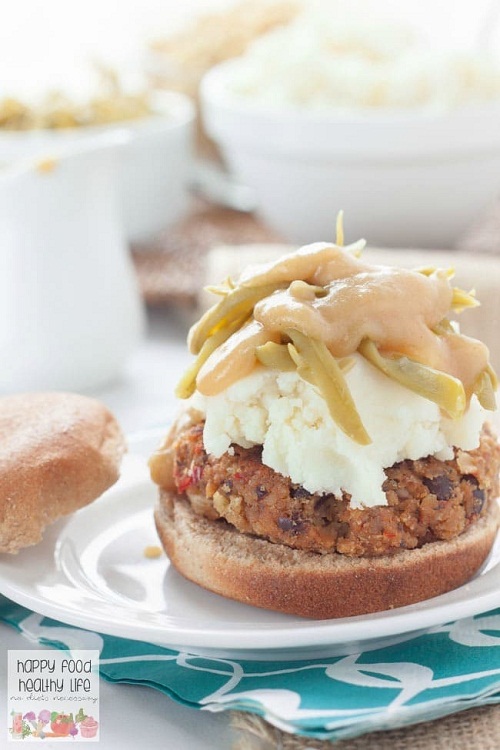 17. Vegetarian Nut Loaf
Who says meatloaf have to be made from meat? This vegetarian nut loaf make perfect main course to thanksgiving dinner.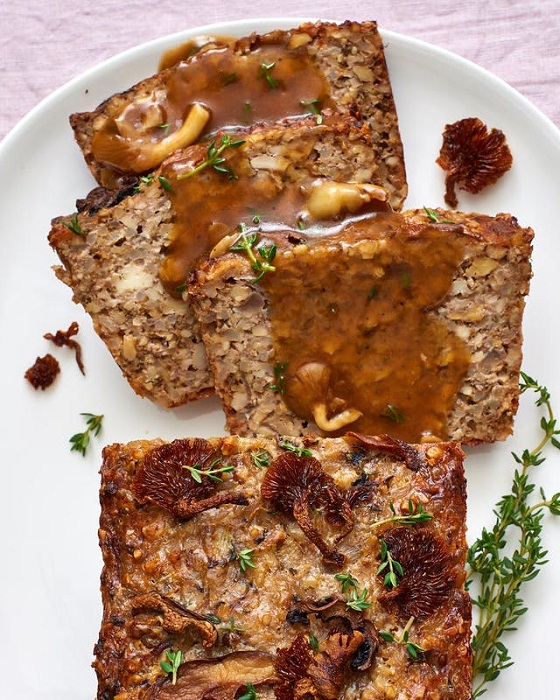 18. Smoky Southern Style Meatless Meatloaf
Here's another meatless meatloaf to check out for your thanksgiving dinner.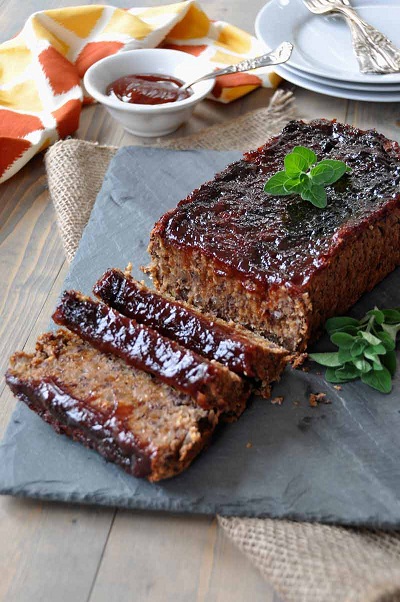 19. Three Sisters Stew
Vegetable stew, hmm, why not!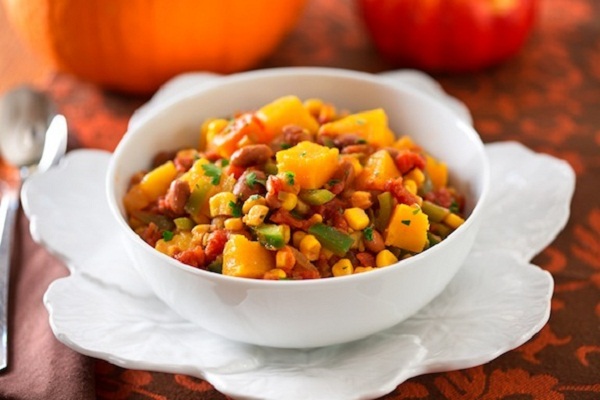 20. Red Quinoa Pilaf  with Kale and Corn
Pilaf with corn and kale, sounds delish!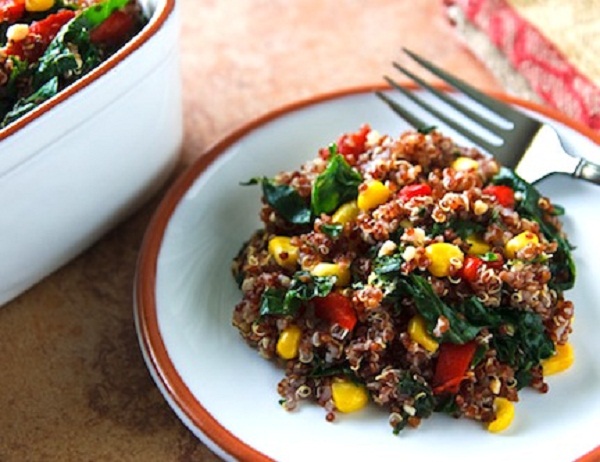 21. Sweet Potato Gnochi with Balsamic Sage Brown Butter
This sweet potato gnocchi with balsamic sage brown butter make great comfort food. Imagine, making the dough using soft and sweet baked potato then cooking them for everyone to enjoy.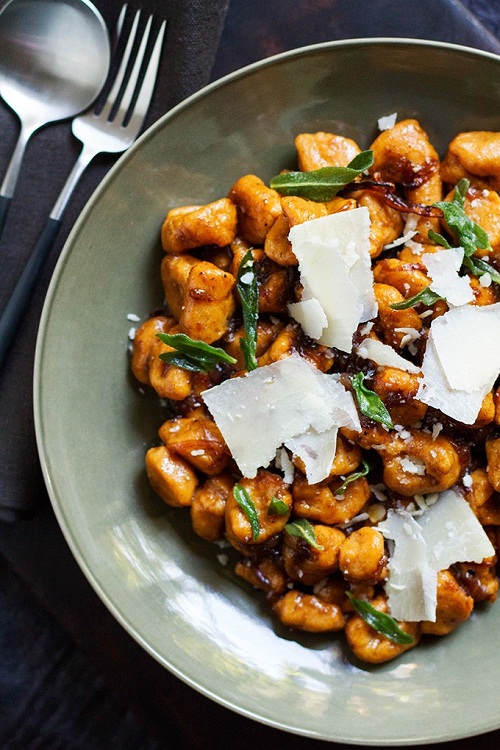 22. Roasted Vegan Thanksgiving Bowl
Here's a complete thanksgiving meal, get everything delish on your bowl and serve.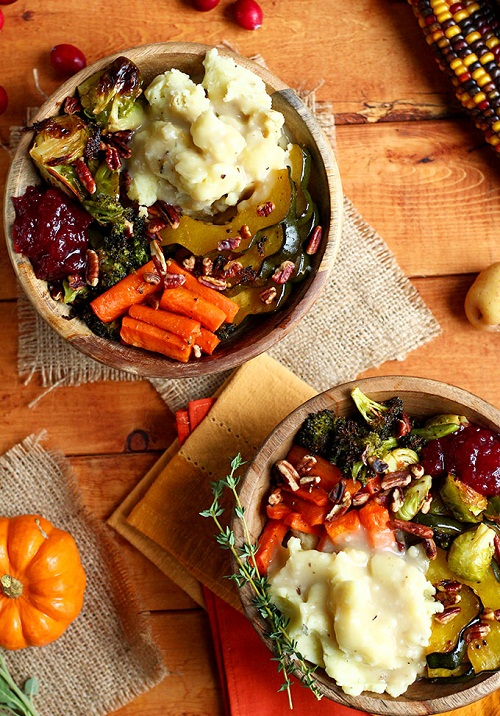 23. Easy Homemade Pumpkin Ravioli
Ravioli, anyone want another serving?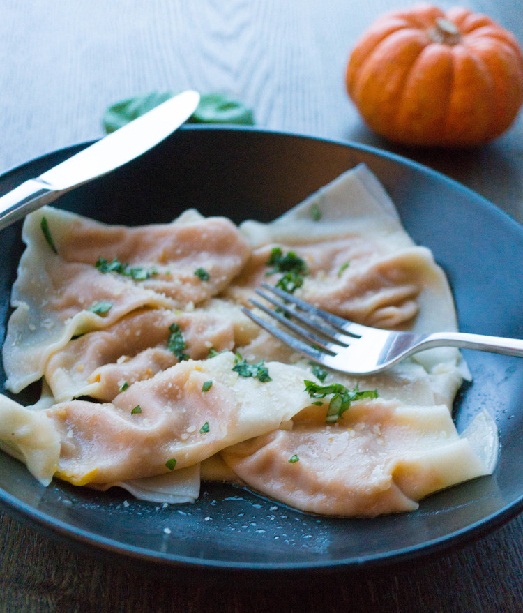 24. Vegan Mashed Potatoes Mushroom Gravy
Vegan or not, you will love this mashed potatoes mushroom gravy. I know, I will, who wound't when it look yummy!