Halloween is just a few days away, but are you prepared to make the much-awaited candy-filled holiday even more fun. You can make the holiday, even more, fun for your kids and friends by serving them up with cute, ghoulish and fun breakfast. This article gives you a complete list of breakfast ideas for Halloween. From pancakes to bread to pudding, you will find a breakfast that will be perfect for you and your family.
Halloween Breakfast Ideas
If you are looking for great Halloween breakfast ideas, no need to browse the internet for more ideas as I have collected many amazing sweet, tasty, fun and even healthy breakfast ideas for you.
1. Bloody Pancakes
If you haven't decided yet, what you will feed your kids on the morning of Halloween, I have an idea for you. How about bloody pancakes to start the day right! Or should I say, buttermilk pancakes topped with syrup that looks like blood…The blood is just strawberry syrup! Easy to prepare and yummy! Oh yeah!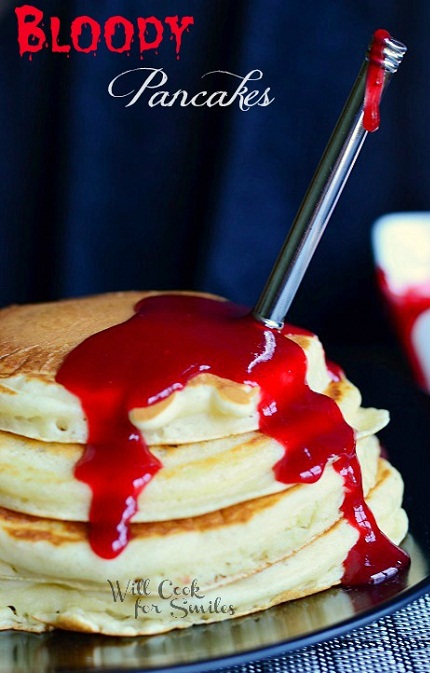 2. Jack-O-Lantern
Pancakes and Nutella or whatever filling you have in mind never fails.  Plus! It is easy to do as all you need are cooked pancakes cut into Jack-O-lantern shape with a cookie cutter then filled with Nutella, butter, jam, chocolate nut spread, jelly or pie filling works all the time.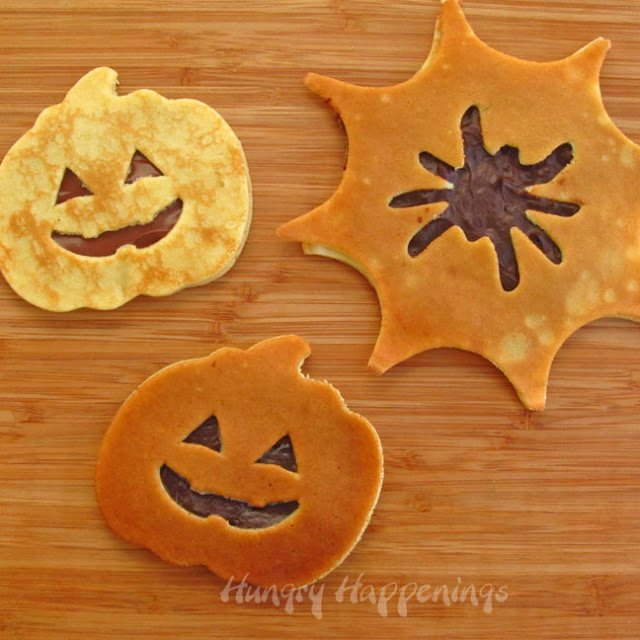 3. Black Velvet Halloween Breakfast Boo
For busy people that need something easy and something fast… Let me introduce the Black Velvet Halloween Breakfast Boo, it's actually a pancake made black with the use of food coloring.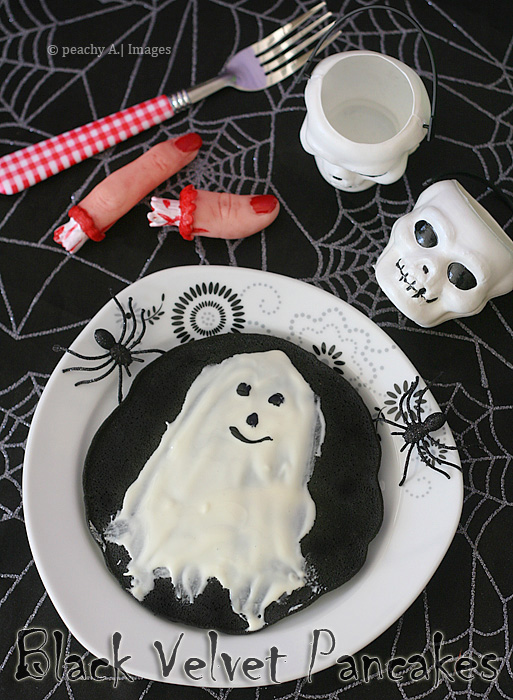 4. Black Velvet Pancake
Here's another idea!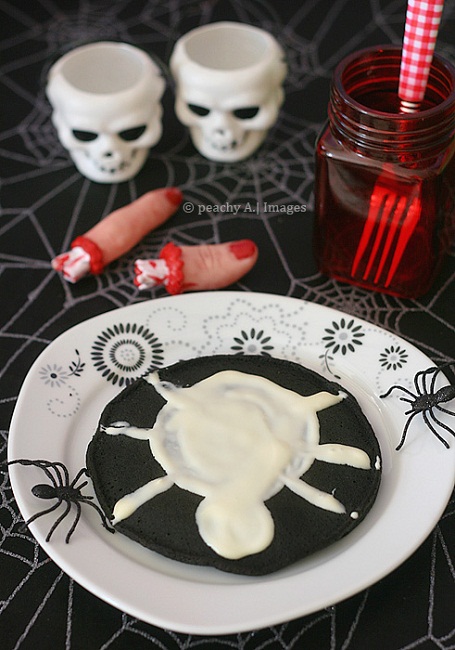 5. Halloween Trick-or-treat Pancake
This pancake idea is great! It's easy to do, you can even put the candy googley eyes on regular pancakes. But of course, it's more fun to use colored pancakes! Take note! The candy googley eyes are easy to do, you can make them with your kids.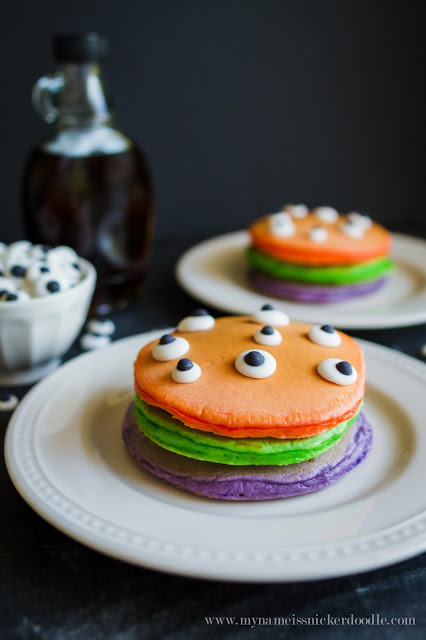 6. Ghost Pancakes
Aren't the little ghost pancake cute? Seriously, anyone can make the ghost pancakes even your kids can make them. Simply prepare your pancake the usual way you do them, and slather them in syrup. Top off with whipped cream. For the eyes, all you need are two little chip and you are done. See? I told you the Ghost Pancakes was easy!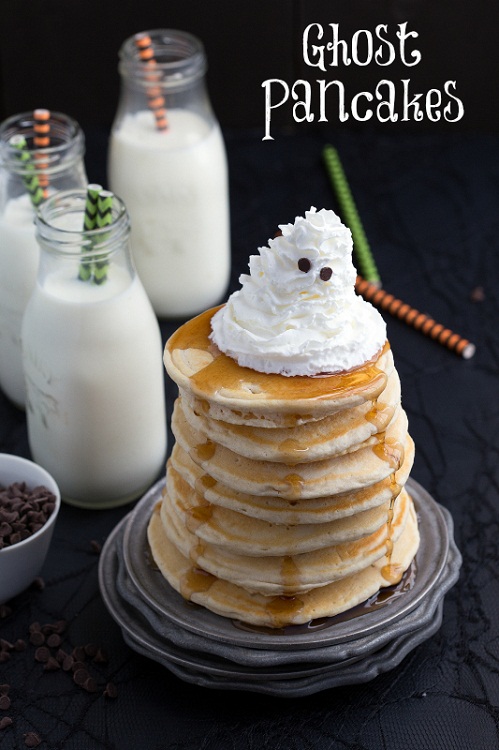 7. Spooks and Pumpkins Halloween Breakfast
Here's another pancake idea perfect for Halloween. The eyes and mouth are just chocolate syrup. Yummy!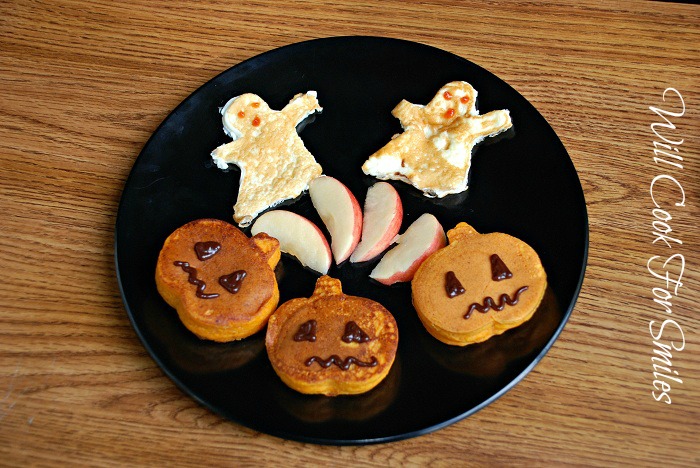 8. Healthy Wholewheat Flax Spiderweb Pancakes
For these pancakes, you need a bottle to create the spiderweb design.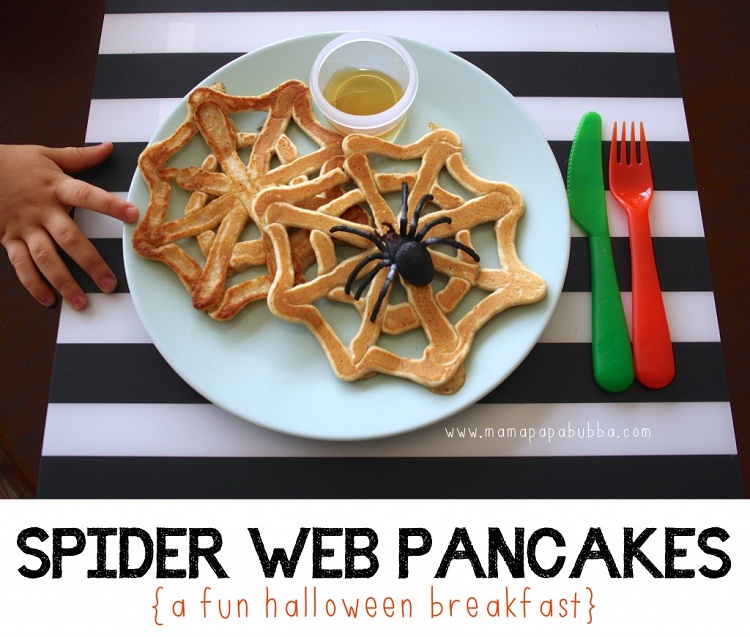 9. Jack-O-Lantern Waffles
Do I love colorful waffles? Hell yea! This colorful waffles that smile back at you are great and tasty. If you have kids that want something special for breakfast, this waffle is good.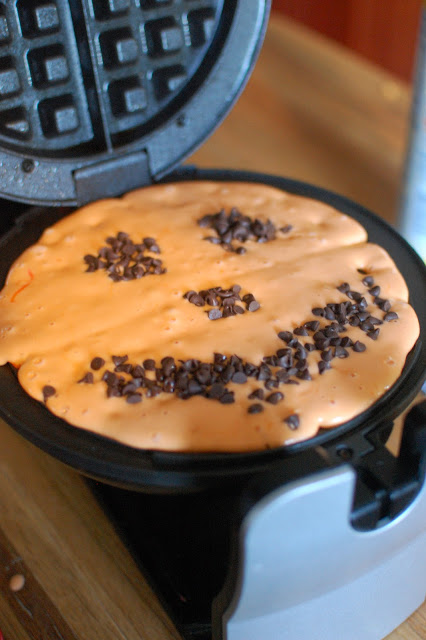 10. Candy Corn Waffles
Here's another waffle with candy corn, aren't they lovely?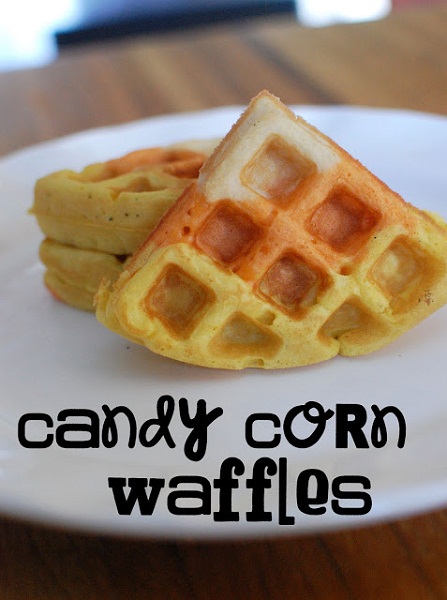 11. Dracula Waffle Breakfast
Have fun making this Dracula waffle, I'm sure your kids will love you even more.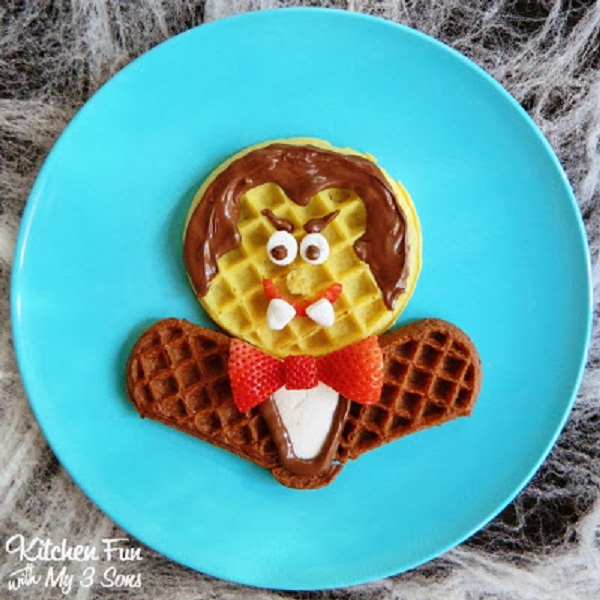 12. Mummy Toast
This Mummy Toast idea is so easy to make! You simply toast the bread first and then assemble the mummy. Start by spreading some pizza sauce, arrange hard cheese to resembles a mummy bandages and hide in two black olive slices for the eyes. Pop the toast under the broiler to melt the cheese, just enough to make them stick on the bread. Viola! Mummy Toast!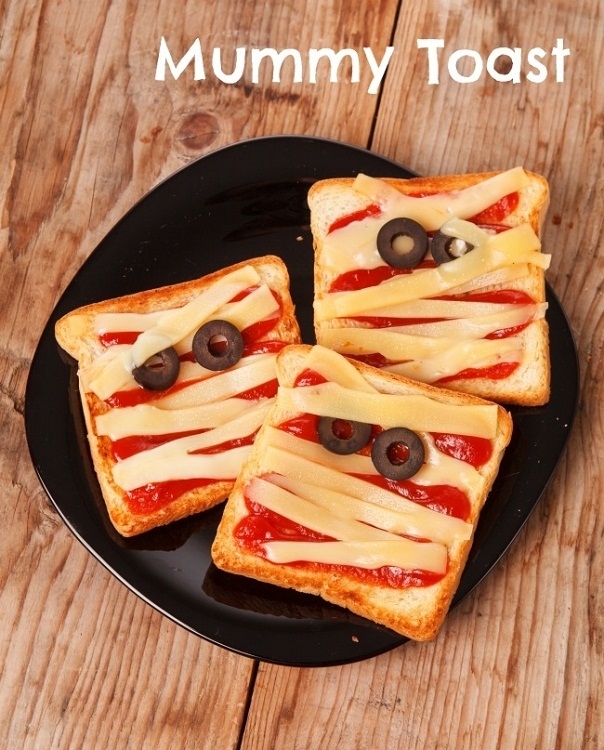 13. Pimento and Cheese Pumpernickel Sandwich
Here's another easy to do bread recipe for Halloween breakfast. Get a bread, cut them into the shape of a bat, spread layer of pimento and cheese and you are done. Enjoy spooky sandwiches that are sure to be a hit on Halloween party.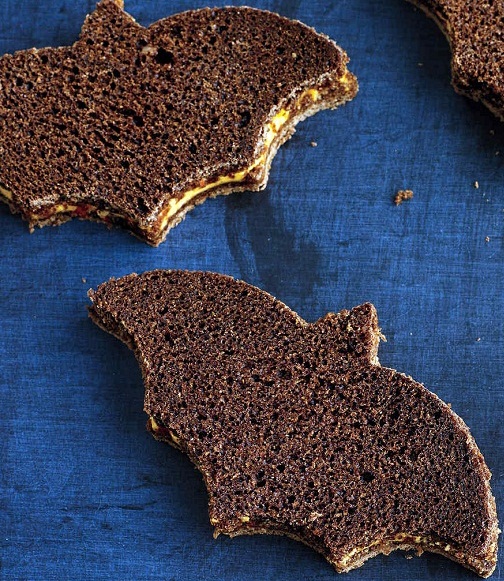 14. Juicy Jack-Lantern
If you want spooky yet, healthy sandwich then this adorable Jack o lantern sandwich is worth taking into consideration. The Juicy Jack-O-lantern sandwiches are easy to make and fun to eat … pair up the sandwich with a frightful eyeball egg.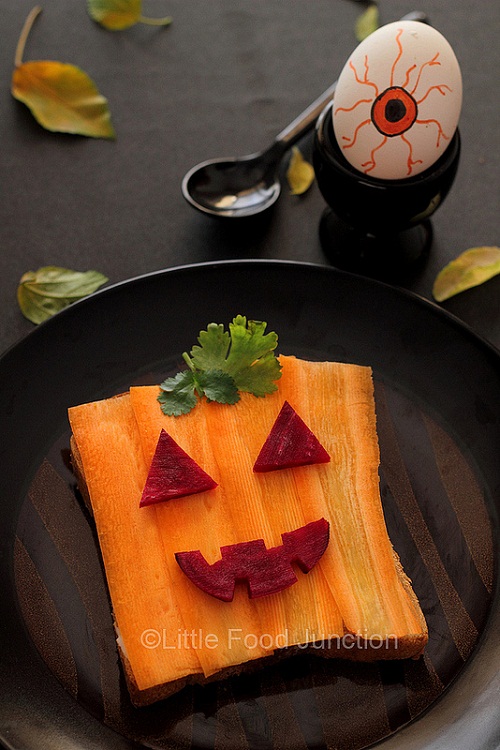 15. Funky Frankenstein
This Funky Frankenstein is made up of olive for eyes, cucumber, carrots, red bell pepper, etc. Looks Yummy!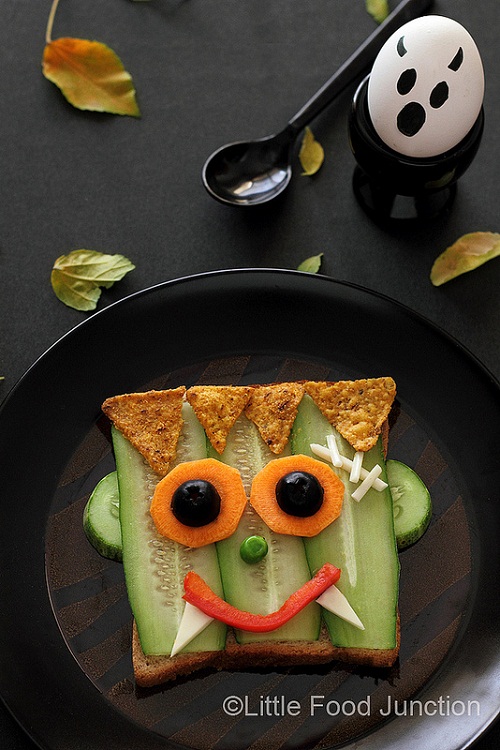 16. Nutella Banana Rolls
Great combination, Nutella and Banana. Yummy!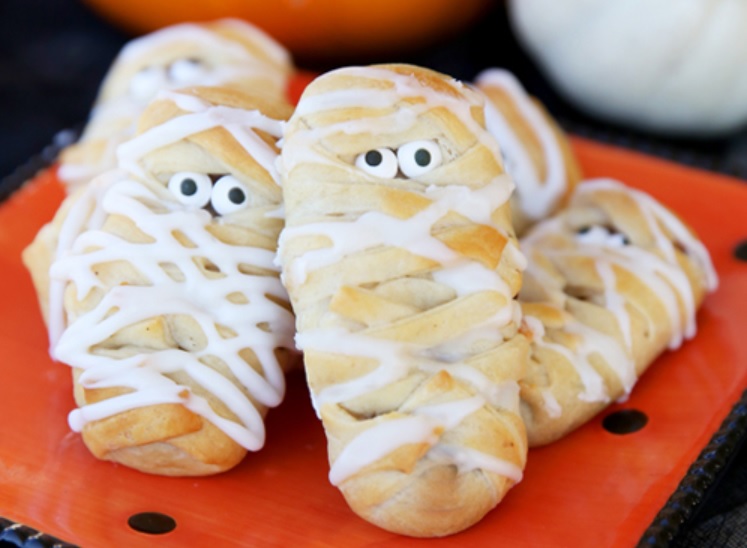 17. Bloodshot Fried Eggs with Witch Fingers
The eggs look like eyes, thanks to the ketchup. It's is best to serve the scary looking yet yummy witch fingers the day they are baked. The remaining witch fingers can be eaten alone with a dip.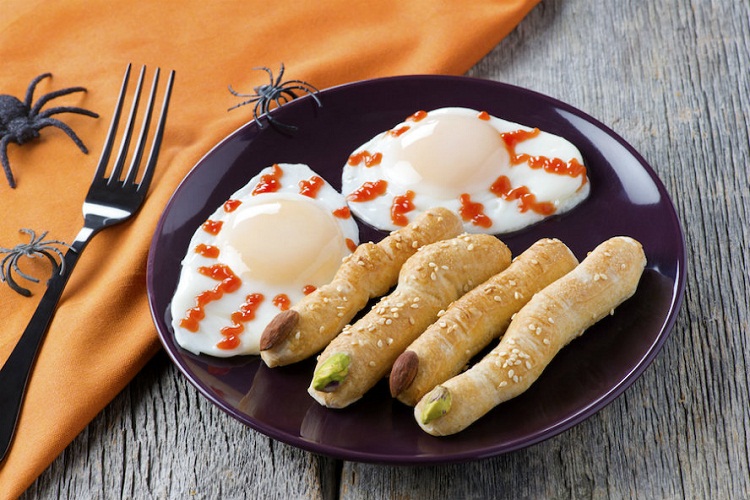 18. Spiderweb Eggs
It's fun to make spiderweb eggs, you and your kids will have a great time making them. Plus! The eggs can give your kids enough protein to survive trick-or-treating.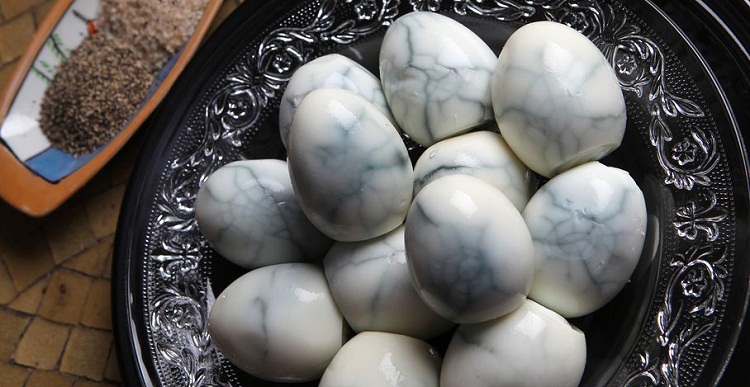 19. Bell Pepper Baked Eggs Halloween Style
Baked Egg Eyeballs are a ghoulish breakfast that both adults and kids will love. This Halloween breakfast idea is perfect for those who want healthy and easy to do recipe.  Serve them with a toasted English muffin,  spinach, avocado, and tomatoes for a healthy and fun start to a candy-filled holiday.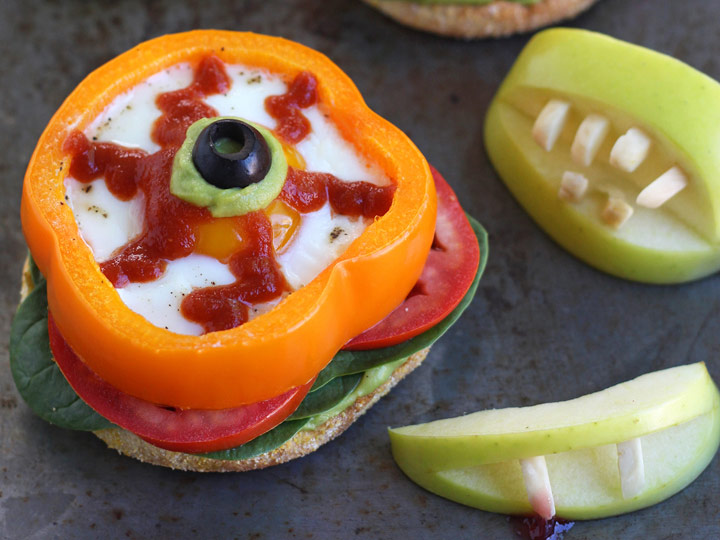 20. Halloween Treats Egg Eyes
Have an egg or should I say, egg eyes.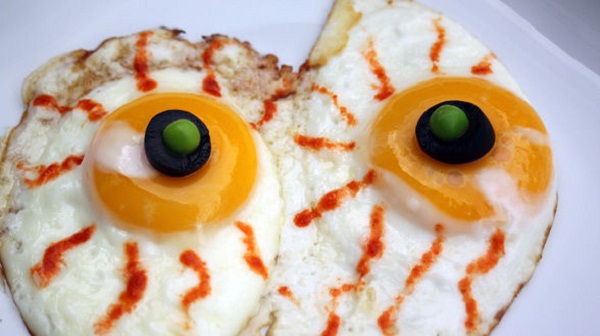 21. Baked Eyeballs Eggs
Surprise your family with a gory Halloween effect to breakfast with a creamy baked bacon, potatoes, and eggs "eyeballs" dish.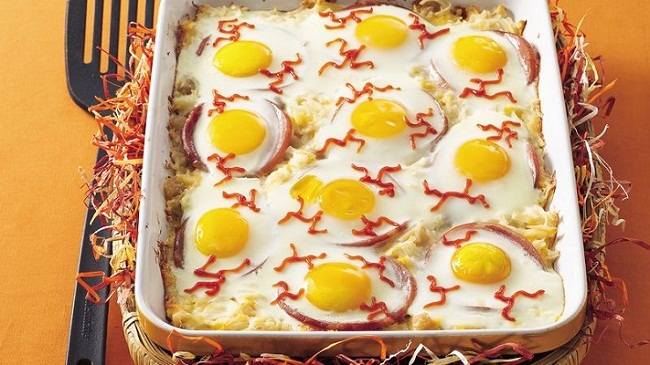 22. Spider Web Smoothies Bowl
Have a healthy start of a day on Halloween with a bowl of smoothies.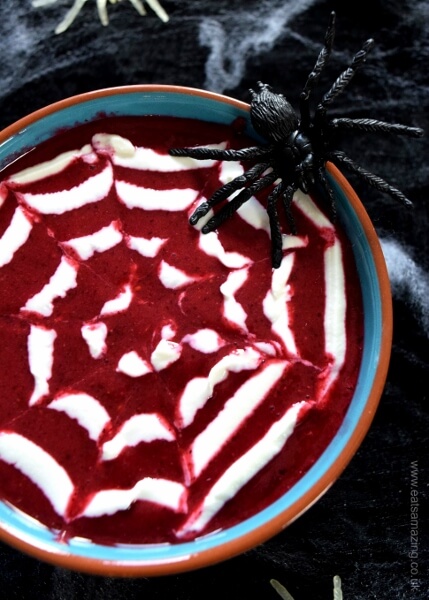 23. Witches Brew Breakfast Pudding
Here's another healthy yet fun Halloween breakfast. Love the bubbles, it does look like bubbles, doesn't it?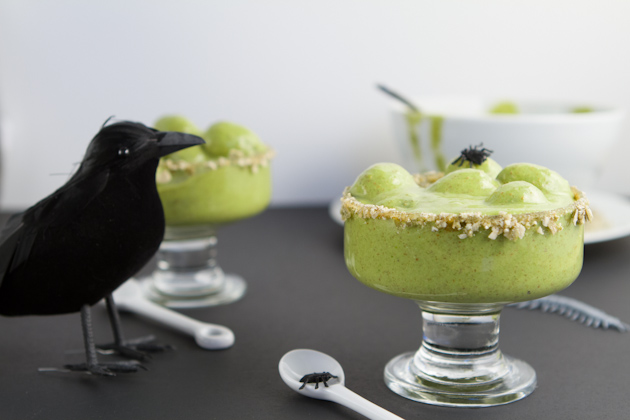 24. Little Potato Halloween Monster Balls
Making this little potato Halloween monster balls  eyeballs takes only a few minutes of your time. All you need are marbled potatoes, cheddar cheese slice, and a pepperoni. A bit of sour cream completes the look since the cream help whitens the eyes a bit! These monster balls looks yummy, I'm sure your kids will eat the potatoes in just a minutes or two.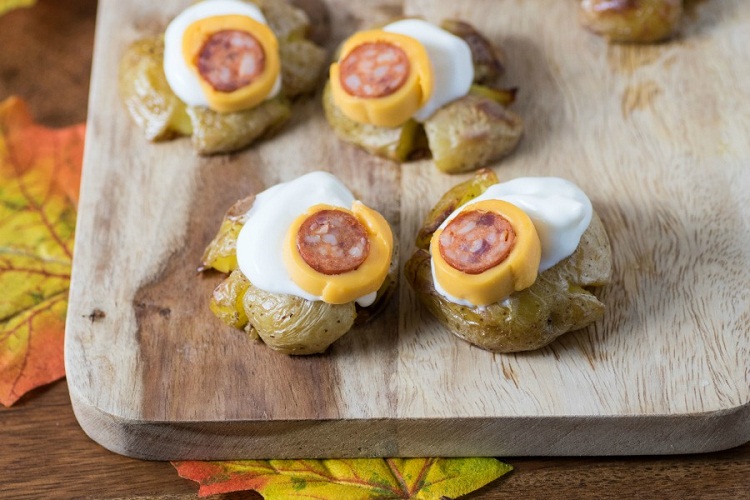 25. Pumpkin Cheesecake French Toast Roll Ups
How about starting the day with a delicious pumpkin cheesecake, done the french way.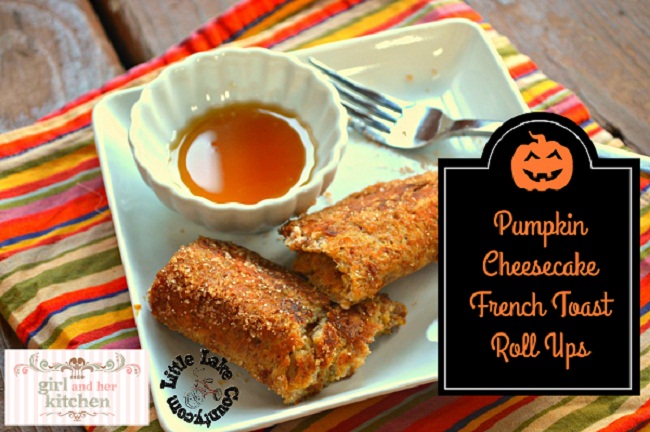 26. Halloween Hashbrowns
Hashbrowns pumpkins, cool idea!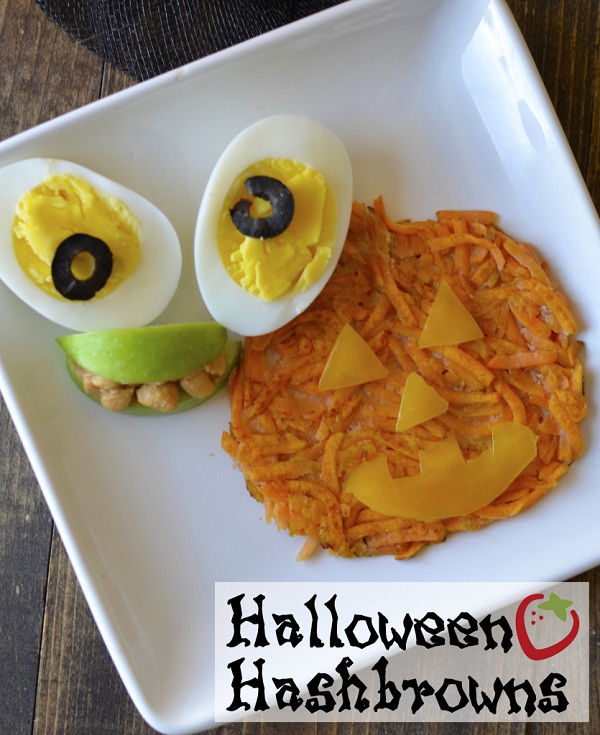 27. Homemade Pumpkin Crepes
What's the first thing that comes to mind when you think of the word "crepe", it's breakfast for me, how bout' you. This homemade pumpkin crepes can be enjoyed any time of the day. Plus! the house is going to smell amazing. I'm going to give these a try.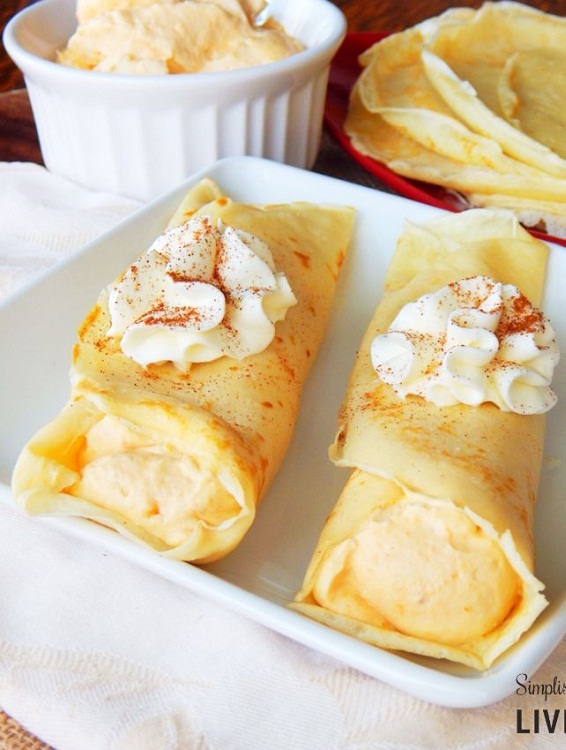 28. Jack-O-Lantern Oranges
Healthy and fun, no need to cook and they are yummy!