Chinese New Year is an occasion celebrated on the four corners of the world on January or February.  The Chinese, wherever they are in the world practice the Chinese New Year tradition to attract good luck. One of the traditions still observed today is the serving of Chinese food that brings luck, good health, and fortune.
Chinese New Year is a joyful event, highly anticipated for its auspicious tradition. Many people including non-Chinese observed the Chinese tradition when celebrating the occasion, especially when it comes to Food. Take note, celebrating Chinese New Year even if you are not, a Chinese, is not a bad idea as observing the Chinese New Year traditions can be fun for you get to eat delicious Chinese delicacies, dance around a dragon, and wear new clothes and more.
CNY is a much-awaited event as the occasion is also the time of family reunion. Many people go home to their parents for a holiday to celebrate the New Year. Family reunions are one of the reasons why Chinese prepare lavishly on Chinese New Year.
Chinese New Year Food
7 Traditional Chinese New Year Food and their Chinese New Year Food Meanings.
Chinese New Year Food Traditions
1. Fish
One of the popular Chinese New Year traditions is serving whole fish on Chinese New Year. The fish symbolizes good fortune and can be prepared in any way you want but should not be eaten to the bone. You see, fish symbolizes profit and so a left over ensure an excess profit throughout the year for the family.
Chinese New Year Traditional Food
2. Dumplings
Serving dumplings or jiao zi is another practice widely observed by the Chinese. This CNY food shaped in golden ingots promise to bring prosperity and wealth. Eating a lot of dumplings can bring you lots of money according to the Chinese superstitious belief.
Dumplings also bring togetherness that's why many families served it on their reunion dinner. Dumplings typically filled with chicken, pork or beef and vegetables like mushrooms and cabbage, then season with sesame oil, soy sauce, and ginger.
Chinese New Year Traditions Food
3. Noodles
Uncut noodles represent long life, so it is no longer surprising why noodles always served also on Birthdays.  This Chinese New Year food is easy to prepare, and often cook with vegetables such as cabbage, carrots, squid balls, pork or chicken and traditional ingredients.
The most common uncut noodles are the pancit canton and pancit bihon.
Traditional Food For Chinese New Year
4. Eggs
Eggs symbolize fertility, which is why many families make sure they have boiled eggs or have used eggs on some of their Chinese New Year dishes.  Eggs can be cook scrambled, add into stock for a soup, rice, or serve whole or hard-boiled. You can eat the eggs alone or as a side dish.
Traditional Chinese New Year Food
5. Sticky Rice Cake
Sticky rice cakes also known in the Philippines, as tikoy are a traditional Chinese New year Food. You can buy them in specialty stores, supermarket and of course in China town. Tikoy has different flavors such as pandan and ube.
Take note, Tikoy is also a favorite food of many Filipinos or non- Chinese nationals. This Chinese New Year food usually offered to the kitchen God to appease and keep his mouth shut, so no bad words spoken against you.
6. Pineapples, Oranges and Pomelos
Tangerins or mandarin oranges are fruits commonly seen during Chinese New Year, because of their golden color and round shapes. The color and shapes according to Chinese symbols represent fortune or prosperity. Pomelo or Suha in tagalog also brings fortune, most people give them to visitors as a gift.
Pineapple, another popular Chinese New Year food also represents prosperity. In fact, even the name in Hokkien resembles the word "prosperity." By the way, Hokkien is a dialect widely use by tsinoy (Filipino-Chinese).
7. Sweets
Lotus candy, dried fruit, chocolate gold coins, and other sweets are items usually included in the Chinese box. The box also known as "Tray of togetherness" is given to visitors as gift. The box contains eight types of foods, such as sweets, chocolate, peanuts, seeds and other Chinese symbolic foods. The number eight (8) according to Chinese is a lucky number, which is why the box should contain eight different items.
Chinese New Year Food for Kids
Hopia
Hopia is a Chinese snack in the Philippines and other countries. This is a pastry filled with a sweet paste made of munggo beans or pork. Hopia are delicious, and believe to bring good fortune, just like its counterpart the moon cakes that Chinese serve during the autumn festival.
Hopia has several flavors and shaped, but the most common is round. You can buy them in supermarkets, Chinese stores, and malls.
Watermelon Seeds
Peanuts and pumpkin or sunflower seeds are also items included in the Chinese tray for the New Year. These seeds symbolize good luck and long life, so make sure one of the compartments in your tray include one or two of these seeds.
By the way, watermelon or lotus seeds represent children. If you want to get pregnant, include watermelon seeds on your tray.
Greetings friends and dear ones on Chinese New Year is another Chinese New Year tradition. below are just some of the CNY greetings that you can use this year of the horse.
For more CNY greetings, wishes and messages, check out my post Chinese New Year Greetings or
Chinese New Year Special Food
Nian-gao is made of sticky rice powder, usually served on Chinese New Year, and other important Chinese occasion.  Nian-gao represent blessing, and togetherness, making it a must serve food this coming CNY. You can deep fry or boil the year high cake aka Nian-gao then serve it hot or cold.

Chinese New Year Food Ideas
Below are some of the Chinese new year food that you can prepare for your family reunion or New Year dinner.
Chinese New Year Party Food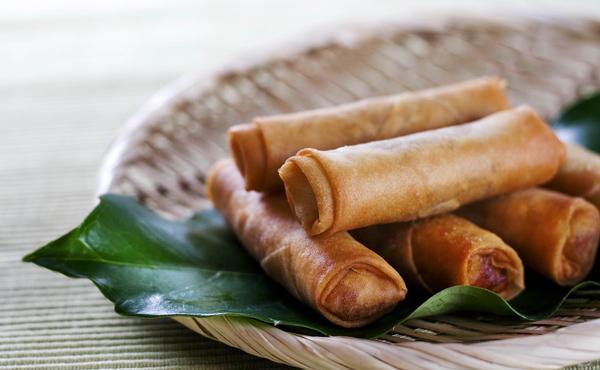 Spring rolls or Lumpia in tagalong is a Chinese dish that is well loved by the Filipinos, so much that this food are often served in many occasions and not just during the Chinese New Year but on different event such as birthdays, weddings, fiesta, etc.
Lumpia is a mix of vegetables and meat, fried in hot oil and eaten alone or dipped in a special sauce.   Lumpia or spring rolls is a Chinese New Year food that promote wealth, as the shaped similar to a gold bar in which according to the Chinese beliefs eating spring rolls can bring wealth.
Chinese Food for New Year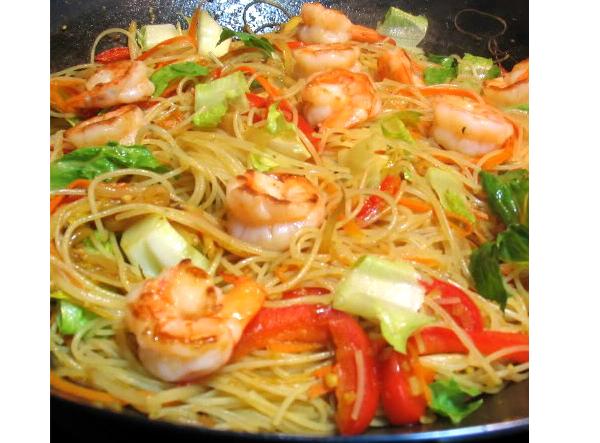 Recipes for Chinese New Year Food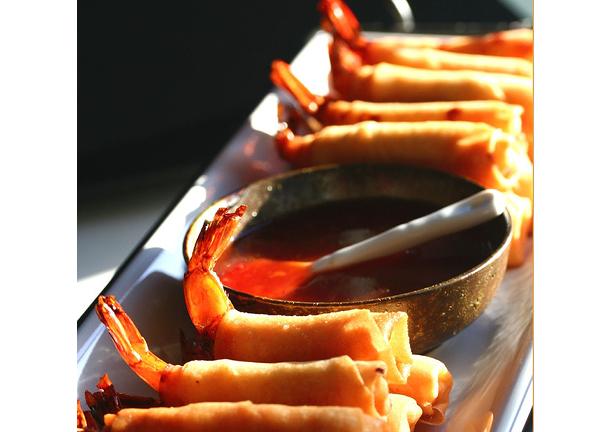 Crispy Shrimp Springroll with Sweet Chili Sauce Recipe
Chinese New Year Traditional Food Recipes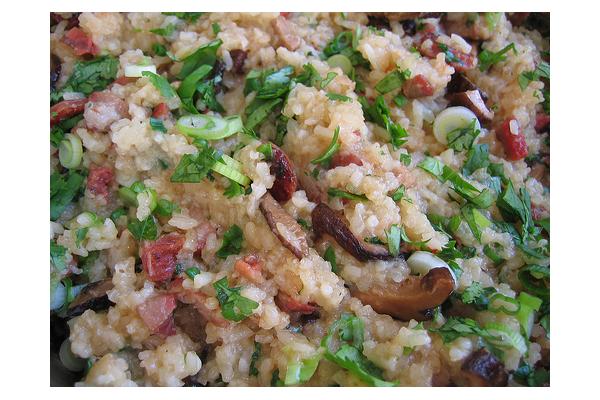 Chinese New Year Food Recipe
Chinese New Year dinner is similar to Christmas dinner, wherein family members have a get together to celebrate the occasion.  The CNY foods are part of the Chinese New Year tradition, according to the tradition it is necessary to serve a whole fish, pork and chicken dish.
 
Food for Chinese New Year
Egg symbolizes prosperity, so serving it on CNY is a good idea. This Chinese Marbled Tea Egg recipe can absolutely complete your Chinese New Year menu.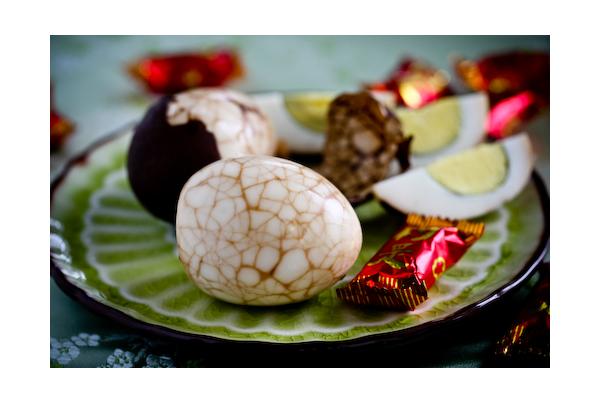 Chinese Tea Eggs Recipe
Chinese New Year Food Symbolism
Vegetables – The freshness of the vegetables also promote lasting fortune.
Oysters, abalone, and seaweed – These seafoods symbolizes fortune, so serving them during the celebration can bring you fortune.
Chicken with feet and head intact – serving whole chicken boost happiness and family togetherness.
Lychee and nuts – If you want close ties between family members then make sure you have nuts and lychee this Chinese New Year.