Are you looking for new christmas cupcake ideas? The Christmas season is fast approaching again and , most people starting preparing their menus and giveaways, because why not. This is a season when it is better to start early than later especially if you are a busy bee.
Christmas is a special occasion, an event that takes a lot of time to prepare because there is too much to do. Well, don't let the holiday rush catch you again, better start making the list and buying the gifts. It is also important that you plan the Christmas dinner menu and dessert. There are tons of desserts that just perfect for the holiday but choosing the one dessert that would make the occasion extra special is frustrating. The endless ideas can definitely make you dizzy and frustrated. In order to help you out, I have collected a few Christmas cupcakes ideas from Pinterest.
These Christmas cupcakes ideas from Pinterest are perfect for Christmas morning, lunch or dinner. By the way, dessert doesn't have to be sweet all the time as you can also try savory cupcake to tickle the taste buds once in a while.
Christmas Cupcake Ideas from Pinterest
Below are just some of the cupcake ideas for Christmas that caught my attention while browsing Pinterest. These cupcakes are worth trying out this coming holiday season.
Christmas Tree
Tired of the same boring chocolate cupcake you are serving every Christmas? This Cheesecake stuffed cupcake is a good recipe and very easy to do. It also looks yummy and perfect for the coming holiday.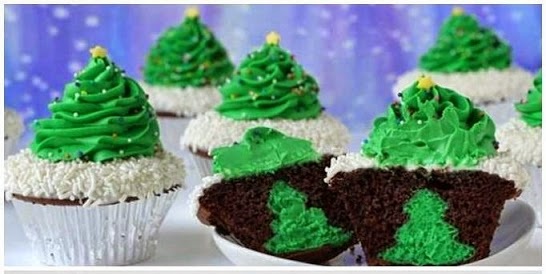 Cheesecake Stuffed Christmas Tree
 Christmas Tree Cupcakes
Turn your ordinary cupcakes into festive Christmas trees with a tree cupcake. This is a Christmas tree that you can definitely enjoy eating. There are cute and the kids can also help you make them for they are easy enough to do. The cupcakes are sure to bring on happiness from those who get them.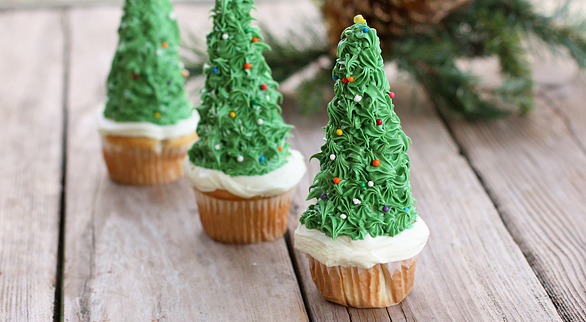 Santa Cupcakes
Christmas is incomplete without Santa. So, how about a Santa cupcakes to celebrate the spirit of Christmas.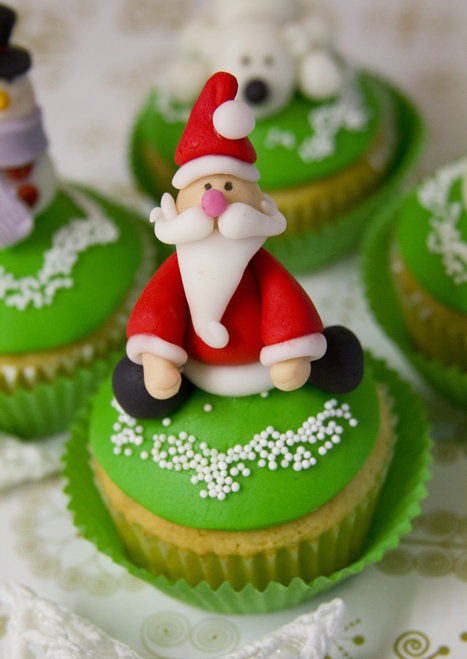 Santa Hat Cupcake with Homemade Icing
I lovee this Santa hat cupcakes ideas that I saw on Pinterest. It looks delish and easy to do even for a newbie.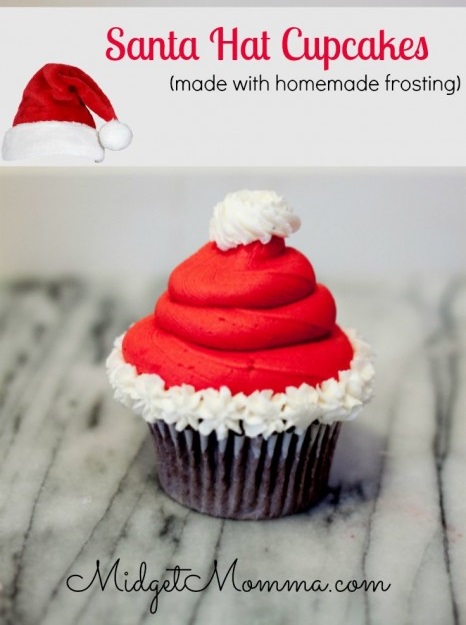 Santa Hat Cupcake
Elf Hat Cupcakes
The month of December is my favorite time of the year as I can go crazy with desserts. Plus! The holiday season also makes it right to create a holiday treat that would receive "ohhs and "ahhs" from those who saw and receive them. So, it is just right that I include the "Elf Hat cupcakes" on my list of good cupcake ideas for Christmas.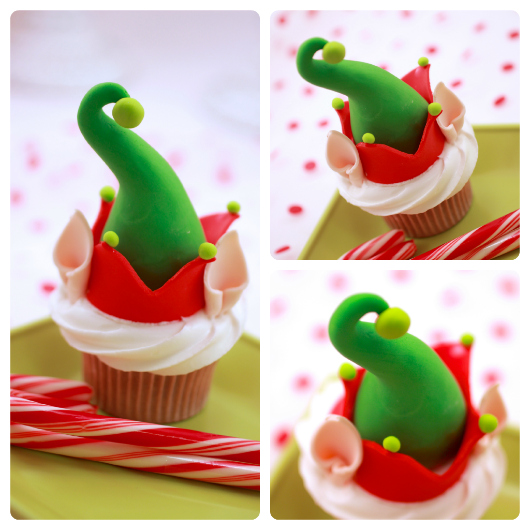 Santa Hat Frosting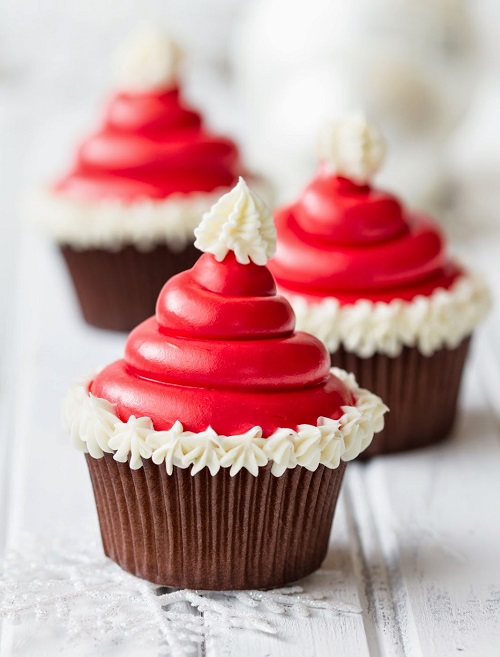 Christmas Lights Cupcakes
The Christmas light cupcakes looks yummy and even my  5 year old daughter can do the icing. It is so easy to do.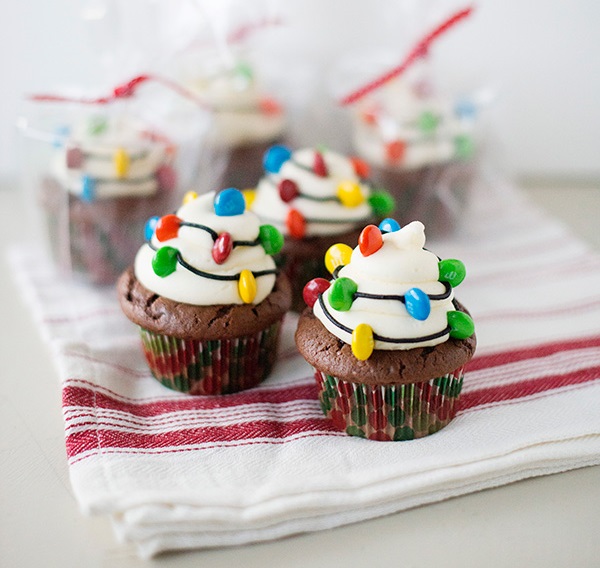 Adorable Rudolph The Reindeer Cupcake
Are you a fan of Rudolph? If so, you will love this Rudolph the Reindeer cupcake ideas that I discovered on Pinterest. It so easy to make, you just need to bake a plain vanilla cupcakes and prepare the whipped chocolate mouse that you will use for piping. The antlers are just pretzels, the eyeballs can be made with frosting and the red nose is just a shiny red gumball.
There is no doubt that all your guests at the party will love them. Look at it, the Rudolph Reindeer cupcake is just adorable.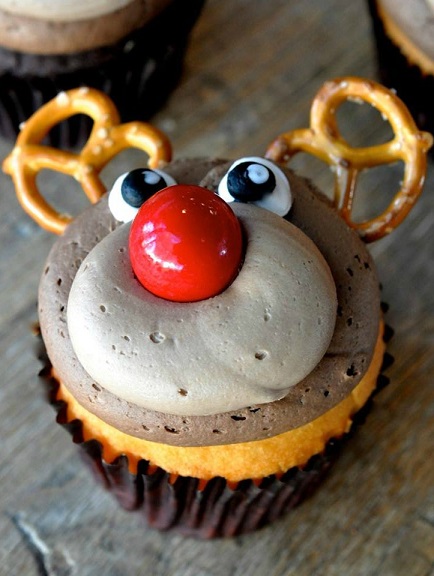 Adorable Rudolph Reindeer Cupcake
Rudolph The Red Nosed  Cupcakes
Rudolph the red nosed Reindeer have a very shiny nose, la la la. I love the song just as I enjoy looking at the cupcake that are made from scratch.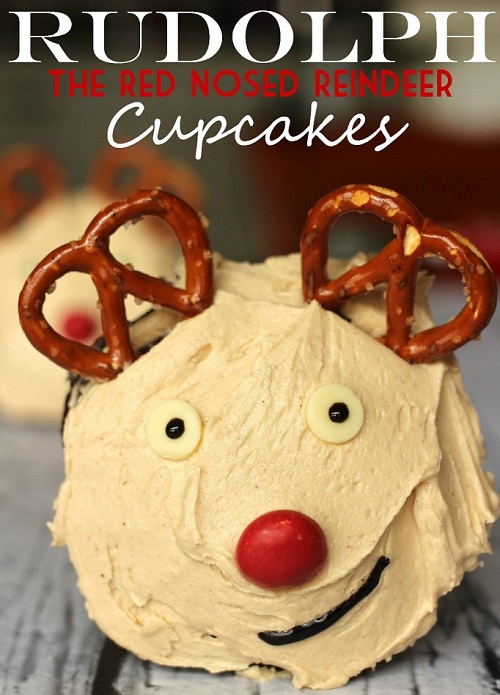 Reindeer Cupcake
Reindeer Cupcakes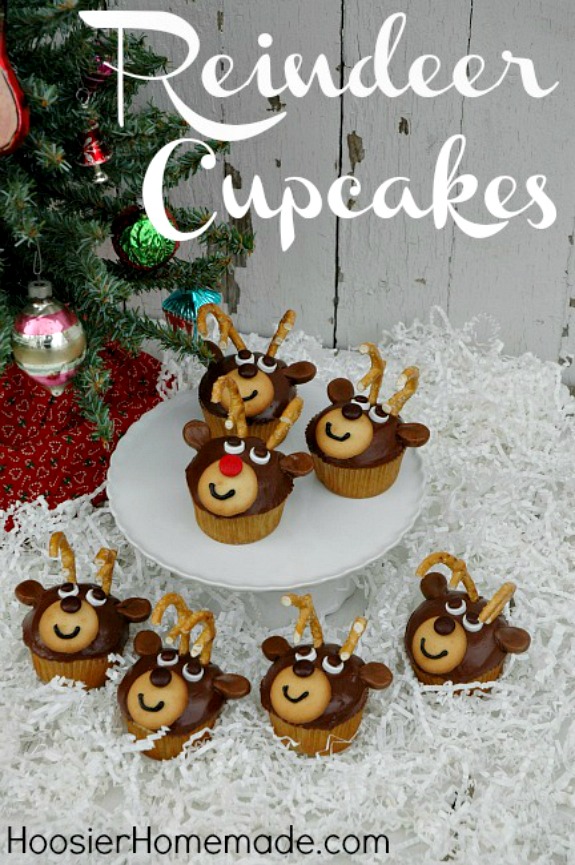 Reindeer Cupcakes
Santa Legs Cupcakes
This Santa legs cupcakes idea is another winner. It is funny, looks delicious and seems easy enough to make.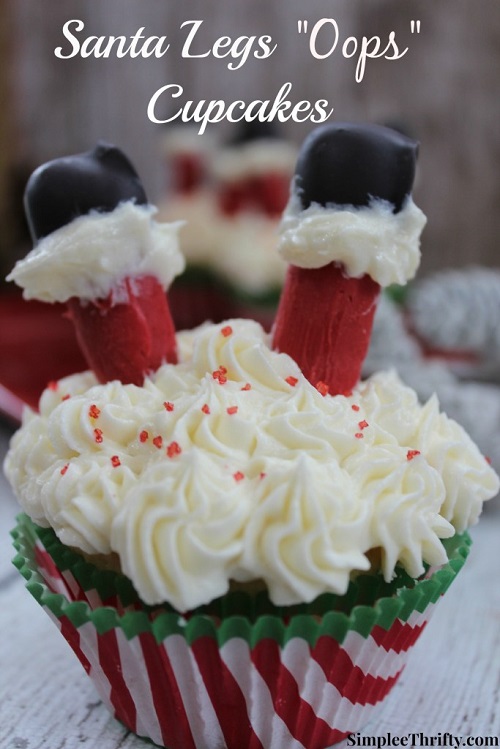 Santa Legs Cupcake
Christmas  Cupcake Toppers Tutorial
Are you looking for Christmas cupcake toppers tutorial? Well, I got a topper tutorial that just for you just click on the link below to learn how to create toppers for Christmas.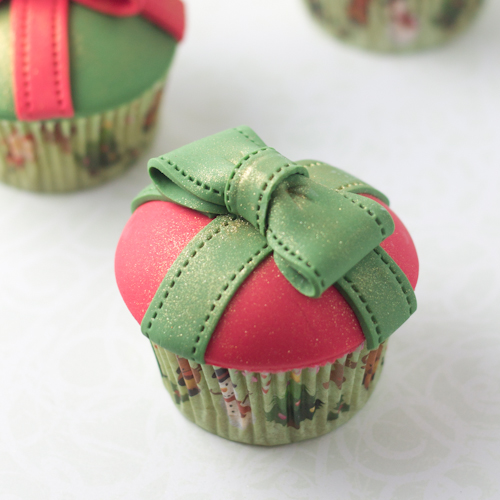 Christmas Cupcake Toppers Tutorial
Easy and Delicious Snowman Cupcakes
Snowman is one of the symbols of Christmas. So, it is always a good idea to have a snowman that you can eat.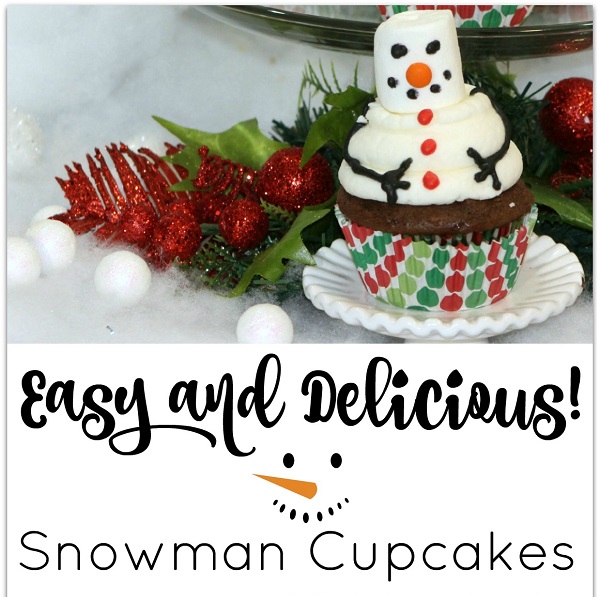 >h3>Snowman Cupcakes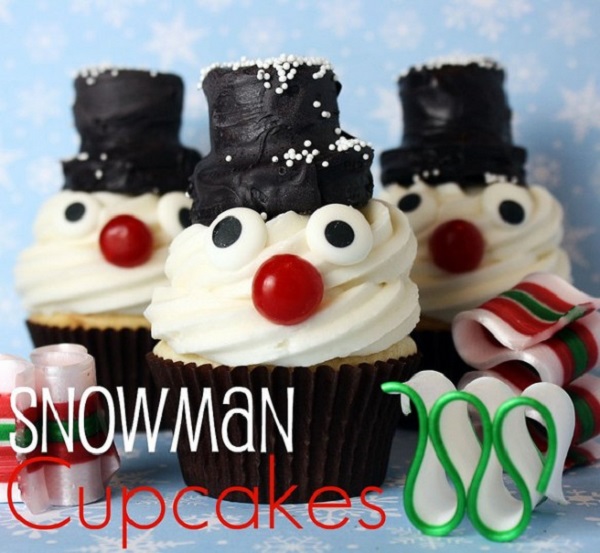 DIY Marshmallow Snowman Cupcakes
The DIY Marshmallow Snowman cupcakes can help you create a perfect snowman for dessert this holiday season.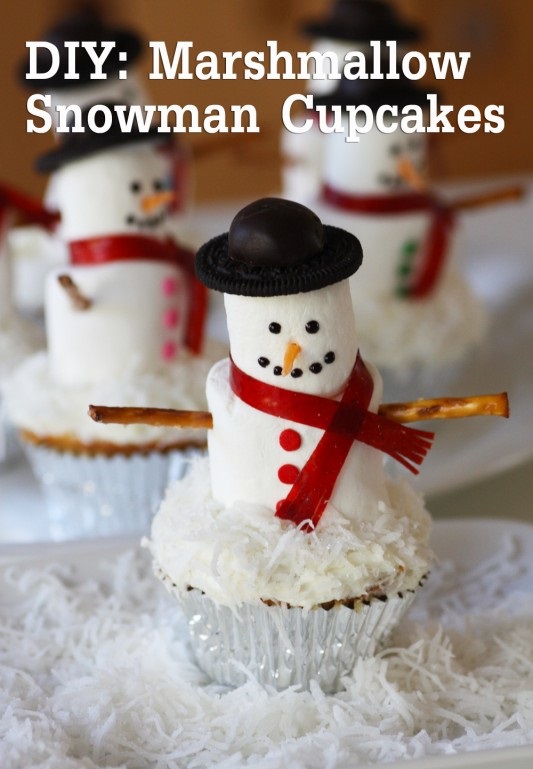 DIY Marshmallow Snowman Cupcakes
Christmas Baubles Cupcake Toppers
Are you browsing for edible gift ideas? These Christmas baubles toppers you are looking at is easy to do especially with a video tutorial to show you how to make one.
Giving edible gifts like cupcake for christmas is a pretty cool idea as this have become popular. You can save a great deal of money with edible Christmas gift. Making homemade gifts are also perfect way to spend time with your kids and other loved ones.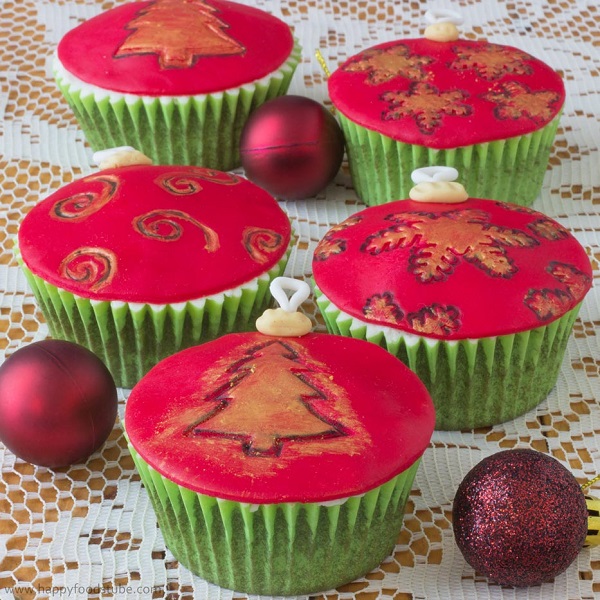 Christmas Baubles Cupcake Toppers
Snow Globe Gelatin Bubbles
It is always fun to create homemade gifts especially edible ones. The Snow Globe bubbles cupcakes are good gifts and inexpensive to do.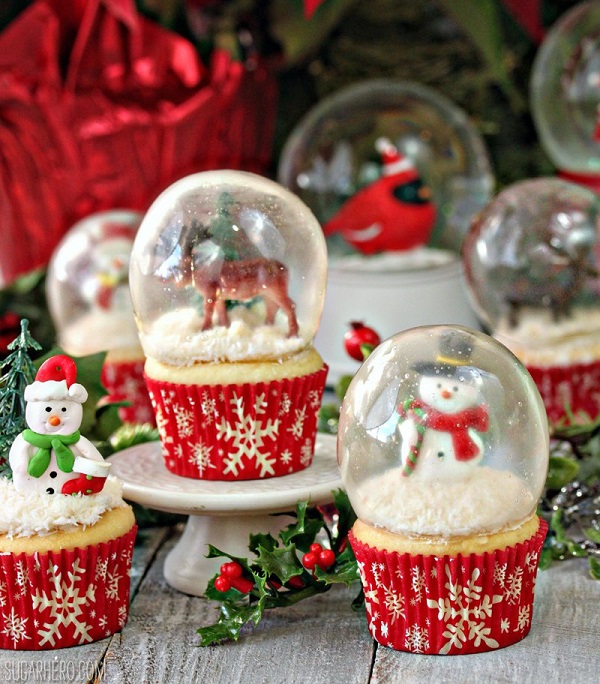 Christmas Cupcakes Toppers
Fondant toppers can definitely liven up your plain vanilla cupcakes.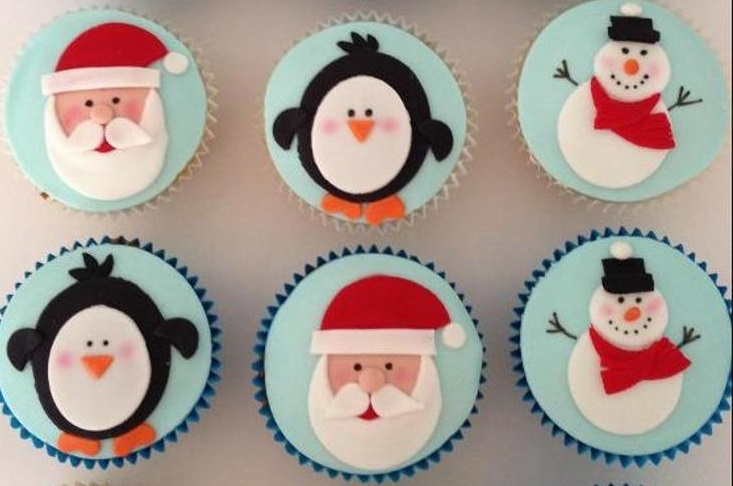 Christmas Cupcakes Toppers
Candy Cane Cupcakes
Candy cane is always available on Christmas. Both kids and adult love them so adding them to your cupcakes is one way to enjoy the sweet treat.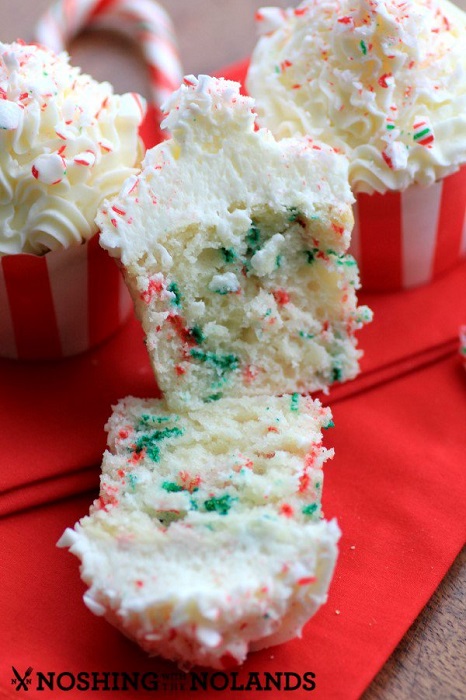 Sparkling Cranberry White Chocolate Cupcakes
So, you don't like overdoing things even desserts. The Sparkling Cranberry white chocolate cupcakes are great to serve on dinner or giveaway to friends and relatives.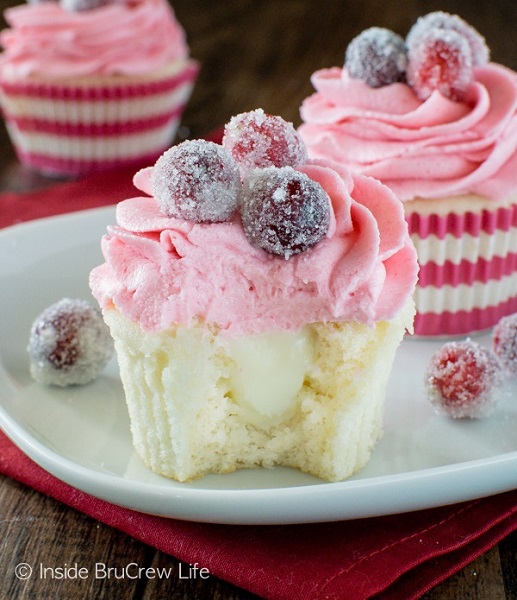 Sparkling Cranberry White Chocolate Cupcakes
Snow Flakes Cupcakes
The chocolate cupcakes with vanilla cream cheese frosting has been made extra special with a beautiful royal icing snowflakes. The cupcakes look classy and expensive, so you can serve them on Christmas dinner.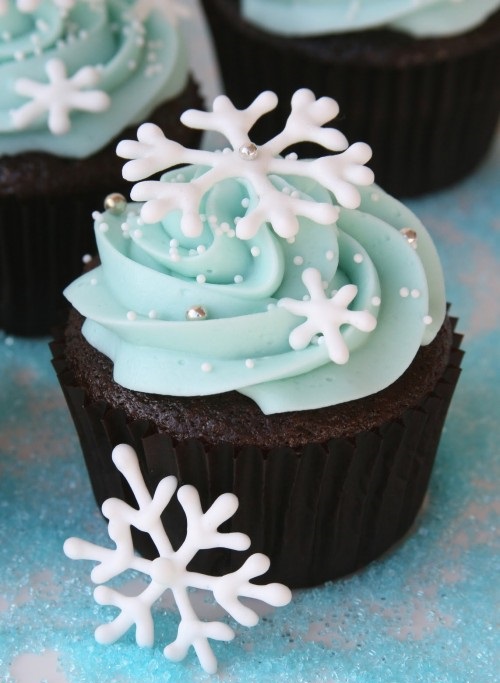 Raspberry White Chocolate Cupcakes
Looks yummy!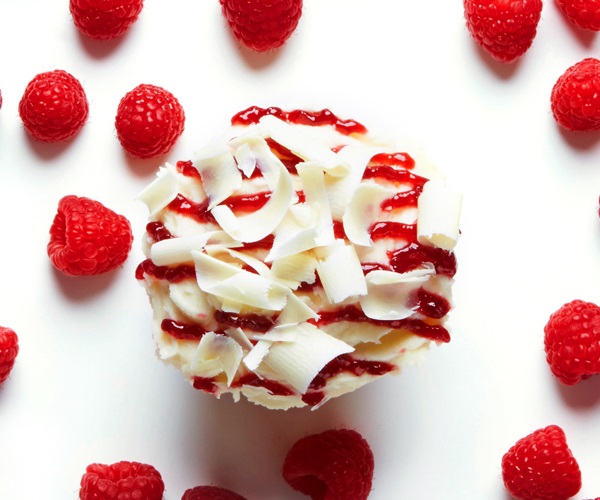 Raspberry White Chocolate Cupcakes Recipe
Maple Bacon Cupcakes
Are you a fan of bacon? Do you want a savory cupcake for dessert this Christmas? If you say yes to both questions then check out this Maple Bacon cupcakes.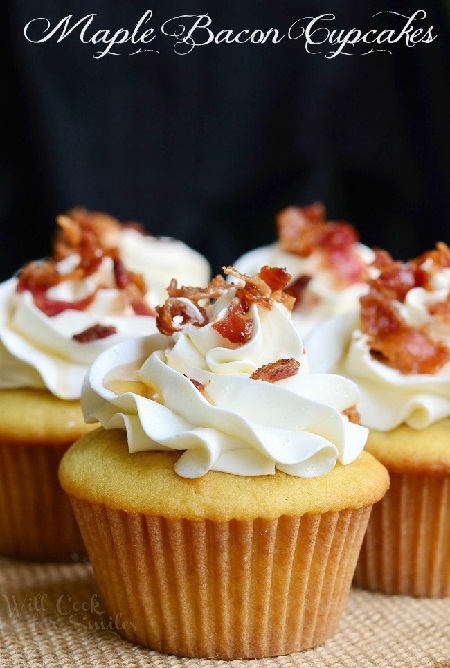 Maple Bacon Cupcakes
Apple Cupcakes with Streusel Apple Buttercream
This is another buttercream frosting that you can easily create. It is perfect for all occasion so give it a try.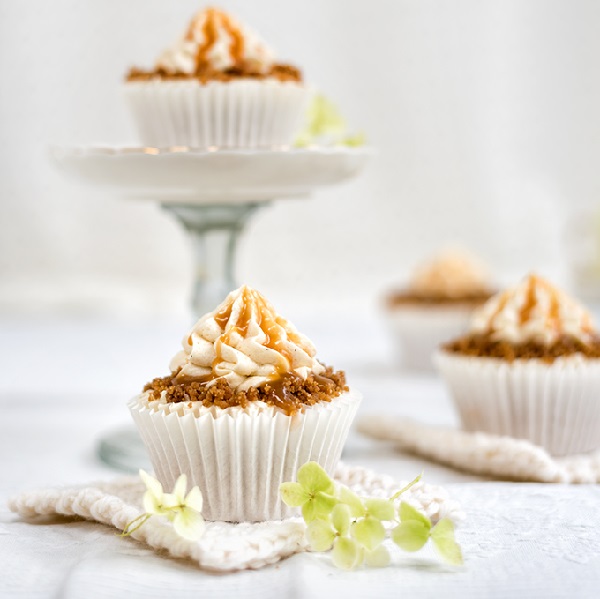 Apple Cupcakes with Streusel Apple Buttercream
Thank you for visiting my page and checking out the christmas cupcakes ideas from Pinterest. The images are not mine. I do not own nor claim them as mine, you can click the link to get to the original owner and the recipe for the cupcakes.