Are you planning on your door decoration for Christmas? Tired of buying expensive decorations? Whatever the reason you are looking for DIY Christmas door decoration ideas online this article can definitely help you find what you need.
Thanksgiving is almost over and pretty soon you will be taking down the decorations you have put up for thanksgiving and replacing them with Christmas decorations. Most of the time it's the exterior of the house that usually the first to get decorated and it best to start with the door. A nice simple and traditional decoration of the front door is placing a wreath on the door then you are done. But, it's that what you really want? I hope not for there are tons of cool door decorations that you can put on the front door without spending much.
DIY Christmas door decorations can make your home welcoming. There are many door decorations that you can easily do at home. Check out the samples below of door decors that I have found online.
DIY Christmas Door Decorations
DIY  Santa Claus Door Decoration
Santa Claus also known as Saint Nick, Saint Nicholas, Father Christmas, Kris Kringle or Santa is a western created figure of Christmas. The legendary figure brings gifts to homes of good or nice children on Christmas Eve and early morning of December 25. Today, Santa Claus is part of the Christmas traditions as almost every homes of family who celebrate the holiday has one or more Santa decoration.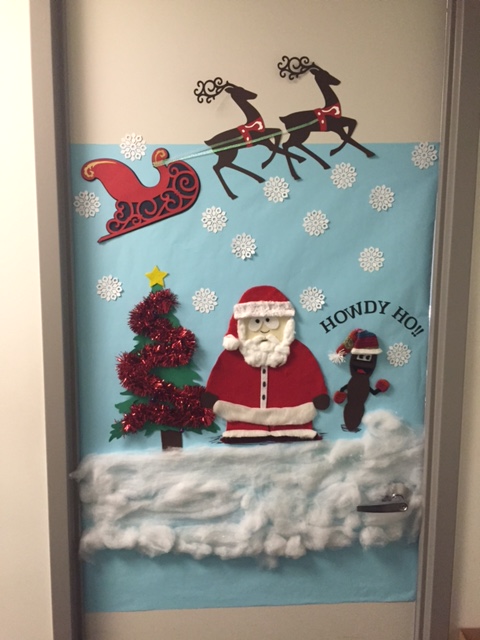 DIY Tutorial
DIY The Grinch Door Decoration
Grinch is a character created by Theodor "Dr.Seuss" Geisel in his children story entitled "How the Grinch Stole Christmas! Grinch is a solitary creature who hates Christmas badly enough to try to end it by stealing Christmas decorations from homes in the nearby town on Christmas Eve. The Whoville inhabitants despite what happen still celebrate the holiday by singing a Christmas song. Grinch heart was touched for he realizes the materials stuff is not the true meaning of the holiday but the people. So, the Grinch returns what he stole and become the guest of honor at the Whoville dinner.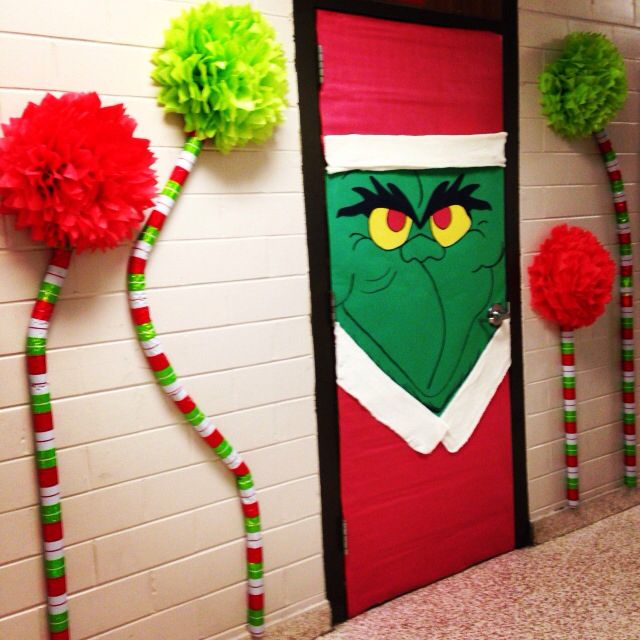 The Grinch DIY Door Decoration
DIY Snowman Christmas Door Decoration
The Snowman is from a picture book by English author Raymond Briggs. The character snowman became popular and even adapted into animated television show for kids. Everyone love snowman simply because it is cute and lovable.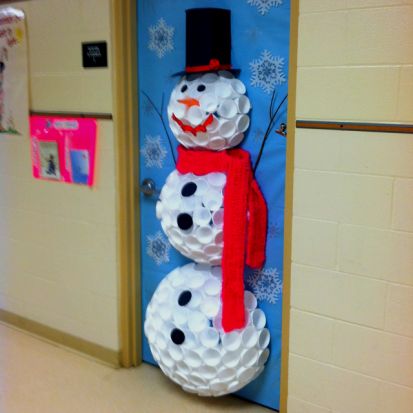 Post-Snowman Door DIY
DIY Snowman Door Decor
This is another snowman door decoration idea that you can do on your own front door.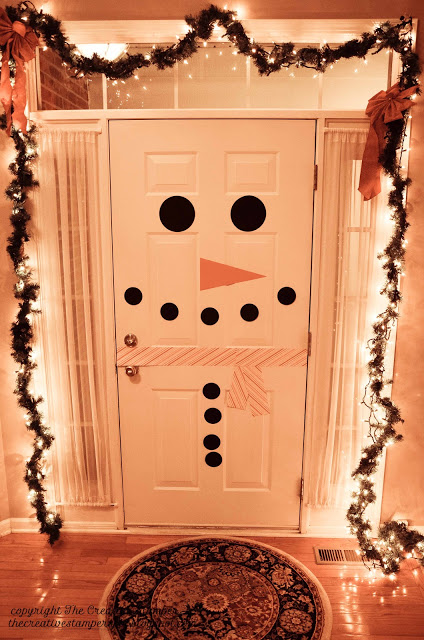 Snowman Door Decoration
DIY Snowman Door Decoration for Christmas
Cute and easy to do snowman decoration for doors.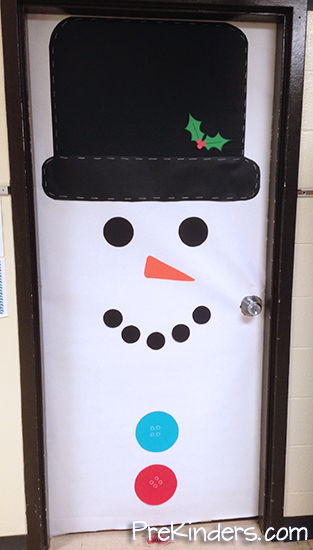 Snowman DIY Door Decoration
DIY Christmas Balls Door Decoration
I love the simplicity of the door decoration here…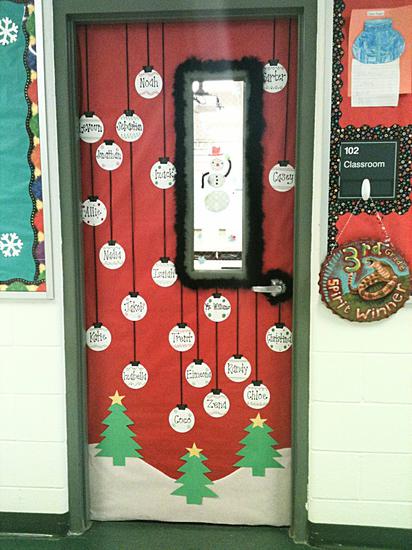 Noel Banner Door Decoration for Christmas
If you want simple door decor then how about a Noel banner?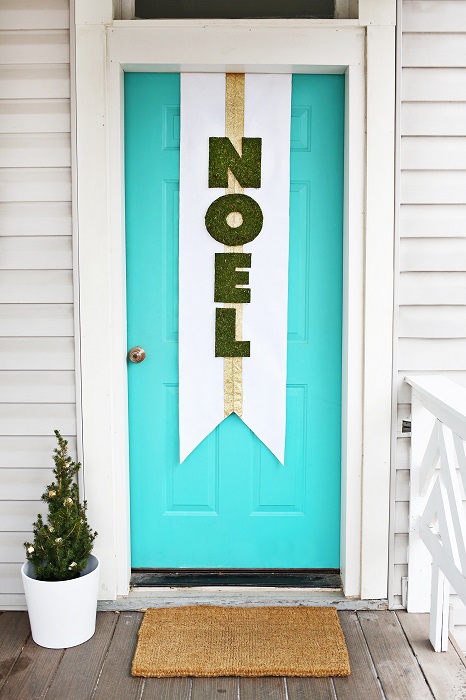 Noel DIY Door Banner
DIY Warm Fireplace Door Decoration for Christmas
I love the idea!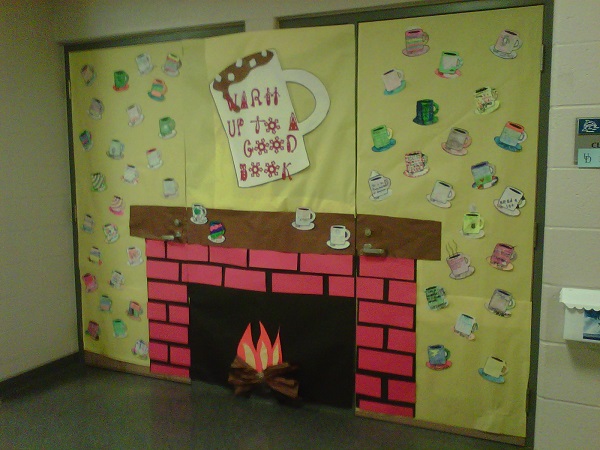 Winter Door Décor Idea
DIY Reindeer Stable Door Decoration
Reindeer stable on your front door, why not!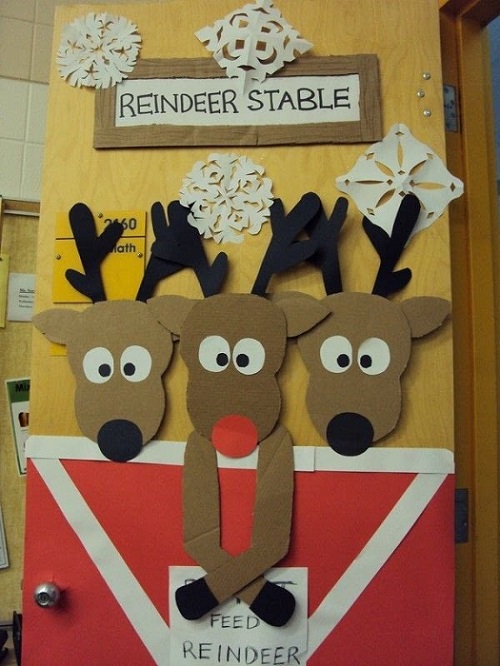 Reindeer Door
The Magic of Christmas Door Decoration
Turn your front door into a magical place this christmas season.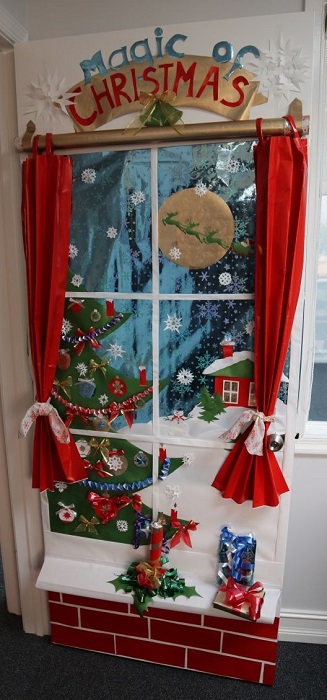 Feliz Navidad Door Decoration for Christmas
Feliz Navidad is a Christmas song written in 1970 by the singer and songwriter José Feliciano. The Puerto Rican songwriter composed a simple Spanish song with a that becomes a major hit. The chorus even become a classic christmas song in the United States, Spanish speaking countries and internationally.
"Feliz Navidad, próspero año y felicidad" simply means "Merry Christmas, a prosperous year and happiness"). The song itself is simple but the beat that goes with the chorus is hard to forget. Do you know the song?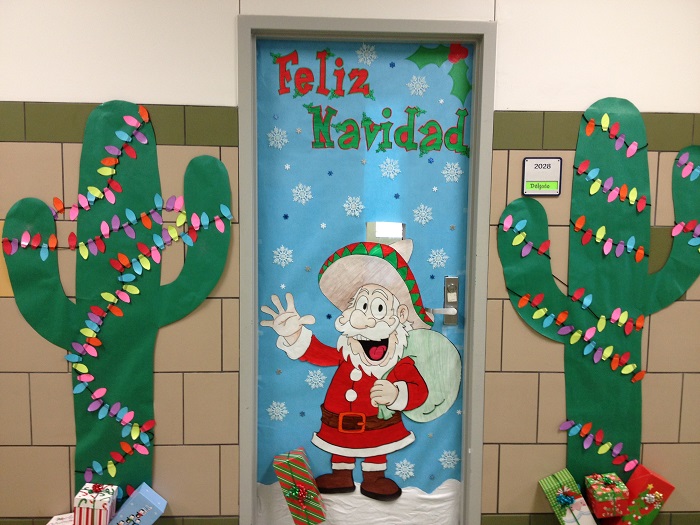 Feliz Navidad Christmas Door Decorations at School
DIY Stockings Door Decor Christmas
Christmas stockings are traditional decoration. They are usually placed on the window, christmas tree, fireplace and stairways. You can use the stockings to create a simple door decoration for your front door.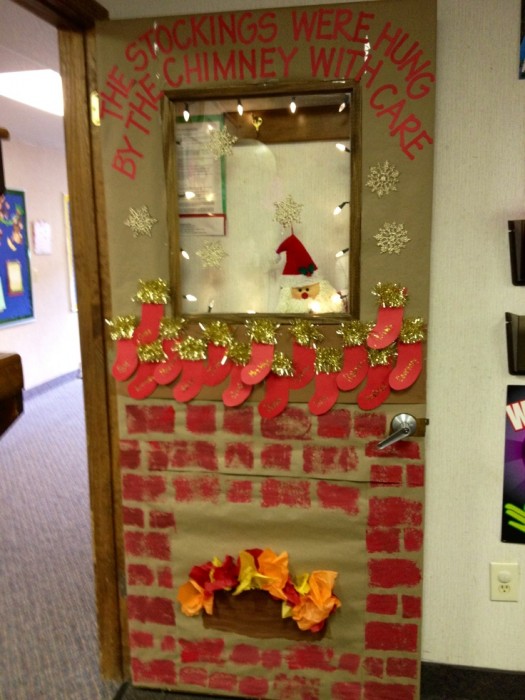 DIY Door Ideas
Grinch Door Decoration DIY for Christmas
Here's another Grinch door idea that you can use for your door.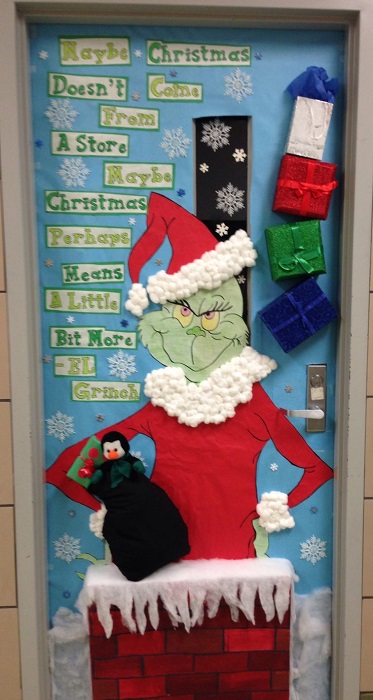 DIY Door Decoration
I hope you enjoy browsing the DIY door decoration for christmas that I have discovered online. You can check out my other christmas post. Thank you for stopping by and have a nice day.