Easter is fast approaching and most of the people who celebrate resurrection day are probably searching for Easter dinner ideas. If you are also hosting an Easter dinner for the family, you have come to the right page.
My family just like most of the Christians in the Philippines celebrates Easter day with fun fare and lavish feast. However, this year for the first time I will be hosting the traditional Easter dinner at home. And because this is the first time for me, I decided to make the dinner extra special by serving one or two Easter food from around the world. In other words, foods often served in other countries that also commemorate Christ resurrection from the dead.
Easter Dinner Ideas
In many countries, ham is a traditional Easter food so it is no longer surprising that it is the first thing that comes to mind when one think of Easter dinner. However, if this year you do not want to serve pork, a lamb and chicken are good substitutes. Anyway, may Easter dinner menu ideas should help you decide on your menu plan or put the finishing touches to your food ideas for Easter dinner.
Easter Dinner Menu Ideas
Below are my Easter dinner menu ideas from appetizers to Easter dessert sources from the internet and compiled for personal use and to share to my readers across the world.
Deviled Eggs
Deviled eggs are easy to prepare and great for Easter dinner. It is very popular starter for Easter dinner or lunch.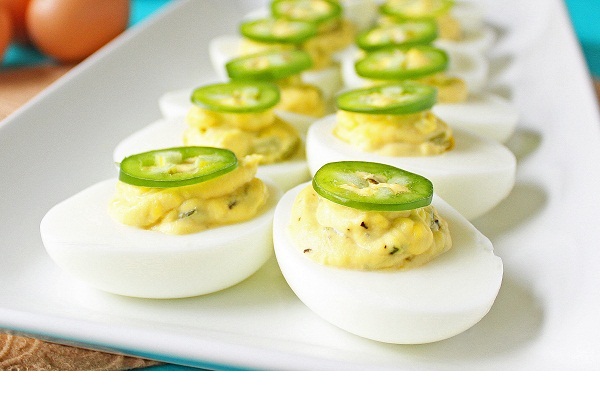 Ingredients:
10 pcs of eggs (hard boiled)
6 tbsp of mayonnaise
2 ¾ tbsp of sriracha
Fresh basil leaves (to taste)
Dash of pepper and salt
Procedure:
Boil the eggs, removed from hot water and set aside to cool. Peel the eggs once cooled.
Cut the eggs in half, and carefully scoop out the yolk.
In a large bowl, place the yolk and combine with the mayonnaise, sriracha, pepper and salt as desired.
Scoop a small amount of egg yolk mixture into the hollowed eggs (white).
Garnish with basil leaves and cool in the refrigerator for at least 30 minutes. Serve and enjoy.
Hot Cross Buns
A dinner menu is incomplete without bread and since I'll be serving food from around the world, I decided on hot cross buns. This bread is a traditional Easter food in UK, eaten on Good Friday.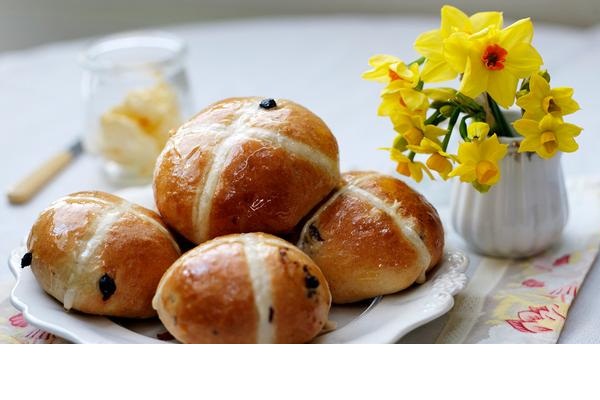 Ingredients:

For the Buns
1.3. Pounds of strong white flour
1 teaspoon of salt
2 teaspoon of ground mixed spice
1.5 oz of unsalted butter (cut into cubes)
1 lemon (zest only)
3 oz of sugar
1 egg
1 ½ teaspoon of yeast (fast action)
275 ml of tepid milk
125g of mixed dried fruit
For Toppings:
2 tablespoon of plain flour
Vegetable oil
1 tablespoon of golden syrup (heated gently since it is for glazing)Hot Cross Buns Step by Step Procedure
Main Course
For the main course I am giving you an option from pork to lamb in case you do not want to serve ham again this year.
Roast Pork Loin Herb Recipe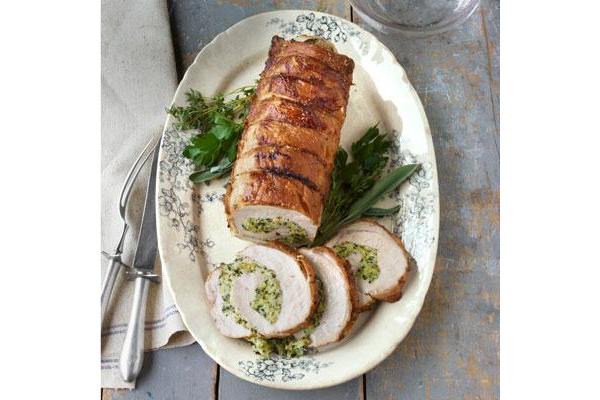 Ingredients:
1/3 cups of salt (kosher)
1.3 cups of sugar
2 tsp of juniper berries
2 tsp of cardamom pods
1 tsp of allspice berries
2 tsp of whole peppercorns
2 bay leaves (crushed lightly)
1 lb of pork loin roasted, trimmed, butterflied and then tied
3 stalks of finely diced celery
3 tbsp of butter
1 small finely diced onion
3 cloves of garlic (finely chopped)
1 cup of fresh parsley (chopped)
2 cups of panko breadcrumbs
1 tbsp of fresh sage (chopped)
¼ cup of chicken stock
2 tsp of fresh thyme leaves
Roast Pork Loin Step by Step Procedure
Or
Herb Crusted Rack of Lamb Recipe
Lamb is another Easter symbol, and great alternative to traditional Easter ham.
3-4 lb of rack of lamb roast
2 garlic cloves (sliced)
¼ tsp of red wine vinegar
1 tbsp of extra virgin olive oil
¼ tsp of soy sauce
1 ½ tsp of black pepper
1 ½ tsp of dried thyme
2 tbsp of fresh marjoram (chopped)
2 tbsp of fresh rosemary (chopped)
Procedure:
Preheat oven first to 400° F. Make a cut or thin slits in the lamb roast to insert slices of garlic.
Combine the oil, soy sauce, vinegar, thyme and pepper in a small bowl. Rub the prepared oil mixture into the lamb roast until coated. Next, coat the roast with marjoram and rosemary.
Place the lamb of roast into the roasting rack with shallow pan.
Place the roast in the oven and turn down the heat to 325° F. Bake for about 30 minutes.
Remove the roast from the oven, cover and let it rest for 5-10 minutes before serving. Serve warm.
Chicken Fresh Peas with Sparkling Wine Recipe
1 whole chicken cut into 8 pieces
1 ¼ tsp of sea salt (fine grained)
1 lb of potatoes (quartered)
½ tsp of pepper
2 tbsp of canola oil
3 cups of sparkling white wine
1 cup of leeks or onion (chopped)
2 cups of fresh peas
1 tbsp of unsalted butter
2 tbsp of dill (chopped)
Chicken Fresh Peas Step by Step Procedure
For Side Dish
Side dish serve as refresher so it should compliment the main course.
Smashed Red Potatoes Crème Fraiche Recipe
This recipe takes only 25 minutes to prepare. It compliments any main course whether your serving pork or lamb this Easter.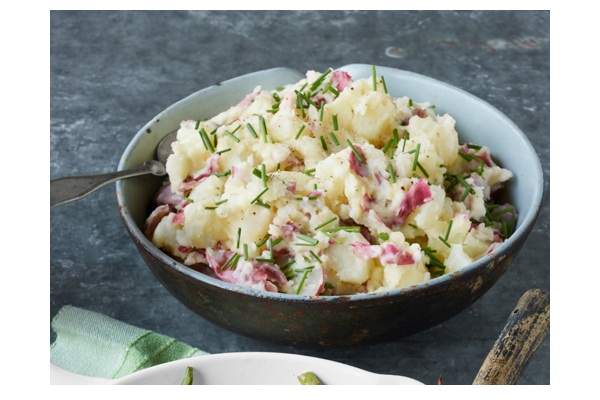 Smashed Red Potatoes Crème Fraiche ingredients and procedure
For Dessert
Desserts are sweet ending to a wonderful Easter dinner.
Egg Cake Recipe
For dessert I decided to bake a cake on an egg shell… This dessert is going to be a hit this Easter, no doubt about it.