Easter is coming are you ready for it? Christians all over the world (me included) are going to celebrate one of holiest festival, in the Christian calendar, Easter. It is a festival commemorating the resurrection of Jesus Christ who rose from the dead after three days as he promised. Anyway, I know it is hard coming up words to greet people close to us, especially family members whom we have a disagreement over petty matter, so I have compiled some of the best happy easter greetings, wishes and easter greetings messages that you can use on your cards or send via Facebook, SMS or Tweeter.
Easter Greetings
Below are some of the easter greetings that you can use this Easter to greet your friends and family members.
Happy Easter Greetings
Are you running out of happy easter greetings ideas? Use the short easter greetings below for your cards or share on your Facebook wall.
Happy Easter! Let's celebrate the salvation that the resurrection brings.
May God bless you with a wonderful spring as we celebrate new hope and new life this Easter.
Let this joy of Easter fill up your Heart today and Forever. Happy Easter!
May the day that God has resurrected bring you happiness, love, and joy. Have a fulfilling and joyful Easter!
May God keep you away from misfortunes, devious people, and evil tongues this Easter and throughout the year. Have a blessed and happy Easter!
This Easter reminds me of joyful memories we have shared together and more times of joy to come. Happy Easter!
Easter is the season for hope and this Easter I hope that you will focus on all that is good and at the end of the day choose to keep pressing on.
May you sense the Lord's presence with you during this Easter celebration.
May you be blessed with God's warm love and trust in his living grace this Easter.
Easter is a season of new life and beginnings. May this Easter be a season of new beginnings for you and your family. Have a blessed Easter Sunday.
Easter Greeting Messages
Easter calls us to start a new life, a good beginning… This Easter start a new life with your friends and family member, convey your heartfelt greetings to show them how much you appreciate their friendship and love.
May your life be blessed with His love on Easter and Always… Happy Easter!!!
As you celebrate Easter, May you be blessed with Peace and Happiness…Happy Easter!!
Easter Greeting Words
The Lord came to earth
With a life to give,
So each one of us
May continue to live.
Happy Easter!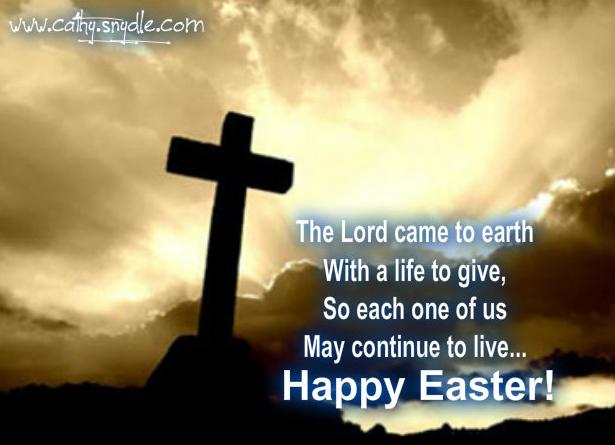 Easter Wishes Greetings
This Easter do not let your inability to hinder you from conveying your love and affection to friends and love ones as you can use the Easter wishes greetings below.
May you feel the hope of new beginnings, love and happiness during this joyful Easter holiday.
He was born to die and rise into the sky, so that one day we all could pray to him to save our lives. Happy Easter!
Wishing you and your family the happiest Easter of all. God bless you now and always.
Easter symbolizes the renewal of life. I wish you and your family the renewal of life, love, and happiness.
Sending you joyful hugs this Easter. May all of your dreams and wishes come true.
I hope this holiday fills your heart and your home with love and joy. Happy Easter!
Have a happy, peaceful, and fun Easter filled with marshmallows, chocolate, and jelly beans.
I hope you have colorful eggs, candy, grass, and chocolate bunnies in your Easter basket this year. Have a blessed Easter celebration.
Easter Greeting Cards
We wish you a happy Easter, filled with happiness, peace and love.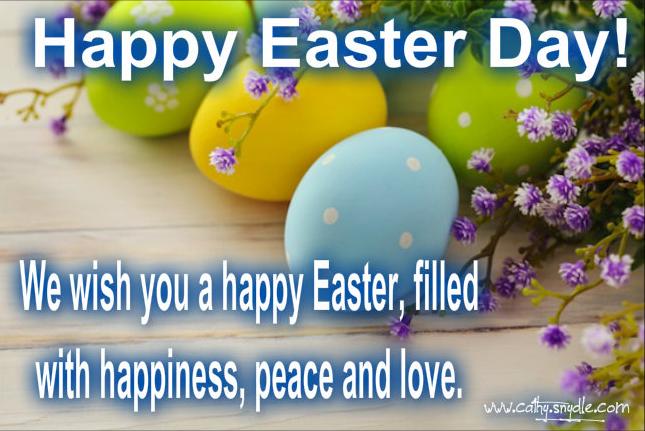 Easter Card Greetings
Easter… The celebration of holy love…
The day of resurrection…
The day that brings us new hope…
Have a blessed and wonderful Easter!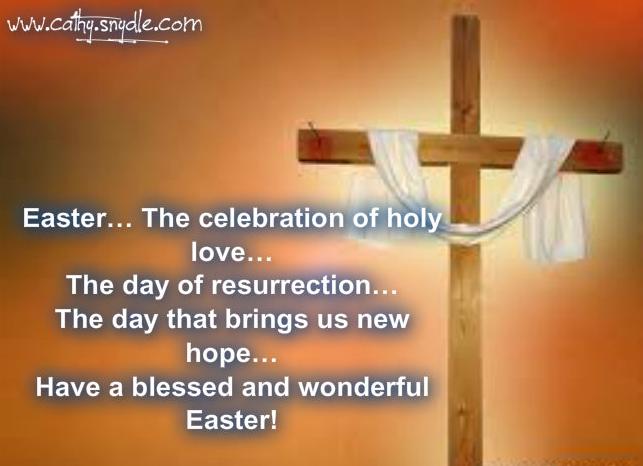 Funny Easter Greetings
Are you having a hard time finding the right words or greetings to send to your friends, special someone or family members? Well, today you can show how much they mean to you without being too obvious.
All we got to do is follow Christ, for in Christ all our problems will be solved. Have a Blessed and Meaningful Easter.
Easter brings us hope, may it linger in our hearts forever. Here's wishing you a very Happy Easter.
Easter brings fun, happiness, endless blessings, brings love and the freshness of spring. Happy Easter to you and your family!
Easter gives us yet another reason to be thankful to God. Have the joy of the coming of Christ be filled in your heart and bring peace into your life. Have a Blessed Easter.
Easter gives hope for tomorrow, 'coz after the winter comes spring. Our hearts can be filled with gladness as hearts rejoice and sing.
Easter is the only time when you can put all your eggs in one basket and get away with it. Happy Easter!
Celebrate this Easter with a heart filled with love and peace. Have a blessed and wonderful Easter!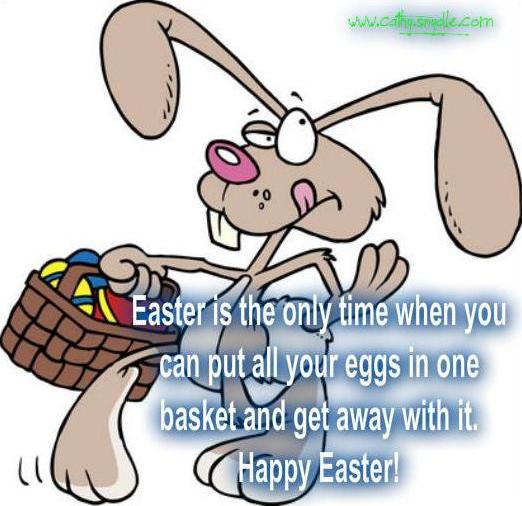 Easter is a good time to enjoy all of your many meaningful blessings: family, friends, Jesus, and, of course, chocolate molded into tasty bunnies.
Be thankful because Jesus gave us another chance to be a good person. His death cleansed us from our sins.
Free Easter Greetings
Many persons love you,
Many people like you,
But there is only one who DIED for you..
That is Jesus Christ…
Wish you a blessed "Happy Easter"
The Easter feeling does not end,
it signals a new begging of nature spring
and brand new life of friendship.
Happy Easter to My Best Friend!
This is the threefold truth on which our faith depends:
Christ has died! Christ is risen!…
Christ will… come again!…
Happy Easter!
Because He lives, I can face tomorrow,
Because He lives, all fear is gone,
Because I know he holds the future,
and life is worth the living,
just because He lives
Happy Easter!!!
Easter Greetings Sayings
Finding the right easter greetings sayings can make an easter card extra special. If you have a hard time finding easter sayings, you are very much welcome to use the sayings in this page.
Easter is a moment to praise eternal life…Happy Easter!
Easter teaches that tomorrow holds possible miracles…
Resurrection in him we welcome Easter…Happy Easter
Give not into the depths of darkness, Easter sheds light.
An Easter Sunday with memories of you fills my heart.
Crosses of gold, good wishes this Easter…Happy Easter
Easter Greetings Poems
Share the meaning of Easter and the joy of the season through Easter greeting poems.
Bunny rabbits wiggle,
So much they make me giggle.
They wiggle their ears,
They wiggle their nose,
The tail on their rear,
Wiggles too, I suppose.
And just when I say "Stop wiggling, stop!"
They wiggle all over, and take a big hop!
Easter is a time of reflection and joy.
When we emerge from our cocoon
of doubt to fly freely
on the wings of faith.
May you be renewed and strengthened… in the promise of our Lord.
There is magic all around us,
You can feel it in the air,
For the lovely signs of springtime
are unfolding everywhere.
It's a time of fulfilled promise,
It's a time of hope and cheer,
Joyful time of resurrection
Blessed Easter time.
Easter Greetings Religious
Sending easter greeting cards seems simple but it is a thoughtful way to share the love of Christ and the joy of the season to your loved ones.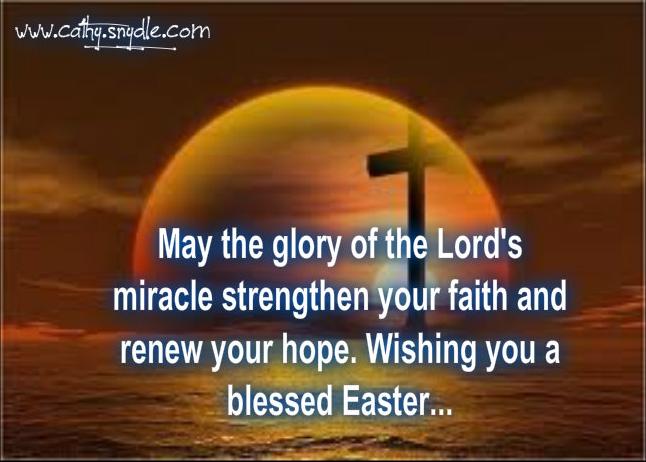 May the glory of the Lord's miracle strengthen your faith and renew your hope. Wishing you a blessed Easter.
Hallelujah! He is risen! May the resurrection of our Lord, Jesus Christ, fill you with joy this Easter season and always!
Rejoice! Christ the Lord is risen today! Hallelujah!
May our Lord Jesus Christ grant His richest blessings of peace and love to you this Easter and always.
May your heart rejoice in the miracle of our Savior's love. Happy Easter!
Rejoice! He who endured the cross and grave has conquered death for us to save! Hallelujah!
Wishing you His love in your heart this Easter and always. Have a blessed Easter Day!
Rejoice and be glad… Christ is risen!
May you always feel the love of our Savior shining brightly in your life. Happy Easter!
To Him who sits on the throne and to the Lamb be praise and honor and glory and power, forever and ever!
May your heart and home be filled with the blessings of Easter!
Because I live, you also will live. This Easter, rejoice in the promise of new life in our Lord, Jesus Christ.
Easter Greetings Quotes
Easter says you can put truth in a grave,
But it won't stay there.