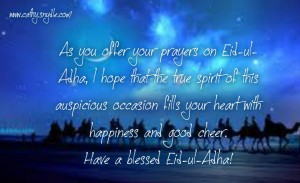 Eid al Adha also known as Id ul Adha is an important Muslim festival, celebrated on the 10th day of the Dhu al Hijiah. It is a festival commemorating the willingness of Prophet Abraham to sacrifice his only son Ishmael as Allah's command. Many Muslims all over the world celebrate with prayers, offerings, and greetings.
Eid al adha is the second Eid celebration as the first one is Eid al fitr. This festival begins with the traditional sunnah prayer and the celebration last for four days. On Eid ul adha, muslims sacrifice a goat or sheep and share the animal meat with neighbors, friends, relatives, and the poor. That's why, Eid al adha also called the "Festival of Sacrifice."
As part of the Eid observance, government offices, banks, and businesses closed for the holiday or reduced their operating hours to participate in prayer meetings occurring throughout the Islamic states and areas in other Muslim countries. Non-Christians countries with large Muslim population, also suspend business operation as the festival also marks the end of the Hajj pilgrimage.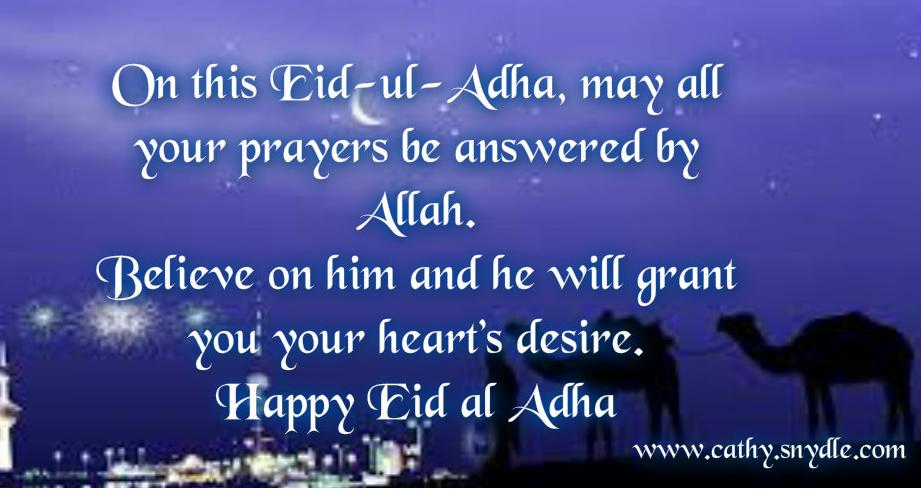 When Is Eid Al Adha
This 2013, Eid al adha, falls on the month of October. Muslims on Eid al adha will make an effort to pray and visit the mosque to listen to the sermon. They will also visit relatives, friends, and wear new clothes to celebrate the special holiday. Some Muslim families also purchase animal like goat or sheep for sacrifice, a practice started by Abraham. The people also do charity work during Eid al adha, and of course, Muslims travel to Saudi Arabia to visit the Mecca to perform the hajj. The annual Hajj pilgrimage is a very important tradition, which is why some people save just to join the hajj pilgrimage.
By the way, Eid ul adha is a public holiday in predominantly Muslim countries such as Saudi Arabia, Jordan, Indonesia, Turkey, and other countries. However, non-Muslims country such as the Philippines also declares Eid ul adha a holiday to allow brothers in faith to pray ceaselessly.
Eid al Adha Greetings
Sending greeting cards to friends and family who are away on a trip or living far away is an old but popular way of exchanging eid al adha greetings. Young and old, send greetings to wish someone happiness on this happy occasion.
May Eid-ul-Adha bring you peace, love, warmth and happiness all your way.
Happy Eid-ul-Adha!
On this Eid-ul-Adha, may all your prayers be answered by Allah.
Believe on him and he will grant you your heart's desire.
Happy Eid al Adha
May Allah Assent
To Your Virtuous Deeds This Day,
Pardon Your Wrongdoings
And Ease The Misery Of All His Faithfuls
Around The Around The World
As We Celebrate This Eid Mubarak.
Have A Happy Eid.
Today I Pray That:-
Happiness Be At Ur Door
May It Knock Early
Stay Late & Leave The Gift Of Allah's
Peace, love, joy & Good Health Behind
Shaban Mubarak, Eid Mubarak,
Ramadan Mubarak,
May You Remain Happy All The Time
Irrespective Of Any Occasion
Allah sees all your sacrifice.
Wishing you blessings and rewards of hundred folds for your family.
Have a blessed Eid-ul-Adha!
Eid al Adha Wishes
Embracing each other after prayer and wishing eid Mubarak is the oldest form of wishing. But there are other ways of wishing as modern technology provide people with a way to communicate and convey wishes and messages even when apart. This Eid al adha, don't forget to wish friends and relatives who are not physically present to embrace you, send them wishes online or via text messages.
Wishing you tons of smiles every single day.
For Allah's surprises are surely on their way.
Blessing and serenity be to you always on Eid.
Happy Eid-ul-Adha!
As you lift your faith and prayers towards Allah,
May he hears them and pour out innumerable blessings
Upon you and your loved ones.
Continue to walk by faith.
May Allah bring serenity to your days as you reach for your dreams and aspirations.
God bless all your undertakings.
Happy Eid ul adha.
Hope that Allah bestows his choicest blessings on us, and our association grows stronger every year. Wishing you joy and prosperity on Eid-ul-Adha!
On this warm breeze of Eid-ul-Adha,
I pray for warmer bond of love between your loved ones.
And warm wishes on your future too.
May we mirror the faith of Ibrahim towards the mighty Allah.
This will truly please Allah and give us the rewards that he only can give.
A blessed Eid-ul-Adha.
Wishing you and your loved ones a blessed Eid al Adha!
Hope that you are guided by your faith in the almighty and shine in his divine blessings. Wishing you a happy Eid-ul-Adha!
May this Eid bring you happiness and peace, throughout the year.
Happy Eid ul Adha!
May all your wishes come true.
Keep up the faith!
A blessed Eid-ul-Adha to you.
Greetings!
I may not be there to share this festive event with you
But know that my heart and mind will be with you always.
I miss all of you.
Best wishes on Eid ul adha!
Hope that you and your family are blessed with Allah's love and care on Eid-ul-Adha and always. Wishing you and your family a blissful Eid-ul-Adha!
May The Blessings Of Allah
Fill Your Life With Happiness
And Open All The Doors Of Success
Now And Always.
Eid al adha!
As you offer your prayers on Eid-ul-Adha, I hope that the true spirit of this auspicious occasion fills your heart with happiness and good cheer.
Have a blessed Eid-ul-Adha!
Eid ul Adha Mubarak
On Eid ul adha, muslims and non-muslims greet one another eid Mubarak to welcome and bestow blessings of happiness, peace and prosperity.
Eid Ul Adha Is Eid Of Sacrifice,
And Commitment To Allahs Orders,
May Allah Bless Us With The Same In All Circles Of Life,
And Help All Amongst Us,
Who Are Helpless, worried,
And Waiting For His Rehmat,
Ameen. Eid Mubarak.
Success in everything you do.
Heart filled with love so true.
Home full of smiles and laughter.
And a happy life ever after.
These are my warm wishes for you.
Eid-ul-Adha Mubarak.
May Allah's rahmat shine on you and help you achieve every goal in your life. Have a blessed and prosperous Eid-ul-Adha Mubarak!
Happy Eid al Adha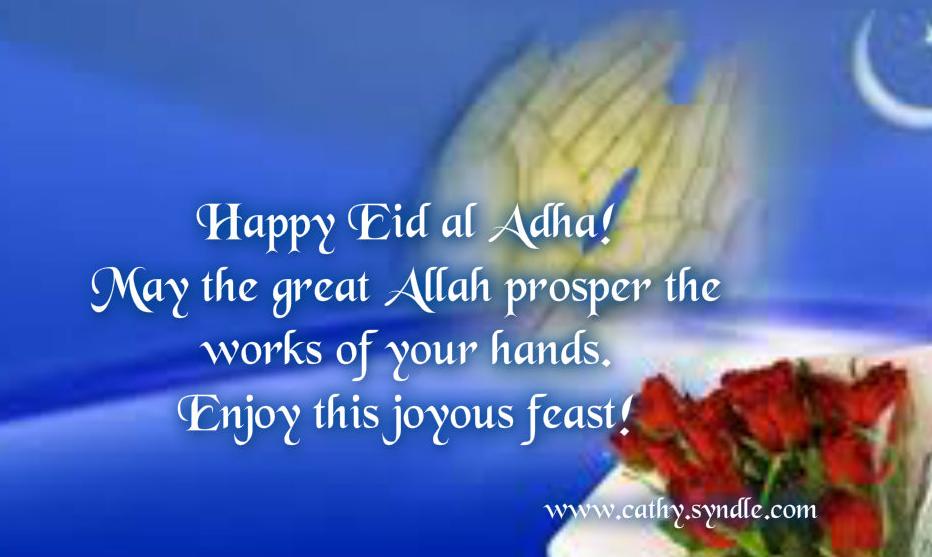 Happy Eid!
May the great Allah prosper the works of your hands.
Enjoy this joyous feast!
Eid Al Adha 2013 UAE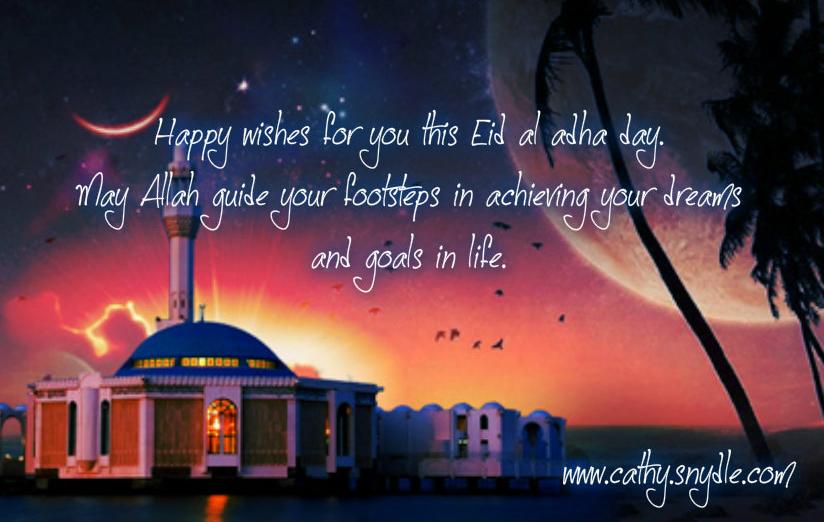 Happy wishes for you this Eid al adha day.
May Allah guide your footsteps in achieving your dreams and goals in life.
When Is Eid Al Adha
Eid al adha is celebrated on October 15, 2013, according to the Gregorian calendar. Eid Al Adha 2013 begins in the evening until the next day.
Eid Al Adha Date
2015 – 23 September
2016 – 11 September
2017 – 1 September
2018 – 21 August
2019 – 11 August
2020 – 31 July
2021 – 20 July
Happy Bakr-Id Mubarak
Happy Id ul Adha
Eid al Adha Greetings and Wishes