Wonton is a type of dumpling usually found in ramen, soup and other Chinese cuisines. Wonton also spelled as wuntun, wanton or wantan is a perfect appetizer. It is also wonderful to eat with rice. Deep fried wontons are made by placing a filling of ground pork in the center and sealing the wrapper's edge.
Typically, the wonton filling is shrimp and ground pork. It is seasoned with spices, salt, green onion and garlic. Wontons are also boiled and served in ramen or soup. But wontons are also great deep fried in hot oil. My deep fried wontons recipe is similar to the wontons served in restaurants.
By the way, wonton wrapper is made of flour, water, egg and salt. I don't know how to make wonton wrapper so I just buy the wrapper at supermarket. My kids love my fried wonton recipe and they also enjoy helping me made wonton. I hope that you will also enjoy my recipe and sweet dipping sauce.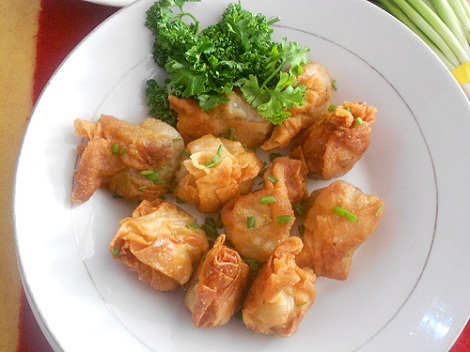 Fried Wonton Recipe
Ingredients:
Ground pork
shrimp
Green onion
Water chestnuts (optional)
Garlic
Salt and pepper
Egg
Oil
For Dipping Sauce:
Ingredients:
¼ Vinegar
¼ Tomato sauce or ketchup
¼ Water
¼ Sugar
2 teaspoon cornflour
Direction:
In a medium sized deep bowl combine ground meat and shrimp.
Next, finely chopped the green onion, water chestnut and garlic then throw them into the mixture and add the egg. Mix well.
Seasoned the mixture with salt and pepper.
Get a piece of wonton wrapper and a teaspoon of mixture. Placed the mixture into the centre of the wrapper then gather the edge wrap together around the filling.
Repeat the process with the rest of the wonton wrapper then set aside.
In medium sized frying pan, heat oil over medium heat. Fry the wonton for 3 minutes or until golden brown.
Serve the wonton with sweet dipping sauce.
For the Dipping Sauce:
Combine all the ingredients (water, tomato sauce, sugar and vinegar) in a sauce pot then bring to boil. Add the cornflour to thicken the sauce.
Get a small bowl and placed the sauce. Serve with the wonton.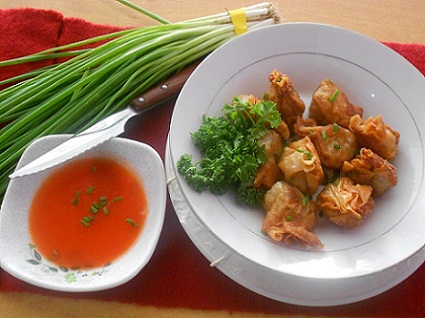 P.s: In case you run out of tomato sauce, you can use ketchup. I use ketchup, the taste of the sauce remain the same.
I love making deep fried wonton for my kids. It is also great for christmas party, birthday party and other special occasion. To save the recipe, you can bookmark this recipe for future use. Thank you for dropping by and check out my other recipes.