Easter is an important religious festival. Many Christians celebrate the rebirth of Jesus Christ on Easter Sunday, the last day of the lent. It is a good time to reconnect with friends and family this resurrection day, you can show them how much they mean to you without spending money as you can send greeting cards via emails or SMS.
Happy Easter Quotes
This Easter, wish your family and friends a happy Easter through quotes, if having a hard time wondering what to say to them. Quotes can definitely express what words cannot. You may use the happy easter quotes on this page to share happiness and wishes with your love ones and close friends.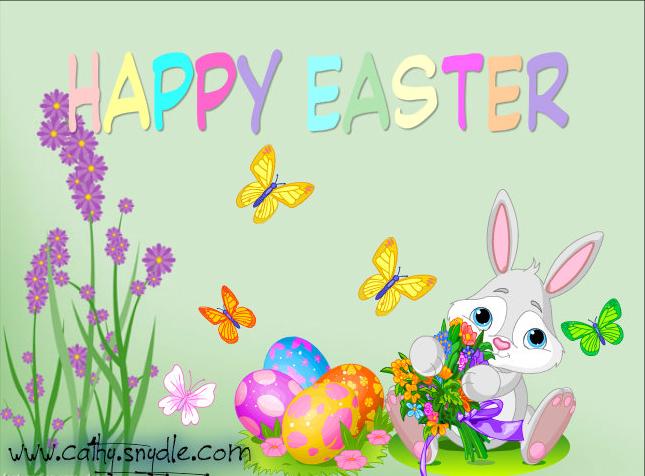 Easter Quotes
Below are easter quotes that you can used for homemade greeting cards:
"Easter spells out beauty, the rare beauty of new life." – S.D. Gordon
"Easter tells us that life is to be interpreted not simply in terms of things but in terms of ideals." – Charles M. Crowe
"Easter, so longed for, is gone in a day." – James Howell
"The stars shall fade away, the sun himself Grow dim with age, and Nature sink in years; But thou shalt flourish in immortal youth, Unhurt amid the war of elements, The wreck of matter, and the crush of worlds." – Joseph Addison
"The resurrection asserts a truth which is by no means always written legibly for all men on the face of nature. It tells us that the spiritual is higher than the material; that in this universe spirit counts for more than matter." – H. P. Liddon
"He who wants Lent to seem short should contract a debt to be repaid at Easter." – Italian Proverb
"But from this earth, this grave, this dust,
My God shall raise me up, I trust." – Walter Raleigh
"Let the whole world join the happy lay, Let the hills and vales break forth in singing, Christ, the Lord of Life, is risen today." – Lizzie Akers
"You'll wake up on Easter morning, And you'll know that he was there, When you find those chocolate bunnies, That he's hiding everywhere." – Gene Autry
"Now let the heavens be joyful,
Let earth her song begin:
Let the round world keep triumph,
And all that is therein;
Invisible and visible,
Their notes let all things blend,
For Christ the Lord is risen
Our joy that hath no end." – Saint John of Damascus
"Earth's saddest day and gladdest day were just three days apart!" – Susan Coolidge
"Could life so end, half told; its school so fail?
Soul, soul, there is a sequel to thy tale!" – Robert Mowry Bell
"It is the hour to rend thy chains,
The blossom time of souls." – Katherine Lee Bates
Happy Easter Quotes Funny
Are you looking for happy easter quotes funny? Well, if you are, below are some funny easter quotes that you can use for your homemade easter greeting cards or share via Facebook or Twitter.
Funny Easter Quotes
Below are funny easter quotes that can surely make anyone laugh…and thinking about easter day.
"My mom used to say that Greek Easter was later because then you get stuff cheaper." – Amy Sedaris
"I'm a little hoarse tonight. I have been living in Chicago for the past two months, and you know how it is, yelling for help on the way home every night. Things are so tough in Chicago that at Easter time, for bunnies the little kids use porcupines." – Fred Allen
"Easter says you can put truth in a grave, but it won't stay there." – Clarence W. Hall
"A strangely reflective, even melancholy day. Is that because, unlike our cousins in the northern hemisphere, Easter is not associated with the energy and vitality of spring but with the more subdued spirit of autumn." – Hugh Mackay
Easter Quotes Funny
"Good Idea: Finding Easter eggs on Easter Sunday.
Bad Idea: Finding Easter eggs at Thanksgiving."
Funny Happy Easter Quotes
Below are some funny happy easter quotes about chocolate and the joys of eating one.
"There's nothing better than a good friend, except a good friend with CHOCOLATE." – Linda Grayson
"If you get melted chocolate all over your hands, you're eating it too slowly." – Unknown
"Chocolate covered raisins, cherries, orange slices and strawberries all count as fruit, so eat as many as you want." – Unknown
"All I really need is love, but a little chocolate now and then doesn't hurt!" – Lucy Van Pelt, (Peanuts)
"Chocolate has many preservatives. Preservatives make you look younger." – Unknown
Happy Easter Quotes Sayings
Brighten someone's day with happy easter quotes sayings to make this festival truly meaningful.
"Our God is not the one of the dead but of the living. He dies for our sins but then arose again, alive for ever more as Lord and savior to all who believe in him." – Isabella Donnie
"When everything seemed like it had come to an end, a ray of light arose from the horizon. It was not something ordinary but the king of kings and the Lord of Lords himself." – Maisie Brown
"Like a pleasant surprise after days of agony, the Lord showed up to his chosen ones. He has risen and lives beyond time and distances. Oh what a great God we serve!" – Jamie Wright
"It was tough for us on Good Friday, our hearts were full of sorrow, but looking back in memory with Easter has brought joys for tomorrow." – Leon Boom
"Easter is that time of the year when there are celebrations and happiness. It is even better because there was mourning before but sadness has turned into gladness." – Donald Bones
"This is the day where death tried to put truth and life into a tomb but could not keep it there for three days." – Titania Lowe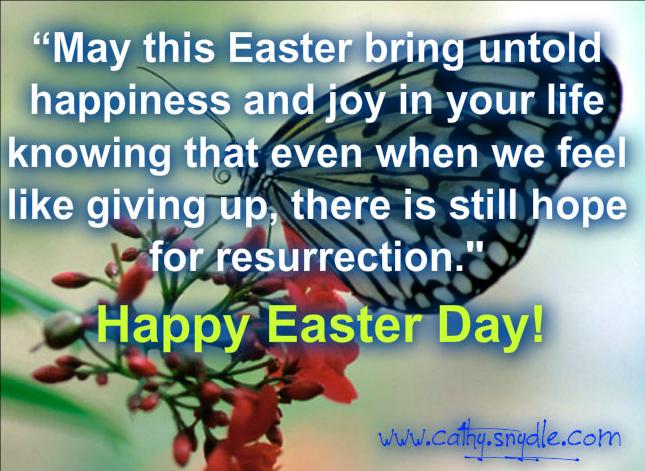 "May this Easter bring untold happiness and joy in your life knowing that even when we feel like giving up, there is still hope for resurrection. Happy Easter! – Erie Light
"Do you think this life is all we have and after that we die and all life fails? I believe differently because I believe in resurrection, there is a second tale." – Royal Banks
Cute Happy Easter Quotes
"The best thing about Good Friday and Easter is that because our holy God walked to Calvary alone… we never have to. We always have the love of God almighty with us." – Genie Sons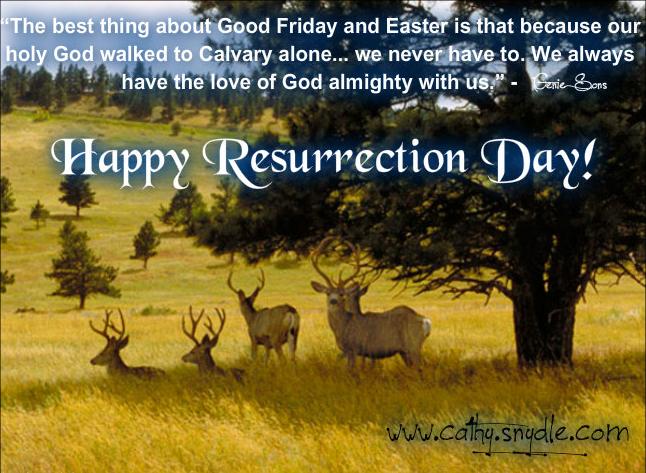 Happy Easter Greeting Quotes
Share some happy easter greeting quotes to brighten your day and your love ones easter Sunday celebration. Below are some happy easter greeting quotes that you can use to send happiness to near and dear ones.
Easter is a promise. God renews to us in each spring. May the promise of Easter fill your heart with peace and joy! Happy Easter!
The spirit of easter is all about Hope, Love and Joyfull living. Happy Easter!
The budding trees, the new flowers, and birds that sweetly sing, whisper to me that it's Easter. Here is wishing warmth for your soul on Easter Sunday and always! Happy Easter!
Happy Easter Wishes Quotes
"The Lord came to earth with a life to give, so each one of us may continue to live. Happy Easter!"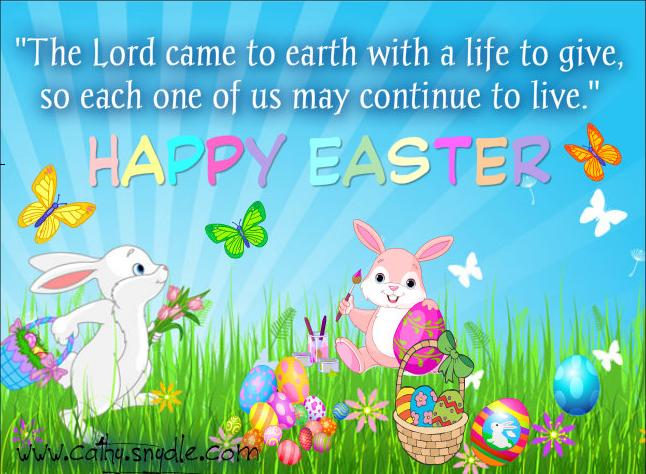 Easter Messages Quotes
Here's some easter messages quotes that you can used for greeting cards or share on your Facebook wall.
Easter is life, Easter is hope, Easter is the renew of those good human values, Easter is Jesus in the heart. Happy Easter!
A desire of peace, happiness and pure love, that Easter brings all that to your heart, bringing light to all days of your live. Happy Easter.
Our hearts are plenty of joy. Christ, the Lord is risen on this sacred day to bring salvation to the world. Happy Easter!
That Easter is not just a treat, but also it represents peace, serenity, harmony and love.
Happy Easter Sunday Quotes
"We live and die: Christ died and lived!" – John Stott
Happy Easter Quotes SMS
Greet your friends and loves ones with happy easter quotes SMS to make their day brighter.
"Easter may be the wrong time to tell my parents you're a Jew." – Unknown
"Happy Easter! Some bunny loves you." – Unknown
"If not for Halloween, Easter would be my favorite zombie-related holiday." – Unknown
"A nice Jewish man rising from the dead seems less miraculous than finding one I can date." – Unknown
"Most people outside of America won't get it. It's the Easter bunny. It's another lie and I don't understand why we had to invent this character." – Todd Rundgren
Happy Easter Quotes Images
"Today reminds me that I should not give up on good things in life. If one dream seems to die it does not mean that it won't rise again." – Hal Rogers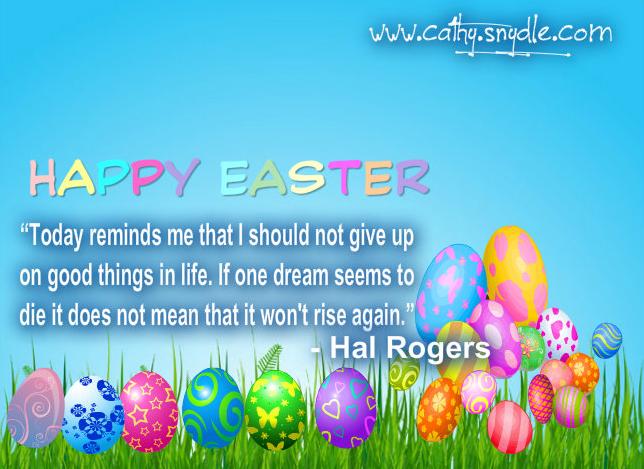 Happy Easter Quotes and Pictures
"The cross is the only ladder high enough to touch Heaven's threshold." – George Dana Boardman
Best Easter Quotes
Check out below, best easter quotes that you can share to friends and family.
"The resurrection gives my life meaning and direction and the opportunity to start over no matter what my circumstances." – Robert Flatt
"Our Lord has written the promise of the resurrection, not in books alone, but in every leaf in spring-time." – Martin Luther
"For I remember it is Easter morn, and life and love and peace are all new born." – Alice Freeman Palmer
Happy Easter Bible Quotes
Easter Sunday is here again, better start preparing ,but before you get too busy on your Easter eggs, hunting eggs and other activities do not forget to wish your family and friends a Happy Easter day. You can send happiness without leaving your home as you can greet them via Facebook, Twitter and other social media sites. You may also send an SMS if you prefer a personalized Easter greetings to love ones.
Furthermore, you do not have to come up with words to express your feelings as you say your thoughts and sentiments through happy Easter bible quotes. The gospels of Luke, Mark, John and Matthew provide a general idea of Jesus Christ teachings, inspirations and the resurrection of Jesus from the dead. So, copy and paste the quotes you like or share, Tweet the Easter quotes images found on this page for easy and hassle free greetings.
"All authority has been given to Me in heaven and on earth. Go and make disciples of all the nations, baptizing them in the name of the Father and of the Son and of the Holy Spirit, teaching them to observe all things that I have commanded you; and lo, I am with you always, even to the end of the age."- Matthew 28:20
"He is not here: for he is risen, as he said. Come, see the place where the Lord lay. And go quickly, and tell his disciples that he is risen from the dead; and, behold, he goeth before you into Galilee; there shall ye see him: lo, I have told you. And they departed quickly from the sepulchre with fear and great joy; and did run to bring his disciples word. And as they went to tell his disciples, behold, Jesus met them, saying, All hail. And they came and held him by the feet, and worshipped him. Then said Jesus unto them, Be not afraid: go tell my brethren that they go into Galilee, and there shall they see me." – Matthew 28: 6-10 KJV
"Jesus said to her, 'Mary!' She turned and said to Him, 'Rabboni!' (which is to say, Teacher.)" Jesus said to her, 'Do not cling to Me for I have not yet ascended to My father; but go to My brethren and say to them, I am ascending to My Father and Your Father, and to My God and Your God.'" – John 20:16, 17: John 20:21-23
"I am the resurrection and the life. He who believes in Me, though he may die, he shall live. And whoever lives and believes in Me shall never die."- John 11:25-26
"Reach your finger here, and look at My hands; and reach your hand here, and put it into My side, Do not be unbelieving, but believing." And Thomas answered and said to him "My Lord and my God!" Jesus said to him, Thomas, because you have seen Me, you have believed. Blessed are those who have not seen and yet have believed."- John 20:27-29
"O foolish ones, and slow of heart to believe in all that the prophets have spoken! Ought not the Christ to have suffered these things and to enter into His glory?" – Luke 24:25,26
"This is how we know what love is: Jesus Christ laid down his life for us. And we ought to lay down our lives for our brothers." – 1 John 3:16 NIV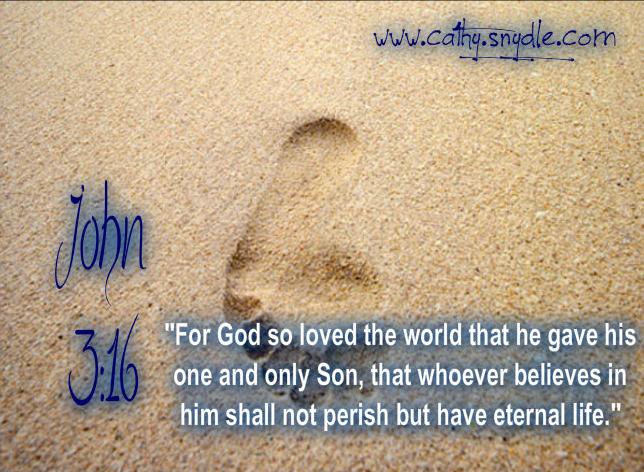 "For God so loved the world that he gave his one and only Son, that whoever believes in him shall not perish but have eternal life." – John 3:16 NIV
"Peace to you! As the Father has sent Me, I also send you." And when He had said this, He breathed on them, and said to them, "Receive the Holy Spirit. If you forgive the sins of any, they are forgiven them; if you retain the sins of any, they are retained." – John 20:21,22
"Why are you troubled? And why do doubts arise in your hearts. Behold My hands and My feet, that is I Myself. Handle Me and see, for a spirit does not have flesh and bones as you see I have." – Luke 24:38, 39
Religious Easter Quotes
"Easter is not just a day but a way of life. We all need to live as witnesses to the fact that he lives in and through us in every good deed and work that we do in his name." – Emily Viz
Happy Easter Quotes for Kids
Are you lost for words? Don't worry, you may use the happy easter quotes for kids on this page to greet your children on resurrection day.
"May Easter Day To Thy heart say, "Christ died and rose for thee." May Easter Night On thy heart write, "O Christ, I live to thee." – Anonymous
"Christ has not only spoken to us by his life but has also spoken for us by his death." – Soren Kierkegaard
"The great Easter truth is not that we are to live newly after death – that is not the great thing – but that…we are to, and may, live nobly now because we are to live forever." – Phillips Brooks
"Easter tells us that life is to be interpreted not simply in terms of things but in terms of ideals." – Charles M. Crowe
"Let the resurrection joy lift us from loneliness and weakness and despair to strength and beauty and happiness." – Floyd W. Tomkins
"Easter is the demonstration of God that life is essentially spiritual and timeless." – Charles M. Crowe
"To Him I owe my life and breath,
And all the joys I have;
He makes me triumph over death,
And saves me from the grave." – Samuel Stennett, A. D. 1787
Happy Easter Sunday!