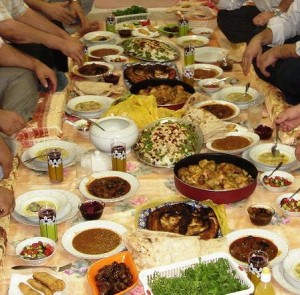 Are you looking for Ramadan recipes? If you are searching for new recipes as you want this year Ramadan menu to be different then know that  you are in the right website as i have prepared special dishes, treats and drinks to make your ramadan even more special but without breaking the rules.
Muslims during the month of Ramadan across the world abstain from food, sex, and immoral thoughts to purify themselves as they reconnect with Allah. In fact, during the Ramadan Muslims from dawn to dusk pray for 29 or 30 days then abstains from the most basic needs of human including desires and carnal needs to develop restraint and to obey the creator as fasting is a form of purification.
Fasting is part of the five pillars of Islam, which is why all Muslims observe Ramadan traditions to the letter, except those who are traveling, elderly, sick, nursing and pregnant women. Those who are exempted are ask to compensate by giving donations and helping the poor while the rest of the Muslims who abstain from food can eat and drink only during the break, which is from sundown until sunset.
This year, you do not have to stick to the usual Ramadan diet as you can prepare something else for your family members and friends to celebrate the holy month. After all, the collection of Ramadan recipes around the world is vast, so there is no reason to stick to the usual diet.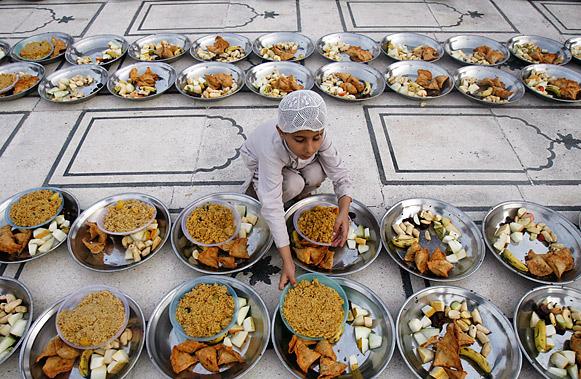 The following are just some of the Ramadan recipes around the world that you cook and serve for the holy month.
10 Ramadan Recipes
1. Naan Bread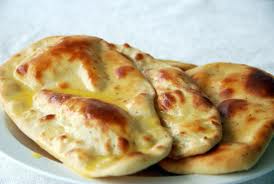 Naan is one of the popular bread in Afghanistan and Pakistan, so much that, in these countries, a Ramadan meal is incomplete without a few loves of this yeasted flat bread.
Ingredients:
500g white flour (strong)
2 teaspoon of salt
50g curry powder (mild)
3 tablespoon of mango chutney
3 tablespoon olive oil
7g sachet of yeast (fast-action)
300 ml water
100g sultanas
Cooking Procedure:
In a large bowl, mix the flour, yeast, salt, oil and water but just enough to make the dough soft not sloppy. Knead the dough then place in an oiled bowl. Leave the dough for 1 hour to allow it to rise or doubled in size.
In a flat, floured surface roll out the prepared dough into a square about 25 cm in diameter.
Next, spread the sultanas, chutney, and curry powder over the dough but leave at least 1 cm gap between the filling and the edges. Fold like a book the dough and press down to seal before rolling out the dough to the original size again.
Cut the dough into at least 8 pieces or about 250g evenly, then using a rolling pin just flattened one by one the cut-up dough to 15 cm (diameter) and 1 cm (thick).
Place each one to the baking tray (floured lightly) then leave for further 5 minutes.
In a large frying pan, dry fry the dough over medium heat until both sides browned, about 2.5 minutes each side then let it cool before serving.
Pakistani Recipes
2. Samosa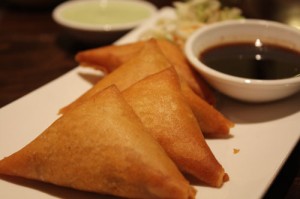 Samosa, a delicious food, and an essential part of the iftar celebration in Pakistan, Sri Lanka, and Bangladesh. The triangle shaped pastry is very easy to prepare and can be stuffed with meat or vegetables.
Ingredients:
4 cups potatoes cut into medium sized
1 cup frozen peas
1 tsp garam masala powder
1/2 tsp curry powder
1 cup finely chopped yellow onion
1/2 cup finely chopped carrots
1/2 tsp red chili powder
1/2 tsp tumeric powder
2 tsp grated fresh ginger
1 tsp salt
1 egg
2 minced garlic cloves
1/3 cup chopped fresh cilantro
Wonton wrapping paper (large)
Canola oil
Cooking Procedure:
In a medium sized pot, boil potatoes in lightly salted water until tender.
In a large frying pan, sauté the onions, carrots and garlic in 2 tsp olive oil. Add the spices (Curry, red chili, garam masala and turmeric powder, ginger and salt) after just 30 seconds of sautéing.
Let the onions cook until translucent and the carrots tender, about 5 minutes.
Meanwhile, mash the cook potatoes.
Mix the mashed potatoes with the spiced onion mixture before adding the peas.
Get the Wonton wrapping paper and begin stuffing, continue until the wrapping paper or filling gone.
In deep frying pan or work, heat oil then placed one by one the prepared samosas, cook until golden brown.
Serve hot or cold
Ramadan Recipe
3. Lebanese Red Lentil Soup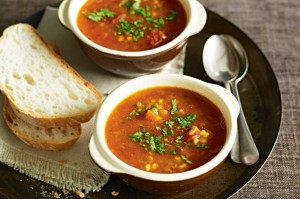 Lebanese lentil soup is delicious, great for Ramadan especially when you want a light meal during break time.
Ingredients
1 bunch of fresh cilantro (stems removed)
12 cloves of garlic
olive oil
2 1/2 tsp of salt (Divided)
2 big onions finely chopped
1 lb lentils (washed and drained)
1 1/2 tsp of cinnamon
12 cups water
1 box frozen spinach
2 medium potatoes cut into cubed
6 tbsp lemon juice
Cooking Procedure:
In a food processor, put the garlic, 3 tbsp of olive oil, and 1/2 tsp of salt then process until the texture is similar to a paste. Set aside.
Sauté onions in olive oil about ¼ cup until slightly brown before adding the red lentils then mix. Let it cook over medium heat for a few minutes.
Next, add the cinnamon and water then turn the heat to medium high and let it cook, uncovered for at least 45 minutes. Stir occasionally.
Turn down the heat to medium then add the remaining salt, potatoes, cilantro paste and spinach then cook, uncovered on low heat until creamy.
Add the lemon juice and just continue cooking uncovered for further 10 minutes.
Serve hot, cold or warm.
Easy Healthy Recipes
4. Salatit El Rahib
Salatit El Rahib is a yummy salad, a great appetiser and perfect for Ramadan.
Ingredients:
4 small or 1 large eggplants
1 tomato diced into 1/4″ pieces and seeded
1 lemon (juice)
3 garlic cloves (minced)
3 tbsp olive oil
3 parsley sprigs chopped roughly
1/4 tsp of salt
Preparation:
Cook eggplants over medium heat on a regular grill or gas burner on high. Turn eggplants while cooking, wait until skin is soft and charred, takes about 2 to 3 minutes to cook per side.
Remove the stem and charred skin before cutting the eggplants into 1/4-inch dice.
In a bowl, place the tomato, lemon juice, parsley, garlic, oil, and salt then gently stir into the eggplant mixture.
Ramadan Recipes for iftar
5. Mujaddara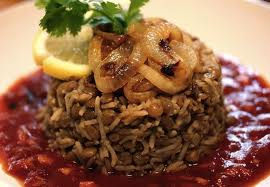 Mujaddara is another Ramadan recipe that you should consider as the Middle Eastern lentil and rice pilaf is delicious and can help keep you satisfied until break time. The vegetarian dish is easy on the pocket because of the simplicity of the ingredients.
Ingredients:
8 tbsp olive oil
2 onions medium sized sliced into rings
1 medium onion (chopped)
½ tsp ground cinnamon
½ tsp ground allspice
1 cup green lentils (dried)
4 cups water
1 cup Basmati rice
3 tsp salt or to taste
Tomato Sauce
Cooking Procedure:
In a medium sized frying pan, caramelized the onion rings in olive oil then set aside.
Next, add the allspice and cinnamon then leave for 1 minute to warm before adding the lentils and water. Boil and then cover, let it simmer for about 20 minutes.
Add the rice and salt then bring to a boil before reducing to low heat. Cover and simmer for at least 15 to 20 minutes.
Keep checking to make certain the rice do not burn at the bottom.
Serve the rice and the lentils with the sauce and caramelized onions on top.
Tomato Sauce
Ingredients:
2 tbsp olive oil
1 finely chopped medium onion
2 cups tomato juice
7 cloves minced garlic
1 tsp vinegar
1 tsp sugar
Salt
Pepper
Cooking Procedure:
In a medium sized saucepan, sauté the onion over medium heat until slightly brown then add the garlic, cook for 1 minute.
Next, add the sugar and tomato juice to the saucepan, reduce the heat, and then simmer for 15 to 20 minutes.
Add the vinegar and the seasonings; then let the sauce cook for 2- 3 more minutes.
Ramadan Recipes Indian
6. Biryani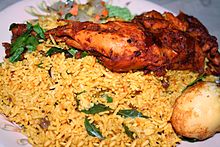 Biryani is a dish made of rice, meat, and spices. The dish is one of the most popular in dishes India especially during festivals and other occasions. The suggested Ramadan dish is very easy to use and just take half an hour to cook.
Ingredients:
Biryani Kurma
500 gms cut up chicken
1 ½ cups of oil
1 large onion (sliced)
2 cinnamon
4 cardamoms
4 cloves
1 ½ teaspoon red chilli powder
1 ½ tablespoon garlic paste
1 ½ tablespoon ginger paste
4 green chillies
3 large tomatoes (pureed)
¾ teaspoon of salt
½ cup curd
1 ½ lemons
Coriander
Mint leaves
3 cups of water
For the Rice
2 1/2 cups Basmati rice (long grained)
1 tablespoon of salt
Cooking Procedure:
In a pressure cooker, heat oil then add the cinnamon, cardamoms, sliced onion, cloves, and sauté.
Add the garlic paste and ginger paste then mix well.
Next, throw in the green chillies, red chilli powder, tomato, and salt then cook for about 1 minute.
Put into the pressure cooker the coriander, curd and mint leaves along with the chicken pieces. Mix well.
Last add the water then close the lid, let it cook for about 10 minutes.
Once the kurma almost done, open the lid and add the lemon juice then bring to a boil.
Add salt then bring to a boil, once boiling add the rice then
Meanwhile, while kurma is cooking get a large pan then fills it with water about 3/4 of the pan.
Add the salt then let it boil, once boiling add the rice then let it cook but half cooked. Drain then set aside.
When kurma is cooked, add the rice to the pressure cooker but do not mix just close the lid and cook over medium heat for about 5 minutes.
Mix well and serve with khatte baingan and onion raita.
Ramadan Iftar Recipes
7. Roasted Chicken Stuffed with Rice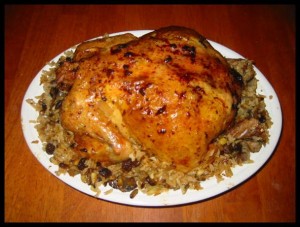 Roasted chicken is suitable for the Ramadan and very easy to prepare.
Ingredients:
1½ tbsp vegetable oil
1 small onion finely chopped
½ cup or 75 g pine seeds
1 cup rice or 200 g (long grain white rice)
¼ tsp ground cinnamon
¼ tsp ground black pepper
1½ cups or 375 ml water
2 cubes chicken bouillon or chicken stock
½ cup or 75 g raisins
1 big whole chicken
Cooking Procedure:
In a medium saucepan heat oil then add onions and pine seeds, cook over medium heat for about 5 minutes or just until golden brown.
Next, add the rice, black pepper, cinnamon, water, raisins, and chicken bouillon cubes. Let it cook for further 10 minutes or just until rice is done.
Get the chicken then stuff with the prepared rice mixture as much rice as you can possibly fill the inside of the chicken. Cook the remaining rice.
Preheat the oven to 190°C then roast the chicken for 45 minutes or until chicken is cooked.
Serve roasted chicken with fresh green salad and the remaining rice.
Ramadan Special Recipes
8. Kebab Massalam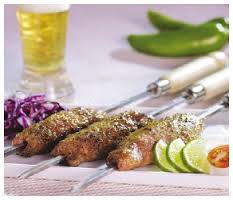 Kebab Massalam is a popular dish during Ramadan. Many families make the kebab since it is wonderful halal dish.
Ingredients:
1 lb ground lamb
2 Thai chili peppers chopped finely
1 medium onion (chopped)
2 cloves garlic (minced)
2 tbsp plain yogurt
1 tbsp of lemon juice
Salt to taste
1/2 tsp ground turmeric
2 tbsp coriander seeds (crushed)
6-inch bamboo skewers soaked in water for at least 15 minutes
2 medium size red bell peppers (cut into 2-inch pieces)
Cooking Procedure:
Preheat the oven then grease the broiling pan.
In a large bowl, mix the lamb, coriander, chilli peppers, and yogurt.
Next, add the garlic, lemon juice, onion, and turmeric to meat mixture.
Create meatballs with the prepared mixture.
Set aside the cut red bell pepper.
Wrap the meatballs around each skewer then add meatballs into the baking pan.
Boil the meatballs for at least 5 minutes before turning the skewers over.
Continue cooking until pinkish color of the meat fades.
Serve hot or warm
Ramadan Sweet Recipes
9. Basbousa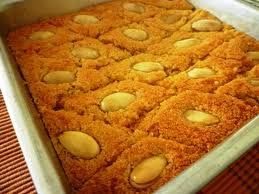 Basbousa is Middle Eastern cake, served in Ramadan. The cake cut into small diamonds is so delicious that a whole tray is always empty in seconds. So, do not hesitate to include Basbousa to your Ramadan sweet recipes.
Ingredients:
1/2 cup unsalted butter
3/4 cup sugar
1/2 teaspoon bicarbonate soda
15 blanched and split almonds
2 whole eggs
2 cups sooji or fine semolina
1 teaspoon vanilla essence
1 teaspoon baking powder
3/4 cup vanilla or plain yogurt
For Topping
2 cups sugar
2 teaspoon rose essence
1 1/2 cups water
1/2 teaspoon lemon juice
Cooking Procedure:
In a large mixing bowl, place the butter, vanilla and sugar then mix until fluffy and light, before adding the eggs one by one.
Sift the baking powder, semolina, and soda in another bowl then add the mixture to the prepared butter mixture alternating with the yogurt. Beat well.
Grease the cake pan and spread the prepared batter, before placing the almonds on top of the cake in an even distance.
Preheat the oven to 300 degrees Fahrenheit and bake the almond semolina cake for 30 to 35 minutes or until the cake is done.
Syrup
In a medium saucepan, heat over medium heat the sugar in water then add the lemon juice, rose essence then bring to a boil.
Let the syrup boil for at least 5 to 7 minutes then take out the heat and cool.
Prepare the Cake
Take the cake out of the oven, pour the prepared syrup all over the cake until soaking, and then set aside for at least 15 minutes. Once cooled, cut the cake into equal proportion.
Serve with whipped cream or fruit on top.
Ramadan Drink Recipes
10. Sharbat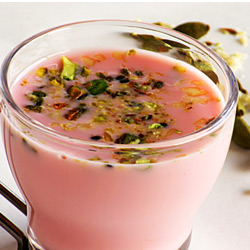 Sharbat is a refreshing milk drink from Pakistan and India, and always prepared for Ramadan. The drink is so good that you should definitely consider adding it to this year Ramadan menu.
Ingredients:
1 cup cashews crushed
1 cup pistachios crushed
1 almonds finely crushed
1 teaspoon cardamom seeds
1 gallon whole milk
8 cups sugar or to taste (superfine)
2 teaspoon vanilla extract
1 1/2 cup Rooh Afza or to taste
Cooking Directions
First thing to do is grind the cardamom seeds in a mortar and pestle. Crush then get 1 teaspoon of it.
Next, dissolve in the milk the Rooh Afza syrup and sugar. Take note, taste the drink before adding more sugar just to make certain the sweetness is enough for you.
Mix into the milk mixture the vanilla extract, nuts and cardamom powder.
Refrigerate overnight before serving.
Recommended for you
Eid Wishes from Cathy