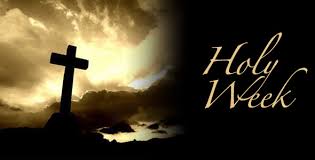 This week is Semana Santa, and for most Filipinos that means going home to spend some time with their families and have a long vacation. In fact, people have started leaving for the province as early as Sunday to avoid the traffic and the influx of travelers going home on Wednesday, the official start of the holiday for the Lenten season.
Lent or holy week is an annual event in the Philippines that turn Metro Manila into a ghost town as most shopping malls like SM and fast foods restaurants are closed for two days. So, if your spending Semana Santa in the country, make sure you stocked up on food for two days as even the wet market or palengke is closed. Come to think of it! Holy week is a great time to drive around metro manila since there is no traffic on most road as a lot of people either at home or the beach.
Yup! Believe it or not, many Filipinos during holy week travel to different exotic destination in the Philippines to unwind, relax and to take advantage of the long vacation. In fact, it has been a Filipino tradition to go somewhere for the holy week.
Semana Santa in the Philippines
I remember! My family used to spend the holiday season out of town, in Batangas or Zambales. It is a holy week ritual, which I cherished so much up to this day. Of course, it's not always fun during holy week as I recall going to different churches (Visita Inglesia) with my family when I was young, it's another family tradition that my father practice religiously before we shifted religion (I'm no longer catholic). The traditional Visita Inglesia is one of the things that a lot of devout Catholics do every year, along with other holy week rituals.
Semana Santa Traditions
Visita Inglesia is a catholic practice of visiting at least seven churches. If you are in metro manila, the best churches to visit are:
The Manila Cathedral or Basilica of Immaculate Conception
Shrine of Our Lady of Correa
The Binondo church
Sta. Cruz Parish
Black Nazarene Church, more popularly known as Quiapo church
Minor Basilica of San Sebastian
Malate Church also known as Our Lady of Remedios Parish
Sta. Ana Church
Semana Santa Activities
What Are the Rituals of Filipinos during kwaresma?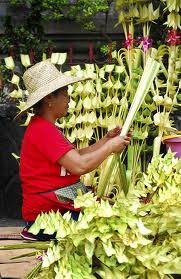 Holy week starts on Palm Sunday. For Catholics, Palm Sunday is a big event as the "palaspas" or palm frond blessed by the local priest before or after the mass. A lot of people believe that palaspas protect the home from bad vibes or malas. The palaspas often placed in the windows or doors until Sunday.
Semana Santa History
There is also the "pabasa" a traditional chanting or reading of verses about Christ suffering, and this practice starts on Sunday as well up to Maundy Thursday, the washing of the feet celebration.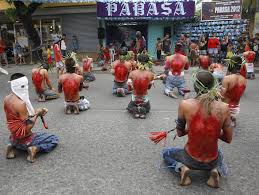 Semana Santa Philippines
Keep in mind that from Monday to Wednesday, most Filipinos still report for work as the government office still open. On Thursday, a lot of people are already on the province, especially those whose families are based outside metro manila, or at home observing the Semana Santa in silence and prayer. No loud music, rowdy playing, or else the older people would admonish you, especially on Good Friday and Black Saturday.
I recall, we were often told to play in silent as the lord according to tradition is dead, "Patay daw ang Diyos" and so in order to respect the belief of others and of my father of course, I and believe a lot of people stay behaved. Apart from avoiding creating noises, Filipinos also abstained from red meat, although many believe it is not necessary since the lord is not really dead, but still there are people that choose to abstained and just eat fish and vegetables.
By the way, some devout Catholic would fast, perform rites to seek blessing from the lord or to ask for a cure. The rites performed are a striking feature of Good Friday, wherein a few Filipino men publicly whip themselves in the back until it's bloody. Afterwards, they will carry a wooden cross and then later crucified. The reenactment of the crucifixion is a sight to behold, probably why a lot of tourist come to the Philippines to watch the traditional penitence. Oh! The best place to watch the traditional crucifixion is in Nueva Ecija and Pampanga.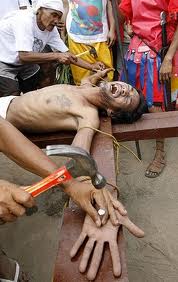 On Saturday, devout catholic would prepare for a night vigil until the break of dawn to witness the salubong, at exactly 4 o'clock in the (Sunday) morning. The salubong ceremony is the celebration of Christ resurrection, wherein the Virgin Mary finally sees her son come back to life. The ceremonies are often lavish with flower petals drop from a high place to commemorate the day.
Most families would prepare a feast or go out for lunch in fancy restaurants to celebrate the day and of course Easter day.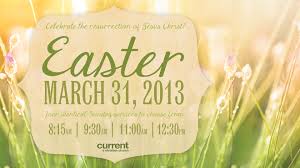 Filipinos are very traditional when it comes to their beliefs, despite a lot of people going to the beaches during holy week, they never fail to visit the church on Sunday wherever they are in the country.