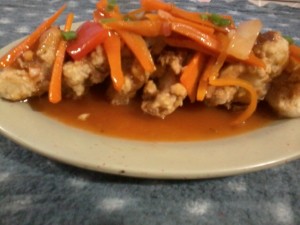 Sweet and sour is a dish I don't mind eating every day even though I'm not really fond of sweet tasting dishes. I love salty and spicy dish so for me to enjoy any sweet dish, it must be really good. Sweet and sour originated from China and adopted in many countries. It is a popular dish in the US, Europe and Asia. My Filipino style sweet and sour fish recipe has a sauce made of vinegar, pineapple juice, sugar, ketchup and cornstarch. This article teaches you how to make sweet and sour sauce for fish.
My Filipino style sweet and sour fish fillet recipe takes only 20-30 minutes to prepare and cook. It is an easy fish recipe that both kids and adults will enjoy. If you are looking for a party food idea, you can never go wrong with sweet and sour dish.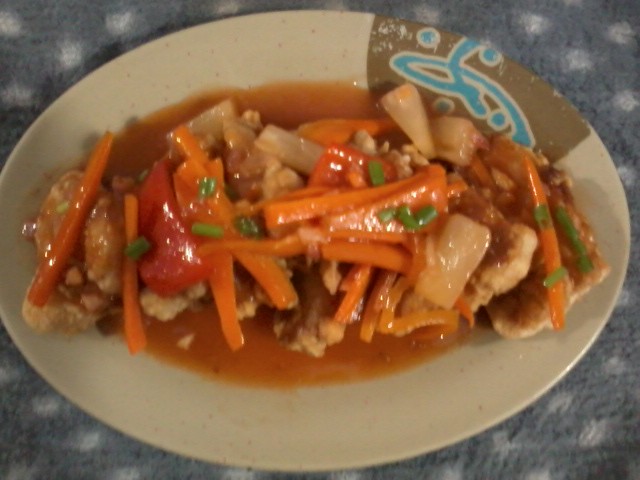 Sweet and Sour Recipe
Below is the recipe for sweet and sour fish, using ingredients you can find in your kitchen.
Ingredients:
Cream Dory
Red bell pepper (diced)
Carrots (cut into strips)
Onion
Ginger
Garlic
¾ cup of Vinegar
Pineapple chunks
1/4 cup of Pineapple Juice
1 cup of Water
½ cup of Ketchup
2 tbsp of Sesame Oil
2 ½ tbsp of Soy sauce
Pepper
Salt
Cooking Oil
Cornstarch
Flour
Egg
Spring onion
Direction:
Follow the simple step by step procedure to make sweet and sour fish.
For the Fish
Season the fish with salt and pepper
Crack the egg and beat thoroughly.
Dredge the fish in flour.
Next, dip into the beaten egg then dredge in the flour again.
Fry the fish in hot oil until golden brown.
Once cooked, placed the fried fish in a serving plate and set aside.
For the Sweet and Sour Sauce
In a medium sized sauce pan, combine the pineapple, vinegar, sugar, water, soy sauce, ketchup and sesame oil. Let the sweet and sour sauce boil over medium heat.
Once the sauce starts to boil, pour into the pan gradually the dissolved cornstarch.
Stir continuously until the sauce thickens. Remove from heat and set aside.
For the Vegetables
In a wok, sauté garlic, onion, ginger, red bell peppers, carrots and pineapple chunks until done.
Pour the sweet and sour sauce into the wok with vegetables then let it boil.
Pour the sweet and sour sauce over the fried cream dory.
Garnish with spring onion.
Serve with steaming rice.
P.s: You can substitute cream dory with tilapia. Additionally, the the sauce is the same for sweet and sour pork. I hope you find my sweet and sour fish fillet recipe easy to follow. To save the recipe just bookmark for later use.